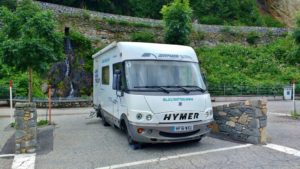 Adding it up, our 2001 Hymer B544 Fiat Ducato motorhome's been our home on wheels across 25(ish) European and North African countries for 18 months of all-season touring. This blog post aims to give an update on our experience of using this motorhome and the main items of additional equipment we installed.
We've only looked at the bigger stuff here, for a list of all the equipment we pack for touring, here's our essential packing list. There's also posts about general preparation we did while gearing up for a tour and sorting out van insurance.
The blog post waffles on a bit is a bit long, so this is a list of the items covered so you can just skim through to find what you're interested in:
The Motorhome Itself
The GasIT Self-Refillable LPG System
The 4G LTE Internet Antenna and MiFi
The Chemical-Free Cassette Toilet SOG Unit
The Solar Panel and Leisure Batteries
The Michelin Agelis Camper Tyres
1: The Motorhome Itself
We are very happy with our Hymer B544 motorhome, the second one we've had. It took us into the Alps in winter, as far north as Nordkapp in the Norwegian Arctic in summer, and back south as far as the northern edge of the Sahara in Morocco. The weather's ranged from -10ºC (with parts of the van caked in a thick layer of ice) to +36ºC in Andalusia in Spain. The van's had torrential rain, snow, ice, hail, fog, wind, a golf ball and even a one-day dust storm thrown at it. The road surfaces have have ranged from brand new motorway (in Morocco, oddly) to dried up river bed (again in Morocco, not so oddly). All-in-all, the van's done us proud. You can have a look around the van using the videos below.
Here are the main plus and minus points for this particular vehicle from our perspective:
The Good
General quality – despite getting a hammering from two people and a dog living inside for months on end, the van fittings coped very well with only a few minor breakages.
Only 6m long – fits in all dedicated motorhome parking spots and many non-motorhome spots with a bit of space behind, and is significantly cheaper on Norwegian ferries.
Internal layout – drop down double bed was comfortable for all but the hottest nights. Two sofas with a 'swing out' table and a rotating passenger seat gave the van a spacious feel for a relatively small motorhome.
Insulation – although we only spent a few days in ice and snow, the van's double floor coupled with blown air heating easily kept us very warm.
The Bad
The low front – for some reason the van slopes downwards towards the front, and the bumper and engine guard are low enough to the ground to catch on levelling ramps and kerb stones, it also means we have to go onto chocks on a flat surface otherwise the bed slopes.
The soft suspension – probably associated with the point above, the van wallows around bends and the passenger side suspension strut would bottom out on poor quality roads when other motorhomes just floated over.
Weight issues – this 3.5 tonne-rated van has huge storage capacity. The double floor means no space being lost inside the living area to the fresh water tank, and it creates a load of locker storage under the van. All this is, of course, good stuff, but when we visited the weigh bridge we found we had little spare capacity on weight, despite having tons of storage left. I suspect we were over-weight at times when we stocked up on food to go to Norway and Morocco, but we had no issues on mountain ascents or descents.
The Ugly
The width – the van feels wide! On the narrow, winding and (in holiday season) busy E10 crossing the Lofotens in Norway I'd wince every time we passed another motorhome. How we didn't whack wing mirrors is anyone's guess.
My beer got warm – in higher temperatures the fridge struggled to stay cool, on either gas or hook-up. The freezer stayed frozen at the back, but anything near the door would part defrost. The poor thing was up against it as the air super-heated outside, and we're thinking about installing a fan in the upper vent to help out.
The fact it's not a Mercedes – endless ribbing from our mate Phil who believes Mercedes-based vehicles beat Fiats hands down. Despite us only having four wheels to Phil's six, and having front wheel drive to his rear, both vehicles got us to the desert and back! I have no issue with Fiat – this is our second motorhome based on the Ducato and they've both worked well for us.
2: The GasIT Self-Refillable LPG System
When we got the van we swapped out the Calor bottles for a self-refillable LPG bottle system from GasIT. We did the work for this ourselves, and the result's worked out well. We have two GasIT bottles installed, one 11Kg and one 6Kg, and an external refill point so no need to open the locker at garages. The bottles have an auto-switchover valve which avoids the need to manually switch bottles when the main one is empty.
Here are our thoughts on the GasIT system:
The Good
Avoids Country-Specific Bottles – there are no international standards in gas bottles across Europe and North Africa. A bottle bought in the UK can't easily be filled or swapped in France, and one from France can't be filled or swapped in Spain. By having a self-refillable system like GasIT, Gaslow or Alugas you can use the LPG/GPL/Autogas refill stations available in most countries, and avoid having to keep swapping bottles.
It worked – plain and simple, the system worked as it was supposed to (on the whole!). We had no issues filling (once I'd worked out how the Spanish LPG gun works), and the system powered all of our gas appliances nicely.
No quality issues – we filled up across Europe and had no issues with dirty gas.
Only one refusal – in umpteen fill-ups, only one garage assistant allowed us to refill the bottles, possibly because he had already shut up his booth to go for his lunch…
The Bad
The gauges aren't great – they (by design) don't start to register a fall in gas level until the bottles are half empty, and sit at empty for a few days before the gas would actually run out. They also sometimes stick on empty even when the bottle is full. As we had two bottles, we could see on the switch-over valve when one had run out, so we could easily work around this.
We could have installed two 11Kg bottles – if we'd moved the regulator (which our mate Phil did, but it never occurred to me) then it was (probably) possible to get two 11Kg bottles into the locker. Being close to the weight limit though, saving 5Kg on gas is perhaps no bad thing.
We couldn't easily use local bottles – so in countries with no LPG refill points (Finland and Morocco), we had to stretch out the gas we had. Some countries have only a limited number of refill locations too (Norway), so we had to plan our gas use to ensure we could fill up.
The Ugly
Blowing on ice at 3am – the auto switch-over valve doesn't seem to work in sub-zero temperatures. On two occasions the gas in the van went off despite at least one bottle being full, and the outlet valves on both bottles being open. This meant a bit of fun in the Alps, blowing on ice-encrusted locker hinges to try and get the door open to manually switch bottles. Our guess is the butane component in the LPG, which stays liquid below freezing, confused the valve into thinking there was still available gas in the main bottle?
3: The 4G LTE Internet Antenna and MiFi
While we're not exactly children of the Internet Generation (only one of the company's computers was connected to the Internet in my first office job, in a locked room), we can't do without our t'Interweb fix these days. Roaming about in a van there are only really three options for staying connected – using WiFi, the cellular (3G/4G) networks or satellite Internet. The latter's FAR too expensive for us, and WiFi can't always be found, so we rely on cellular networks most of the time. Adam and Sophie, who run motorhomewifi.com, supplied us with a roof-mounted 3G/4G antenna and a Huawei E5577 MiFi-type device which turns the cellular internet into a personal WiFi hotspot in the van.
This is what we thought of the kit:
The Good
Signal everywhere (almost) – the roof-mounted antenna meant we had a signal everywhere we went (I wrote almost, but I can't recall where we didn't get a network, but I am pretty sure it happened once).
A designed solution – the antenna is designed to fit motorhome roofs, and has proven watertight, secure and unobtrusive. There's no faffing about with it on a pole or sticking it to windows, it's always there, connected to the MiFi all the time, which is itself connected to the van's 12V system, so we have Internet all the time for up to ten devices, even while driving.
Relatively low cost – we used a combination of local SIMs (in Morocco, Finland, Croatia and the Baltic States) and Three Feel at Home SIMs. These gave us roughly 6GB of Internet per month for roughly £10 to £15 a month.
The Bad
It wasn't completely hands-off – with this kind of set up, travelling across multiple countries, we didn't find it to be completely automated as we crossed borders. By this I mean we had to use our experience of buying and topping up SIMs, switching between networks on the MiFi and checking data use on the MiFi.
The Ugly
Three's Feel at Home SIMs in Spain – for whatever reason we struggled with using Feel at Home in Spain. The networks were sometimes painfully slow, although we found switching between networks helped with this. We weren't without Internet there, but if we were only going to Spain we'd most likely just get a local SIM.
The system wouldn't work in Morocco – again for reasons unknown, our Maroc Telecom SIMs wouldn't work in our MiFi. We got their technicians to have a look while we were in Marrakech but without success. The SIMs worked fine in other types of MiFi, and would work OK in a USB dongle or smart phone, but not in our particular MiFi, which meant we couldn't use the antenna in Morocco and, we believe, had slower connections as a result.
4: The Chemical-Free Cassette Toilet SOG Unit
We fitted this when we knew we were heading for Scandinavia. Up there in the wilds there are loads of options for free camping, and many of them had long-drop toilets which can't cope with the chemicals used a cassette loo. The SOG unit avoids the need for chemicals, so we installed it allow us to use these fantastic locations without worry we were harming the decomposition process in the loos.
This is how we found the system:
The Good
It works – despite the range of temperatures we encountered, the system did at least as good a job as chemicals at keeping the inside of the van whiff-free. I had no more issues with 'solids' when emptying than I did when using chemicals.
It was easy to use – you just use the loo as you normally would do (with the loo blade open as you use it), and when it needed emptying an air pipe had to be pulled off the cassette, a small plastic cap fitted, and the process reversed at the end. The process was simple, and the connection between the air pipe and the cassette has stayed tight.
We could empty the loo more often – when we used chemicals we didn't want to empty the loo until it was fairly full, to avoid wasting the chemicals. With no chemicals going into the cassette we could empty it much more often, which meant we could more easily and spontaneously stay at locations without facilities.
The Bad
The micro-switch is a bit testy – the air fan for the system is turned on by a small micro-switch which is itself switched on and off by the loo blade opening and closing. Ours is a tiny bit testy – so the blade has to be fully closed or it keeps the fan running. We also got the switch wet once, which meant the fan ran constantly. We disconnected the power to it and reconnected it once the switch was dry and voila, it all worked fine again.
All sit down – after extensive testing we discovered that it helps if everyone sits down while using the loo. With the blade open and no bottom on the seat some smell does venture into the bathroom.
The Ugly
The external whiff! OK, this is all our fault, not the SOG unit's fault! The system works by drawing air through the cassette and blowing it outside, through an activated charcoal filter in the door to reduce the smell. The filter worked well for a year, then started letting more and more smell out. The manufacturer suggests changing the filter every 12 months, which we ignored to our peril! We tried using some cooker hood charcoal filter matting which was useless, so we need to buy a new filter for about £12.
5: The Solar Panel and Leisure Batteries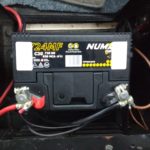 We use a range of places to stay: aires/stellplatz/sostas, campsites, free camps, car parks, France Passion style locations, pub car parks, beaches, whatever is appropriate to the country and location we're in. This means we're often off-grid, and rely on our leisure batteries and solar panel to keep us powered up. The van came with a 100W (we think) solar panel mounted flat (with an air gap) on the roof, and two 86Ah leisure batteries. Eight months ago we swapped the leisure batteries, like for like for 86Ah Numax XV24MFs at £75 each. This is how we've found the system:
The Good
Tons of power – we've had no issues with having enough 12V power. The roof panel's worked, as has the charge controller, the battery voltage/current meter and the batteries. Of course, whether such a system will deliver the power you need depends on how sunny it is, how low the sun is in the sky, how cold it is (if you're running the heater fan all day and night, it'll draw a fair few amp-hours), whether you use a 2kW inverter to cook your tea on a hotplate and so on. But for us and our needs, we had plenty of capacity.
The Bad
Killing laptop batteries – not an issue with the solar or batteries but with the cheap modified sine 300W inverter we use. It seems to kill laptop batteries after a year or so and we really need to get our fingers out and buy a descent pure sine inverter.
The Ugly
Losing all 12V power at night. For reasons which remain shrouded in mystery, our entire 12V system conked out twice overnight while we were in Morocco. It **seemed** to start working again when I pushed some connections back together above the Elektroblock, and has stayed working fine for months since. Weird. Had us pondering how on Earth to get the electric step back in though!
6: The Michelin Agelis Camper Tyres
Knowing we'd be travelling in winter, we wanted tyres with a M+S sidewall marking to keep us legal in places like Italy. We know this marking (which stands for Mud and Snow) doesn't mean the tyres perform any better than summer tyres, but as we'd be still on the road in the summer we didn't want to fit full winter tyres, although we did buy snow chains (which we only used once). After some long pondering we opted for Michelin Agelis Camper Tyres, and this is how we found them:
The Good
They're grippy. But for the odd bit of spin on packed snow in the Alps or patches of gravel-strewn road, we had no issues with grip. That includes a few cold, 2nd gear ascents up hairpins, but generally didn't include getting off mud or deep sand, as we've learned not to park on them.
No punctures or blowouts – despite plenty of opportunity to go pop, we've had no issues with punctures and the tyres kept to the correct pressure for months on end.
The Bad
Wear rate – after 18 months and 28,358 kilometres the front tyres are down to the wear bars and need replacement. The rear tyres are maybe 50% worn, at a guess.
The Ugly
The cost – including fitting the tyres were £125 each. Not cheap.
Availability – our local tyre fitters would start huffing and puffing when we asked about getting specialist camper tyres. After I made a complete mess of ordering the tyres from the Internet (I changed my mind after ordering them and the Internet vendor were very bad at taking them back – all my fault), we got a recommendation for a fitter in Essex who did a fast job for us on the way to the ferry.
And finally a few quick thoughts on more minor items:
If you've any questions on the systems above which you think us kit novices might be able to answer, please feel free to ask in the comments section below and we'll do our best to answer.
Thanks, Jason and Julie