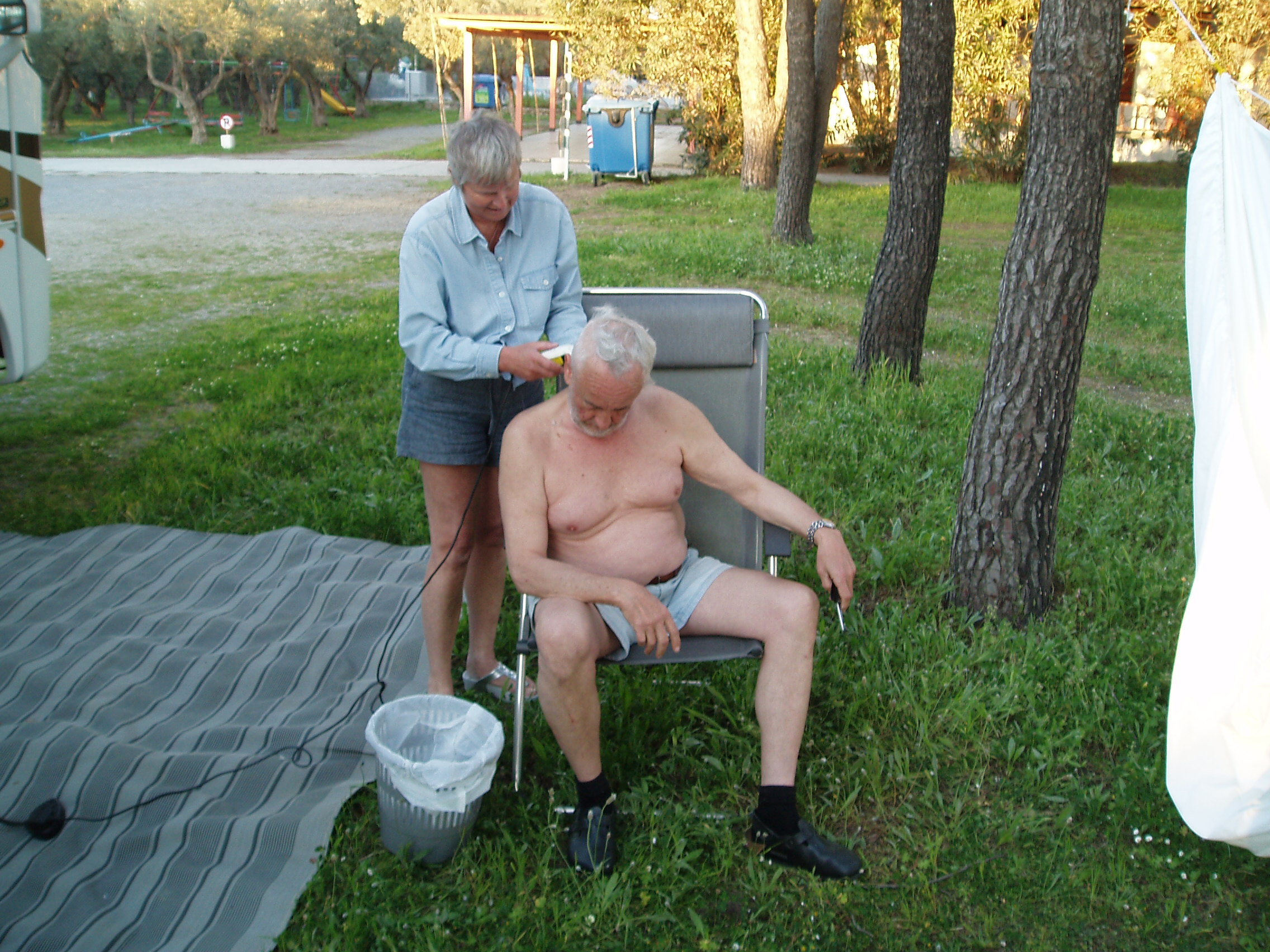 Mike and Carolyn headed for Greece in March 2011 and, it's fair to say from reading their account, had rather a lot of problems thrown their way to deal with. On the other hand, from the fabulous anecdotes, they had a great time too!
| | |
| --- | --- |
| Writers: | Mike & Carolyn – Both retired and lovin' it |
| From: | Bedfordshire, UK |
| Motorhome:    | 34ft Damon Daybreak 3370 American RV (until Dec 2012). |
| | Expecting delivery of 36ft Winnebago Adventurer 35P (mid/end April 2013) |
| Travel: | Approximately 7 months per year – Started motorhoming 2008 |
15 March 2011
Well, after nearly six months at home we are on the road again headed for Greece and Crete. As seems to be usual for us we have not had a particularly good start to this trip.
On Monday, the day before we left, my credit card was blocked, which was inconvenient but no major catastrophe as I managed to get it unblocked with a phone call to the bank. No such luck with the debit card, which the Special Investigation Team at the bank claimed showed evidence of being compromised via an attempted purchase through the internet. End result, destroy the card and they will send a new one within the next 5 days – not a lot of help when we are leaving in the morning. Luckily Carolyn has a card on the same account that is unaffected so we will still have access to the hole in the wall whilst we are away.
So, Tuesday arrives and we get an on time departure from Campton. We have no delays and arrive at Dover early enough to get promoted to an earlier ferry. DFDS, the ferry operators, are sponsoring a Dutch music festival that also gets an airing in Trafalgar Square on 16 April 2011. Suddenly we find we are sat centre stage with a group of Dover schoolchildren giving a Queen (of the Freddie variety not HRH) tribute performance all around us. It was quite good fun and helped the time pass more quickly.
So far so good. Off the ferry and heading for our normal overnight stop in Dunkerque when "Blanc van Homme", AKA Jean-Luc, decides he does not like us waiting for the traffic ahead to move on and drives straight into the back of us. Result, a seriously bent scooter rack, redesigned light board and damaged bodywork to the scooter. As far as we can see the van has not been damaged but we will not know until we get home and get it inspected. Getting the European Accident Form completed seemed to take forever and the phone call to my insurance company seemed to last just as long. A bit of nifty work with a universal mending stick, some sticky backed plastic, red nail varnish (don't ask) and the ever present GAFFER tape, enabled us to secure the scooter well enough to continue our journey as planned. We may have to get some temporary repairs done when we stop for longer than a couple of days to enable us to get the scooter off the rack.
I know stuff happens but I just wish it would happen somewhere else.
20 March 2011
After the grief of Dunkerque the journey south passed virtually without incident, travelling through France, Belgium, Luxembourg, Germany, Switzerland and Italy on our way to Ancona.
After a very comfortable drive through the 17km Gottard Tunnel, which I was very nervous about last year, I was beginning to think that I may be getting close to full membership of the "Yorkie Bar Club".
Such confidence was soon dispelled when we arrived at the Port of Ancona to catch the ferry to Greece. Those of you who received our communications last year will remember we were on the upper vehicle deck and left some paint on the ship after having to go up and down a ramp that was narrower than our van.
So I decided to wimp out and dispatched my co-pilot to ask, nay beg, the vehicle loading operative to allow us in the main garage on the lower deck. The operative said "if you are going to Patras you must be on the upper deck but don't worry the trucks go up there without a problem and we will look after you". With a tear in her eye my co-pilot responded "But we are wider than a truck and really can't go up the ramp".
Anyway the end result was a win/lose position. We did not have to go up the ramp but had to reverse aboard into a black hole loaded with trucks. The operative guiding us in kept tapping his watch and telling me to hurry as they needed to set sail today and it was already 3:00pm. It is still not a manoeuvre I enjoy but certainly carries less risk of sustaining damage to the van than the dreaded ramp. So, as it says on the Yorkie bar wrapper "Not for Girls" I guess I will have to wait a little longer to join the club.
21st March 2011
Made it successfully on and off the ferry without damage and we are now right on the beach on a campsite about 50 miles south of Patras. The sun is shining and it has warmed up considerably, evidenced by the fact that herself is down to thermals and only 2 fleeces.
We did manage to get the scooter off the rack but the Jean-Luc accident damage to the loading ramp makes it very difficult. We spotted a metal bashing shop on the way in so will check if he is able to help with a temporary repair. More concerning is the apparent damage to the front forks on the scooter which pushes the front wheel out of alignment and makes it pull heavily to the left.
We have located a Suzuki dealership a little further south so will move to another site tomorrow and get the scooter to the dealer to see if anything can be done. Not exactly how we had intended spending our time so thanks a bunch Jean-Luc.
23rd/24th March 2011
Some good news at last. We stopped at the aforementioned metal bashers, which was a very scruffy open workshop repairing tractors and all kinds of machinery that looked as though it was destined for the scrapheap at least 30 years ago. Surprisingly the proprietor spoke perfect English, understood the problem immediately and said, without hesitation, "I can fix that". I like a man with such confidence. Anyway, he just happened to have a hydraulic press and a much larger universal mending stick than the one I carry. Within 10 minutes he had formed and re-formed the twisted loading ramp so that it loaded and unloaded the scooter safely and albeit with some persuasion located in its designated position for travelling.
He generously declined any form of payment but we insisted he at least have a drink on us, or more to the point hopefully on Jean-Luc.
We later found the Suzuki dealer in Pirgos and were fortunate that there was a customer in the shop who spoke very good English and acted as interpreter. After explaining the problem the dealer said "It will need new forks and steering mechanism". However, when checking the Suzuki spares database he discovered that the parts could only be obtained outside of Greece and would be on 20 to 25 days delivery. We explained that we were not able to wait that long and suddenly he had a re-think and decided he could actually fix the problem without any replacement parts. I asked if this would be a temporary fix until the new parts could be fitted in England. No it will be fine forever he insisted. So we left the scooter and he said he would phone when it was fixed.
Around lunchtime the very next day he phoned to say it was ready. When we arrived I was delighted to see that he had done an excellent job and not only fixed the steering problem but repaired or replaced all the clips that had been broken, by the impact of Jean-Luc, that held the bodywork together.
All-in-all a bit of a result, we are now mobile again and can resume our normal routine. So it's off to Olympia tomorrow on the scooter, with slightly less spending money than we had planned. Thanks again to Jean-Luc.
Sorry did I just mention Jean-Luc again. Don't worry I'll get over it eventually.
25th March 2011
More good news today. Unbeknown to us today is The National Day of Greece and therefore a public holiday. The good news is that all entrance fees to historic sites and museums are waived saving us around 20 euro's at Olympia.
Olympia is a very large site and very well organised with all exhibits being fully described in Greek, English and German. I was expecting to see the everlasting flame but it is not as everlasting as I had thought. However, we did see the place at which the flame is lit by the rays of the sun before being transported to the location of the next games. Hence, Seb Coe and his cohorts will no doubt stand, sometime next year, in exactly the same place as we stood. The first ever Olympic Games was held here in 776 BC and the first flame for the modern Olympics was lit here in 1936 for the Berlin Games.
The original Olympic stadium is surprisingly small. It has no seating, although it could accommodate 45,000 people in the open air – somewhat different to what happens today. Apparently it was an all male gathering for competitors and spectators, and all events were contested naked. I was going to have a go at the 10 metre sprint but herself said it was too hot to get my bits out.
There are also some fabulous museums on the site with items in the collection dating back to 4300 BC, again, very well presented with lots of detailed information.
It was a very warm and cloudless day today and the view of the sunset over the sea from our van when we returned was absolutely stunning.
It's so good to have the scooter back in action as it significantly increases our mobility.
27th March 2011
Decided to move on today and travelled about 100 miles south to Finikounda. We will probably stay for a week as there are a few places of interest we can travel to from here on the scooter.
The first 50 miles of the drive was absolutely fine but the second half of the journey was a tad interesting. I'm not certain whether we missed a turning somewhere but at one point we were driving through mile after mile of olive grove with olive trees brushing either side of the van. Definitely not a main highway and reduced our average speed somewhat.
We only had one occasion where we were heading into what looked like an impossible situation in the middle of a small village that required dispatching the co-pilot to reverse me safely into a side road in order to turn around. Did not make the locals happy on their way to Sunday lunch.
28th March to 9th April
We have spent the last couple of weeks working our way round the coast from Finikounda with a particularly nice stop in Kardamyli where we were able to do some really nice walks. Kardamyli/Stoupa seems to be a particularly wealthy area with some magnificent stone properties being built with spectacular views from high in the hills.
Today, 9th April, we have arrived at Gytheio in the southern Peloponnese after a rather hairy drive through the mountains from Kardamyli. It was only a 33 mile trip but took almost two hours. There was a point in one of the villages we passed through where we had about 3" clearance on each wing mirror.
It was a trip of 100 hairpins high in the mountains with herself generally on the vertiginous side. Every so often I would hear a very faint and nervous voice requesting "Move a little to the left when you can"
Greek driving styles are interesting. Double white lines are for overtaking on especially on a bend, double yellow lines are for parking on, as is any other space where there is not already a vehicle parked, no matter how far from the kerb, and smoking and using a mobile at the same time seems to be the norm. We even noticed that the bus drivers smoke whilst driving. The one to be most wary of is the use of hazard lights, which seems to mean, "I am about to perform a manoeuvre that is illegal and borderline suicidal, keep clear."
6th April 2011 was not a good day for us. It would appear that the Greek Gods and Lady Luck have deserted us at the moment. We were travelling and decided to shop at the Carrefour supermarket in Messini on our way to Kardamyli. We parked in the street outside the supermarket and when we returned some low-life had tried to break into the van. I think we must have disturbed the perpetrator as the door was open but the van had not been entered. Nevertheless there is damage to the door and the locking mechanism. After 1½ hours at the local police station I am now the proud owner of a Greek police report, written in Greek, which describes the incident.
Anyway, after some persuasion with the previously mentioned "universal mending stick" we are able to open, close, lock and unlock the door albeit not as well as we would like. Are we downhearted? We were for a day or two, but we will not let it spoil our enjoyment of the trip. However, there are limits to our resolve and I am just hoping that we are not forced to find out where they lie.
So with all that behind us we are now on an excellent campsite, the first that comes close to northern European standards we have seen in Greece, in an absolutely perfect location. We will stay here for at least a week whilst we explore the Mani Peninsular by scooter.
Distance covered since leaving Campton:
1403 miles in the van
316 miles on the scooter
10th April 2011
I know you only had an update yesterday but I thought this was worth a special dispatch.
The evening before we arrived here a mad German travelling alone with a very small caravan stopped at the last site we were on, where we were the only campers, to stay for one night as he could not drive another kilometre. After looking around he said he could not stay because he was unable to pitch his caravan close enough to the toilets. So, he turned around and drove off again.
Lo' and behold the very same mad German arrived after us at the site where we are now. A little later as I was passing I asked him where he spent the previous night. He started into a long explanation whilst trying to cut his own rather long and untidy hair with a pair of blunt scissors.
In the interest of entente cordiale I said that my wife always does my hair and we have the machine she uses with us. I'm sure she would be more than happy to cut your hair in whatever style you would like. Luckily he said he wanted it shorter than his stubble beard.
In order not to antagonise international relations, herself went along with the plan and proceeded to give the mad German a rather close haircut. He was absolutely delighted with the result claiming that herself was the most "wunderbare Friseur to ever cut his hair" (Any vacancies at Boswell's of Cheshunt ?). When he returns to Germany he will demand that his own Friseur cuts it in exactly the same style.
Photographs of Camping Meltemi Barber Shop:
10th to 27th April
So, we have done The Peloponnese. We have been walking and scooter touring in and around the mountain villages. There are ancient monuments everywhere but apart from a few that we have encountered on our walks we have not visited that many so far. We plan to do a lot more of the historical stuff later in our trip.
The Peloponnese is very mountainous and, particularly in the deep south, extremely rugged. We have found it to be a very beautiful and peaceful place to be. The spring flowers in the mountains put on quite a spectacular show as they carpeted the meadows and olive groves.
We have visited the ancient cities of Olympia, Messini, Mystras and Mycenae as well as a quick look at The Corinth Canal on our way to Piraeus where we will get the overnight ferry to Crete.
The most interesting of the ancient cities we visited was the World Heritage Site of the ancient city of Mystras. Although compared to many Greek sites Mystras is not so ancient, with the fortress being built in 1249. The last inhabitants officially left in 1953 although one could argue that it is still inhabited as there is still a working convent within the city walls located in the buildings of the original monastery.
The site is among the most historically important in The Peloponnese as it is where the Byzantine Empire made its last stand against the invading Ottoman army.
During the Turkish occupation Mystras was only outranked in importance by Constantinople and many very wealthy and influential people lived there. It is still a very large site built on a very steep hill and it took us all day to get round it. Many of the buildings are currently being restored and the plan is to make the Palace a world class museum. If you ever have reason to be in Sparta it is well worth a visit.
A Greek lamb probably looks forward to Easter Sunday about as much as a Norfolk Turkey welcomes Christmas day. Barbecues are lit around 08:00 and the lamb, properly prepared, is attached to the spit around 09:00 for 4 – 5 hours roasting. As is the way of the world the men are responsible for the delivery of a perfectly cooked feast. This is achieved by sitting, standing or leaning around the BBQ for the entire length of the cooking period consuming various beverages and turning up the volume of the music every hour or so. This is a skill no doubt passed from generation to generation. By around 14:00 the air is full of wood and coke ash, members of the family have arrived from far and wide and the men are ready to share the fruits of their labours. Mysteriously the rest of the food, all beautifully presented, appears as though by magic. Obviously the Easter bunnies have been hard at work behind the scenes.
Our neighbours, a Greek family from Athens who spent the holiday weekend on their pitch next to us, had more food than they could eat and presented us with a generous portion of lamb, some moussaka, a dessert cake and half a dozen eggs before they left to return home to Athens.
Whilst we have stayed on a couple of exceedingly good campsites in the Peloponnese the following is a light hearted summary of the others so far. Although it is meant to be tongue in cheek, sometimes it is not that far from the truth.
Linked to the rest of Greece by a narrow isthmus cut through by the Corinth Canal, the Peloponnese contains more empty beaches, snow-capped mountains, ancient sites, remote villages, monasteries, castles, traditional markets, tiny fishing ports and colourful history than you can shake a stick at. It also has many beachside campsites with a peculiar fascination all of their own.
Imagine a remote beach: un-signposted, unmapped, and unknown to all but the intrepid motorhomers who somehow make their way along narrow lanes, past landslides and through impassable villages to the generic Kamping Paradizi. Offshore there may be an island where an Italian Captain played his wartime mandolin or there may be straits down which Odysseus sailed on his way to Ithaca. Perhaps, nearby, the combined fleets of Britain, France and Russia once inadvertently sank the whole of the Turkish and Egyptian navy, ensuring the future independence of Greece.
But none of this needs trouble the happy camper whose more immediate concern is: "How do I find my way back to the main road?"
The primary use of the seaside field is to grow oranges, lemons, olives, watermelons, etc; but the canny owner has realised that a better and easier crop is to be harvested from the kind of tourists who bring their own beds and toilets with them – the Grey People.
The Greeks know that northern Europe is home to the Grey People: grey by age, by nature, by lack of sunlight and by the million. Money seems to grow and flourish in the grey northern light and then flows south to scatter its bounty into many an eagerly opened pocket. A little of this money travels with the motorhomers who drive south, ready to give handfuls of the stuff (now in the familiar euro) to otherwise honest Greeks. So here we are, channelling major portions of our hard-earned pensions into the open hands of assorted Balkan rustics.
Most of the time The Greek campsite owner gets on with his real life which rotates around family, gossip, politics, keeping an ancient car on the road (most of the time), crops other than tourists, family, gossip, politics, etc; etc.
The setting for the campsite is idyllic: on the beach, in the shade of pine, mimosa, tamarisk, oleander, palm, banana, hibiscus, wisteria; in an area of olive, lemon and orange groves; on an empty peninsula below low hills with snow-capped mountains beyond; the nearest market town perhaps 10 miles away.
The field and the business are owned by the ancient Nikolaos Papadopoulous. It is 'managed' (that's not quite the right word) by members of his dysfunctional family led by Constantine (Costas) and sister Angelika (Angelic?) who argue and shout from dawn until long after dusk. The 'work' (and that is not quite the right word either) is done by a disparate group of part-legal (or perhaps fully illegal) Albanians. The more technical aspects of campsite maintenance are carried out by seasonal cleaners from the local village.
Only by arriving at the gate can a major dilemma (another Greek invention) be resolved: "Is it Open?" If it is, the gate will be open and you can find your own place, paying as you leave. In the meantime you may or may not meet the owner or any employee. You may or may not discover the price. It may be Low Season or High Season or, better, Pre-Low Season. There may be a discount for membership of a club you didn't know existed or, rarely, for the presentation of your camping carnet. Staying longer may also attract a discount. Or it may not. However much it is, don't wait for a receipt.
Even if the campsite is closed, it may still be open for a special price, bearing in mind that there will be no water, electricity, toilets . . . Could you help with clearing last year's litter?
After manoeuvring your travelling home and bed under the low overarching trees you set about defending your space by the strategic placement of essential items such as – the downhill version of the mountain bike, a scooter, awning, carpets, reclining chairs, table, video camera, sunshades, barbecue, satellite dish, canoe, whatever.
Now carpeted with spring flowers – wild iris, field gladioli, yellow daisies, rock rose, bird's-foot trefoil, cyclamen, hyacinth and many more – the value to the Papadopoulous family of this rectangle of real estate doubles as it turns to brown dust in the heat of high summer.
Settling in, the fortunate get a place by the beach, the incontinent by the toilets, the alcoholic by the bar, the affluent by the restaurant, the restless by the gate, the withdrawn in a corner.
If there is room, you can wash your motorhome, overhaul your bicycle, hang washing from tree to tree, cut other people's hair, create and sell paintings, erect a fence, grow watermelons, build a bird table, fly a kite, light a bonfire, bring or adopt a cat, dog, tortoise or cage-bird, come and go in the early hours: in fact, everything UK sites don't allow! You will love the freedom – but then so does the Italian on one side and the German on the other!
Electricity is supplied through a 2-pin socket. Cut-outs or fuses are rarely on offer. Limits are placed on kilowatt consumption by the length and thinness of the wiring, the progressive blackening of the sockets and the likelihood of plunging the whole campsite, if not the nearest village, into darkness.
In a remote and unpopular corner of the field, behind the Albanians' hut, there is a hole in the ground into which you pour whatever liquid waste has collected in your motorhome's tanks. Don't ask what happens to it next.
Yet here we are again, planning to move on to yet another Greek campsite.
All that said, we do like Greece – its empty beaches and the peace and space of its remote places. With that in mind we strongly encourage other motorhomers to GO TO ALBANIA !!!!
I should mention that since my last dispatch I have had a couple of comments about my incredible knowledge of Cretan wild flowers. Well, I guess it's time to 'fess up and say that I got the names from a book that described the flowers of the season and whilst I can read and write the names I certainly would not be able to identify them. Anyway, they did look pretty.
28th April 2011
We arrived in Chania, Crete at 05:30 after an 8.1/2 hour ferry crossing from Piraeus. Some friends from home have a house here and happened to be in residence this week. As there are no campsites near to them Roger & Maggie met us at Stavros and said they had managed to organise somewhere safe for us to park if we could get in.
After some serious tree surgery we were able get onto a neighbour's drive with slightly more than an inch clearance either side. We spent 4 very enjoyable days with them eating and drinking far too much before moving on to Rethymnon about 40 miles east of Chania.
5th May 2011
We got up at 04:30 this morning in time to catch the 05:25 bus to the top of the Samaria Gorge which is located at Omolos, 1,250 metres up in the White Mountains. From there it is a seriously strenuous 6 hour, 16 km walk through the gorge to Ayia Roumeli on the shores of the south side of the island.
There is no road access to Ayia Roumeli so the only way out is by ferry boat to Hora Sfakion where we got the bus back to Rethymnon on the north coast, finally getting back to the van at 21:00 absolutely cream crackered.
Even though it was a very hard day walking it was well worth the effort as the scenery on route was quite spectacular. At one point the gorge is only 3 metres wide and just short of 1,000 metres high. At this time of year there are very few tourists so we were able to find our own space. There is still plenty of water in the river, drinkable spring water everywhere and lots of vegetation which all dies back in the heat of the summer.
12th May 2011
Sorry but I need to mention Jean-Luc yet again, I'm sure you remember him from way back to the middle of March in Dunkerque. Good news this time. I heard from my insurers that JL's insurance company have accepted liability in full for the "incident". No less than I expected but somewhat simpler than I thought it might be.
13th May 2011
We were planning to relocate further east, close to Iraklion, but after checking the guide books we decided against it as there seems to be some very large resorts around that area. We prefer to be in much quieter places.
As we wanted to visit Knossos, which is just south of Iraklion we decided to do the 50 miles each way on the scooter. We travelled on the New National Road on the outbound leg but took the old road through the mountains on the way back, which was much slower but far more interesting.
We were somewhat disappointed with Knossos. All the guide books rate it as a "must see" site but it is presented a bit like a Disney attraction. It is also quite difficult to visualise how it would have been as a living city. We have certainly seen far more interesting places but, after travelling the distance to Crete, we could not have left without seeing it.
16th May 2011
Today we relocated to Kastelli/Kissamos in the northwest corner of Crete. Another very nice campsite, right on the beach with a reasonable Taverna. Manousos, the owner of the site, saw me doing a whole load of washing up and said to me that in Greece "The men don't work so much." I told him I would mention it to "herself," which I did whilst sitting with my feet up supping a glass of the finest Greek wine. The good news is the bruises won't show if I keep my arms and legs covered.
20th May 2011
We took a scooter ride to Paleochora on the south coast today, a trip of about 50k each way. All went well until on the way back we came to a road junction in the middle of the mountains and stopped to check the map. After deciding which way we wanted to go the scooter refused to start and sounded as though it was not getting any fuel. After trying several times without success we were contemplating our options when a young man and an old lady in a pick-up truck stopped to check if we were OK. Now with 4 of us pondering, an even younger man and his girlfriend stopped their scooter at the request of the first man.
After much head scratching, a couple of phone calls, as well as each person trying and failing to start the scooter, it was decided to lift it onto the back of the pick-up and the driver would take us back to Paleochora, which is where he was heading, where we should be able to get it fixed.
With the scooter on the back of the pick-up, not very securely tied, and me precariously perched holding on to it, I decided to give it one more try. As if by magic it started perfectly first time. So, with much hilarity we all lifted the scooter back onto the road, shook hands, waved each other goodbye and went our separate ways.
We have since wondered whether we would have received the same kind of willing and friendly assistance in Bedfordshire.
27th May 2011
We had an interesting day today travelling approx 50 kilometers on the scooter to Elafonisi on the southwest coast. Elafonisi is as far south as you can go on he west coast before you run out of road. Its main claim to fame is the longest sandy beach on Crete and the rare flora and fauna that inhabit the sand dunes.
Whilst we were wandering with no particular objective in mind we noticed the black clouds gathering over the mountains, our way home. Just after we left the rain started to fall and got heavier and heavier until it was running down the roads like a river. As we we soaked through we decided to carry on. When we arrived back at the van we noticed that there had been no rain there but it followed us and we had a huge thunderstorm which lasted several hours.
To top it all, just as we were eating dinner we had a 4.5 earthquake which certainly made us pay attention but everyone else took little notice saying "no big deal, it happens all the time"
It was reported on the global earthquake monitoring site as follows:
M 4.7      2011/05/27 17:24    Depth 5.0 km     CRETE, GREECE
local time 20:24
UPDATE 17:45 UTC : GFZ reports a magnitude of 4.5 at a depth of 7 km (harmless)
Original message
Moderate earthquake at the north western shore of Crete. Distance to the coast : 10 km to Kissamos.
We call this earthquake harmless (a very limited chance for damage and injuries)
28th May 2011
On our way somewhere today we stopped to look at a 2000 year old Olive Tree. Reputably there is a resident beast who only discloses himself on very rare occasions. We were the only people there and the beast must have thought us worthy of a sighting.
1st June 2011
Today we reluctantly left Crete en-route to Athens. We have enjoyed our 5 weeks here and would certainly not hesitate to return. We found the pace very relaxed and the Cretan people more friendly than the mainland Greeks who are mostly quite surly.
4th June 2011
We left Athens today after seeing the sights we planned to visit.
The National Archaeological Museum

The Acropolis / Parthenon

Ancient Agora

Temple of Zeus

Plaka
The museum was interesting as it housed many artefacts recovered from various ancient sites we had visited in The Peloponnese particularly Mycenae.
The Parthenon was very impressive mainly because of the sheer scale of it, even though it is covered in scaffolding as they have a restoration project going on that will probably last forever.
However, after the peace and tranquillity of the Peloponnese and Crete we were quite happy to leave Athens, the chaotic traffic, too many people and high prices. But it had to be done so we did it.
We are now on a lovely campsite in the mountains about 6 miles from Delfi and 6 miles from the coast on The Gulf of Corinth. We will explore the surrounding area from here over the next few day
 6th June 2011
We did Delphi today, which you will all know in ancient times was considered the centre of the known world, the place where heaven and earth met. In Mythology, Delphi was the meeting place of two eagles released by Zeus and sent in opposite directions. Where they met indicated the centre of the earth.
Delphi is known as the centre of worship for the God Apollo, son of Zeus who embodied moral discipline and spiritual clarity. But even before the area was associated with Apollo there were other deities worshipped here including the earth goddess Gea, Themis, Demeter and Poseidon, the well known god of the sea. By the end of the Mycenaean period Apollo had displaced these other deities and became the guardian of the oracle.
Legend has it that originally the oracle had to be a young female, but as they regularly absconded with their advice seeking pilgrims, it was decreed that anyone applying for the position of oracle must be over 50 years of age. Herself said she would not have got away with that in her H.R. role. Whether all that means anything or not Delphi certainly occupies a spectacular location in the mountains overlooking the Gulf of Corinth.
11th June 2011
Left Delphi today for the Pelion Peninsular. TomTom took us through the centre of Volos on the way to our chosen campsite. A rather interesting drive as was the very difficult access to the campsite, which kept the locals entertained for a while whilst we manoeuvred ourselves into position in yet another olive grove by the sea.
Whilst the Pelion is not a particularly large area it seems to be in its own micro-climate and, although surrounded by the sea, the central mountain areas are extremely lush and reminiscent of a rain forest in certain areas. We did lots of touring on the scooter here along some magnificent scenic routes.
16th June 2011
We arrived today at Meteora, a World Heritage site in northern Greece. Meteora is an extraordinary landscape with huge smooth black rock towers that look as though they could have just been constructed for the filming of some futuristic movie.
The rock towers are of course ancient and in the 14th century the hermit monks that lived in the caves decided they needed more protection against the bloodthirsty Turks that were invading Greece. So they set about building their monasteries on the top of these very inaccessible lumps of rock.
Today there are seven monasteries that form part of the World Heritage site, the most famous of which, is probably Agios Triados, which featured in the James Bond movie, For your Eyes Only. As well as a mass of tourists the area is also a magnet for serious rock climbers who seem to cling to the vertical faces like spider men and women. They spend hours in the scorching heat getting to the top where there is no café and no bus back only to have to then lower themselves back to the ground on ropes.
Anyway Meteora definitely goes on our "Must See" list as one of the most spectacular sights we have visited.
29th June 2011
Today we are heading to Igoumenitsa to get the ferry back to Ancona in Italy. Since 18th June we have been at Ioannina, in the north west of Greece, on a lakeside pitch with the mountains rising directly from the opposite shore. From here we have done many miles on the scooter exploring the area known as Zagoria.
Zagoria is a very large area, which includes 46 mountain villages and the Vikos National Park and is home to a wide variety of fauna and flora. Allegedly Balkan chamois, brown bears, wolves, otters, wildcats, stone martins and roe deer have all been spotted here as well as golden eagles, Egyptian vultures, peregrine falcons and black woodpeckers. Interestingly during our visits we did not spot any of them.
However, it is a fascinating place to visit and at this time of year is virtually devoid of tourists.
The problem with the scooter that we first experienced in Crete got progressively worse until we had to take it to a Suzuki dealer who immediately diagnosed a faulty fuel pump. 2 days later, after a delivery of a new one from Athens, we were fully operational again and several more euro's poorer. All in all this trip has presented more than its fair share of unexpected issues and cost. Never mind the sun is still shining and we still have a good supply of wine.
Other than the frustration of the fuel pump problem, the scooter has been worth its weight in gold and enabled us to get to places that we would not take the van. So much so that we have done almost as many miles on the scooter as we have in the van since leaving home.
Distance covered since leaving Campton:
2195 miles in the van
2007 miles on the scooter
14th July 2011
After what was thankfully an uneventful trip home from Greece we are finally back in wet and windy Campton. On the way home we had an overnight stop in Italy, a one week stop at Sulzburg in southern Germany from where we were able to explore much of the southern part of the Black Forest, and 3 days near Namur in Belgium.
From there we went to our usual night stop in Dunkerque, keeping a watchful eye open for the now infamous Jean-Luc, before getting the ferry back to Dover.
Then directly to Wolverhampton to get the van serviced and a new door and frame fitted as a result of the damage done by the unidentified low-life individual that tried to break in when we were in Greece. The good news is that the damage from the incident with Jean-Luc is confined to the scooter and scooter rack and there is no damage to the van. The scooter was repaired in Greece and on Tuesday I will collect a replacement scooter rack, which was ordered whilst we were travelling.
A few statistics from this trip:
Total number of nights away 121 

Distance travelled in the van 3550 miles

Distance travelled on the scooter 2213 miles

Fuel purchased (excluding scooter) 1,797.46 litres

Average fuel consumption 9.43 miles per gallon
So that's it for this trip. Thanks for listening and goodbye until the next time.