Dave the motorhome is within dog-sea-sniffing distance (N37.80079 E15.24724) of a huge expanse of beach at San Marco (Charlie can snuffle out the dead-crab-yielding-potential of a patch of sand from a hundred paces). As we've arrived in the dark and are too tired to scout out the area, we've no idea what's around. Hopefully we've managed to shake off the neds, who found us last night and attempted to rattle Dave's windows out with the power of Gangster Rap. While we lay in bed we had to smile, the speakers must have been giants. It seemed their car battery could only manage a few seconds at a time of the 'tunes' and soon enough they were out of juice and resorted to shouting, much less effective at keeping us awake.
Dave pinged with the heat of the sun this morning, as it rose up south of the Straight of Messina, uncontested by cloud. Pulling a curtain to one side, the sight had me up and out for a photo of it. Peering at the unviewable camera screen to check the photo, I turned around and looked up. Etna. Oh my good god. The volcano was fully in view set against a pure blue sky, the top third of it white and shadow, the rest a black of desolation. I gaped at it and tried not to sound too high pitched when I ambled back into Dave. 'You should see this baby. It's flipping awesome'. All the rest of today the volcano has been in sight, giving us away among the locals as we keep turning to stare at it, following the twin billows of ominous, exciting smoke drifting south from the bobbled peak.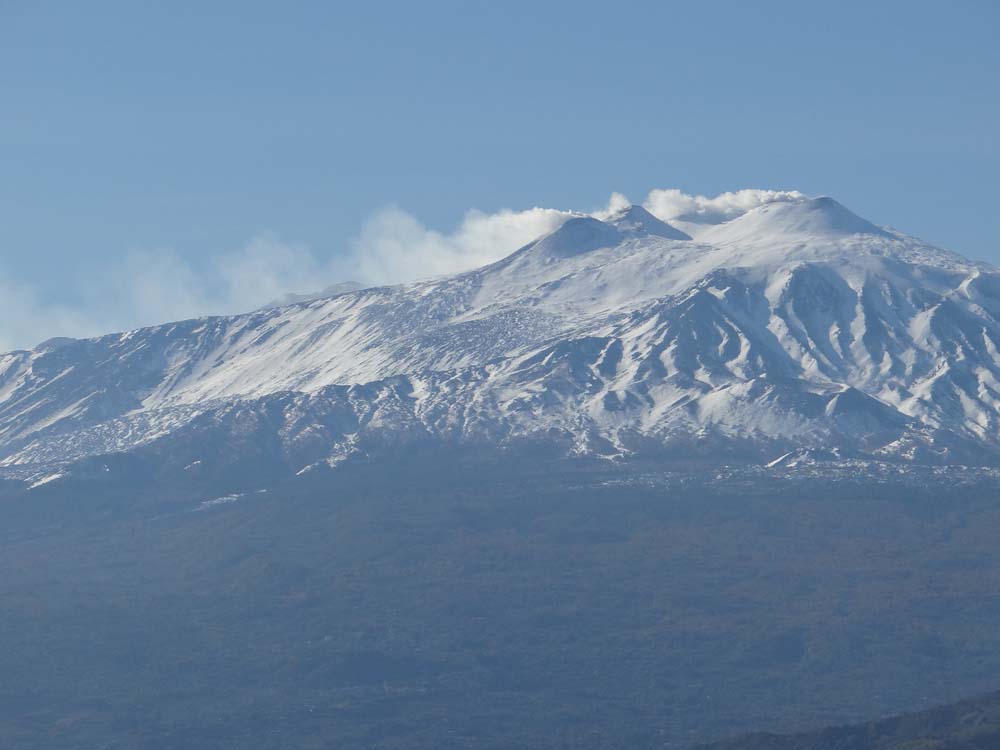 That's not the only thing giving us away. It's hot. We set off for a walk around the bay and then up the sheer slope at the end to the Roman-Greek theatre in amongst the clifftop town of Taormina. Both of us were in short sleeves, I even popped on some Factor 30, the sun easily enough to warm us through and to slow-roast our eyeballs, ignoring our sunglasses. One local man we passed was pulling on ski gloves, on another I counted four layers of clothes. Only on the way back did someone speak up, a smiling elderly chap gesturing at our clothless arms: we picked out one word 'freddo?' cold?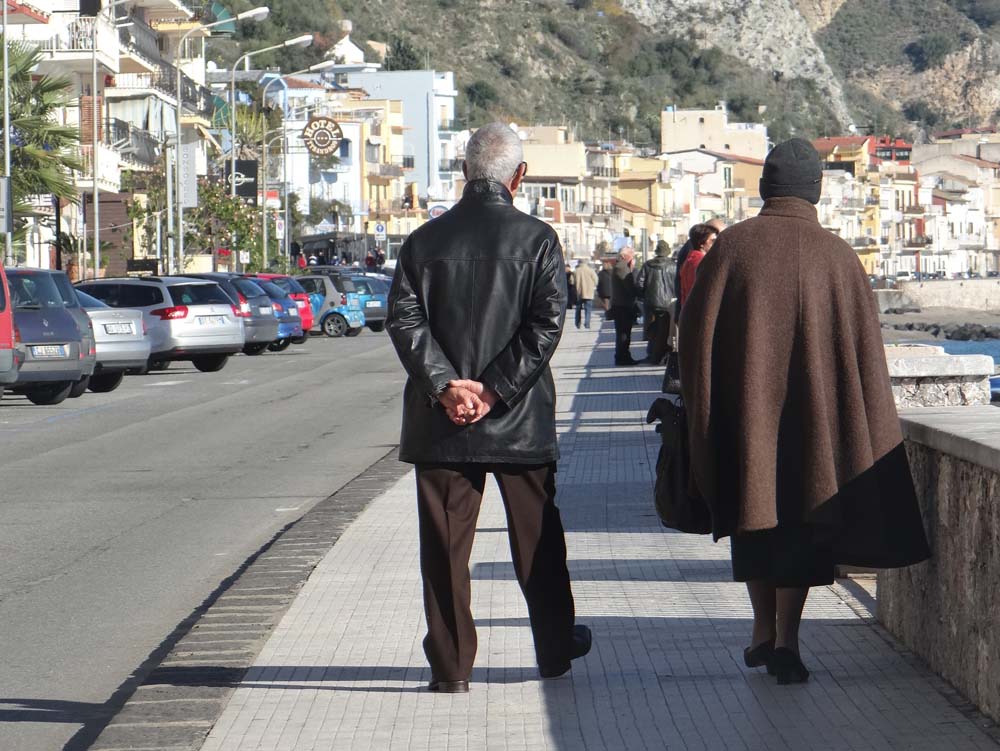 The walk was a decent one for us, as we're a wee bit lazy, maybe 5 or 6 miles with a good climb in the middle. Running around the edge of the bay, the path gave us plenty to look at as we wander. A small group of fishermen caught an octopus, one of them netting it and plopping it into the quayside. As they stood around commenting, it made a valiant escape attempt but was foiled by a hand reaching to grab it by the head, I felt squeamish. Ju missed it, saving an errant Charlie from certain doom as he drifted into the road.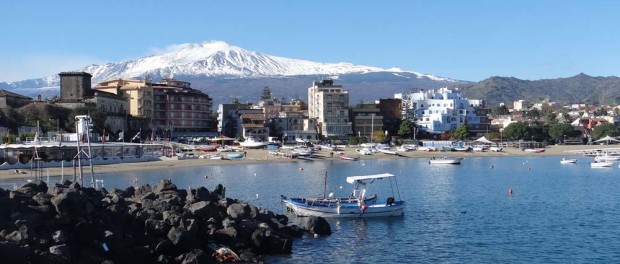 Half way around the bay we met a gentleman with his Jack Russell. No Dogs signs sprout up against the entrance to all the beaches around here. His approach to bypass this act of canine-ism was simply to let his dog off at the top of the steps and shout encouragement to it from above. After our dogs had introduced their masters, he spoke to us in Italian, Ju managing to make out a few words. "This", he said, "is Sicily. Over there", pointing at the Italian peninsula  "is Italy. In between are the Straights of Messina." We guessed later he was telling us that Sicily is Sicily, it is not Italy. He pointed to a statue next to us, a Greek sailor he said, this (we were still in Giardini-Naxos) is the first Greek town on Sicily.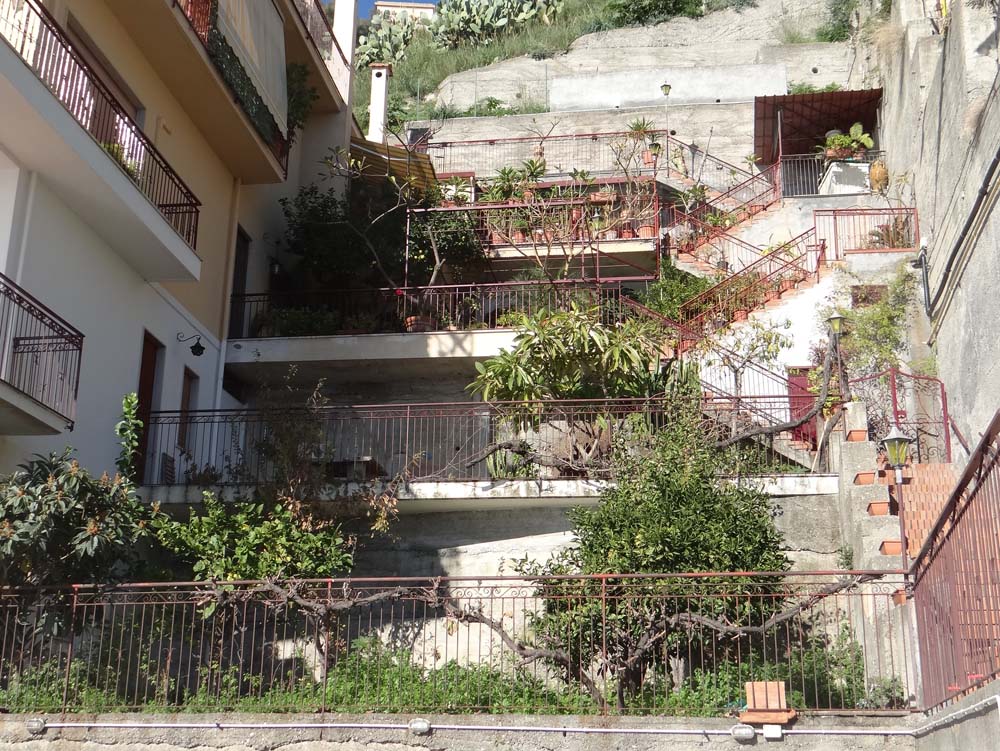 This heritage seems to have pushed the locals into claiming our target for the day, an ancient theatre perched up among the rocks of Taormina, was Greek in origin. A bit of digging around on t'Interweb throws some doubt on this though, the Romans appear to have done the building, although possibly on the site of an earlier theatre, no-one knows. Following the chap's instructions, and using a photo of a map from the unfathomably-plush train station (the town architecture is, shall we say, basic), we hauled ass up a path which the wafting grass threatened to reclaim. The general state of things here remind us of Morocco, this particular route of the campsite-media path at Chefchaouen.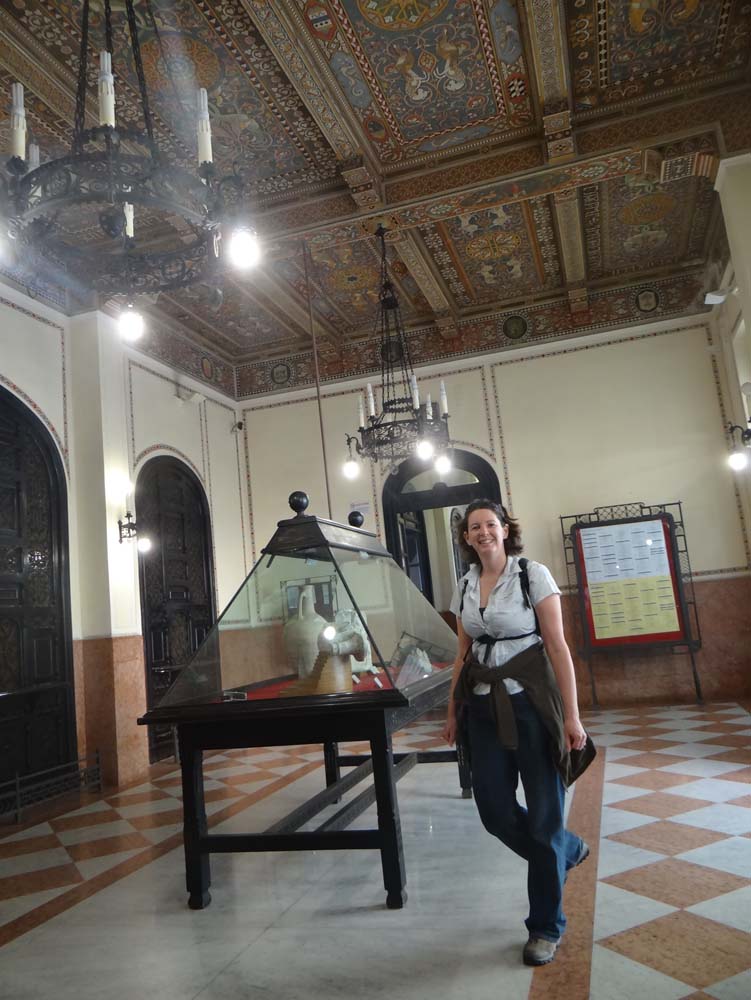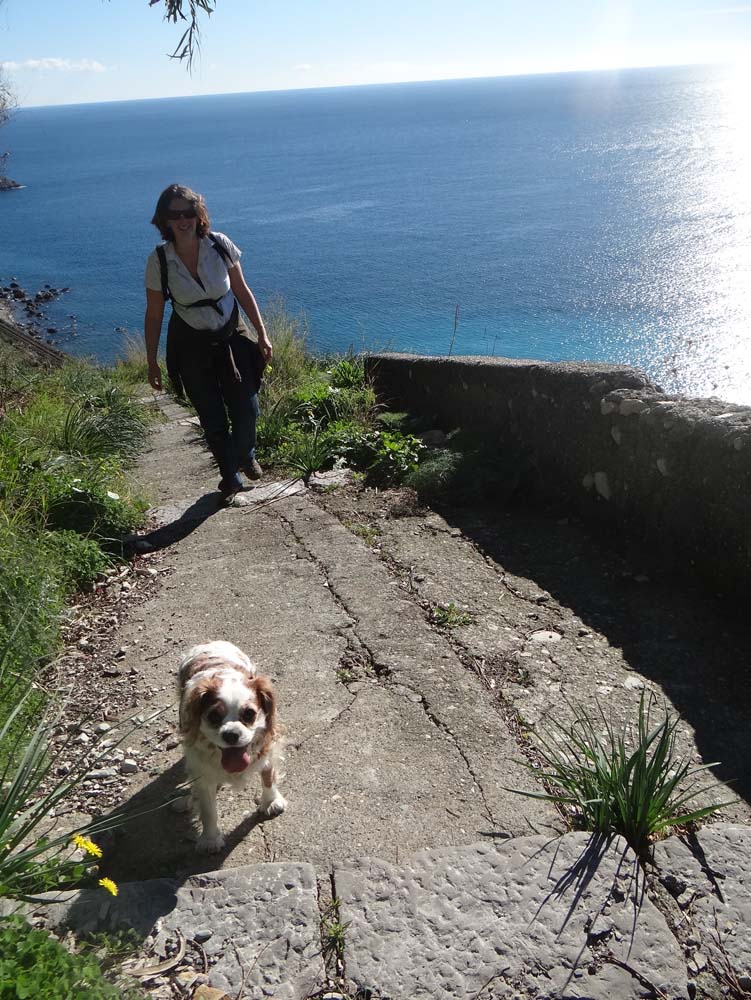 Taormina is a pretty little place, narrow stone streets, hanging washing and drifting xmas music. With some more guidance, this time the Italian aided with hand gesturing (up, up, left, right, up some more), we tootled through the town, past a row of thankfully-shut stalls and up to the booth for the theatre. It took four people to sell us a couple of tickets (€8 each, not cheap, but then half of it's probably going to the Mafia), and in we went.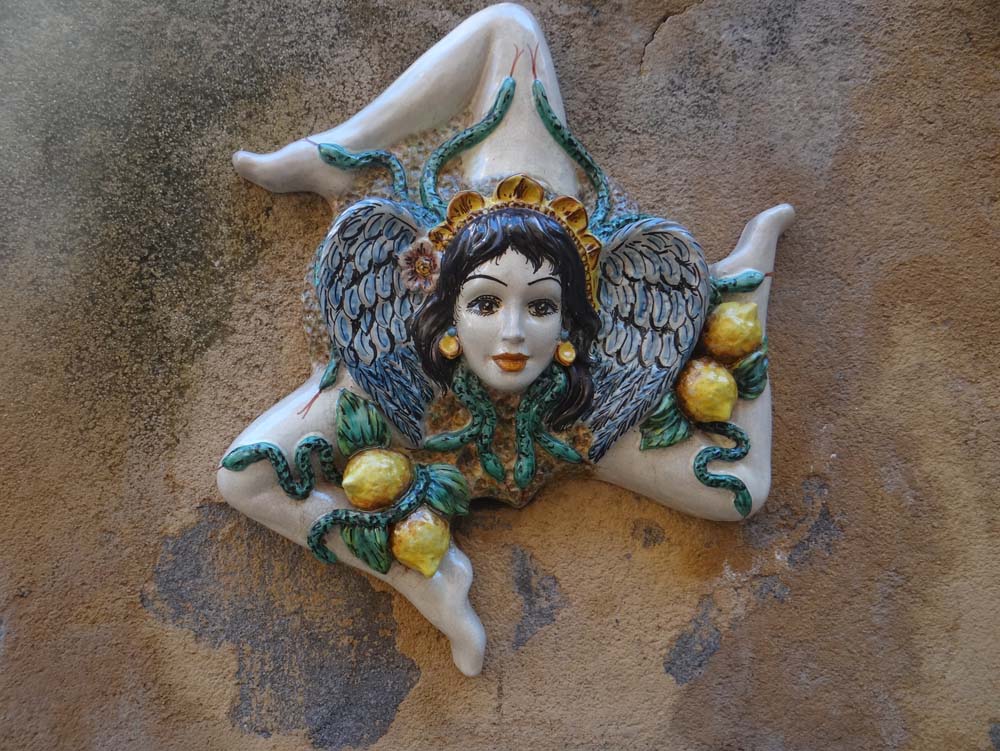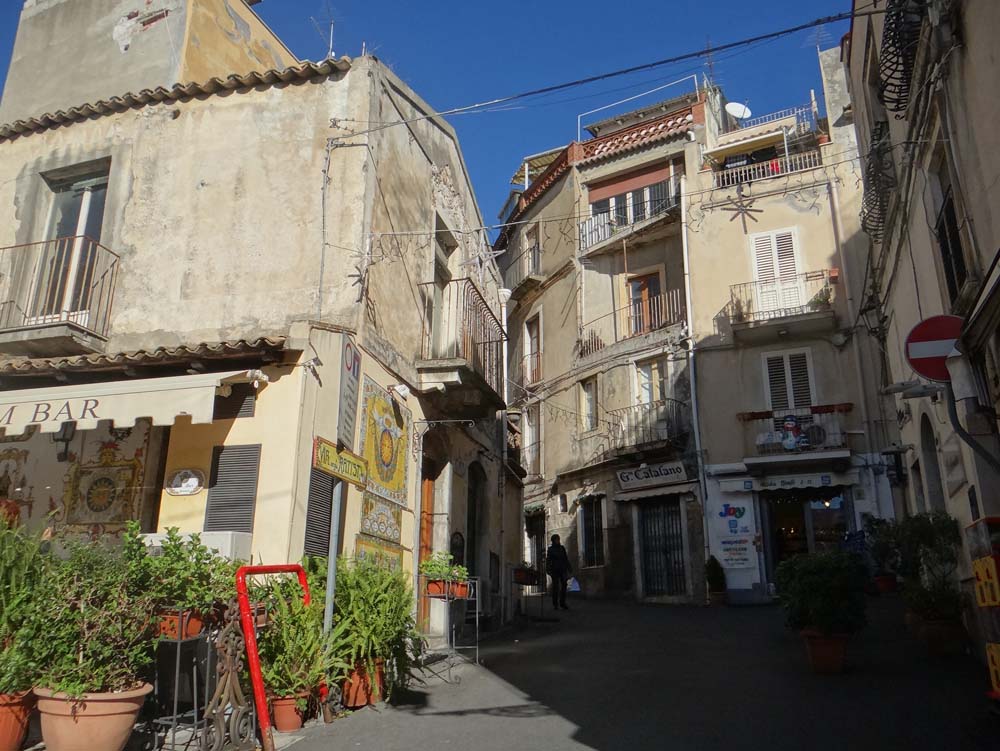 In our view of travelling, there is no 'must see' place. If you're ever around these parts though, we'd suggest the theatre is worth your hard-earned, but pick a day with good visibility or you'll probably have to pay to come back! The ambience in there, the warming sunlight, the views north towards Messina, south west to Etna and south towards Dave were just mesmerising. We stayed for a couple of hours.


The walk back to Dave went quickly, past a couple of guys galloping down the road on horses, smiling and looking barely in control. A tiny Fiat career along honking its horn, the occupants dressed as santa and some additional, forlorn looking, plastic santa imposters clung to the exterior. Loud speakers attached to a church played out carols in bells.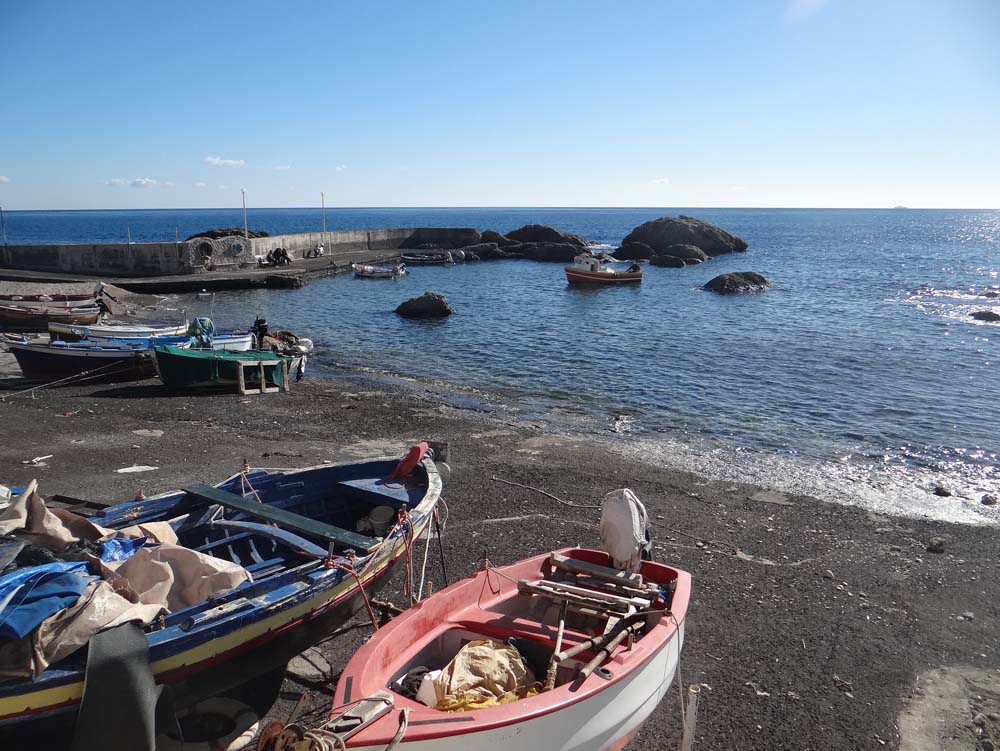 Seeking out somewhere with fewer neds for the night, we popped off a few km down the coast to a spot in our loaned German camper guide. On the way we took in a diesel stop (it's cheaper on Sundays!) and nipped into a supermarket to stock up for xmas. For once not a Lidl, the choice was eye-popping. Four different kinds of fresh lasagne pasta. Eight different kinds of dried spaghetti. Ten types of mozzarella. We spotted an manhole cover sized cooked cake-sandwich thing called contorni and managed to garble/mime instructions for a slice. "Eat in?" huh? Ju, by far the more observant responded that we wanted to take it away. Pointing behind us at stand-up tables, it dawned on me that you can buy food in the supermarket to munch on there and then, perhaps to power you on through the massive choice-making to come.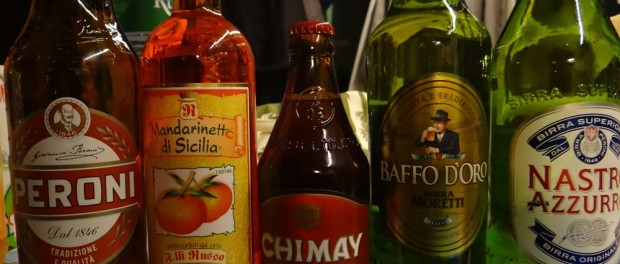 Great news, we've company for xmas, hooray! We've not seen any Brits, Aussies etc heading south but have managed to get in touch with some compatriots through Glen and Steve (thanks guys), who are amazingly parked about 5km from us, at a €6 a night sosta back in Giardini-Naxos which has the wifi we need for family skpying. Yeah! It'll be great, nay fabulous, to have some folks (helsonwheels.blogspot.co.uk) to share xmas with, and share some travel yarns too.
Cheers, Jay