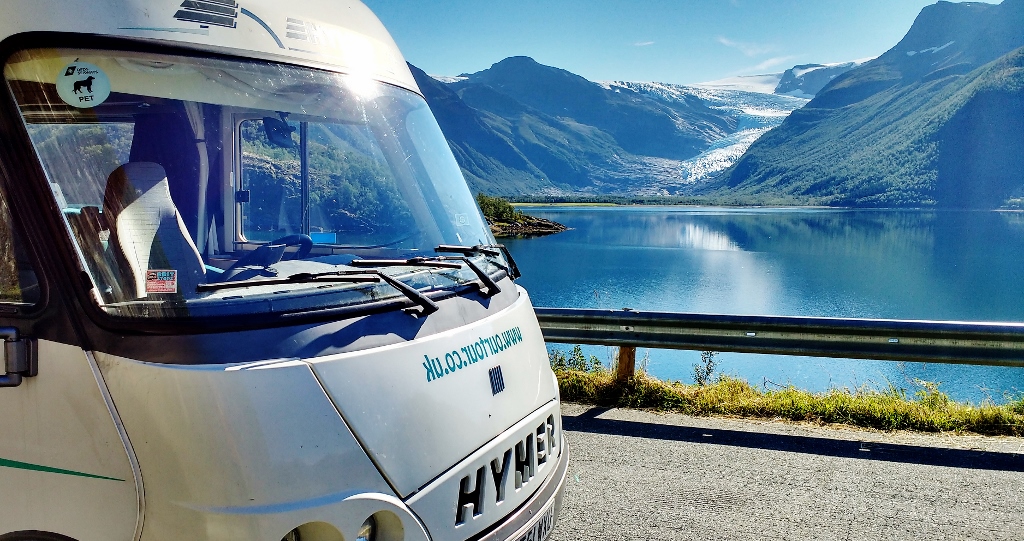 We've just spent 11 weeks (78 days) travelling the length of Norway by motorhome during the summer of 2016, a country now firmly on our list of favourite places to visit in a motorhome. We felt safe, welcomed and everyone speaks English. If you are new to motorhoming, or an old hat who wants to try somewhere new, this article relays some of the information we learned while we toured this country. Hopefully it will help you to make the most of Norway in a motorhome, campervan or bobil (as they are known locally).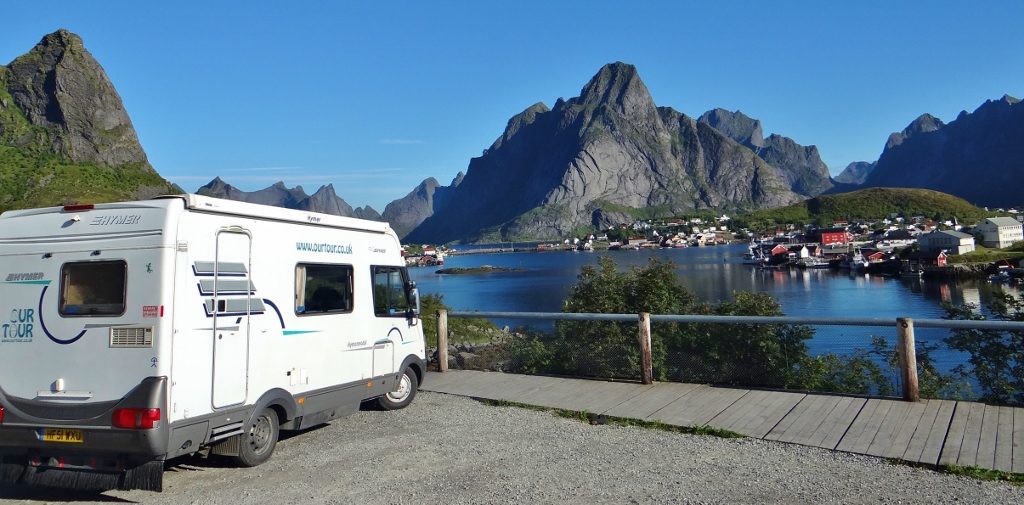 Being one of the most expensive countries in the world, we knew it wouldn't be cheap, but with a bit of careful planning we managed to keep our costs down and still see the sights that this amazing country has to offer. The map below shows where we stayed overnight in Norway (and everywhere else we've been), just click on any of the dots to see a summary, and get a link to the full blog post for that location.
When To Go
Unless you are a fan of driving in the snow and ice, summer is the time to visit. The road networks seem to be fully open from the end of May until October and peak season is July, when the Norwegians have their summer holidays. The country is huge so there is plenty of room for everyone, but it's worth making note that the motorhome parking in popular places and cities will get full in July. We arrived in the North of the country in mid-July, so by the time we hit the 'hot spots', we were out of peak season.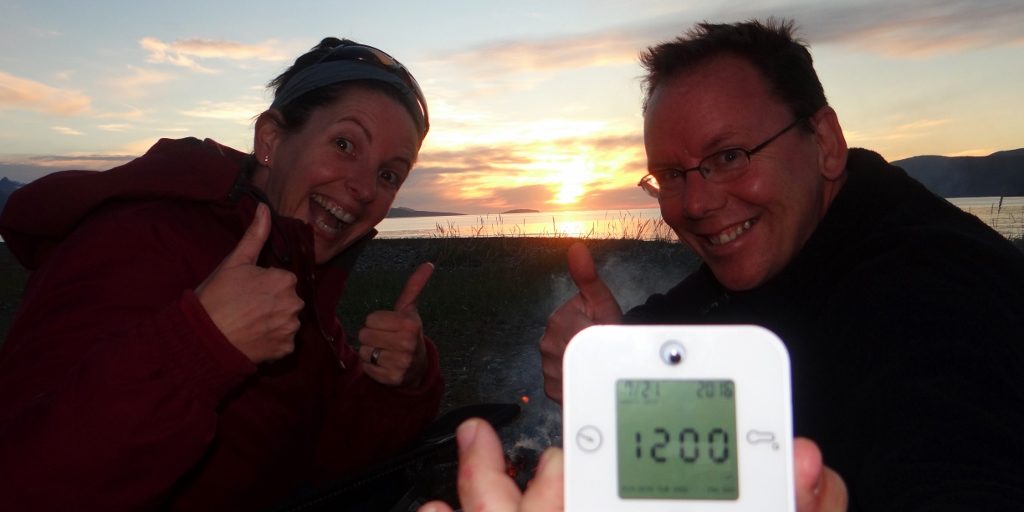 Midsummer is a huge thing in Scandinavia, so if you fancy a party make sure you are there for then. Getting up into the Arctic Circle during June and July will let you experience the Midnight Sun – we recommend eye masks as it really messed up our sleep patterns even though we blacked out the van as much as possible. From the end of August onwards, if you are lucky, you may get to see the Northern Lights too (the further north you are, the better chance you'll have).
The weather while we were in Norway was generally warm, even in the Arctic. We needed sun cream on a fair few days, and sported shorts from time to time. Generally we'd be OK in walking boots, jeans and T-shirts with jumpers and a light coat.
Where to Go
Norway's a huge country, both in terms of distances and the grand scale of its landscapes. There are so many places to visit, our mere 11 weeks in the country wasn't enough to see all of it, but these were some of our favourites: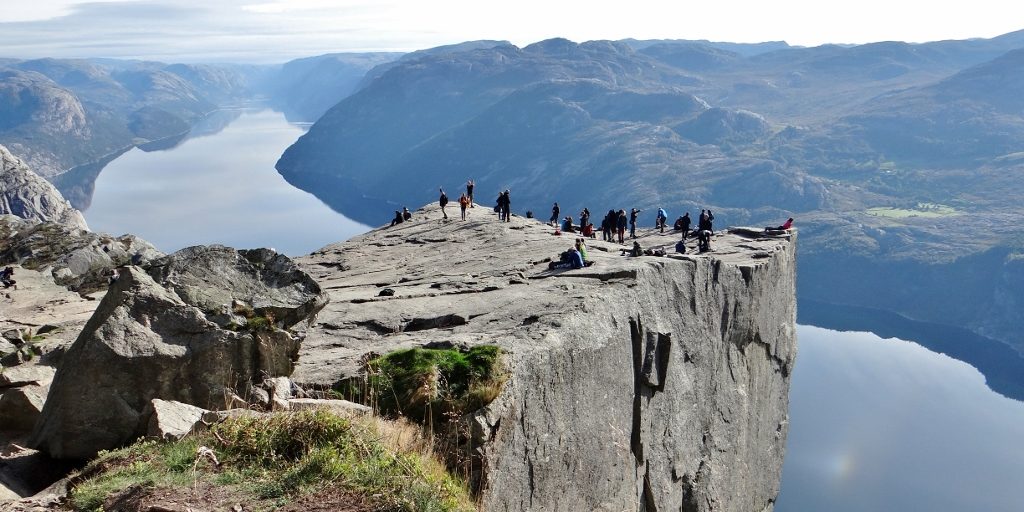 Currency
Norway uses the Norwegian Kroner (NOK, nok or kr). When we visited in the summer of 2016 the rate was around 10 nok = £0.95, so we simply divided prices by 10 to get a rough pound price. They no longer use øre which was their version of pence (100 øre = 1 Krone). Kroner coins are 1, 5, 10 and 20 while notes are 50, 100, 200, 500 and 1000. Most transactions in Norway are done with a card instead of cash – the receptionist at the campsite in Oslo mentioned how surprised she was that we were paying in cash. We loaded £500 onto our Caxton FX card and used this for cash withdrawals while, everything else went on our Halifax Clarity Credit Card. We got so used to paying for everything on the card that we had to make an effort to spend the cash, and still left with some currency.
Driving in Norway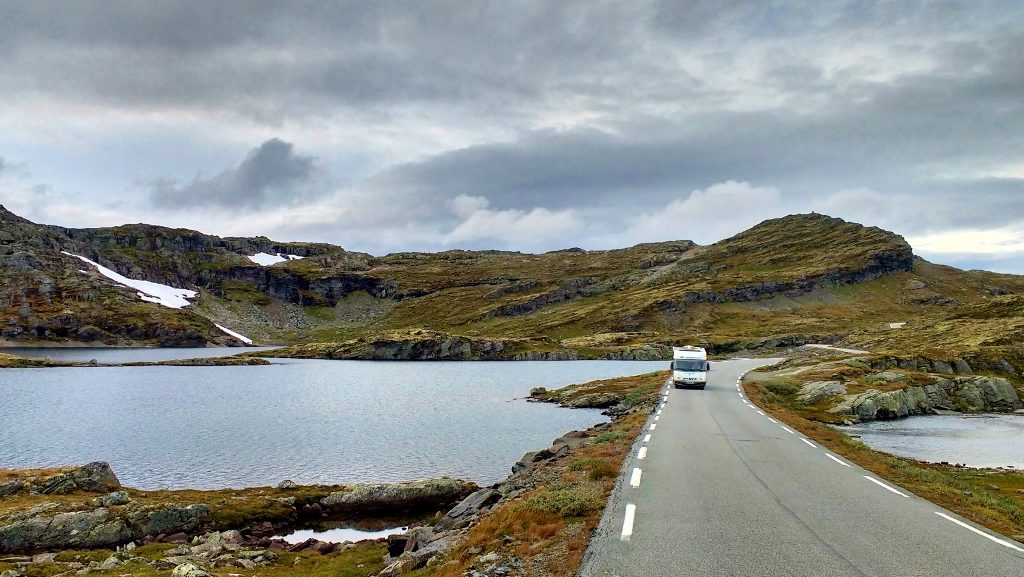 Roads
Norway is big, certainly bigger than we realised. We drove 4849 kilometres and that only took us around the edge. However, it isn't just the distances in Norway that you need to consider, the roads are slow, very slow. There are two reasons for this; first they are twisting, wiggly, seemingly impossible roads and second the speed limits.
Outside of towns and villages the speed limit is usually 80 kph (50 mph), but in many places you'll be lucky to consistently get close to the maximum speed. There are a lot of single track roads with passing places (marked by a white M on a blue background) which will slow you down. For this reason, many people use Sweden or Finland's faster roads to get to where you want to start, or to get back from the end of your Norway journey. Their roads are also toll-free.
Expect to spend quite a bit of time in tunnels, some lit, some unlit, which may help explain the road rule that you need your lights on all the time. One day we drove 20 kilometres, 18 of which were in three tunnels. We marvelled at the ones with roundabouts in them and those that spiralled up through a mountain. In some we would descend down for kilometres until we were under the sea, then crawl our way back out for several more kilometres. Some are narrow, to the point passing places are used inside them, but these ones were generally not busy. Norway also has the longest road tunnel in the world (over 15 miles long!) at Lærdal, but if you aren't in a rush then we'd recommend taking the Aurlandsfjellet Tourist Route which runs over the mountain above it.
There are several Tourist Routes across the country and most of them are fantastic drives (here's a good summary of the best). It is worth sitting down and doing some planning, as to what you want to see before you set off, as to visit the main sights or drive the tourist routes you'll normally need to either take ferries or pass road tolls to get there. We used a Michelin Scandinavia Map
 for planning and tracking where we had been, but it didn't have enough detail on it for navigating by, so we used the excellent maps that we picked up from the tourist offices and our TomTom Start 25 satnav, which came into its own in cities.

Ferries
On the ferries you are charged by your length. Under 6m and you are classed as a car, over 6m and the price doubles, with more added on for each metre you are over that.  The vehicle costs advertised include the driver, then you have to pay for additional passengers. Shorter ferries (10 mins) were around 100 Nok (£10) for us – as a motorhome under 6m plus one passenger. In total we spent about £230 on 11 ferries. If you are over 6m it is worth checking out the prices and calculating if it would be cheaper to amend your route.
The ferries all took payment via credit card or cash. You join the lowest numbered lane to queue and ferry employees will either walk the queue and take payment, or let you board first, then walk around and take payment and finally, for longer trips they may let you board then find a ticket desk and pay there. Whoever's taking payment just asks how long your vehicle is, and how many additional people you have. We were never measured, and we took our bike rack off to ensure we were only 6m. We only heard of one motorhome being measured with a tape; their van was closer to 7m but even after being measured they were charged the 6m price! As with much of Norwegian society, the system seems mainly based on trust.
Tolls
When satnav chirped up our route would take us on a toll road we would ask it to recalculate to avoid it, this proved to be pointless as the alternative non-toll route would be a further couple of hours of driving and maybe include a ferry! Since April 2016 motorhomes are no longer charged the higher 'over 3.5 tonnes' rate, instead all tolls for motorhomes are the same as for cars. Across the whole country we clocked up around £56 worth of tolls. You have a warning sign that you are approaching a toll a couple of kilometres before it, then just before the cameras there is a sign telling you how much it will be, I wrote down each one as we passed it so we can check it off on our bills.
We initially registered with Norway's Autopass scheme, which takes £30 from your bank when you pass the first toll then uses that money to pay for subsequent tolls, however the visitor's payment scheme only lasts for two months. Once this ran out we registered with EPC who will invoice us for tolls after we return home. We initially used Autopass as we would not be at home to receive the invoices from EPC and pay them, however on registering with EPC we found they will send the invoices by email – if visiting Norway again we will just register with EPC and not bother with the Autopass scheme. When you see all the road and tunnel building going on, and think of the cost to maintain some of the mind-boggling stretches of road, the tolls are a small price to pay.
Petrol, Diesel & LPG
Petrol and diesel prices change throughout the day and vary from day to day and place to place. The cheapest day we found to be a Sunday, but other than that we struggled to find any sort of logic behind when they changed. Both fuels get more expensive the further north you go, the cheapest we saw for diesel was 10.69 Nok (about £1 a litre), the most expensive around 15 Nok (£1.50). Keep your eyes on the prices and fill up when you see it cheap.
LPG is no long as widely available as it was a couple of years ago (if our LPG Points of Interest on our satnav is anything to go by). It looks like they are favouring electric car charge points instead. LPG can still be found in most cities, sometimes tucked away on an industrial estate. We used the LPG Norge website to find places to fill up, but there are other companies supplying it, so will be more places than shown on here. If using the MyLPG.eu website, check when the stations were last confirmed as being open as many of them are no longer there. Note – if using Finland to get to/from Norway there is no LPG in Finland, so stock up before you cross the border.
We couldn't see much standardisation between the LPG refill stations: some were manned, others you filled yourself. Some closed at night or on Sunday, some stayed open 24 hours. Some were fully automated. Some used the UK bayonet connector, others the French dish-style connector. Prices were typically around 70p to 80p a litre.
Road Rules
We discovered a couple of road rules while in Norway. In cities when there is more than one lane, the 'slow' lane is often only for buses and taxis – we did wonder why everyone was queuing in one lane in Trondheim until we spotted a sign! Traffic joining from the right has priority on junctions which had no 'give way' signs or painted lines across the junction, and cars wouldn't hesitate to drive out onto the main road, so it's well worth being aware of this one.
Wildlife
In the north of the country – particularly inside the Arctic Circle, you'll probably come across reindeer beside and on the road. These semi-domesticated herds are owned by the Sami, natives of the north (whom we learned about in Finland), who manage the herds but in general they roam free. Reindeer have zero road sense, and don't much care about your vehicle when you're sat behind them. Hitting one at speed wouldn't be a good idea. Keep and eye out for them as you go, and slow to a crawl if they're near or on the road. Look out for cars seemingly stopped for no reason in the road, they're probably sat behind a reindeer or two. Shouting at them out the window seems to work to get them moving!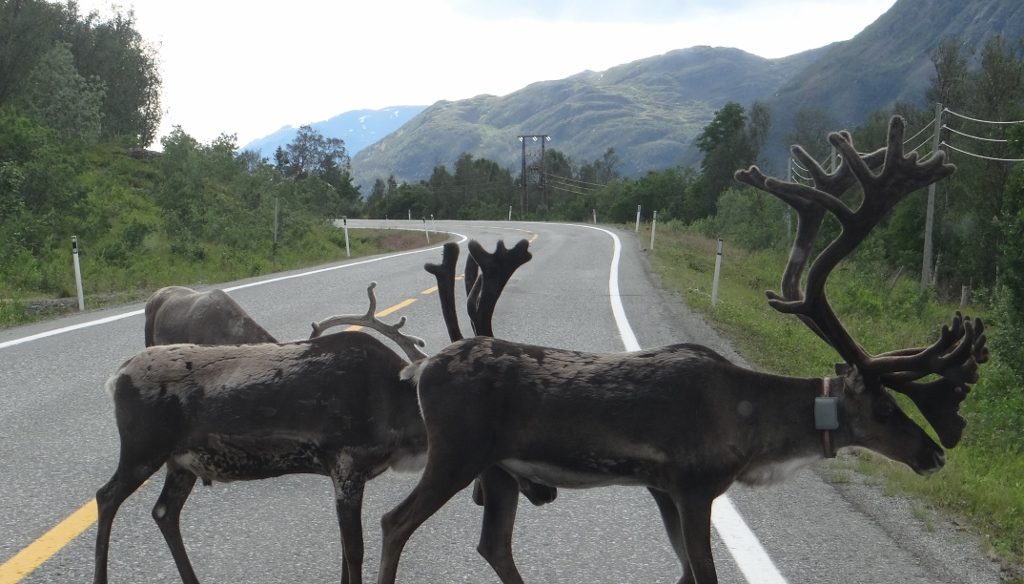 We spotted a fair few birds too on our travels, especially in the north, including eagles and puffins.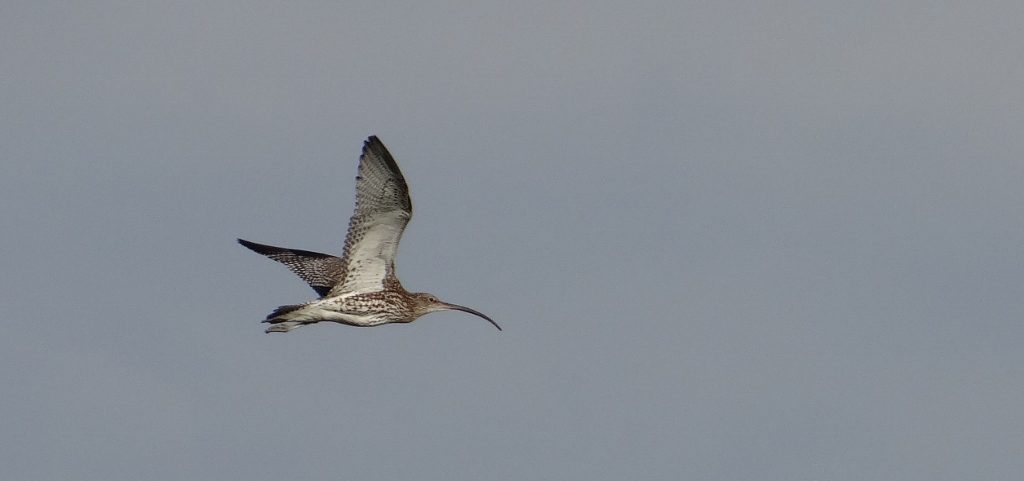 Where To Stay
This is where Norway becomes into its own for the motorhomer. Norway, like much of Scandinavia, has an ancient right of freedom to roam, which was enshrined in law in 1957 – allemannsretten. Since the law was written way before modern motorhomes appeared, it doesn't specifically apply to them, but the spirit of the law includes us van-travellers (there's an interesting article here – in Norwegian but you could use Google Translate to read it). The general spirit is you can free camp somewhere under these conditions, although we came across exceptions to some of these rules:
You need to be 150m from dwellings
Stay no longer than 48 hours
Don't stay if there is an official sign requesting you don't park there overnight
Don't put out awnings, chairs and so on
Also, be aware of the rules around campfires in summer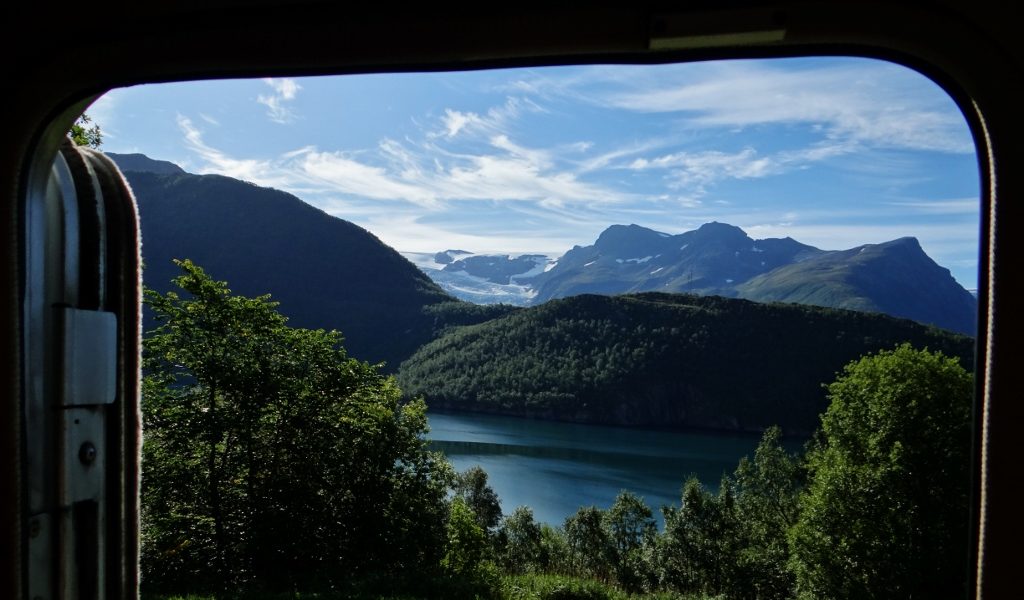 In practice we found we could have free camped across most of the country, but we opted to pay for some aires and campsites so we could be in wonderful spots like Reine and Briksdal. Note that unlike much of Europe, caravans use the same areas as motorhomes for free camping in Norway; don't be surprised to see them parked up alongside you in an aire or car park.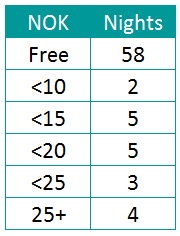 We used these resources to find parking places:
The park4night.com database and tablet application – in various languages with translation packs
The campingcar-infos.com database – in French
The ourbumble.com blog – in English
A leaflet called 'Camping' from the Norway tourist info which unfolds to a big map which shows the picnic/rest spots – many of which were simply beautiful, safe, free and often with toilets available
Aires typically charged 10 to 15 Nok a night (£10 to £15), although the one at Reine charged an outrageous 30 Nok, made palatable by the simply stunning scenery. Campsites came in at about £18 to £25 a night with electricity and showers charged in addition, so we used our own facilities. In total we paid £378 (£52 of which was to park for the night at Nordkapp as entry was 260 Nok each) roughly £4.80 a night for overnight parking and camping.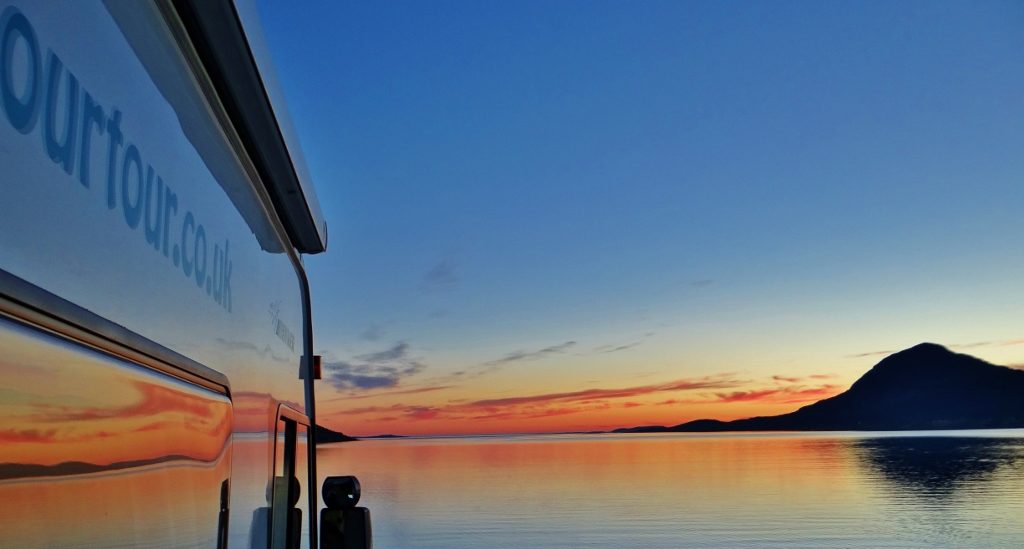 Service Points
The campsites we used all had service points for motorhomes. Outside of official campsites there are plenty of options for discarding waste and taking on fresh water:
 Tømme stations – service points for motorhomes which were typically free, located in towns, at picnic spots and in petrol stations. bobilportal.no (Norwegian) has a list of them. Note that there's little standardisation in the design of service points, unlike the commercial ones you find in France for example. In some places black waste (the loo contents) goes into the same drain as grey water, and in rare cases you may need to obtain a 'key' to lift the centre of a manhole cover.
Lots of petrol stations provide free water, typically from a hose in a heated cabinet where you also get compressed air. They don't charge for it, and we found no expectation that you buy fuel before taking water.
The picnic/rest area network often has free toilets available which, unless signed otherwise, we'd occasionally use for black waste disposal. We have a SOG unit fitted, so didn't need to worry about damaging sceptic tanks with chemicals. We would say that while a SOG unit is useful to have, it's by no means essential for Norway.
We didn't see any service points which provided electricity for battery charging, as you might see in France or Germany.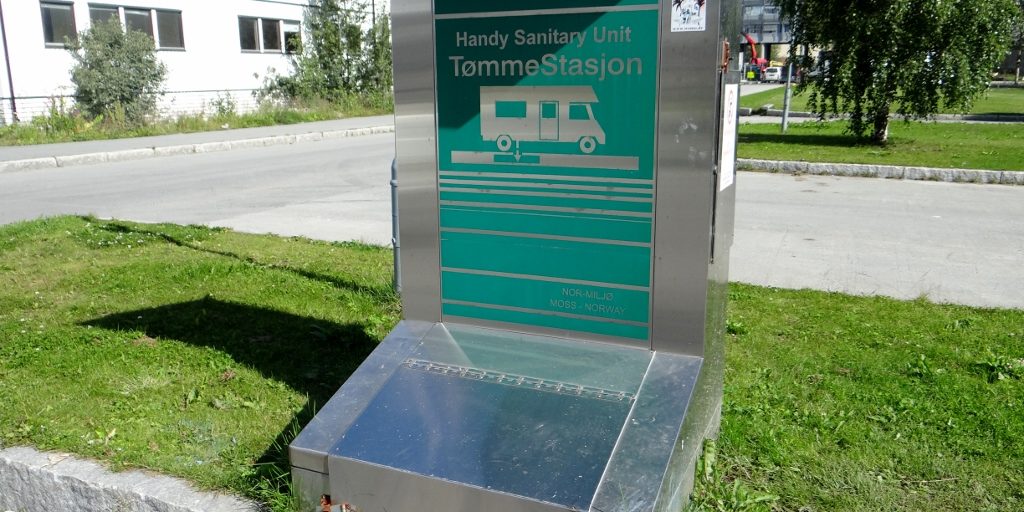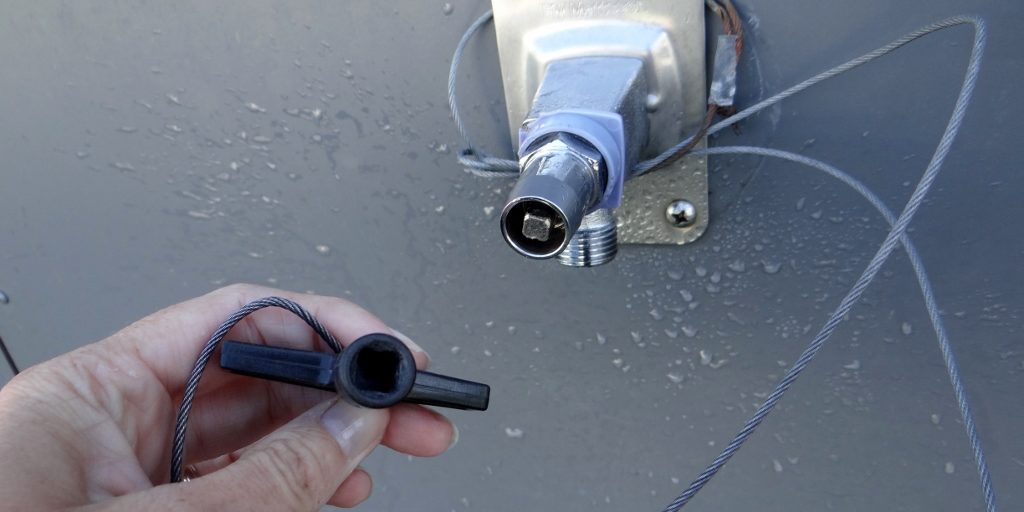 Food and Drink
While in Norway we heard the phrase 'Norway is for the eyes, not the stomach', which certainly proved to be true. As it ranks among the most expensive countries in the world to live, this is reflected in the price of food, alcoholic and non-alcoholic drinks both in supermarkets and restaurants.
Supermarkets
Expect to be paying double the amount you would do at home for everything from basics like bread and milk to chocolate, biscuits and alcohol and you won't be far off for budgeting. But look closely and you'll see that there are some things that are reasonably priced. Buy the store's own brand of goods, or from the 'First Price' range.
By having a good look we found custard cremes labelled as 'Vanilla Biscuits' at just over 16.60 Nok for half a kilo (some of the cheapest biccies in the shop), ready salted crisps were cheaper than flavoured ones (around 26 Nok for a big bag), so we added our own flavours (black pepper, fajita seasoning), own brand cornflakes were less than £1 for a huge box and you could get massive 5kg bags of rice for around a fiver. When buying bread look at the prices, there is usually one called Loft that is a fraction of the price of the others (6.80 Nok compared to 30 – 40 Nok). One of the best buys we found were from the 'Extra' chain of supermarkets, where you could get a cooked chicken for about 57 Nok. Finally, as always, keep your eyes open for the discount section, we picked up a huge piece of salmon for half price, cut it into sections and froze it for later.
The cheapest supermarkets were Rema 1000 and Bunnpris, but they did lack a bit in range. For a better range we used Kiwi, Co-op and Extra. We also found the Europris stores to be very good for snacks and treats as well as fishing gear (they are a bit like a Wilkos).
All drinks cans and plastic bottles have a 'pant' (deposit) on them, this is often in addition to the price on the label – usually 1 Nok for a can and 2.5 Nok for a bottle. Inside each supermarket you'll find a machine you can put your old cans (un-crushed) and bottles into; it will then offer you the option of having a voucher to the value of the deposits or giving the money to charity. If you opt for the voucher you have to use it in that shop at that time, you can't take it with you and use it elsewhere, so keep it handy for when you get to the till.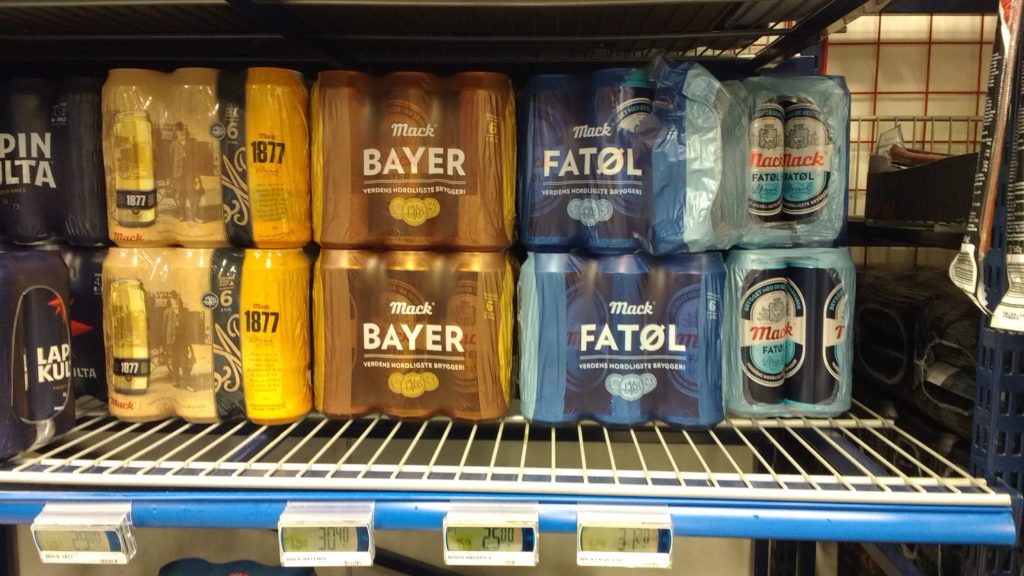 When buying alcohol, the supermarkets will only sell stuff up to 4.75%, so you'll find beers, ciders and some weak wines in there. The prices on the shelf are usually per can (26 – 35 Nok for beer), and opening a six pack to buy just one can is quite normal. Check the percentage before you buy, as they have a lot of alcohol-free beers! You can't buy alcohol from supermarkets after 8pm on a weekday, 6pm on a Saturday or any time on a Sunday, the shelves will be covered in a curtain to stop you from being tempted.
For anything stronger than 4.75% you'll need to go to one of the state-owned 'vinmonopolet' stores which also sell spirits and wine, these tend to be in bigger towns. The prices in these stores are, as you might guess, exorbitant.
Typical Grocery Prices
These are all in Nok, divide by 10 for a rough UK comparison:
1.75l Milk – 23.90
Tin of tomatoes – 4.10
Bottle of Bulmers – 51.40
500ml can of local beer – 30.40
Loose potatoes (per kg) – 22.90
Loose mushrooms (per kg) – 42.50
Iceberg lettuce – 20.90
12 large eggs – 39.90
How to avoid the high supermarket costs
How did we get around the high cost of food and drink? We stocked up massively before we arrived in Norway, taking Europe by Campers advice to 'pack as though you're going to the Moon'. Even the Norwegians are known to frequently nip over the border to Sweden for their shopping.
We had one under bench storage area which was full of tins. We bought a huge chunk of parma ham which lasted a couple of months in the fridge and was used as ham and bacon at times. We froze as much stuff as we could and stockpiled as much wine as we dare. Norway is not in the EU, so it has import quotas on alcohol and tobacco (remember the good old days when you could only bring home so much from abroad, well that's how it is going to Norway). We were slightly (ahem) over the limits when we arrived in the country and fortunately for us there were no signs of customs officials when we crossed the border from Finland Legally, we should have paid duty on the excess wine we had with us. If we'd have been caught, we risked a fine, and if you bring a lot in, you may well be sent to court. We did see a transit van being flagged in for checking at customs when we left the country to go into Sweden, so it is up to you how much risk you feel you want to take.
Jay also took up sea fishing (no license needed for sea angling in Norway), which helped to supplement our food stores and gave him a chance to sit in the sun and admire the scenery. He managed to catch some cod and haddock, but we had a plentiful supply of mackerel and pollock. From YouTube he learned the quickest method for killing them, and how to fillet them, so we could fit more in the freezer.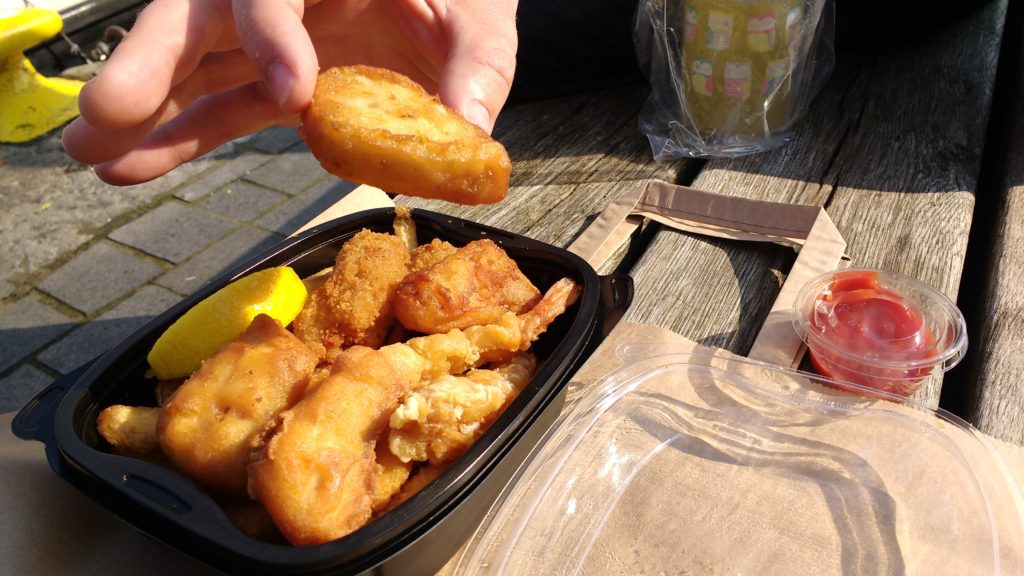 Eating Out
I'll confess now, we only ate out three times in Norway (two of those were take-aways) as the high prices took away any hope of enjoying a meal. Even a McDonalds Big Mac Meal was around 100 Nok.
Drooling over restaurant menus, the cost of a burger and chips was around 210 Nok, then you would need drinks on top of that. In some places a half litre of beer was 140 Nok, enough to make you want to weep into it so it lasts longer.
Restaurant and take away prices did appear to get cheaper as you went further south in the country, but not by much. Our double skillet got plenty of use in Norway, as did our outdoor camping gas stove, especially for cooking all the fish Jay caught.
Pampered Pooches
Charlie, our Cavalier King Charles Spaniel, accompanies us on our travels, and came to Norway with us. To bring a pet into the country (and get back out again into the EU), they have to meet the EU Pet Passport rules, and also have to be treated for tapeworm before entering the country. We came in via Finland, which (as far as we can work out) meant we had to get him wormed by a vet in Estonia, which we did, but we didn't need to get him treated again before entering Norway. We weren't stopped at customs when we entered Norway from Finland, nor when we left Norway into Sweden, so neither our paperwork nor Charlie's chip were checked.
We read somewhere that dog food isn't allowed into Norway, but when we later checked the official customs web pages could find no mention of this, so we brought his dog food in with us. Again, since we weren't stopped at customs, we're not sure if this is legal or not.
Finally, we give Charlie the Seraquin joint supplement for his arthritis. We accidentally ran low on this in Norway, and found we couldn't buy it in the country. Ju tried to order it online and get it delivered to a campsite in Norway, but it seemed import restrictions wouldn't let us choose Norway as a delivery address. In the end we rationed his Seraquin dose, and picked it up from a pharmacy as soon as we entered Sweden.
Note that in the summer months you legally have to keep your dog on a lead when out walking them, between 1 April and 20 August to help protect wildlife. Apart from that, we didn't see any restrictions on dogs going onto the beaches in Norway.
Keeping in Touch
Internet
During our stay, we used Three Feel at Home pay as you go SIM cards to stay connected to the Internet everywhere. This cost us £15 for 3GB of data, which lasted us about a month (we're reasonably careful with how much we use). We checked the cost for buying a Norwegian PAYG SIM card instead of using the Three SIMs, but they were more expensive. Officially, each Three SIM can only be used for 2 months abroad, so we have multiple cards which we can rotate, and we use them in a MiFi-type device which shares the signal around inside our motorhome (more details on our Internet system here). We also have a WiFi booster aerial, an early version of the motorhomewifi.com iBoost, which was very useful for reaching distant WiFi access points while we were on campsites.
Phone
We used Three SIMs in our phones, but we make very few phone calls or send many text messages. That said, we fell foul of the fact all 'phone' Three SIMs include Feel at Home, so although we weren't making use of the savings this would give us, we'd used the phone outside the UK for several months, and Three contacted us to inform us they would halt roaming on our main phone. Effectively this would cut the phone off, and we'd given the number to everyone. We couldn't transfer the number to the other Three SIM, but so far Three havent actually stopped roaming on the SIM a few weeks later, so it has remained active. We'd suggest you don't use Three SIMs for your voice and SMS calls in your phone as a result.
Post
We sent a few postcards and birthday cards home. Ju picked up stamps from small post offices found in some of the supermarkets, and they reached home in 3 or 4 days.
Laundry
We do a small amount of hand washing here in Zagan, but as a rule we like to use washing machines to clean our clothes, bedding and towels. While in Norway we mainly used campsites for laundry, but found a couple of washing machines and dryers at marinas which could be used by anyone for around £3 to £6. We didn't spot any launderettes, but we didn't search for them either.
Fishing
Ask mentioned above, we caught a fair few fish while in Norway. Jay hasn't fished since a child, and only picked up a cheap telescopic rod in Finland for about £40 (one like this). He only fished in the sea, which doesn't need a license in Norway (fresh water fishing is licensed), and used basic metal lures, about 14g in weight, and a spinner. He didn't use any other bait, and didn't use a boat to save on cost. Where we saw people using boats they pulled in lots of big fish, but we got our fair share just fishing in deep water on the edge of fjords. The Saltstraumen area was by far the craziest fishing place we've ever seen.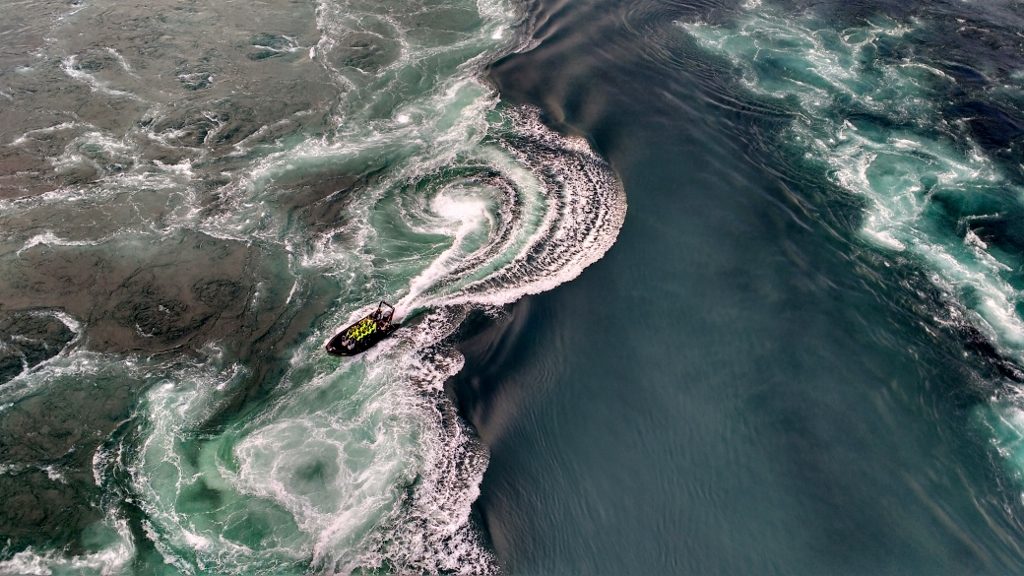 The fish were typically pollock, which isn't particularly tasty so we cooked it in sauces. We also got a fair few mackerel which was much tastier, quickly fried on both sides, just enough to cook it and keep it succulent.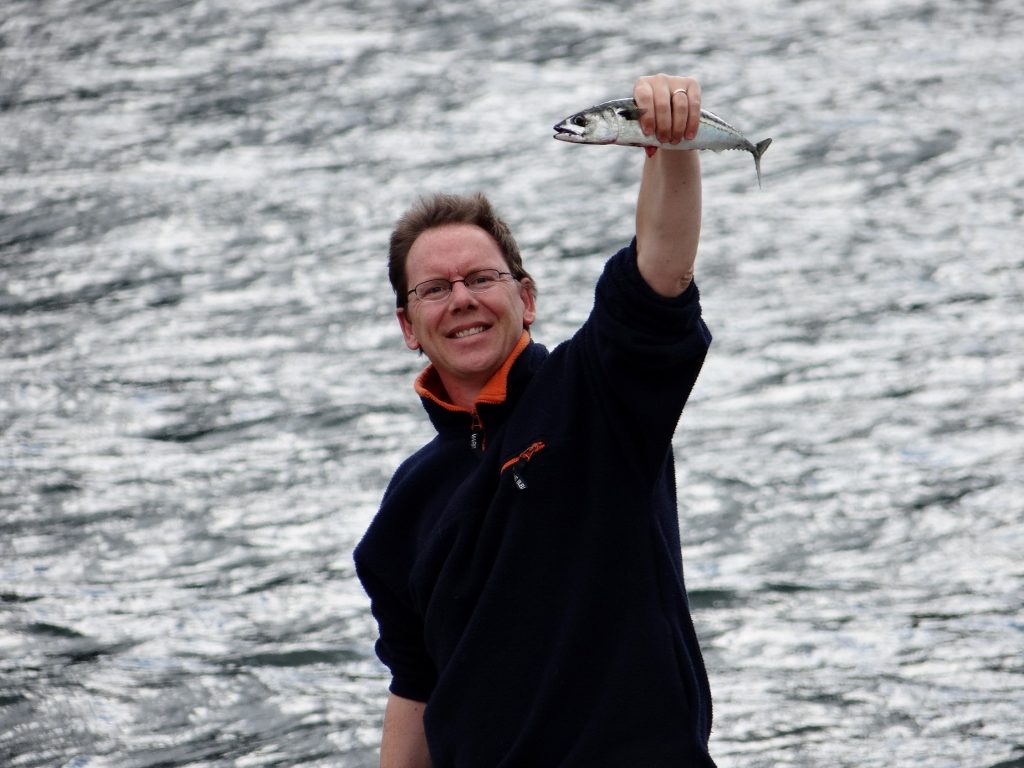 What did it cost?
Is Norway as expensive as everyone says? Below are our costs – I'll let you decide.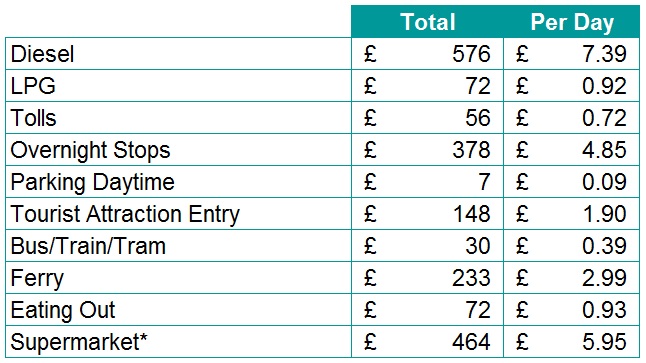 If you are still undecided about if it is worth the drive to Norway, here are a few videos to inspire you:
If you want to see more, check out our YouTube channel.
That's about everything we can think of, but if you have any questions please add them to the comments below and we'll reply as best we can.
Cheers
Ju & Jay x