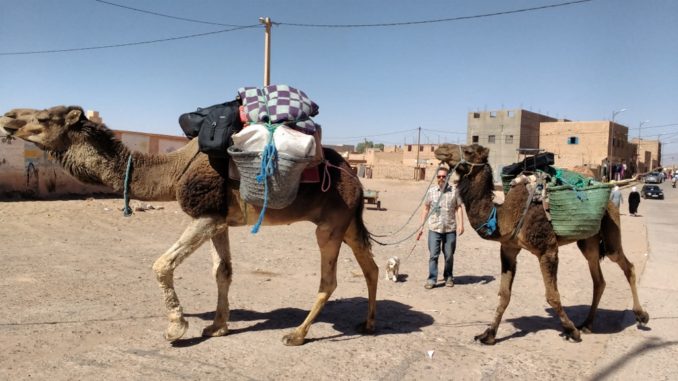 Zagan the motorhome's wheels are resting on the fine brown dust of the desert (N29.821421, W5.720161). We're up against the mud-brick outer wall of the Hamada du Drâa auberge camping (hamada-sahara.com), and this is literally the end of the road for us. Without an all-terrain vehicle, we can get no further. There are a fair few places to park up your luxury adventure wagon here in Mhamid, and we opted for this one as it came highly recommended in Campings du Maroc. With a swimming pool, electricity (via a socket coming loose from a mud wall), free WiFi, a stone's throw walk to the town and access to all the auberge facilities, it costs 80Dh a night (£6.50).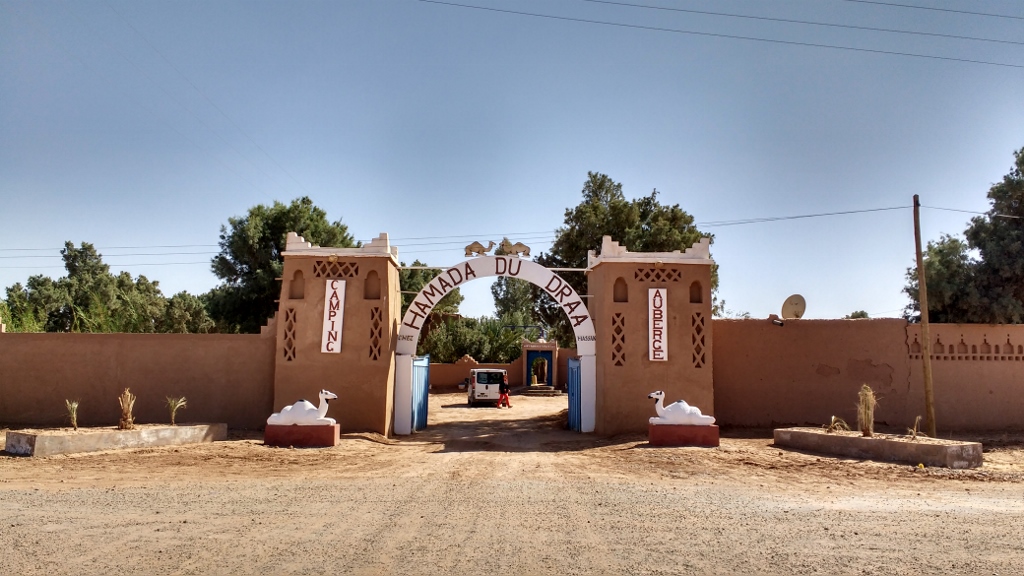 Just south of here is Algeria, and the vast expanse of the Sahara desert, the second-largest desert in the World, large enough to blot out the entire continental US. In front of me there's a road bridge which joins the squat, concrete blocks of the Mhamid new town with the sprawling oasis, mud brick villages and low dunes behind me. The bridge stand solid over the Drâa river, and currently looks a little redundant, crossing an expanse of rock, dust and sand much like the rest of the place. Laughing school kids, ladies balancing loads on their heads, fellas with donkey-driven traps and even a chap with a reluctant, noisy camel have been seen just wandering across the river bed, as well as us tourists fooling about in the sun.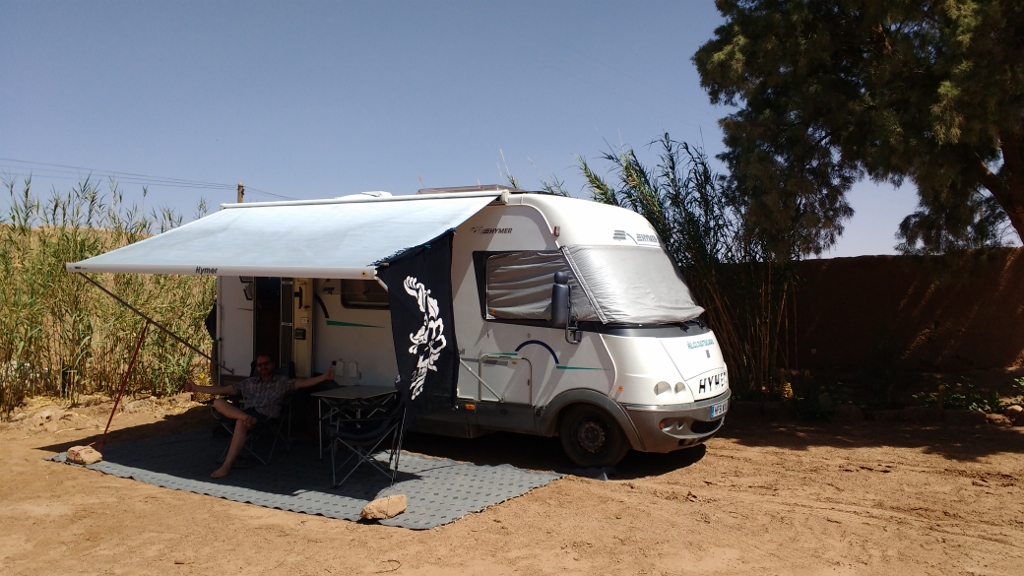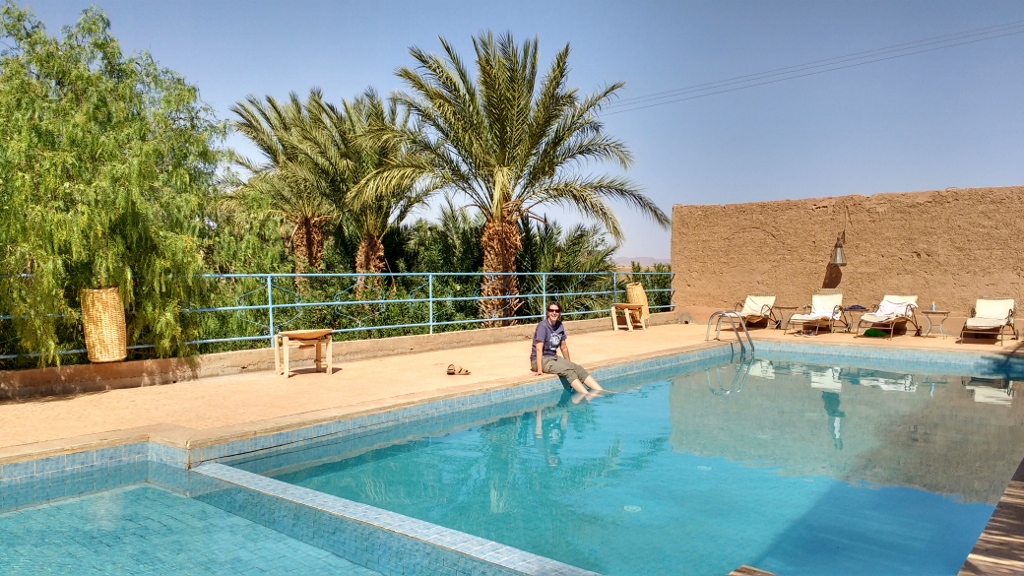 After a few weeks a little off the beaten track in Morocco, it didn't feel like an obvious decision to head south from Zagora. Mhamid is one of one two places in Morocco where you can, with relative ease, find yourself in the raw beauty of an erg. An erg being what I think of when the Sahara comes to mind – a sea of sand, blown into high dunes, nature working in harmony with Hollywood. The Erg Chigaga is about 35 miles west of us here, while the Erg Chebbi is off to the east of the country, near Merzouga (we had an awesome time there in 2012). Both places have a reputation of being big tourist draws, which I'm finding myself wanting to avoid in Morocco. Why? Touts mainly. And endless begging nippers. Our mates Phil and Jules were here a few days ago and even got stones thrown at them at one point – who wants that?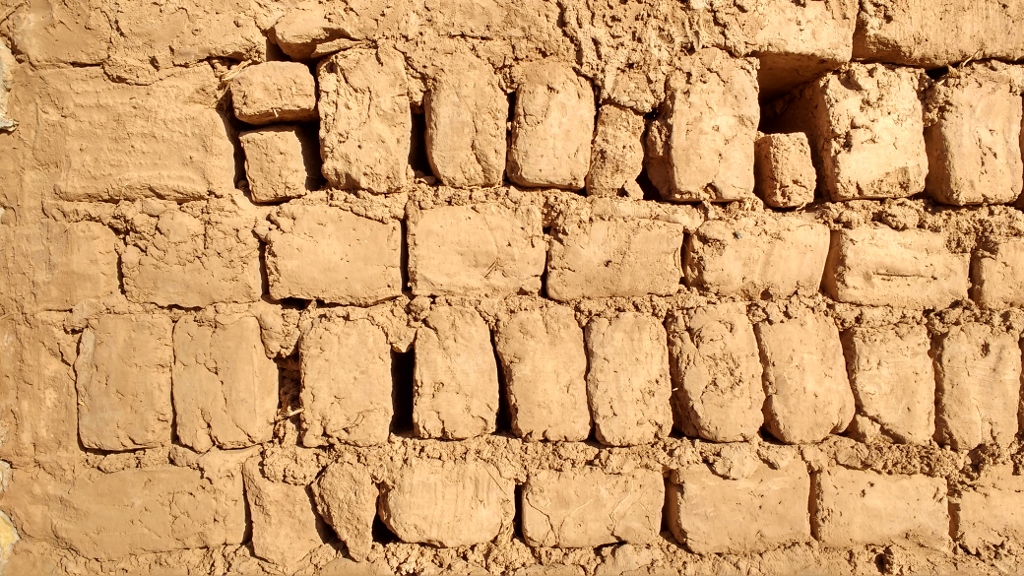 In the end two things swung the decision: the first being the fact we're tourists the same as everyone else, and what draws them draws us. We were only 60 miles from the end of the road, and we're not likely to be here any time soon, so why not come see the place? The bigger influence was a poster Ju spotted in Zagora for the nomad festival which is about to start here (it should kick off roughly when I finish writing this blog post). Camel racing is on the cards. Who, given the opportunity, could possibly miss seeing that?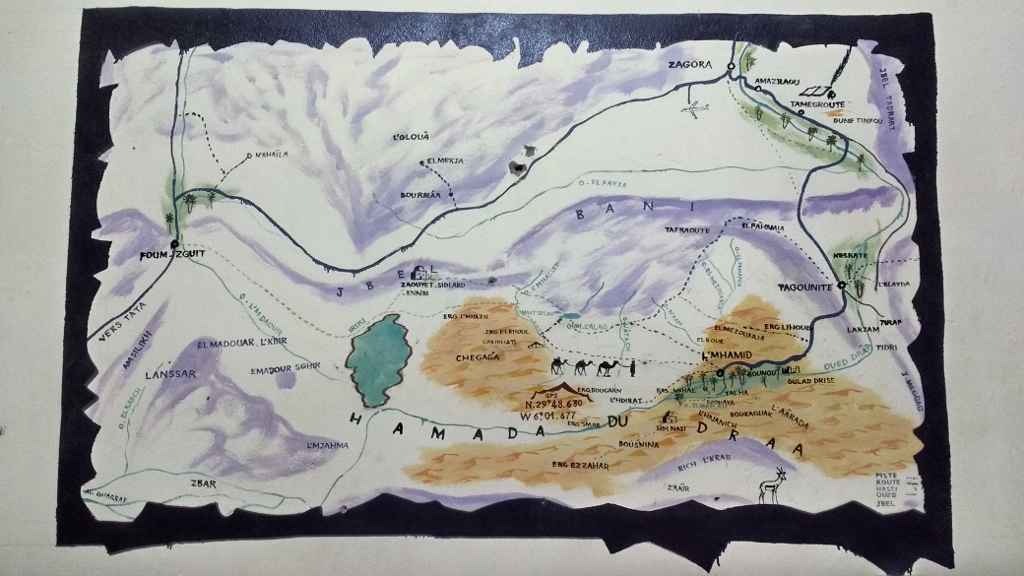 The road here annoyed the hell out of me, if I'm honest. It started off all temptress-like, two lanes of buxom tar, suspiciously good, since it's a road to pretty much nowhere. Sure enough, after a wee while of rolling through dusty desert the route needed to cross a small pass and quickly shrank to a single lane of rough-edged, rough-topped tar. Rumbling along behind a crawling lorry we topped out, and shortly found ourselves road-less. The N9's clearly seeing a huge amount of investment, and will be a wonderful road in the future, but at the moment it's simply not there. The authorities have ripped up maybe 5 or even 10 miles of it, and elbowed everyone off onto a rumbling dust-bath of a piste road alongside it. Given the fact I was expecting to get here easily, and I was expecting to be besieged by a charging army of touts and beggars when we finally got here, I rumbled along in a foul mood. Ju stopped talking to me, a sensible response she's learned to adopt when I'm being a miserable git.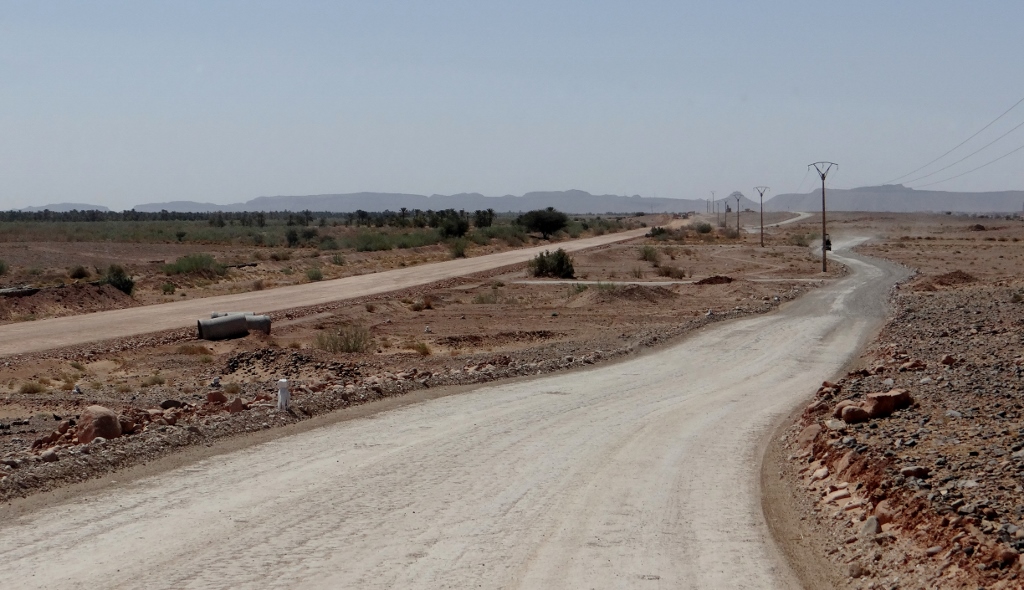 Finally we rejoined the tar, and good stuff at that. As we enjoyed the fresh black-top, the fruits of previous traveller's misery, and crossed another small pass we were rewarded with graffiti: 'Welcome to the Sahara'. As we dropped back down into the valley a series of official signs appeared, politely requesting we respect where we were: please don't drive off the road, please don't waste water, please take your rubbish with you, please respect our customs.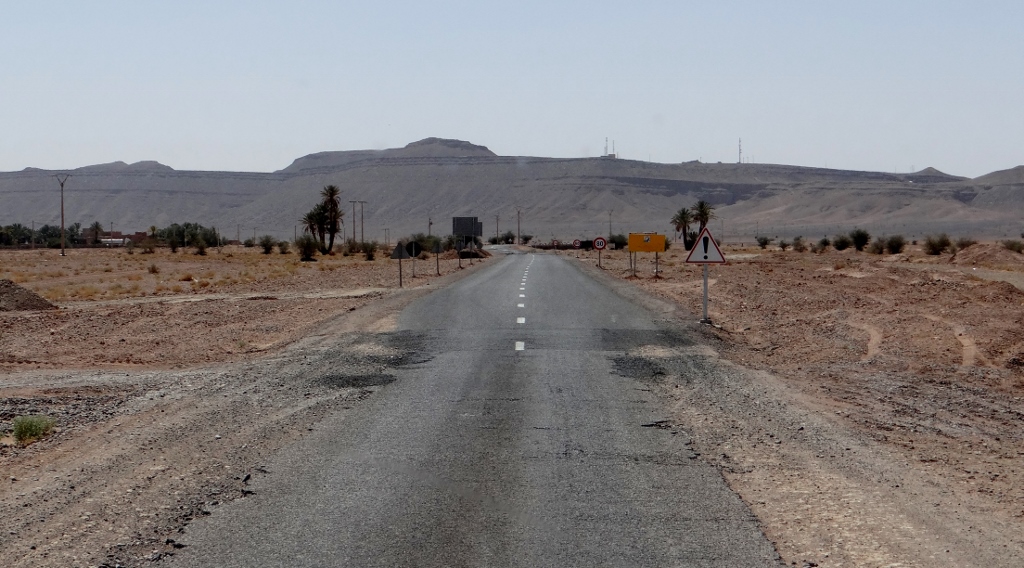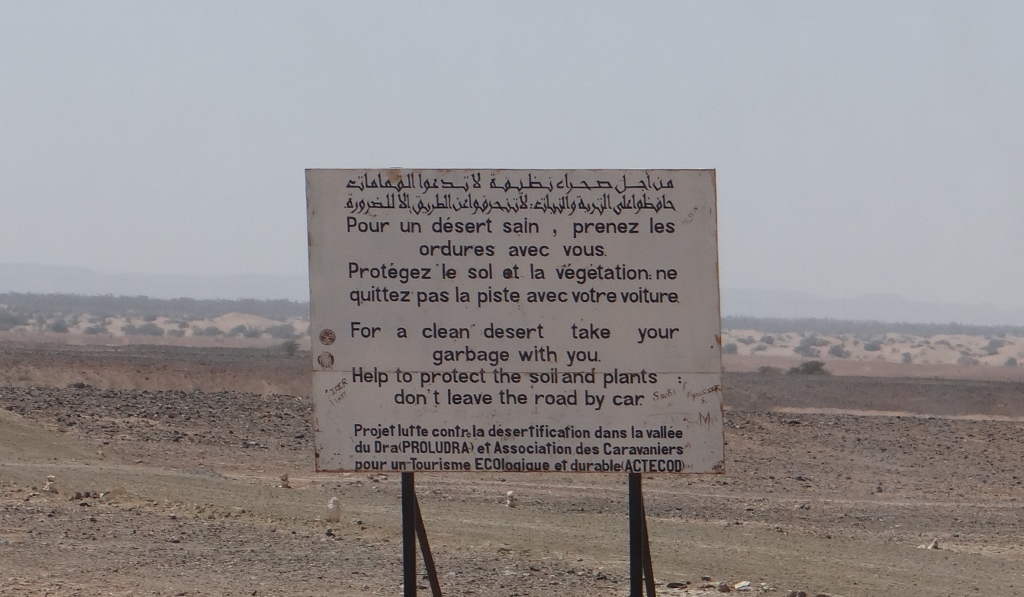 Upon finally reaching town, passing the stage being set up for the festival, we steeled ourselves for the touts we'd been warned would literally throw themselves under our wheels to get us to stop. Nah. Nothing. Maybe because we turned off over the bridge before the narrower section lined with desert safari agencies? Whatever the reason, we didn't have any trouble whatsoever. Any auberge or campsite worth its salt in these places will try and sell you a 4×4 or camel safari too, and our guys here had a quick go, but Ju deflected 'em with the fact we can't leave Charlie, and that was that. We were in, safe, calm, hot and bothered, but after half an hour's action were chilled out.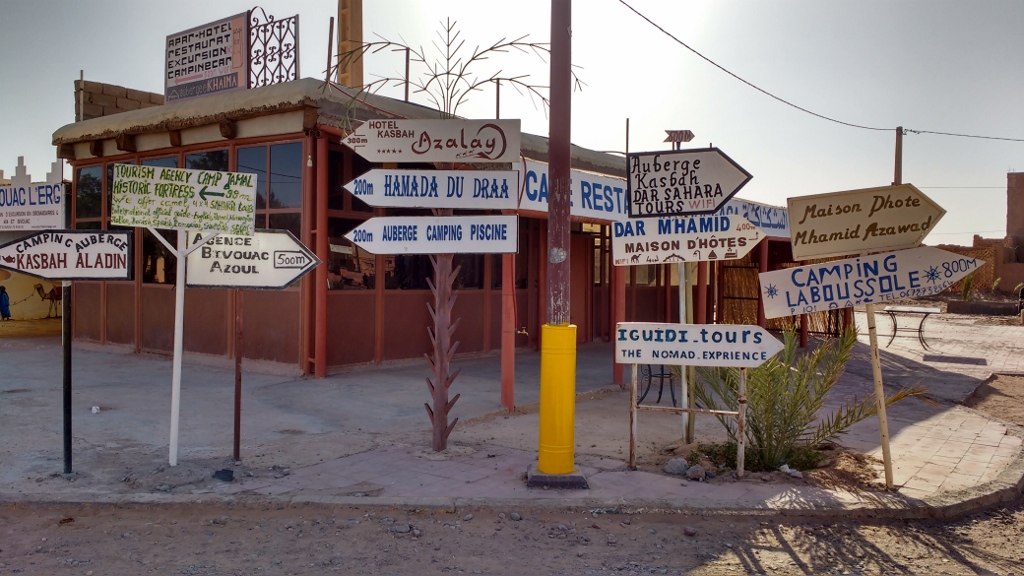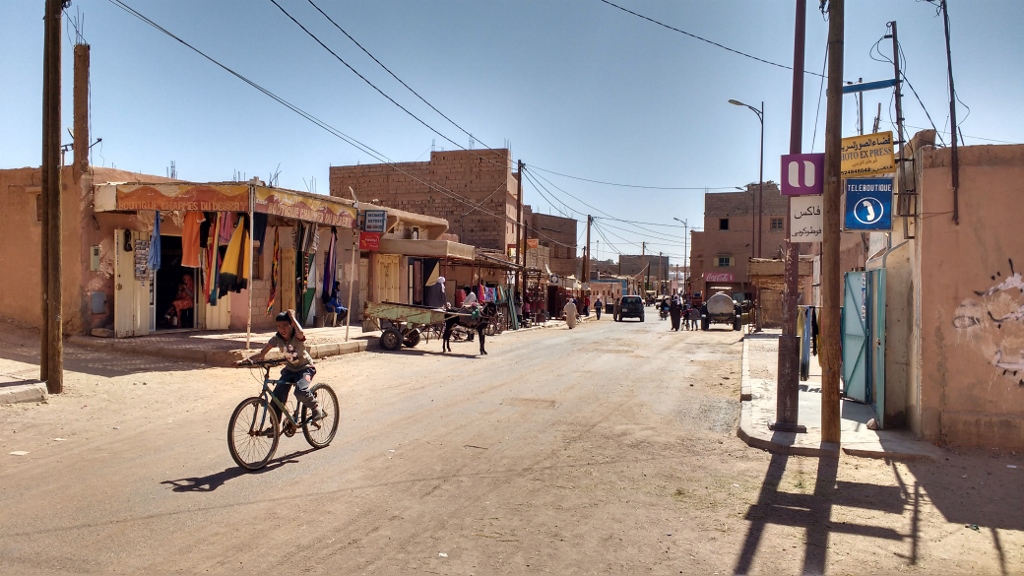 There are no big dunes here. But there is plenty to see. I've cycled the palmeraie, with its usual myriad of small sights. We've walked the town with Charlie, with (almost) no hassle whatsoever. As ever the local nippers are fascinated by Charlie, asking us his name and saying it out loud over and over 'Sharr-lee!, sharr-lee!'. The braver boys reach forward and rub his head. The girls stare from a distance, wagging a finger at us and smiling if we make any show of taking him towards them. Experience of this type of place can spin on a single laudable or disrespectful action of just one person. To some degree they can be influenced by what you do, say and wear, but to another and probably larger degree they're simply luck.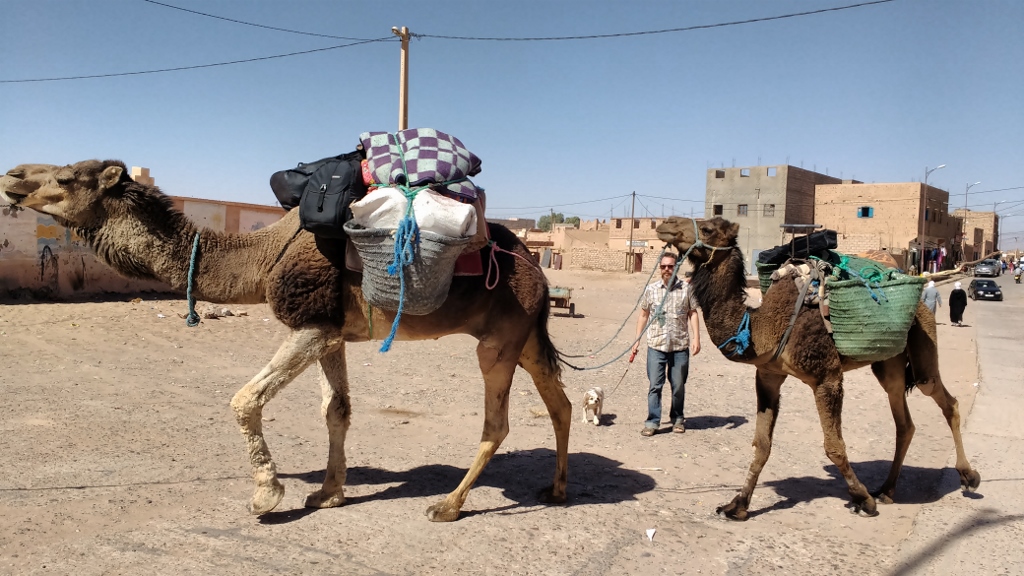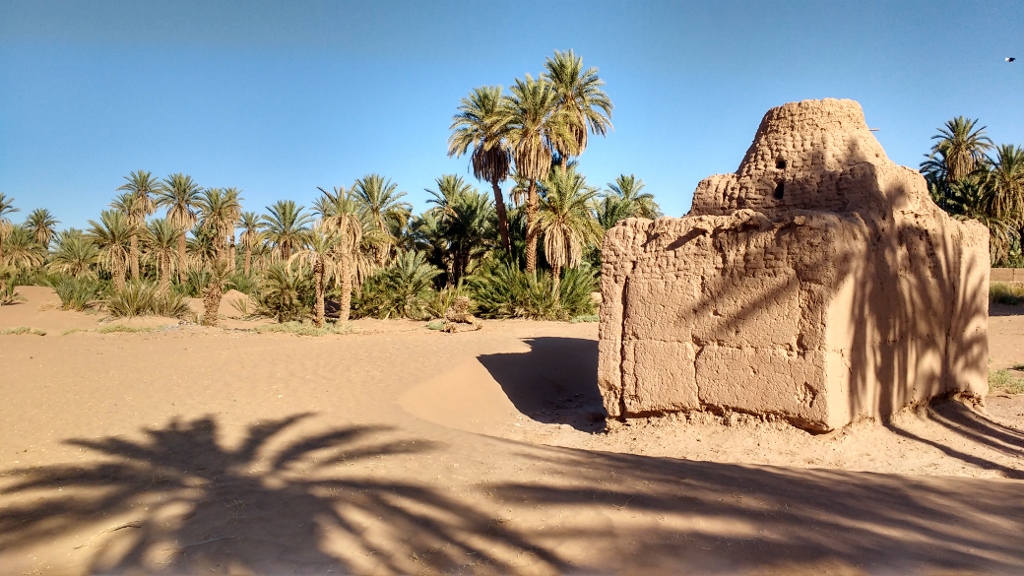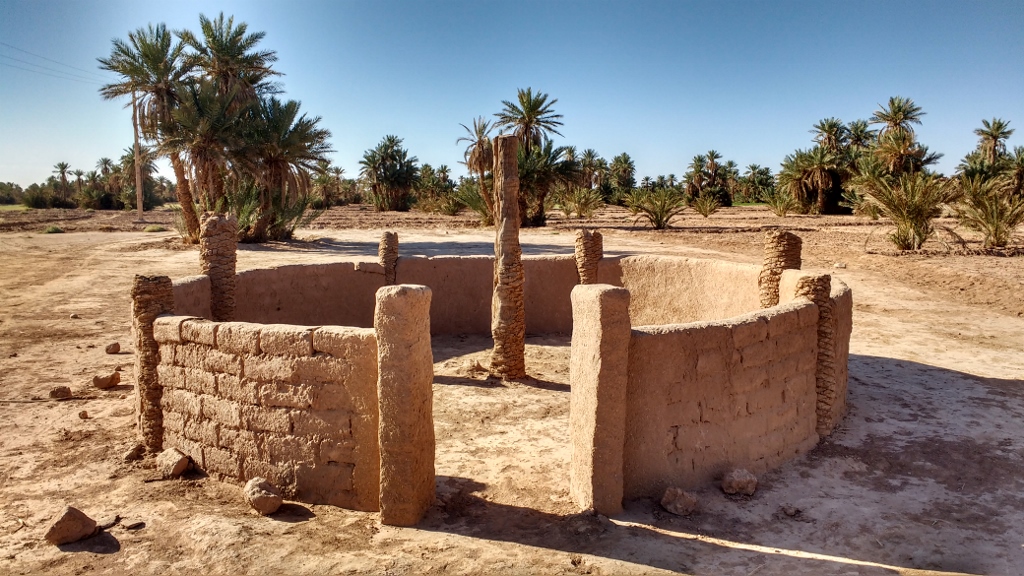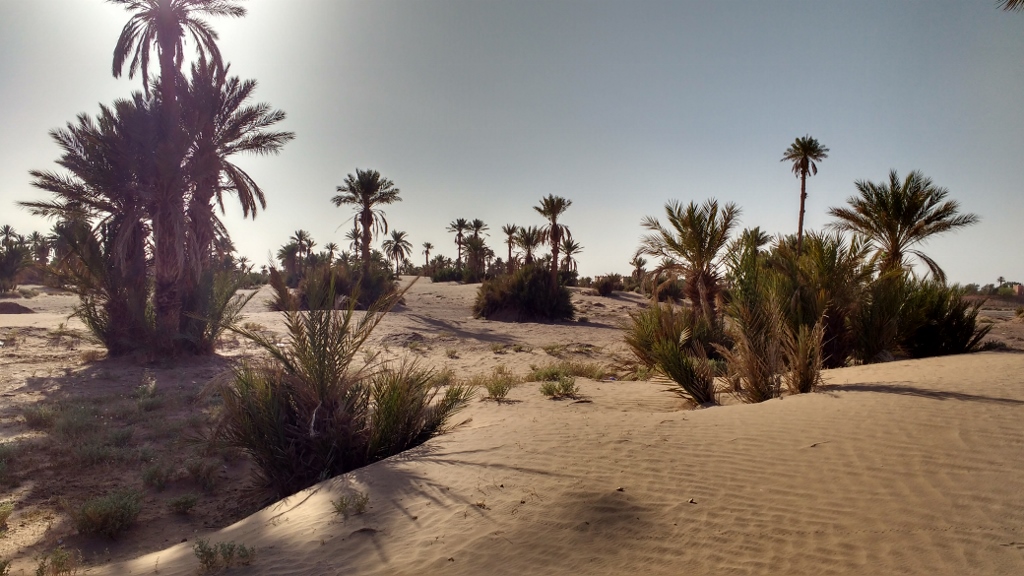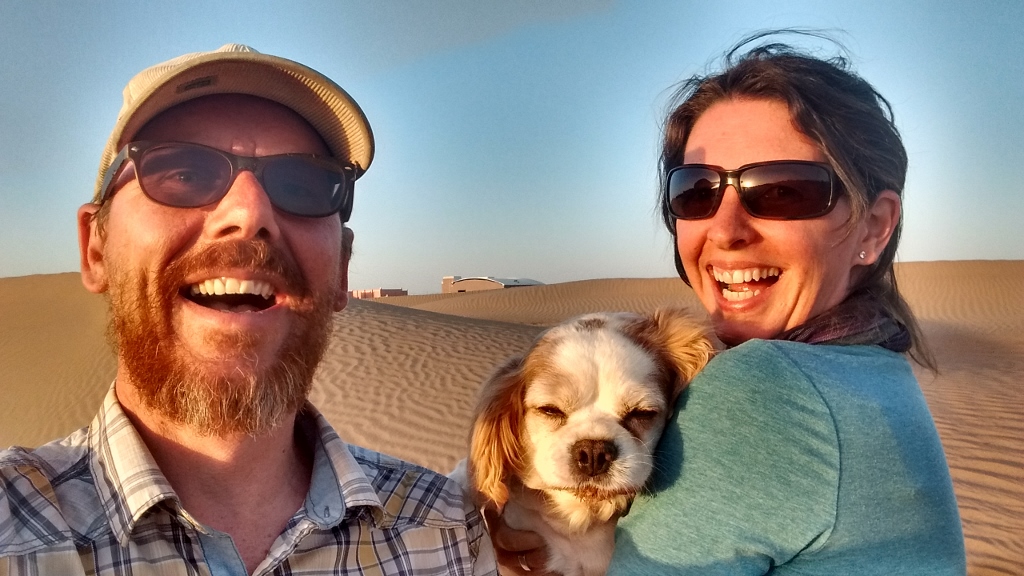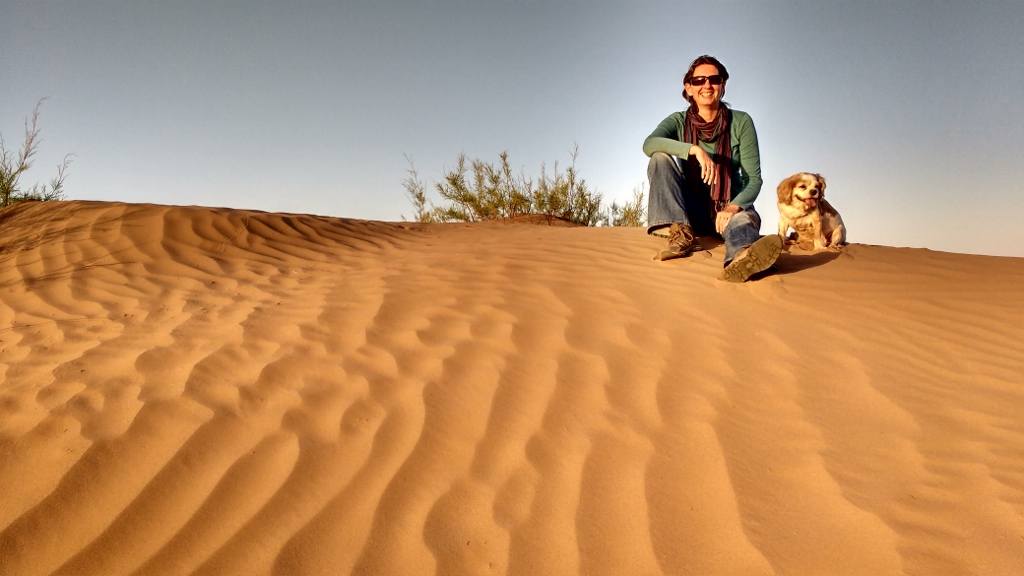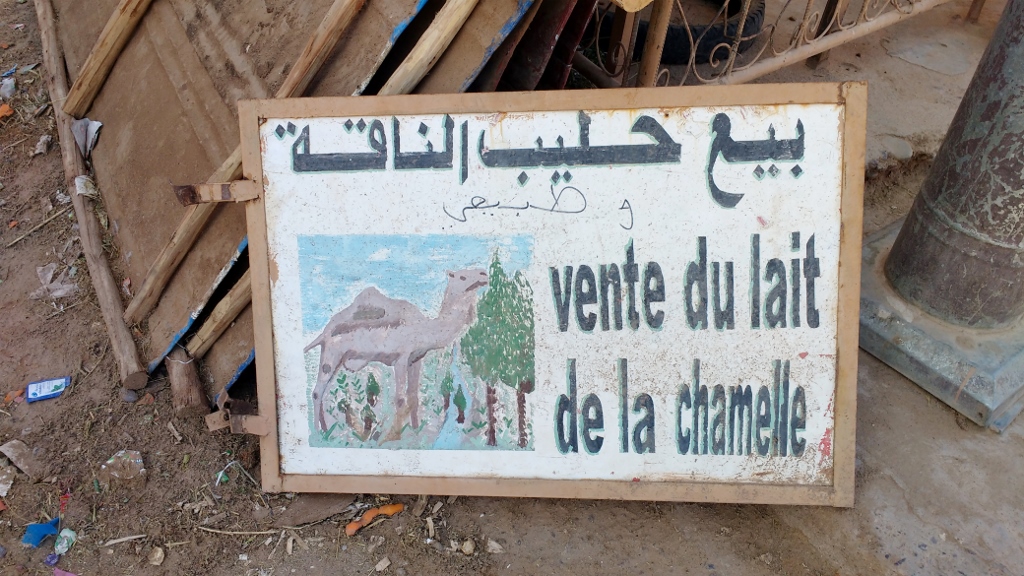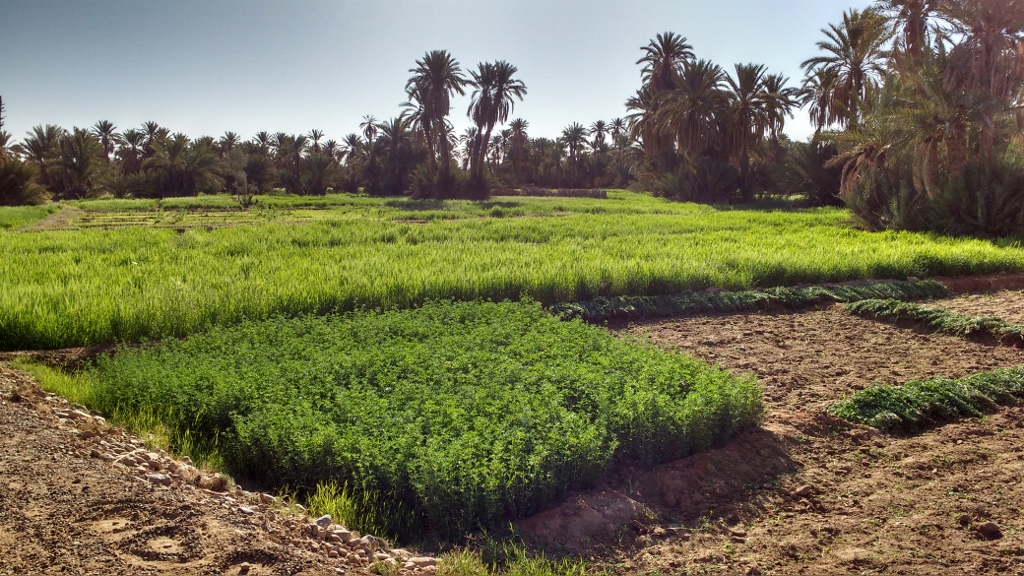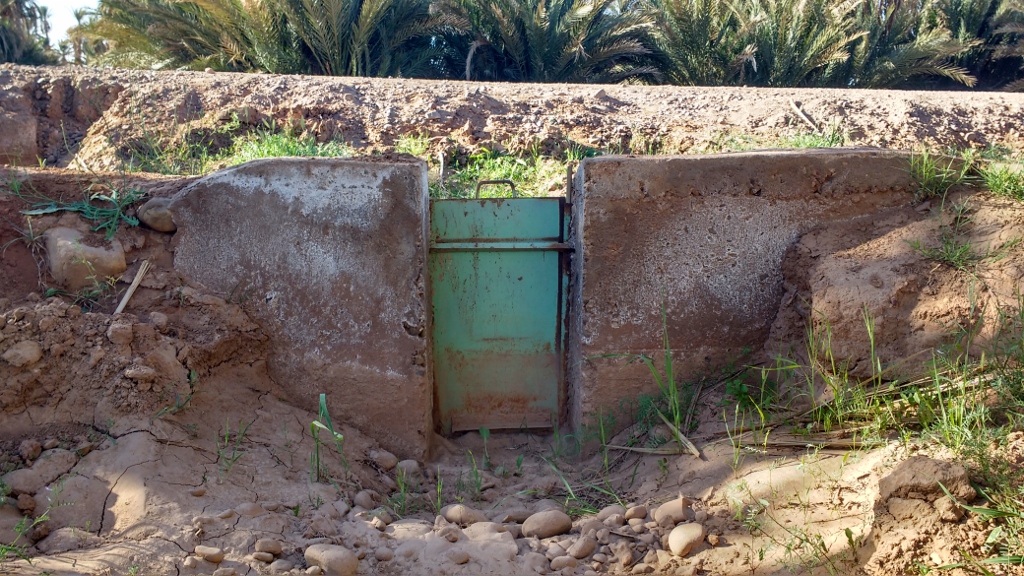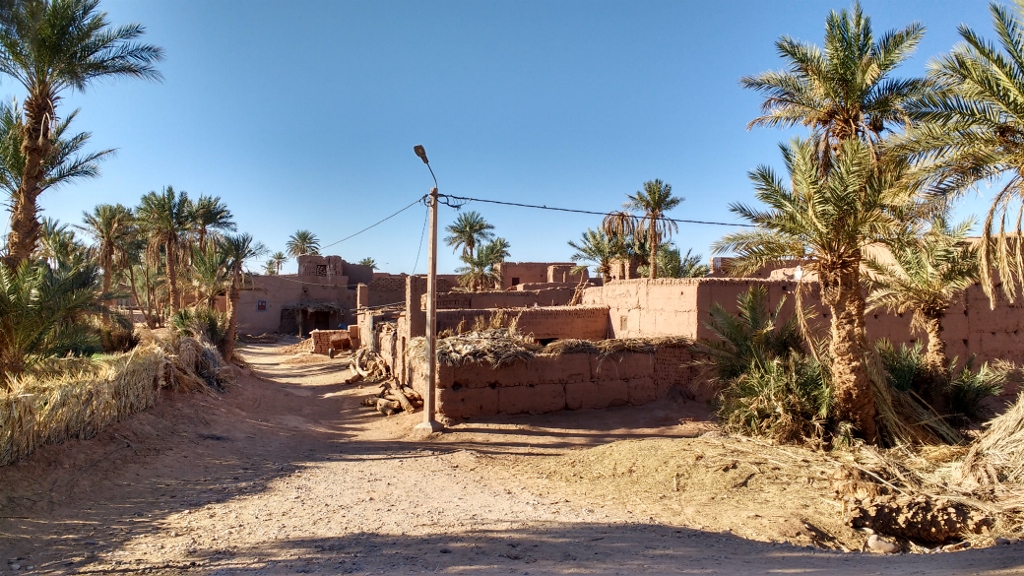 So far, we're enjoying Mhamid, are glad we came, and are keen to see what the nomad festival has to teach us! Right, a donkey's just started eee-awing over the wall, surely a sign for me to stop typing. Catch you later folks.
Cheers, Jay