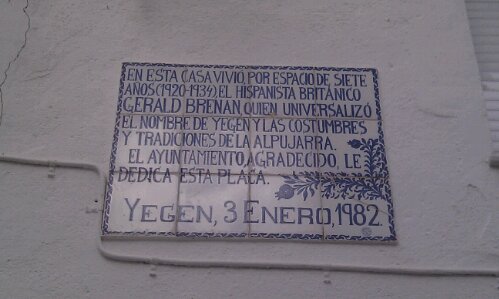 We're here: N36.98212 W3.12067
Weather: cloudy, jumper needed.
Luckily we woke quite early this morning (before our 8.30 alarm) because when J took Charlie out for his morning walk market stalls were setting up in the car park we'd stopped in. As J and Charlie walked I prepared Dave for the off, I guess were fortunate nothing happens early around here, so when we drove off around 9.30 there was one fruit and veg stall, one frame still being put up and the obligatory stall selling huge flesh coloured pants was already up and running.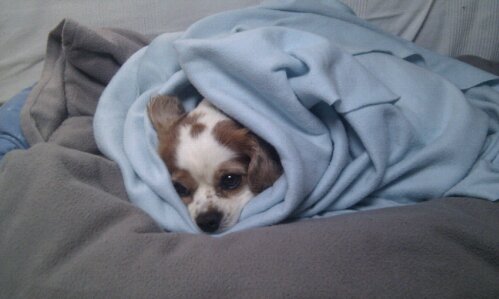 We worked our way along the wiggling roads clinging onto the edge of gorges passing through a few less touristy villages. In Trevelez, to compliment the whitewashed houses, all the men wandering along the street were dressed head to toe in white too. A look at the surrounding buildings soon told us we were in jamon serrano (mountain cured ham) central. Whole legs of the stuff advertised from €39. We toyed with getting one and hanging it the bathroom (safely away from Charlie) but it would be awkward when showering.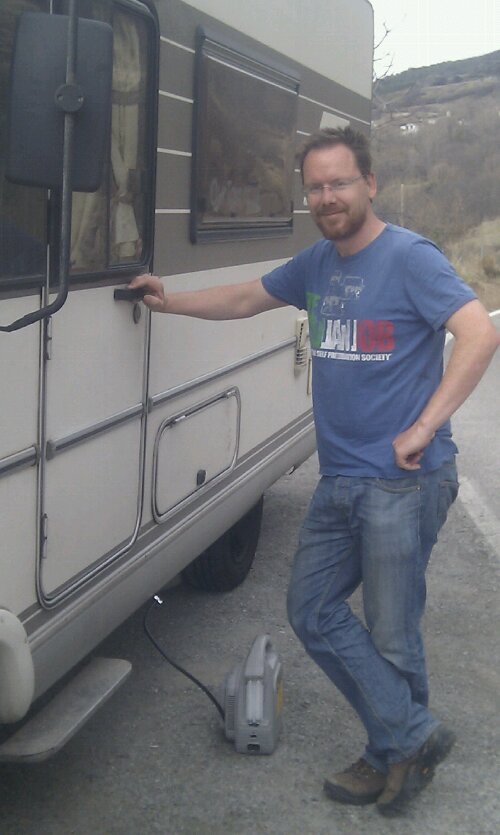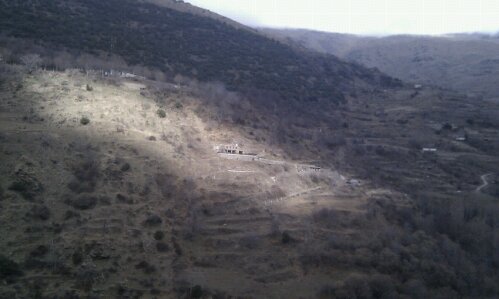 A brief stop for a drink and biccies at another amazing mirador (viewpoint), overlooking Andalucia's version of the Dades Gorge road in Morocco, gave J the challenge of brewing the tea on a major slope. We also had the excitement of a helicopter flying below us – you know you're high up when you look down on aircraft!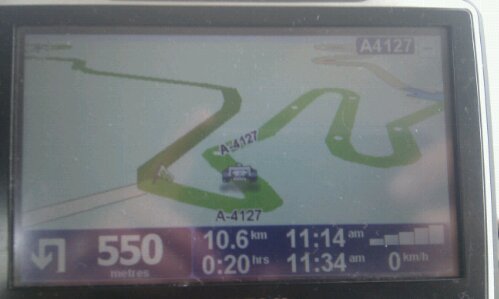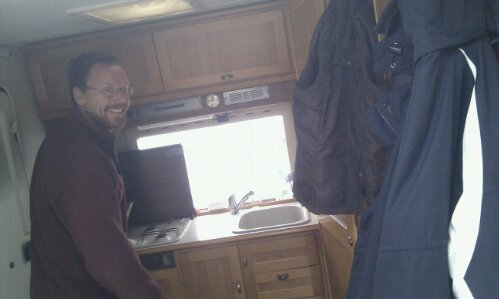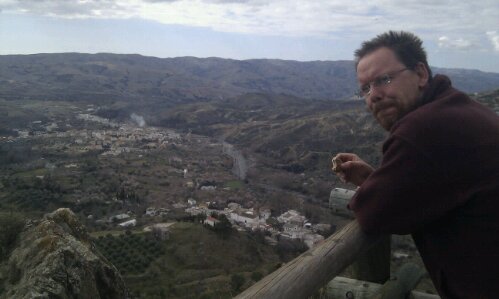 We trundled along to the village of Yegen, home of English writer Gerald Brenan for 10 years. He had a library of 2000 books shipped out to his home here so he could educate himself – nowadays he could have had them all on a kindle in his hand. He's most famous in England for his autobiography South from Granada which tells of rural life in Spain between the first and second world wars. There's even a plaque on his house here.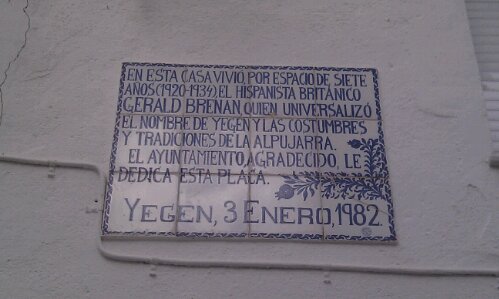 J's read a bit of his autobiography, I've not read it, but as we were here we thought we'd follow the walk named after him. The sign said it would take around 45mins. Obviously the sign was written in Spanish, but we could understand the numbers, or so we thought. 2 hours later and we've made it back to Dave. Our main faux pas was to go in the wrong direction around the walk, so quite a lot of time was spent looking for the right path.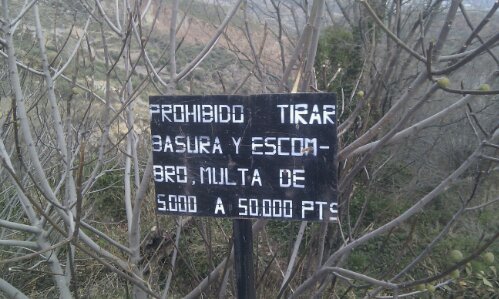 The route took us from the mountain village down into the valley and the scenery was stunning, as we climbed along rocky paths lined with trees full of olives and blossom as well as aloe vera plants and fruiting cactus.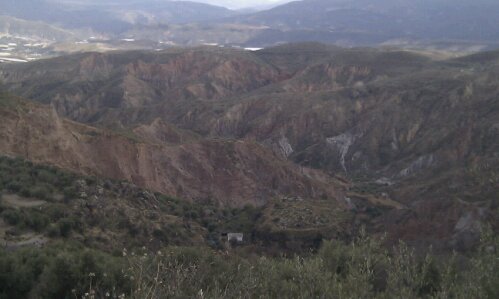 In the valley we entered a strange world where clothing hung from the trees with old rusting sardine cans attached to it. A hose pipe rose up and dropped water from a height onto an oil drum creating a constant noise, all of which we can only assume was to keep the animals (or tourists) off the crops.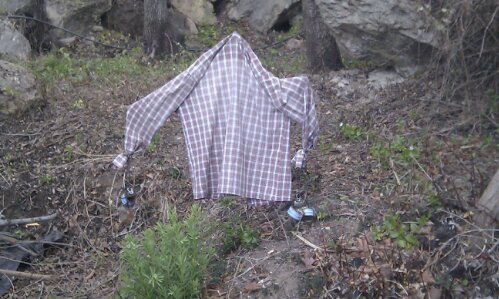 We got back up to the village in serious need of a drink only to find everything was still closed – surely 5pm is way after siesta time? This meant that all three of us were only able to drool on the window of the jamon shop at the hundreds of legs hung up inside.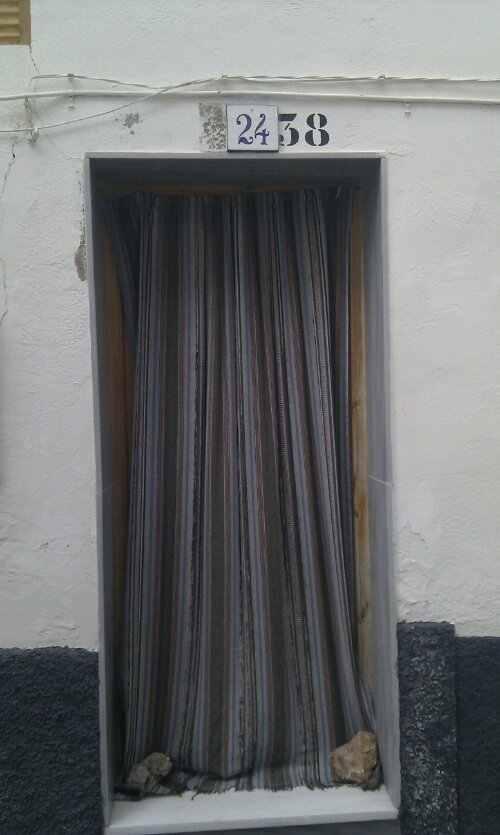 So tonight we're parked up by the roadside again as we couldn't find a car park in the village (or many streets Dave would fit down). But we're a bit further along the tourist route now and the road is certainly quieter.
Ju x