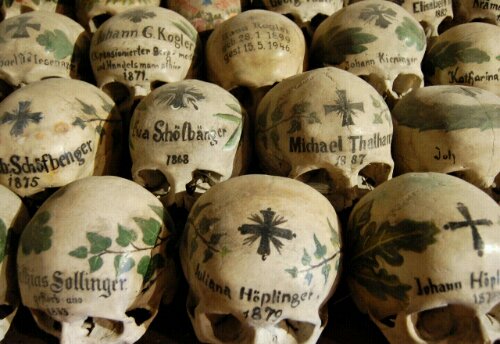 Dave the motorhome is in a lay bye by Fuschl (N47.79231 E13.29989) backed up against the edge of a forest which spreads up the mountain behind us. In front of him is the 158 road which tomorrow will take us 22km to Salzberg, beyond the road Furschlsee, another beautiful lake.
My Strongbow stash was finally depleted last night, Jon and Anne brought it for me (thank you again guys) when they visited us at Lake Bled in Slovenia. Each can has been cherished and was especially welcome during the hot days in Croatia, but now we're heading north and the weather has turned, so it's almost fitting that they've gone. Last night also made me realise what a cheap date I am these days, since the days of knocking back bricks of wine with Chris and Tina in Northern Spain I've not really drunk much, the last two cans of Strongbow were enough to get me giggling and feeling rough this morning.
Still I was up bright and early and using the campsite WiFi to gets quotes for Dave's insurance. Renewal is in a couple of weeks and our renewal quote – from the company that wouldn't provide us with green cards/cover in Morocco or Bosnia – is £999. Seriously a tenth of what Dave is worth. Ok we don't have a no claims bonus after our tyre blowout in Spain, but it still sounds silly expensive. Another company recommended by fellow travellers wants £800, it looks like we're undesirables in the insurance world and I'll have to boost Vodafone's profits with some long phone calls to try and get a better deal. But all that will have to wait… we've things to see and places to go.
The Beinhaus (bone house), sitting in the grounds of one of the churches, in Hallstatt intrigues me. Jay visited the bone chapel in Evora in Portugal (I waited outside with bone loving Charlie) and a little bit of me has regretted not going in ever since. There's controversy as to how these bones and skulls died, with many of them possibly being killed in a war about religion hundreds of years ago. The official information is that it dates back to 12th century and was created due to the lack of space in the graveyard. Bodies were buried for 10-15 years, then the grave opened and the large bones and skull removed to make space for another body to go in.
The chapel is a tiny single room, a smiling old lady sits in a glass booth taking your and handing out information sheets in various languages. As I walked in I was greeted by over 1200 skulls staring back at me, another couple in there whisper to each other, it's the sort of place that you don't speak in. Each skull bares the persons name and their date of death so I can see that they are stacked in rows with their next of kin, the ends of the other large bones poke out from under the counter that the skulls sit on.

About half of the skulls are painted with flowery designs, each with different meanings – roses for love, laurel for victory, oak leaves for glory and ivy for life – my information sheet tells me it's akin to leaving flowers on the graves, this tradition began in 1720 AD. The last skull to go into the Beinhaus was in 1995. The woman died 1983; it was her last request to be stored in the Beinhaus, she sits in pride of place next to the cross and among priests, whose skulls rest on books.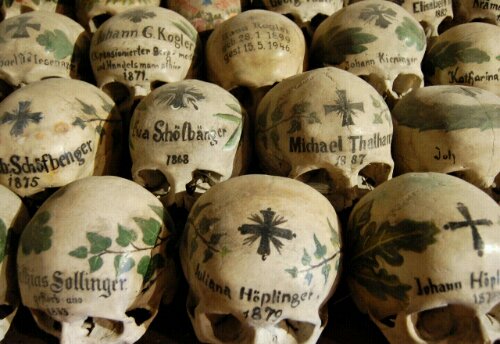 I don't really know what to make of the place. Stacked row upon row you can't imagine these once being people, but their lives are still being celebrated if in a macabre tourist attraction sort of way. In my view when you die, you're gone – your body is just a shell and I think I'd rather it be painted and on a shelf than eternal worm food.
A quick walk back through town in the rain we pass countless Japanese people. In fact I'm pretty sure there were more Japanese than Europeans and they all seem to love Charlie, even when he's soaked.
We set off to find somewhere free to stop for the night between Hallstatt and Salzberg as we think it might be a bit sleepy on a Sundays. As we drive along retail parks are empty, petrol stations closed. No Sunday trading here, not even for the Olympics. Smaller souvenir shops are open, but everything else is firmly closed.
We park up next to an unrealistically blue lake, surrounded by dark skies and have a bite to eat. To stop here overnight would be €9, or we can get a half hours ticket for free. After contemplating how many times we'd have to get up in the night to refresh our free tickets we decide to push on.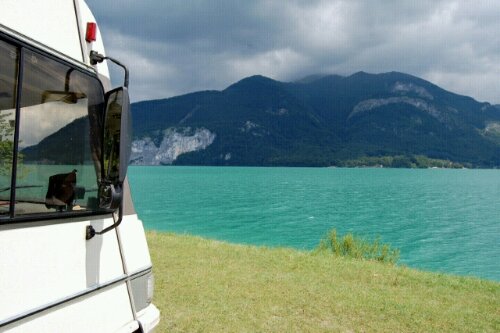 The next lake is smaller and we find a free lay bye across the main road from the town of Fuschl. A quick Google translate of a parking restrictions sign and it looks like we're ok. So we head off for a walk around the little town. The lake is behind a fence, at least on the bit we walk past, but the sight of the flowers blooming on all the house balconies more than makes up for the lack of lake viewing.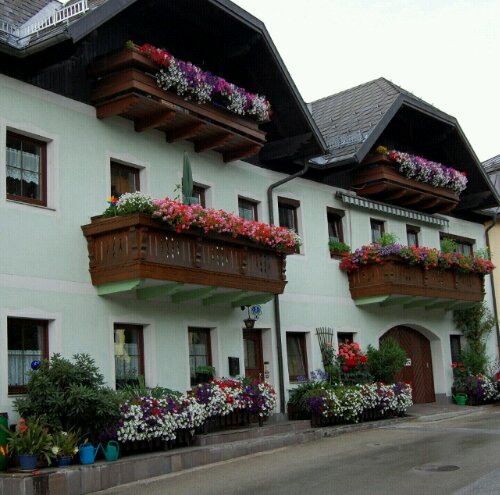 The road is getting quieter now, it looks like we're in for a peaceful night, even the rain has eased for a while.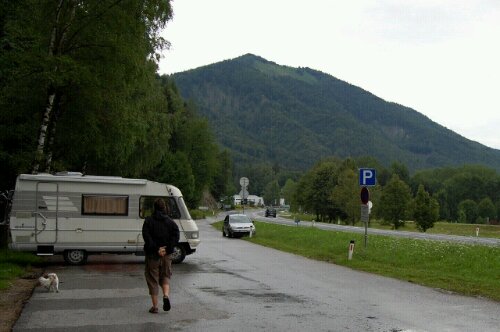 Time for a movie and a look at the BBC website to see friend of OurTour, Mark Cavendish and his team mate Bradley Wiggins, make history in Paris – well done fellas.
Ju x
Bonus pic