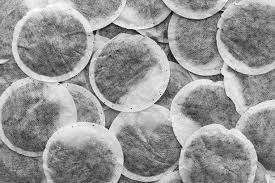 Update – July 2015
Since we bought our new van,  Zagan,  last week I didn't realise how valuable this list was. It's been printed off, scribbled on and the links used to stock Zagan ready for our first trip out in him.  So, I've republished this, and hope you find it as useful as me.
I'll admit it, before we left for our adventure I had sleepless nights worrying about what to take with us. Would it all fit in Dave? Would Dave be overweight? Would we forget something? Of course once we were on the road we were amazed at just how much stuff we had; so when we returned to the UK for an MOT in September of 2012 we left quite a few things behind. We now have Dave perfectly packed, so we thought we'd share our list of essential items with you. Whether you're planning a year long trip, or a weekend in the UK, it might be worth having a quick look to prevent some sleepless nights for you!
Apart from the links in the 'Documentation' section and those where I 've stated where they link to, all other links will take you through to Amazon.co.uk, to either a specific item if we use it, or search results displaying a range of options. Find out more about Amazon affiliation.
Legal bits
There are things that you are legally required to carry in some countries that we don't have to carry in the UK. It's best to check the AA website for an up to date list of what you need for the countries you're going to, we've also written an article on the subject too.
Documentation
I know it's boring, but there are some documents you'll need to take with you and others it will be handy to have in case of a problem.
Daily Servicing
Once you're out on the road you'll need a few essential items to keep you in supplies that you'd normally take for granted in a house such as water, electricity and gas. You can find our motorhome guides to all things to do with daily servicing here.
Navigation and Finding Places to Sleep
Below are the tools we use for navigation and finding places to sleep, the ones marked with * we personally use, the rest we've see others use and cribbed notes from. We've also written this article which will give you more information about how we find places to sleep.
Outdoors, another room to your motorhome
Motorhomes aren't huge, but once parked up on a campsite the outdoors becomes an extra room for you – you just need to furnish it accordingly.
Tools and things for fixing stuff
Dave is old, bless him. So we've needed to do quite a few repairs as we've travelled. But even if your van is new, it's always good to have a few tools and bits to fix to stuff with (and preferably a 'Jay' who'll know what to do with them!)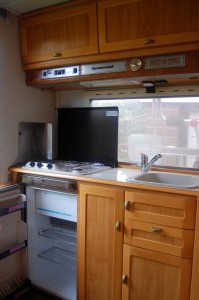 Kitchen Essentials
We've stocked Dave with a lot of items from the kitchen of our house. But there are a few items we've bought especially for the trip and a few things we forgot and had to pick up as we travelled – thank goodness they have shops abroad! :)
Store cupboard food items
While we're in the kitchen it's worth thinking about having a few items always in your van to save you from having to buy them when away, and so you can have a cuppa at any time! I'm not going to list loads of things, as each person has different tastes, but a few tins (soup, beans?) along with some teabags, coffee, stock cubes, gravy granules (we can't find these anywhere abroad), UHT milk, a bottle of water, a bottle or two of wine, salt and pepper, vinegar, ketchup and chocolate would never go to waste in our van!
Bathroom
Bedroom & 
Soft Furnishings
Clothing and laundry
This was obviously a tricky one for us as we would be travelling through most types of weather. We have one shelf each in the wardrobe, one hook each and a cupboard each – in it we have to squeeze everything from ski jackets and thermals to swim wear and Jay's wetsuit (to be fair Jay doesn't have half as many clothes as me so his wetsuit easily fits in his cupboard).
We've found 'technical' clothing to be really good as it's quick drying, and doesn't need ironing. Check out the camping and hiking sections in shops or online and you'll be amazed at what is out there – I even found a shirt impregnated with mosquito repellent! I've listed what is in my cupboards, but of course what you take will depend on when and where you're going.
Don't forget all those bits and pieces you need to keep your clothes clean if you're going away for a while.
Entertainment, Leisure and Tech (boys toys!)
Pampered Pooch
Charlie is our surrogate child so he gets very pampered. He has his own space in the van – the biggest bench – and his own cupboard for his toys, treats and medication.
Enhancements to your van
You can add numerous things to your motorhome to make life more comfortable on the road. The ones marked with * show what we're using, the others we've seen people with and while they are not for us, they might be right for you.
Finally, as your reward for working your way through this long list (I never realised we had so much stuff in Dave, and I suspect we've still missed a few things) below is a link where you can download a PDF packing check list. It lists all the things above with a box to tick when you've packed it for your trip. There is also a space for comments and a sheet to add your own essentials. Simply right click on the link and choose the save option so you can store it on your own PC and print it off whenever you need it!
OurTour Motorhome Packing Checklist
Have a great trip, wherever you go!