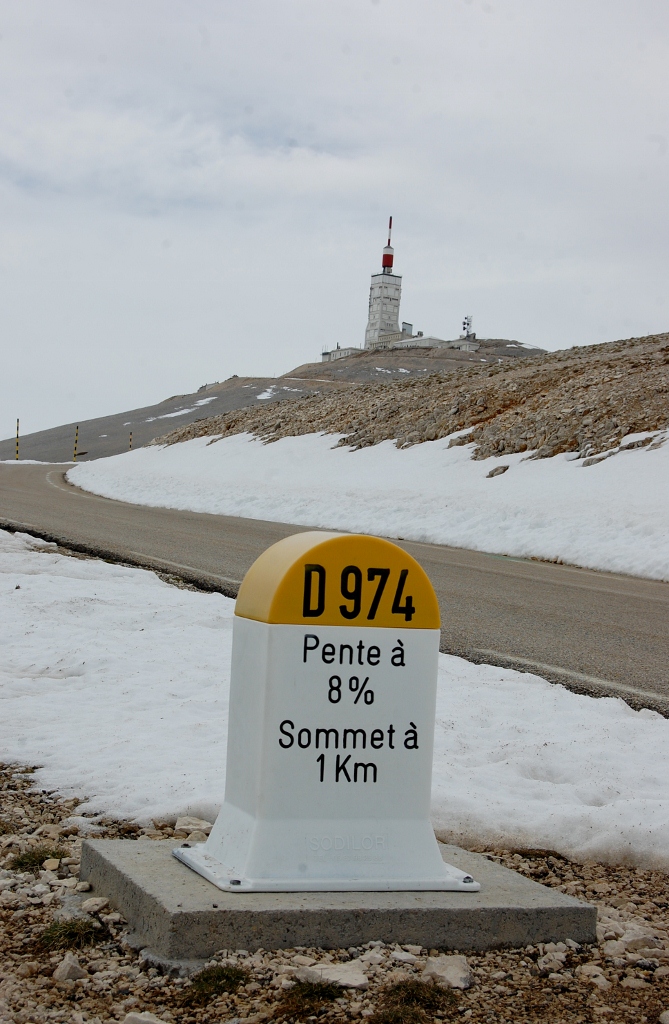 We're here: N44.09410 E5.41316
The weather: some high cloud, but nice and warm
It's Friday so it was once again budget day for us. After last week's big spends we thought we'd try and spend as little as possible this week. Despite having to fill up with diesel (and wine!) we managed to stop in free aires every night and the grand total for our spends was €81.74.  Of course most of our food had been bought in a 'big shop' last week, but it's helped the bank balance a little especially as we'll be Italy shortly – aka expensive land!
Phil discovered it was market day today in Remoulins, so after breakfast we headed over there and snapped up some fresh fruit, veg and bread. Jay was surprised just how much fresh stuff we got for our money, but then he's usually not paying attention/lost the will to live by the time we'd reached the greengrocers section at the supermarket.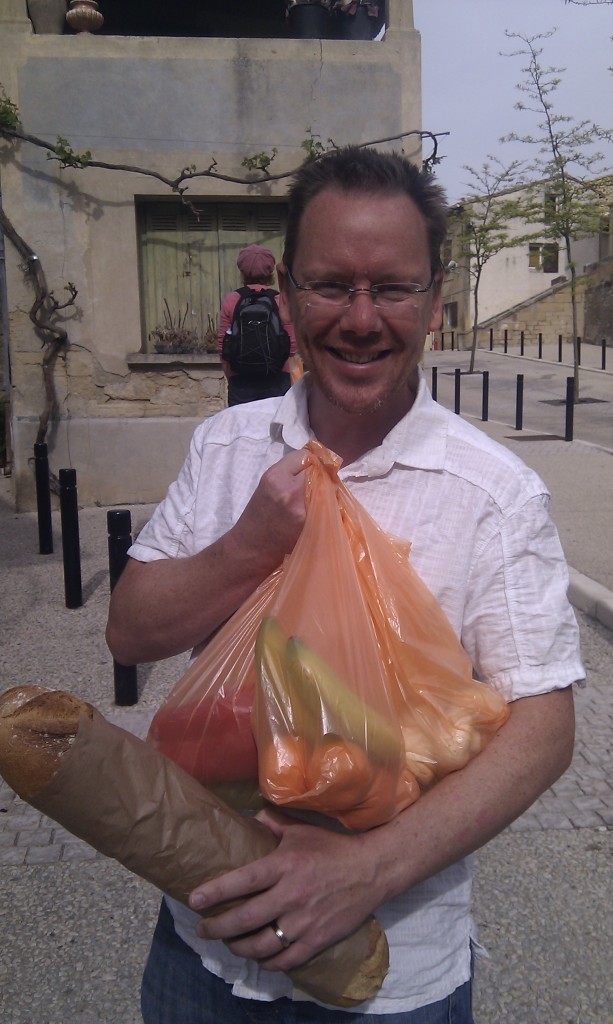 After stocking up we bid a sad farewell to Phil and Julie who've headed off on the 'Monaco Loop'. They're meeting friends in the Camarge in a week, so are nipping to drive their Ambulance around the Monaco Grand Prix circuit, and maybe pop over to Italy for a spot of lunch. We left shortly after them, and then subsequently overtook them as they had stopped in town for the regular McDonalds wifi session. As we drove through Avignon I snapped the bridge that every French child knows from the nursery rhyme 'Sur le pont d'Avignon', although it's actually called something else.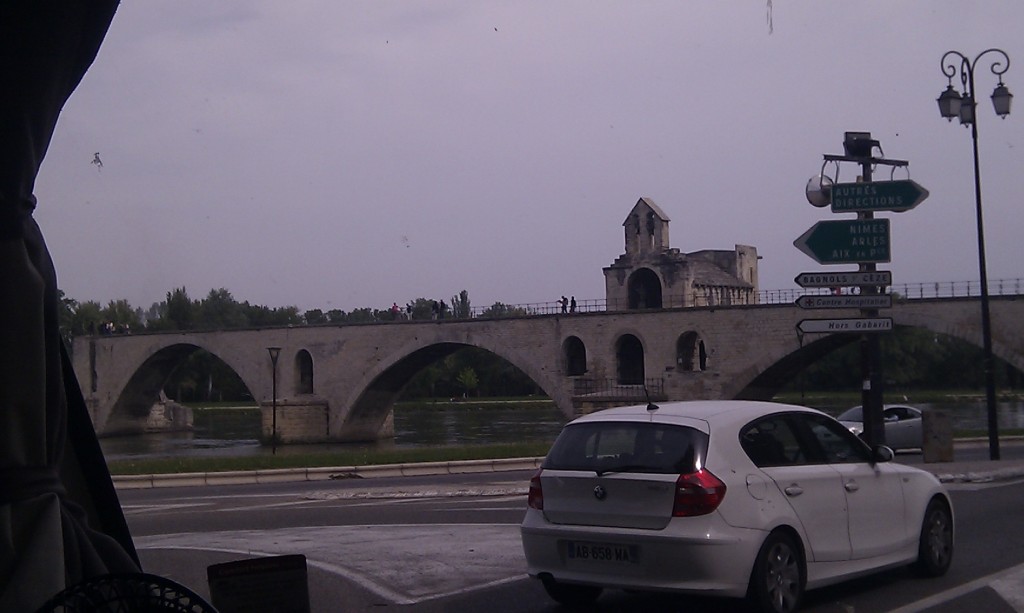 We made our way towards Mont Ventoux. I'd seen it on the telly during a stage of the Tour de France back in 2009 and when I realised we were in the area I figured Dave could do with a challenge. We started to climb up from Malaucene in the North West and over 21.5kms we climbed 1570m. We stopped about 3/4 of the way up as the temperature in Dave's engine crept up and we started to smell burning. Jay opened Dave's bonnet and lovingly fanned his engine and soon we were back on our way again.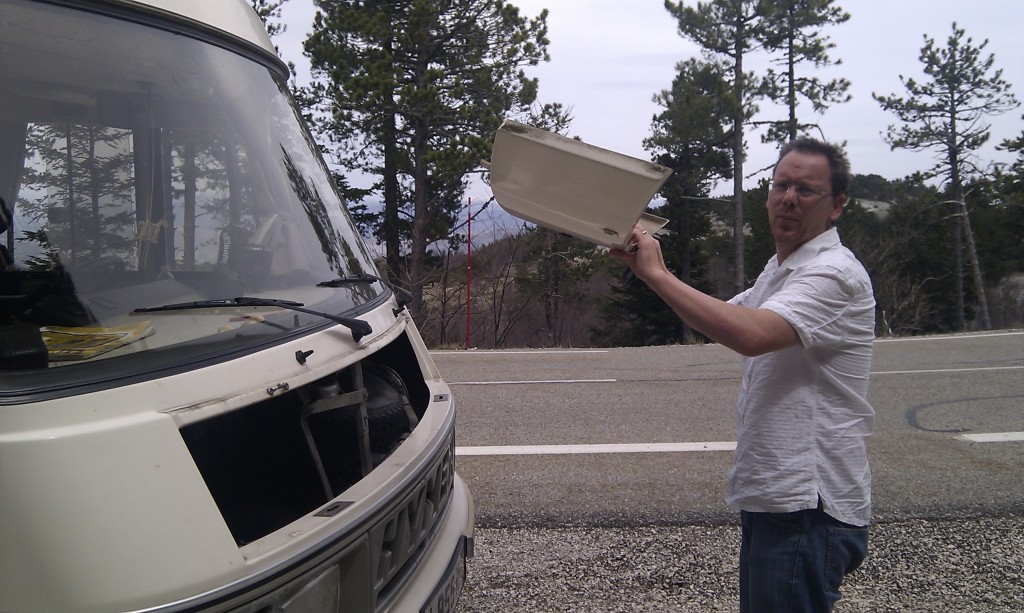 As we reached the top we discovered why it's called Mont Ventoux – venteux means windy in French and it lived up to it's name. The view was worth it though.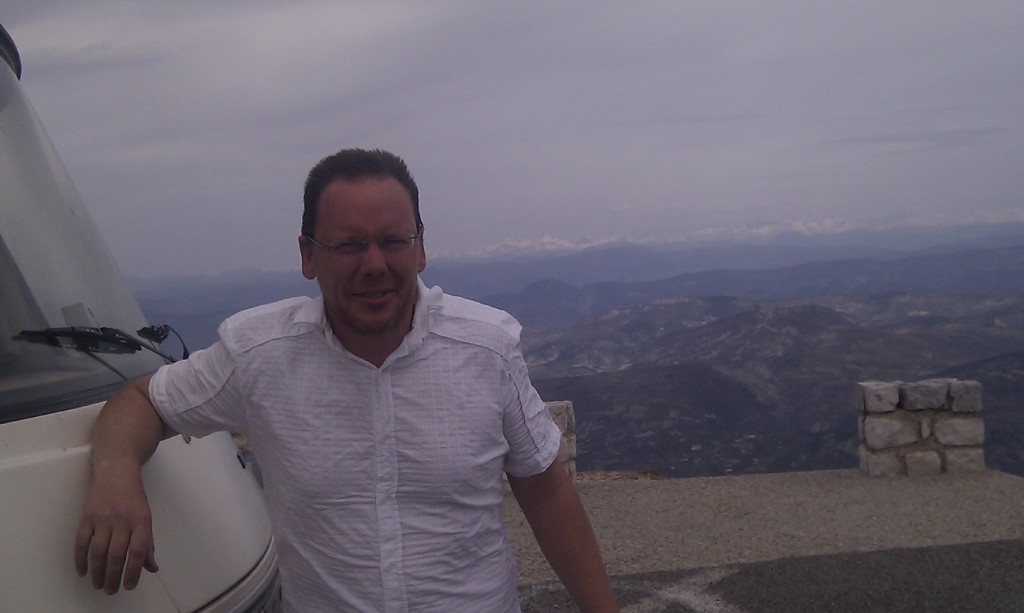 We could see over to the Alps with Mont Blanc and the other snow capped peaks in the distance. The top itself is above the tree line and looks like a moonscape – but with snow and aerials! Sorry about the video's sound, I wanted you to see the views but it was flipping windy.
When we got back in Dave our faces felt like they had been scrubbed by the wind and we agreed it was too windy to stop and have a bite to eat up there – Dave was rocking and the skylights were lifting (we later found out that winds up to 200 mph have been recorded up there, we suspect it was just slightly less than that today!).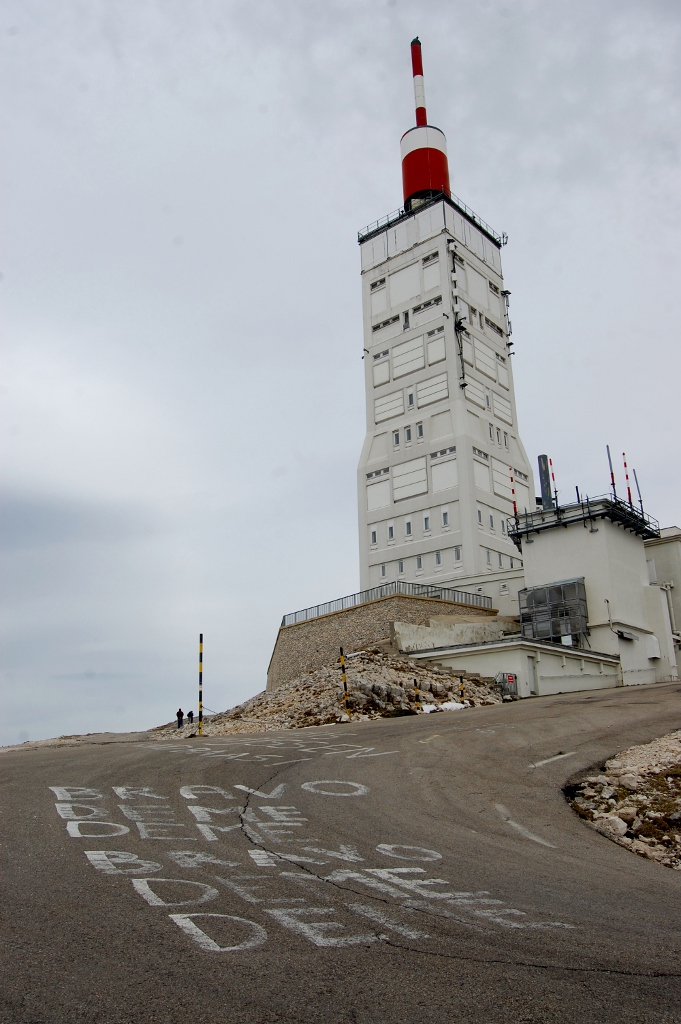 We drove a little way down the route taken by the cyclists in the Tour de France – the most difficult route to the top with around 16km at gradient just under 9% – and saw a surprising number of people peddling up there. Some looked quite fresh as if they do it every day, others looked like they were about to collapse. We parked up on the side of the road once we were out of the wind and had a bite to eat – luckily I don't think the cyclists could see me scoffing baguette and pate right next to them as they climbed!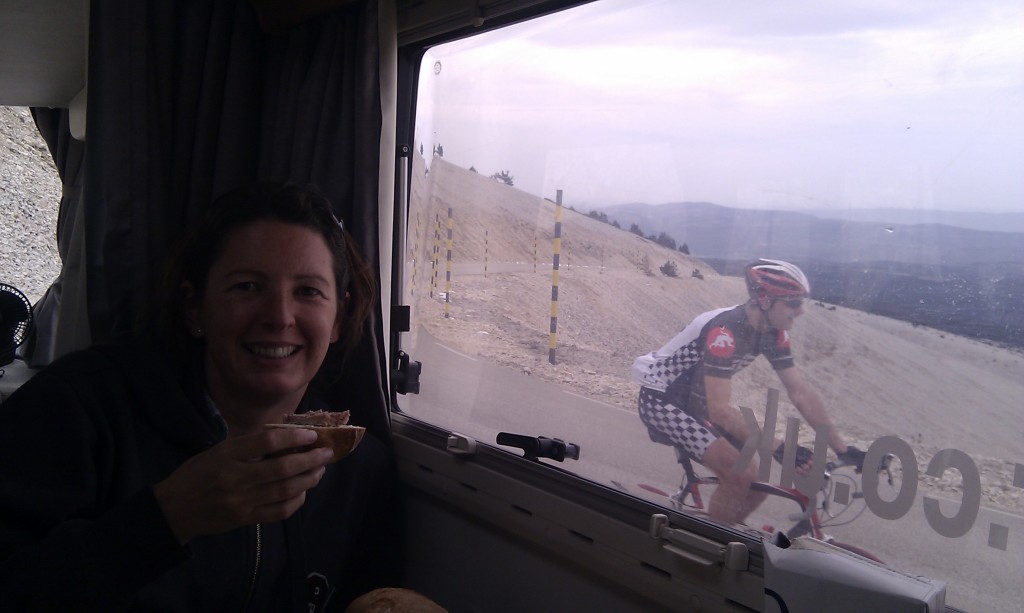 We stopped at the memorial to Tom Simpson,  Britain's first men's road race World Champion (matched only by Mark Cavendish last year). He died of exhaustion within half a mile of the summit during the Tour de France in 1967. It was humbling to see the tributes other cyclists had laid by his memorial and the plaques left by his family. The most moving thing is that you can see just how close he was to his goal.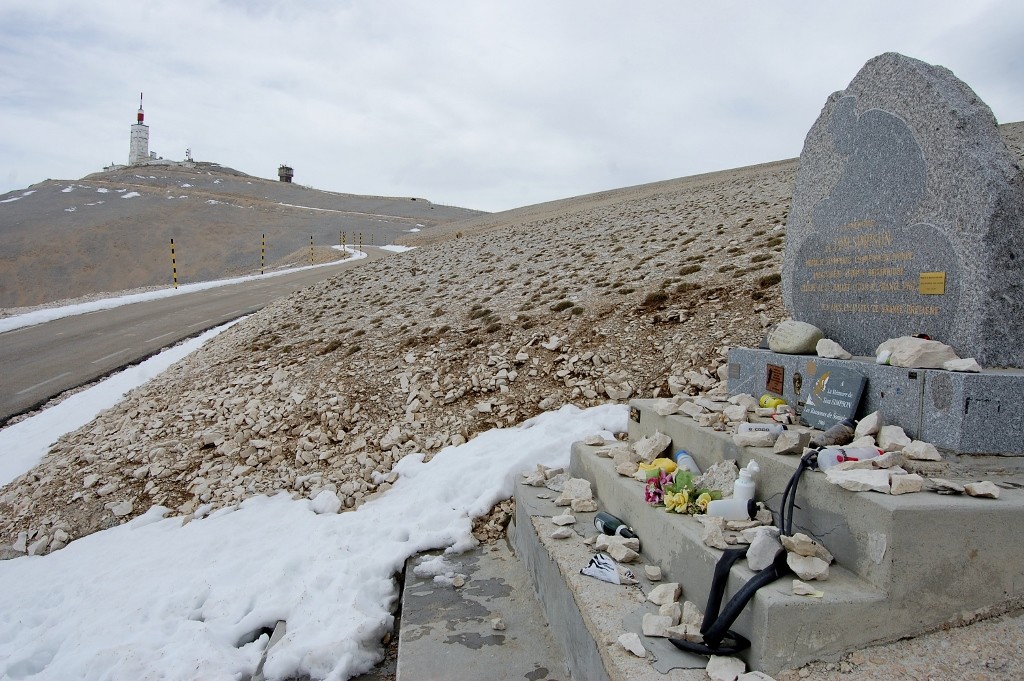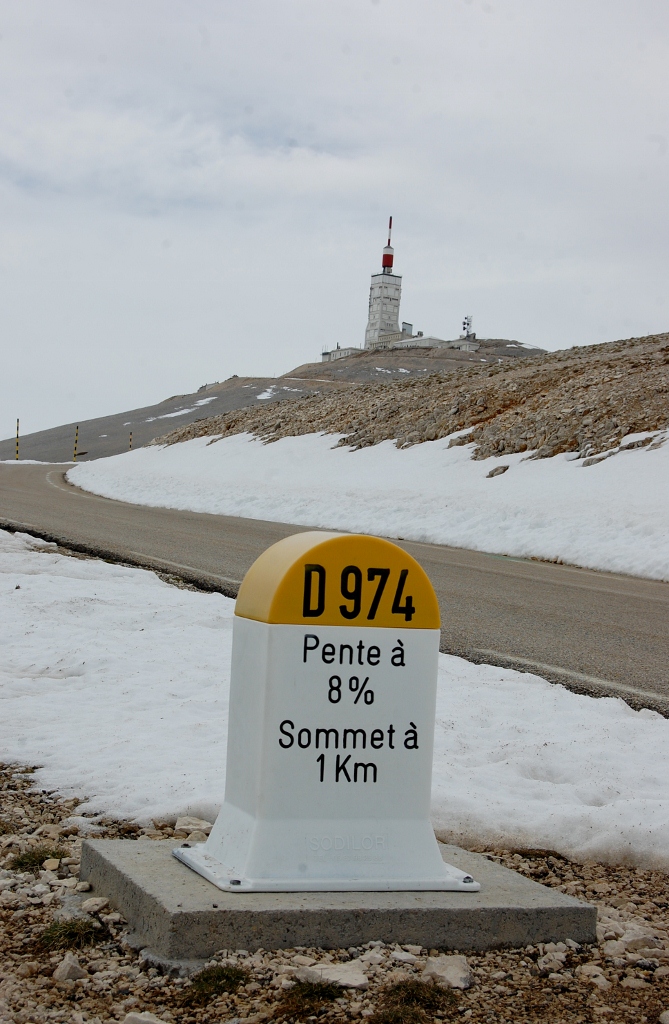 Back in Dave we continued down into the Lavender fields of Provence and the town of Sault. A helpful sign told us we could park up for the night in Car Park Three, so we did. After two late nights and a fight against the mistral on Mont Ventoux Charlie and I had a nap. Then all three of us headed into the town for a Friday night drink, instead we found a mobile pizza van which had it's own wood burning pizza oven in it – so we ordered one each for tea and headed back to Dave. Jay's now hit the sack and Charlie is snoring away next to me – I won't be far behind them to the land of sleep, yes it's not yet 10pm, but it's the rock and roll life we live on the road!
Have a great weekend.
Ju x