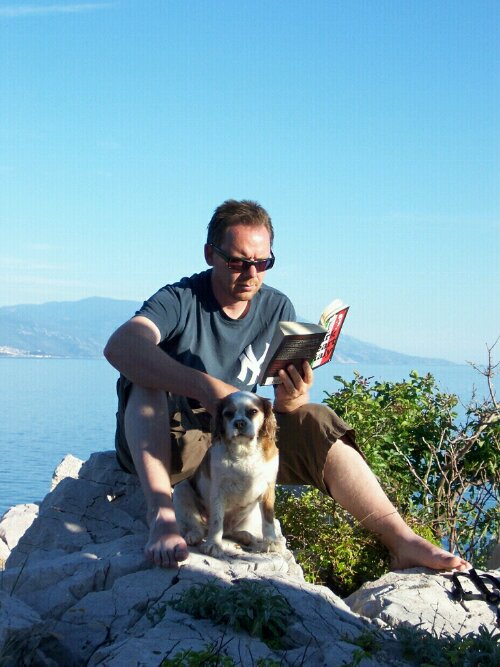 Dave is still parked up on his own rock looking over the sea at Povile (N45.11479 E14.81442).
Yesterday we set off for a walk to see if anywhere might be showing the football, but we're in a small village which comprises of a few houses, a shop, a couple of campsites, a pizzeria, a restaurant and a snack bar – none of who it would be showing the England match. Luckily our mate Mac stepped up and kept us up dated by text.
On a Friday night, overlooking a beautiful bay there was only one thing for it – campfire. I popped a couple of the Strongbows Jon & Anne had brought me into the fridge, got out the wood stash we'd collected to use at Lake Bled only to be rained on and fired up the mini fire pit we bought at Christmas. As the sun set the marshmallows got toasted.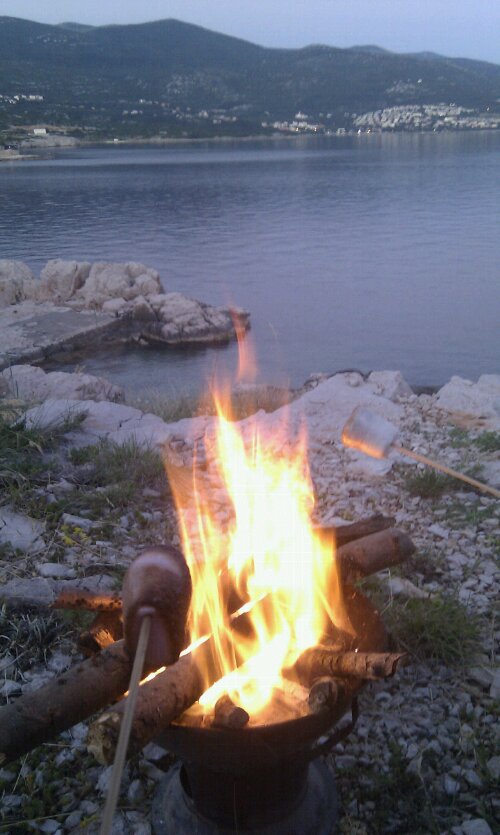 All the other people on the site retreated into their vans once the sun was gone, but warmed by our fire we ploughed on into the night.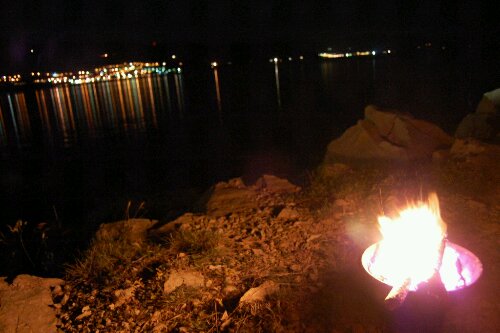 And of course tested out potential new fuels for the fire.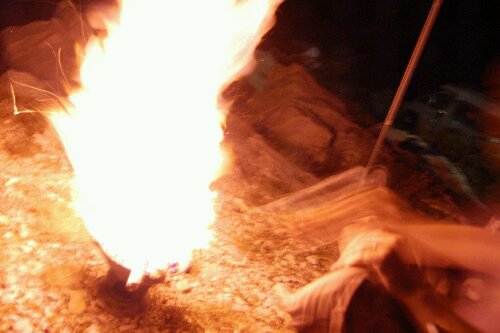 When we woke this morning the sun was already beating down on Dave and it was getting unbearably hot in him. Jay cooked up some fab eggy bread for breakfast to clear the slight hangovers.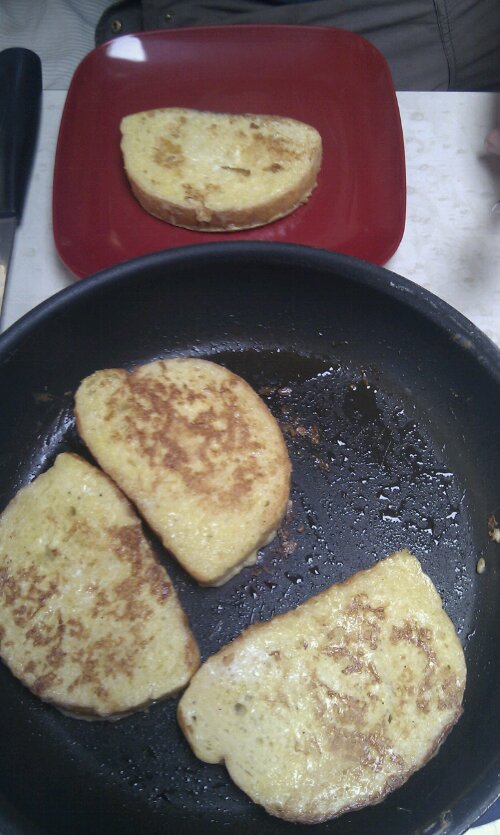 We decided to stop another day in this paradise as OurTour is slowly becoming more like OurHoliday. Each campsite holds us for a couple of days and even then we can only muster up the energy to read, sunbathe and snorkel.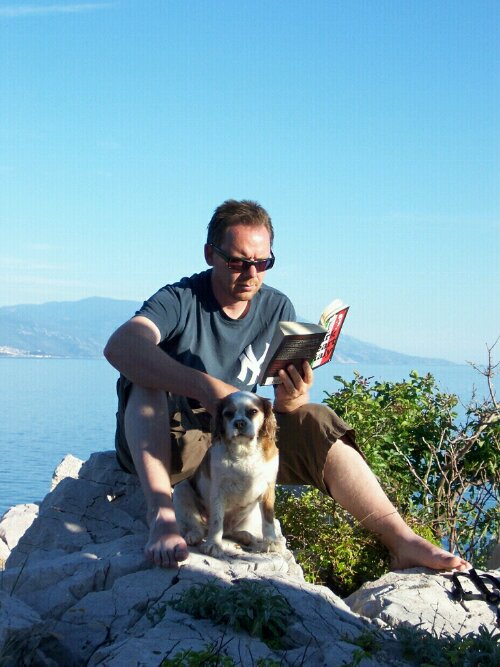 Perhaps we're getting lazy, or maybe we need a little holiday. Either way even this bliss only keeps us for a couple of days before we feel the need to move on. I'll start to worry about it when we haven't moved for a week.
As the afternoon wore on the temperature rose and Charlie made for the coolest place he could find which was under Dave.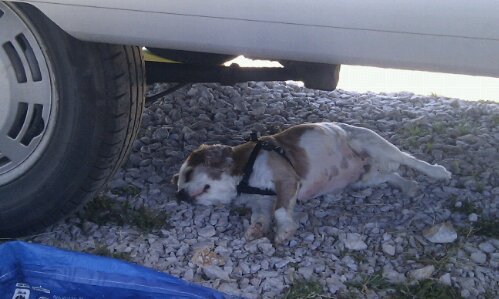 Jay and I cooled off with a snorkel. It was surreal swimming in warm water then a cool layer would form on the top. As you moved the water would go translucent, like privacy glass in bathroom windows. Jay solved the riddle though. All along the coast cooler fresh water is coming out of the rocks and into the sea, which explains the temperature changes. The fresh and salt water aren't mixing as the water is really still in the protected bay we're in, so when you do mix them (such as moving your hands or feet) the different refractive indices cause the translucency. There were some big words in there, so I totally believe that is the reason, but if you think it might be something different or have a name for it please get in touch.

Worryingly late this afternoon it started to cloud over…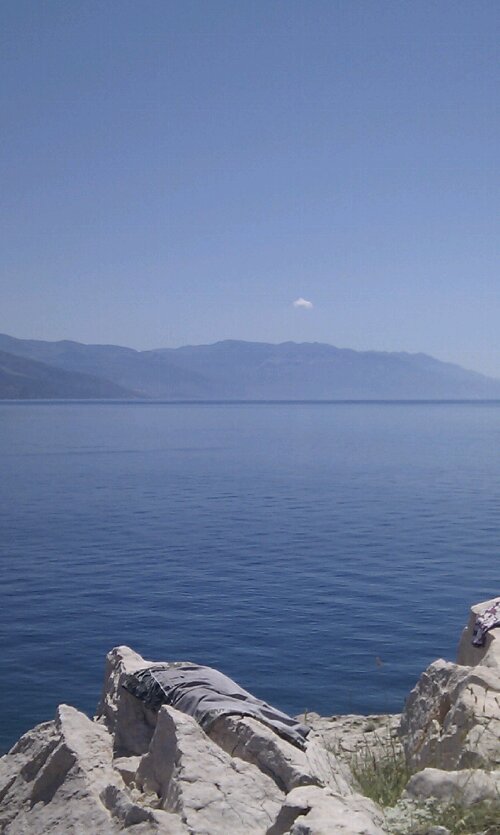 … but then it cleared up again so it was time for another snorkel to cool off. I saw loads of shoals of fish, sea cucumbers and even a cuttlefish.
We're now all showered and ready to head out to see if we can get a meal out somewhere tonight. The snack bar has been dolled up. It has white jacketed waiters wandering around and romantic music blaring so we suspect there might be a wedding party due – a perfect place to hold it. We'll just have to try the restaurant or pizzeria.
Have a good night whatever you're up to.
Ju x
PS – don't forget to enter our caption competition it ends at 6pm UK time tomorrow!