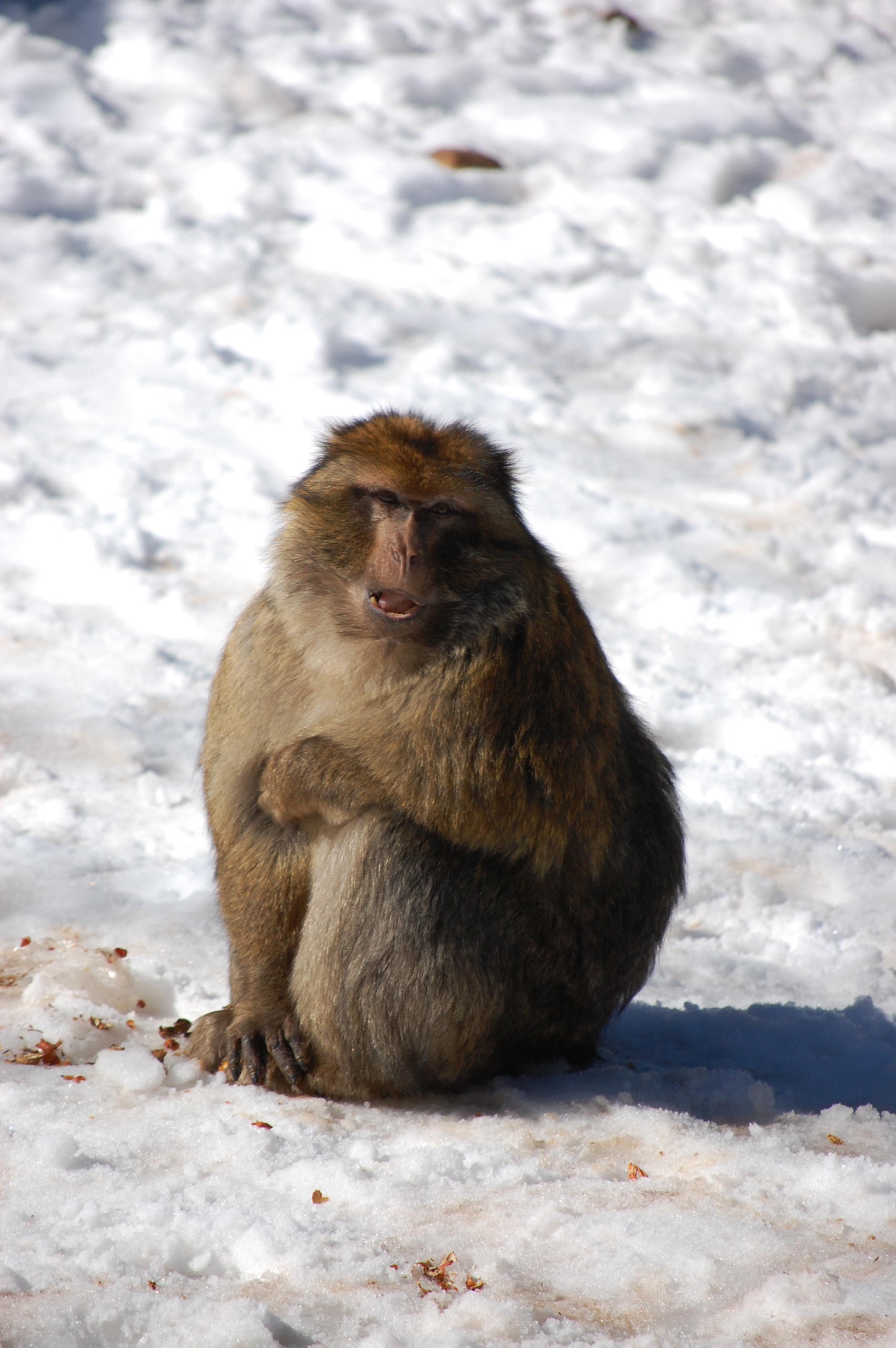 We're here, at the municipal motorhome campsite in Midelt: N32.67778 W4.73704
Weather is sunny and warm in the sun but chilly out of it – you'll see why on the pics below.
When we woke up this morning it was rather chilly in Dave. The halogen heater had done it's best and kept the chill off overnight, but it wasn't enough to get me out from under the duvet, so J kindly put on the fan heater too.  A couple of minutes later – yes, you guessed it – we blew the fuse and everything went off. J nipped out and plugged us into another socket and we settled on just the fan heater. Eventually I was tempted out and flip-flopped across the frost and snow to the showers. The water was piping hot, but the air all around was really cold, you've never seen someone get dressed so fast.
We paid our 80Dh (about £6.50) and set off in search of Barbary Apes in the cedar forest nearby. We drove along until it turned into a winter wonderland scene with ice and snow on the road. Luckily there were a group of lads nearby with horses and camels (like you do) so J nipped and asked the one who was donning his high visibility jacket (a sign of authority around here – 5Dh and he was VERY happy protecting our motorhome) where the apes were.  The were just up the road, so J nipped over the sheet ice on his bike to check it out.  Soon he was back (and his back was covered in mud) saying he'd seen an ape. So I grabbed the camera and off we went.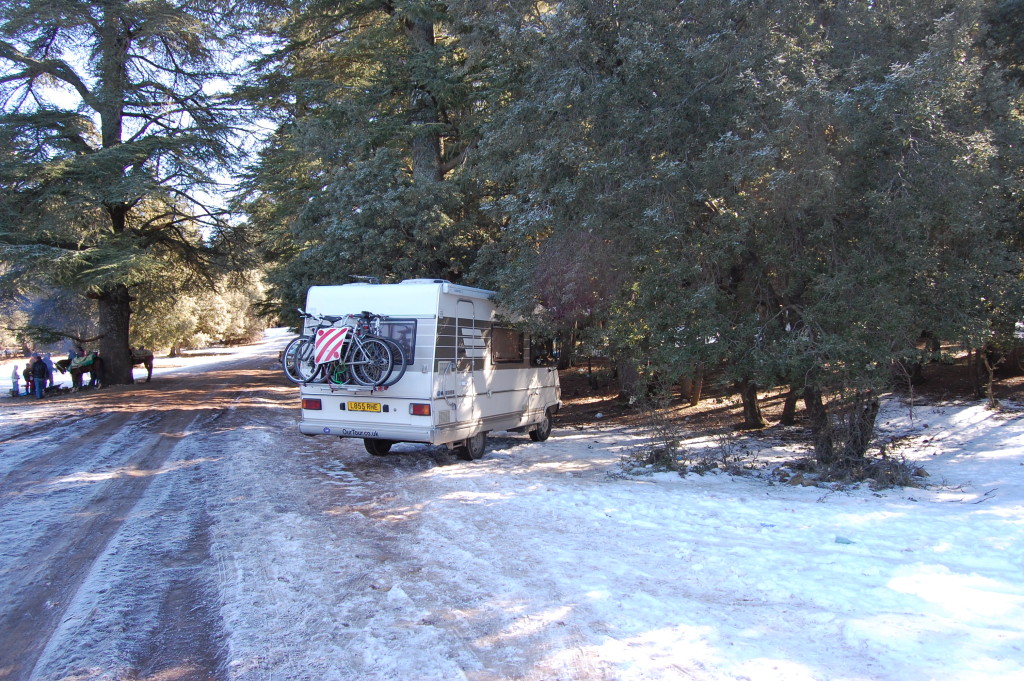 About 300m further along the track there were little huts selling obligatory fossils, cakes (for the apes) and tourist trinkets, and just behind them there was an ape sat by a tree.  Then another one, and a rustle in the tree above us, several more.   A few more people turned up and gave them some cakes which the apes carefully took out of the wrapper and peeled off the paper casing before devouring.  We wanted to feed them something to, but didn't think cake was quite right. Then I remembered, I'd put a banana in the backpack for my breakfast.  We felt a bit bad stereotyping them with a banana, but they seemed to love it when J gave it to them.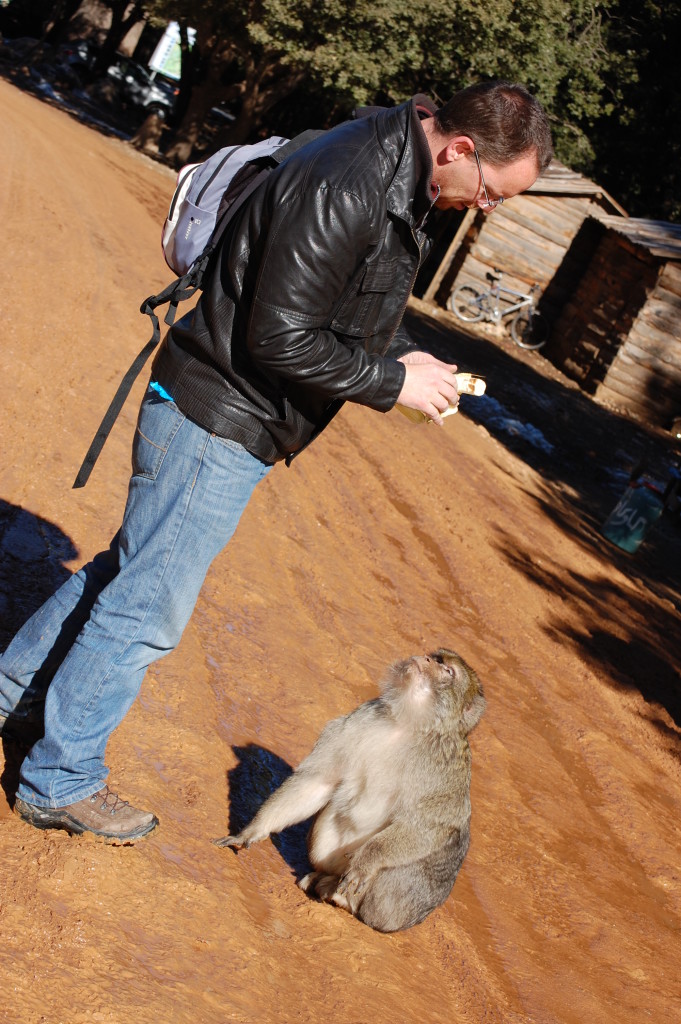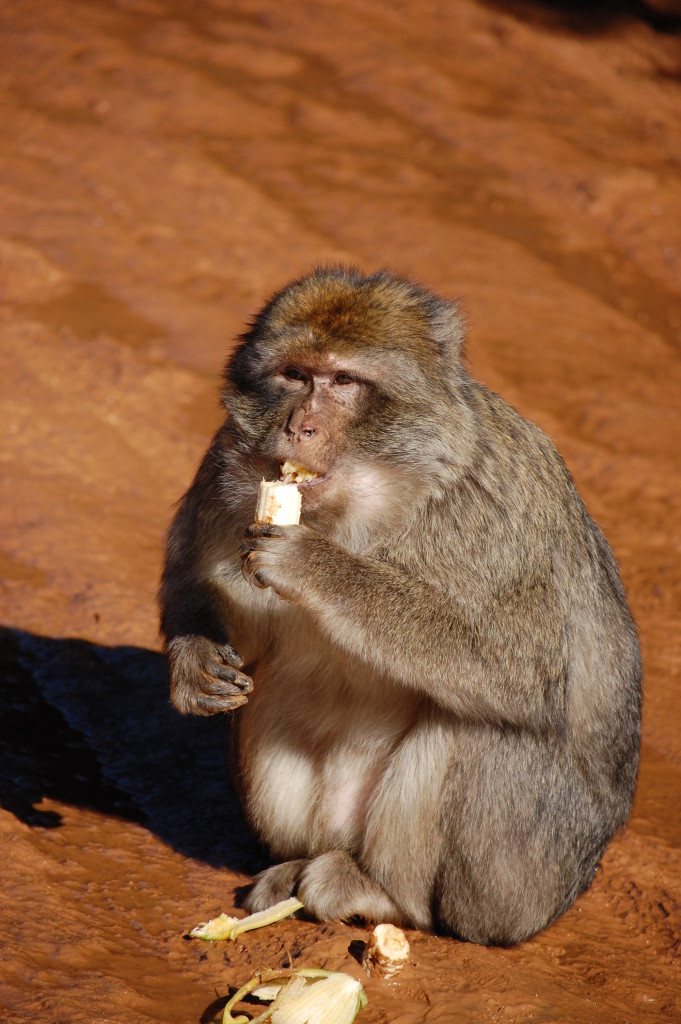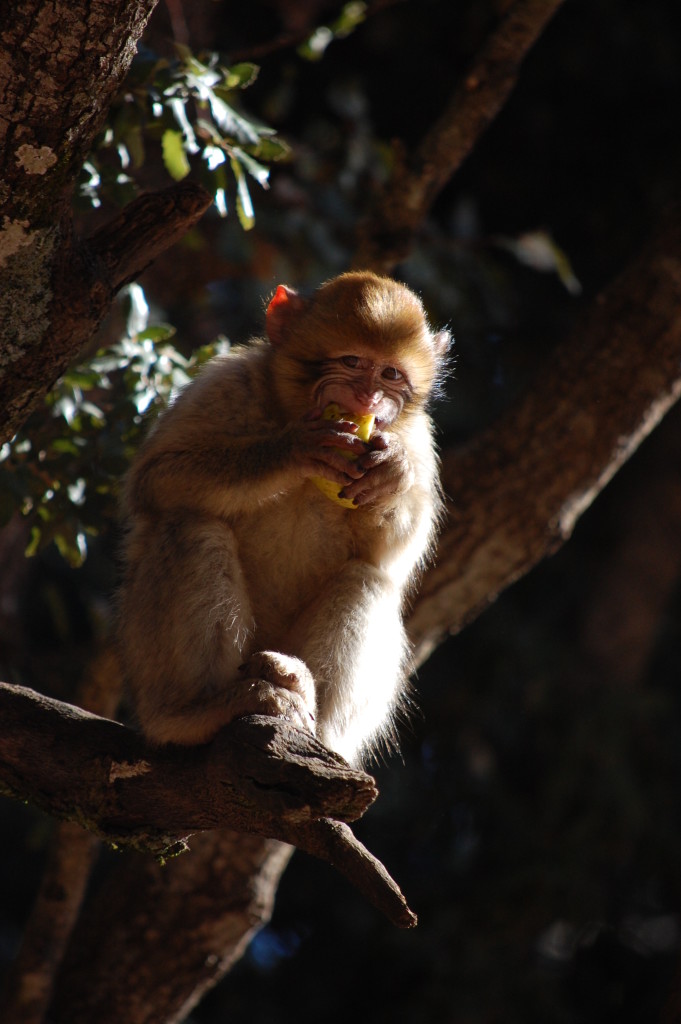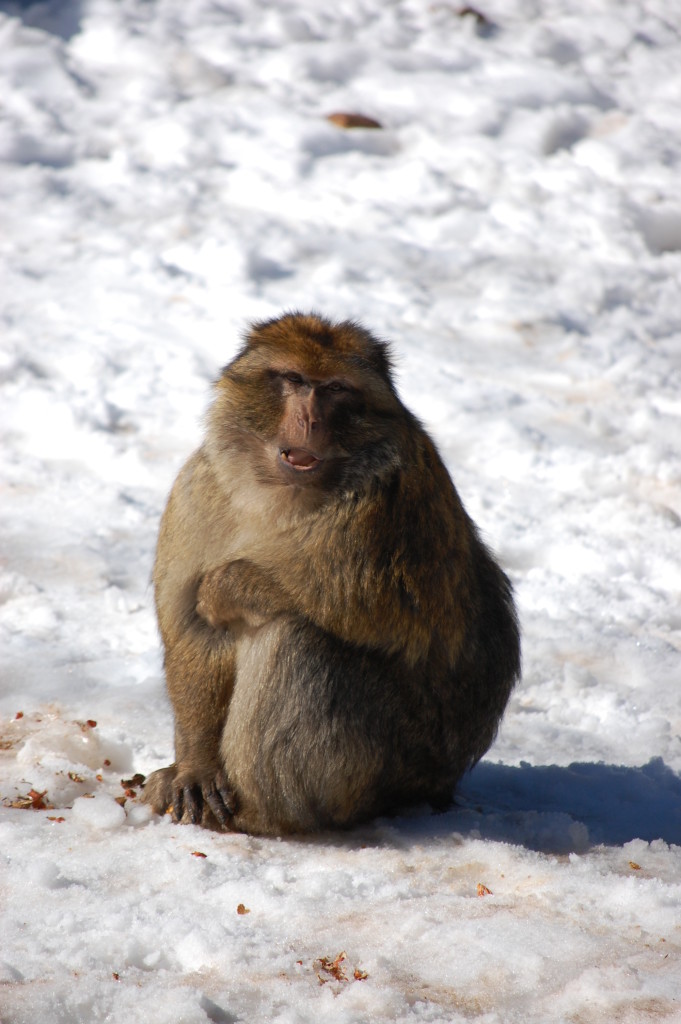 We hung around for a while and watched them fighting in the trees and sitting in the snow, before we wandered back to Dave. It was so nice to see them where they live and roaming free and later we spotted several more of them in the trees by the road as we drove along.  But before we could get back on the road, we had to get out of the winter wonderland we'd left Dave in.  A little push from the man in his high visibility vest (as we were blocking the road for other tourists to get in) and we were off into the Middle Atlas Mountains.
We drove round a corner and were suddenly greeted with a vast expanse of snow – sunglasses on time.  Cars were pulled up by the side of the road as people played in the snow (although it looked like a few had pulled over to pray too – bad luck to have to pray in the snow at the side of the road, good job it's only for 5 minutes). We passed a big hill where all the locals had headed with sledges and even a couple of people on skis.  It reminded me of home and how excited we all get when there's a bit of snow. The difference being that here the roads were totally clear – probably thanks to the snow-plough we passed!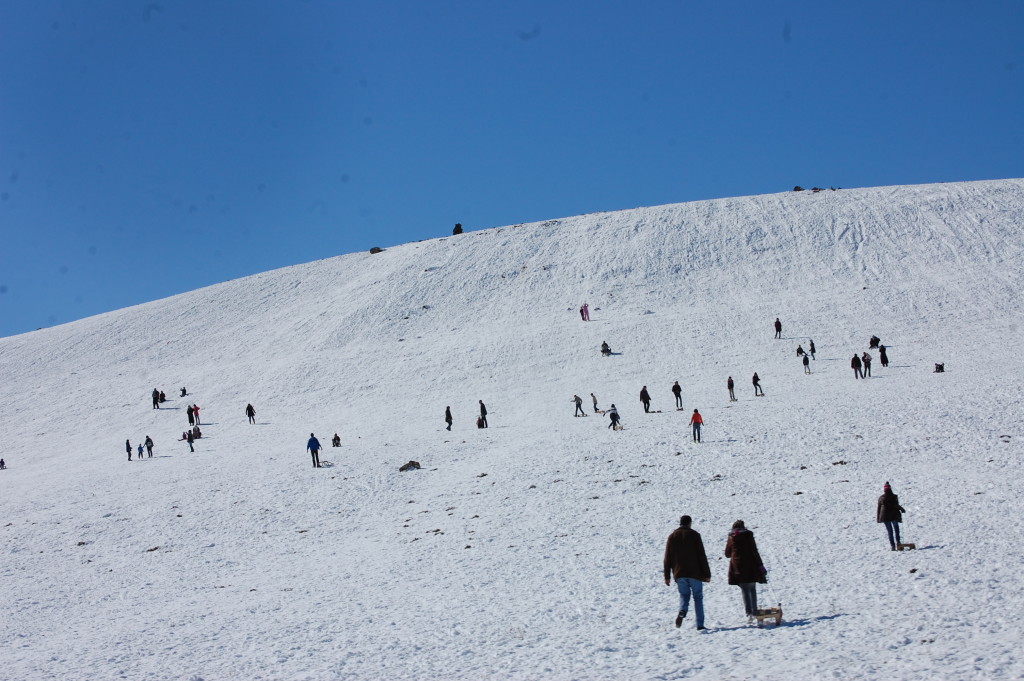 I managed a quick video of our surroundings as we didn't think they'd look like this….
As we started back down the other side of the mountains, the snow gave way to a huge open plain which looked almost lunar – if the moon was red – and on the other side of this plain sat the snow covered High Atlas Mountains. Very much Alpine looking and our challenge for tomorrow. On this open plain people still grazed their livestock, although I don't know what they were actually eating.  We saw shepherds with flocks of sheep and a few hopping donkeys as their front feet tied together to stop them from wandering off.  What we really didn't want to see was a dog eating a dead donkey, but you know how it is when sometimes you're just too slow to turn away and the image is there for life.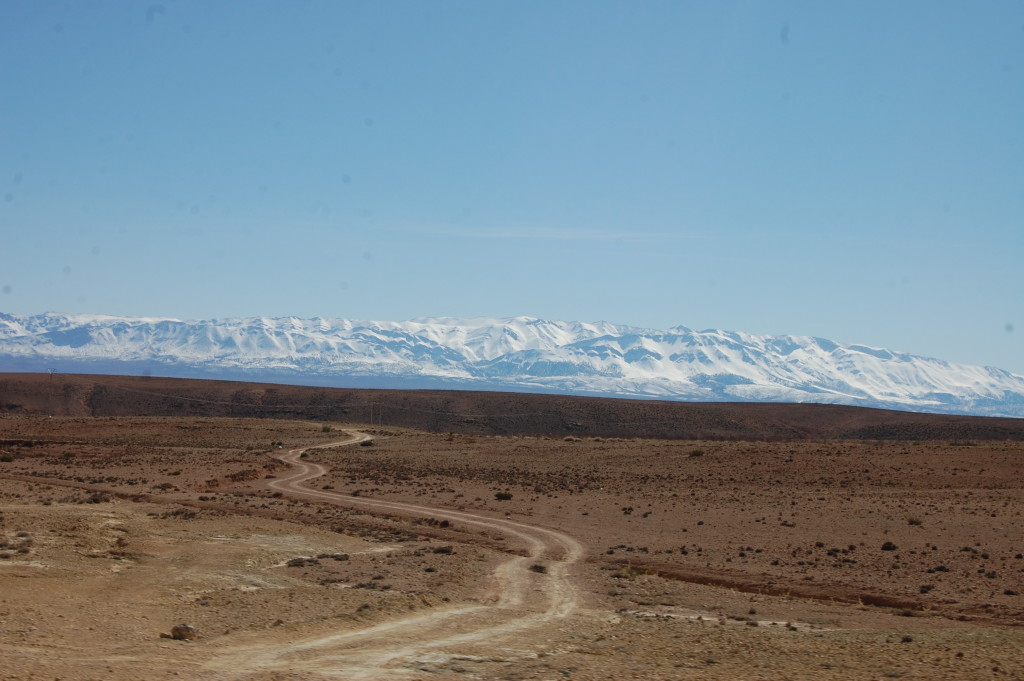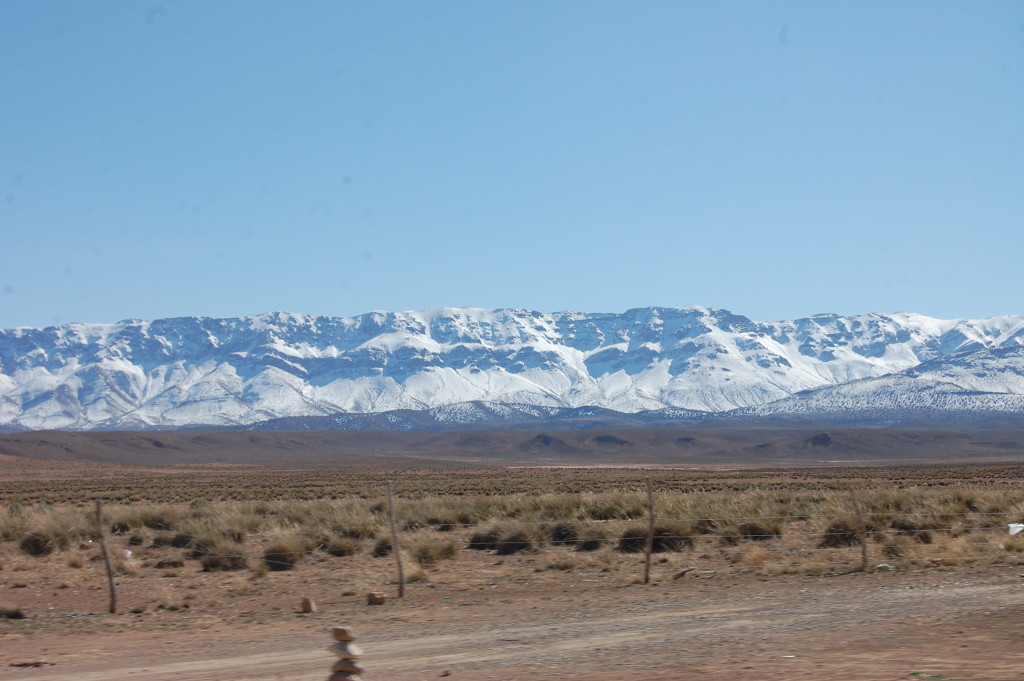 We passed through a couple of small towns on the plain, one was pretty much just a telecoms mast, and it was amazing to see the contrast.  Houses were now small square dwellings that looked like they were made of the ground they stood on, and towns  – well to be honest the towns looked like something you see on TV from Beirut, not sure if they were falling down or being built.  None of this was probably helped by the chaos of market day which had people wandering in the street, cars and buses everywhere (road lines mean nothing on market day).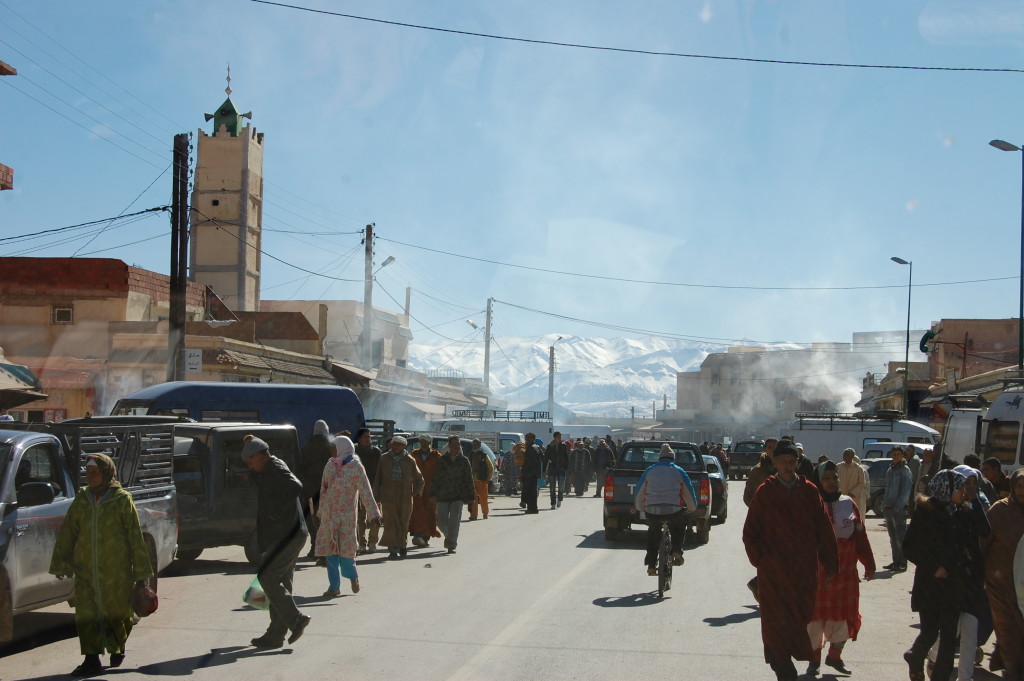 Eventually we reached Midelt and found the municipal campsite where a lavish looking dinner was taking place (there were even seat covers and a catering truck), so most of the spaces were taken by cars of those attending. We found one near the toilet block (which J describes as the same as the others – little does he know I've stayed clear of most of them!) and parked up and went for a stroll around the town. We thought we might buy a couple of Moroccan blankets while we're here as we saw some nice ones in Fez but had no money with us. But we had no luck, despite J braving the local carpet seller's shop. We've been told there's a convent nearby that makes them (one of the shop keepers directed us up there too – good man) and teaches the local women Arabic, so we might try to pop in there tomorrow.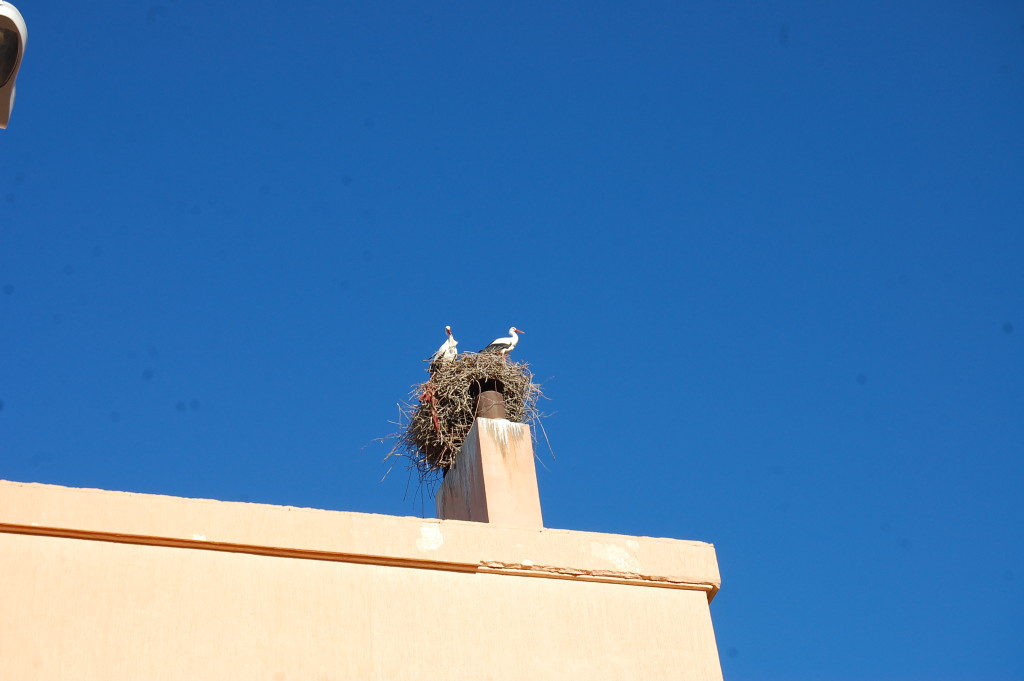 As we walked back towards Dave a dog from a builders merchants came over towards us and went for Charlie. I think I woke most of the town as I yelled at it – certainly those walking nearby turned to see what was going on. The dog realised not to mess with me and ran off (although I think in Charlie's mind it was his roll onto his back that scared it off!).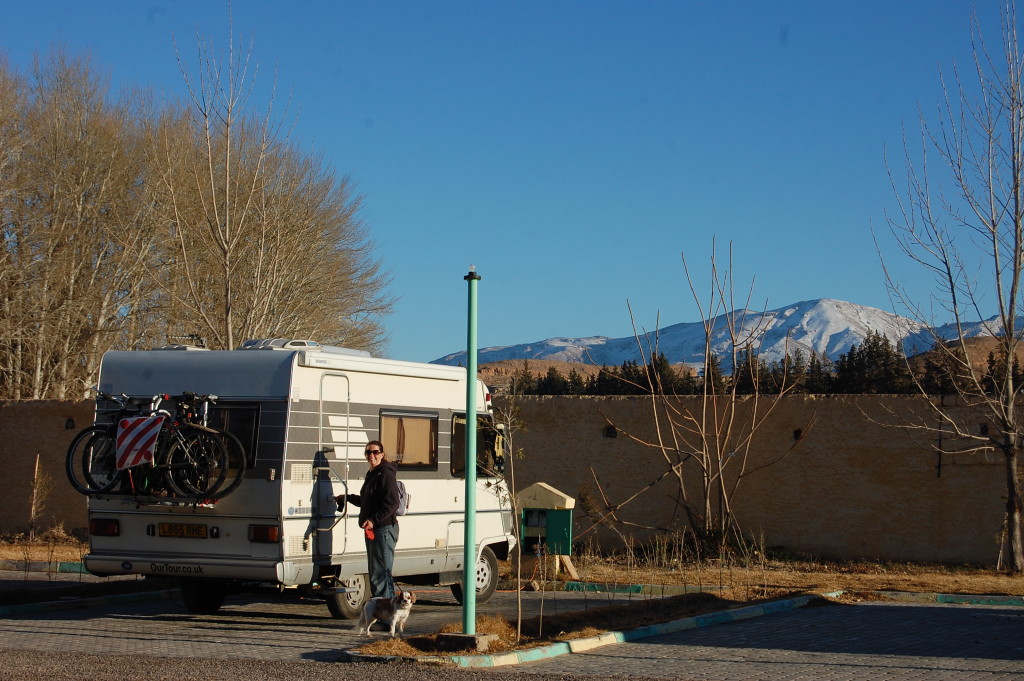 Ju x