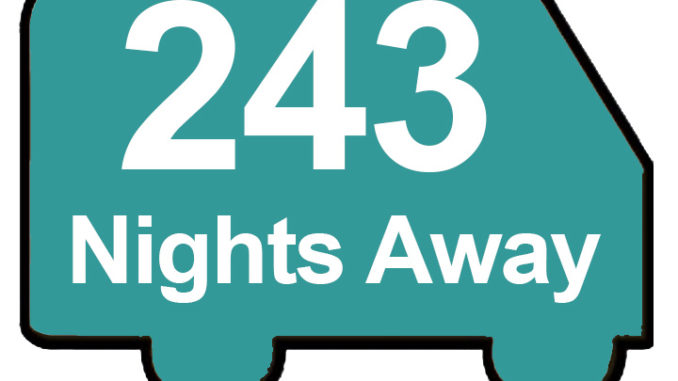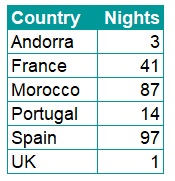 In 2016 we spent the summer touring Scandinavia. A quick nip back to the UK in November enabled us to visit family and friends, and to get a service and MOT for our Hymer B544 motorhome, Zagan. Then on 19 November 2016, we hit the road again. As winter was coming, there was only one thing for it, we headed south.
Our Winter tour of 2016/17 lasted eight months and took in France, Spain, Portugal, Morocco and Andorra. So, for all you facts and figures fans, here's a round up of our adventure and at the bottom you'll find all the stats you could ever want.
The Budget
While we have set a budget of £15,000 per year for our travels (£287 per week), we don't let it rule our lives. If we want to go out for a meal or stop on a campsite – we do. On this trip, we did just that. We ate out 50 times and spent over a third of our nights on campsites. We've met people who travel on a third the money we spend each year, but we don't need to live on such a restrictive budget, so we don't.
I track what we spend every day in my diary and pop it into a spreadsheet (there's a link to a blank version at the bottom of this article). The spreadsheet rounds it up for me to a weekly view against budget and a monthly view of total spend (fixed costs and travel costs) against our income. The information is all there, but we don't spend hours studying it. We'll have a quick monthly check to see that we aren't massively overspending. We don't spread/weight the big annual costs, such as MOT and service of the van across the year, so we know some months we'll be up, others we'll be down.
Where we went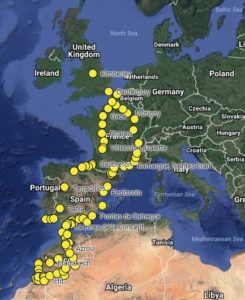 We had agreed to tour Morocco with our friends Phil and Jules, this then turned into agreeing to run the Marrakesh Half Marathon (when will we learn not to drink when Phil and a laptop are around?). We headed south through France and met up with our friends in Anglet. We then crossed into Spain and made our way south to Portugal for Christmas in the Algarve.
After Christmas we headed back along the Algarve and over to Gibraltar for New Year. On the 4 January we caught the ferry over to Morocco. We then headed south to Fes to take part in a run as a warm up for the half marathon.
We experienced snow in Morocco in the Middle Atlas Mountains as we made our way to Marrakesh. One of the highlights of the trip was taking part in the half marathon there, obviously not a highlight at the time when you are puffing your way around the street in the baking sun, but looking back it will always make me proud.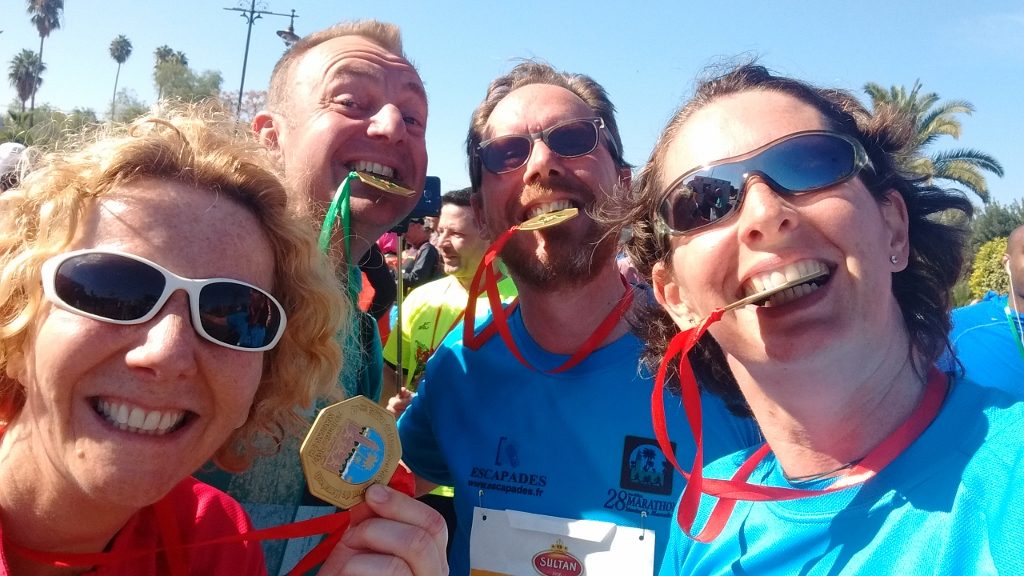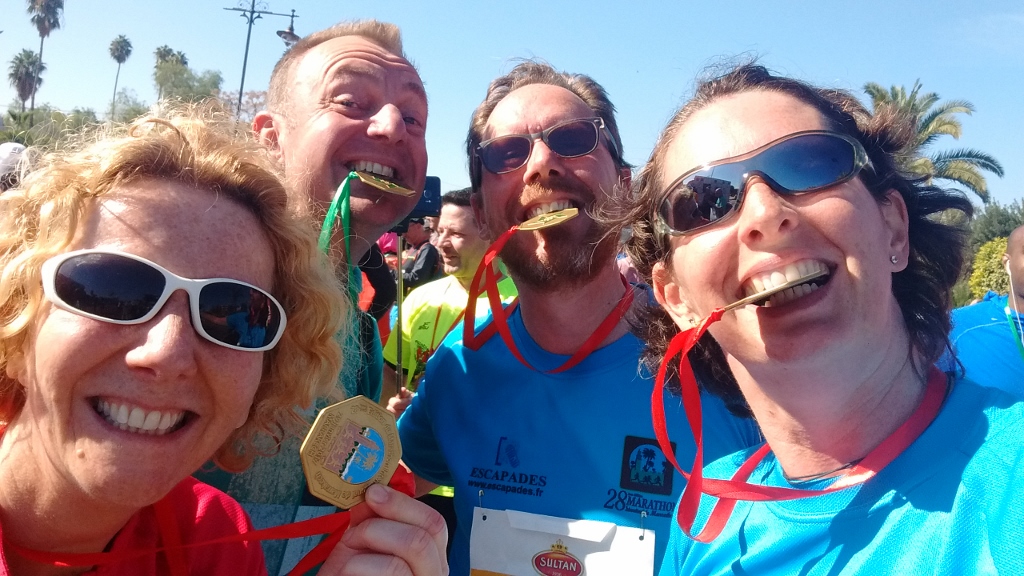 After Marrakesh we headed for the coast and hugged it south to Sidi Ifni, before turning east working our way along the Algerian border, via the odd stunning gorge and dry riverbed, to the Nomad Festival at M'hamid and then the amazing dunes of Erg Chebbi. We then turned north and made our way back to Tangier Med port and returned to Europe 87 days after we left.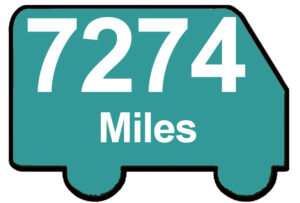 Back in Spain we needed a rest, so as our friends headed north to ski in Italy, we spent 42 nights house sitting in a stunning villa in the Valle de Abdalajis. We wandered along the Costa del Sol and explored the hill towns behind the coast before realising it had gone hot. Too hot for us to cross the middle of Spain (which was our original plan), so instead we cooled off in the Sierra Navada before creeping our way around the edge of the country, moving from campsite to campsite so we could get our awning out and keep Charlie the pampered pooch cool.
Leaving Spain we headed for Andorra and spent a few nights in the cool of its ski resorts, stocking up on cheap fuel and booze before coming back into France. Our journey back across France was planned so we could watch a mountain stage of the Tour de France, another trip highlight.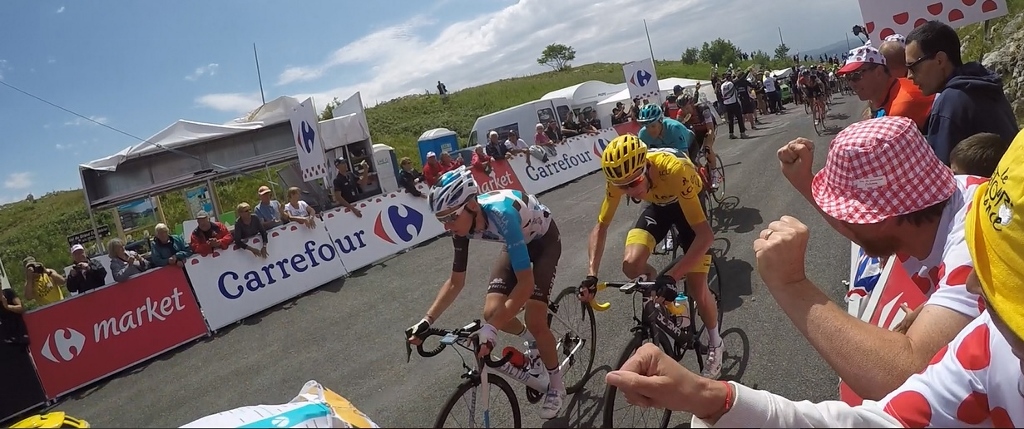 The nitty gritty numbers
The number of campsite nights is very high for us. This is because we spent nearly three months in Morocco where campsites are our favourite places to stay (and very cheap). The heatwave in Spain also had us retreating to campsites to keep cool, using our ASCI discount card to keep the costs down.
We also spent 17% of our trip house sitting. We found this was a great way to stay still cheaply and get to know an area, while giving us the opportunity to get the Saharan sand out of the motorhome and our clothes.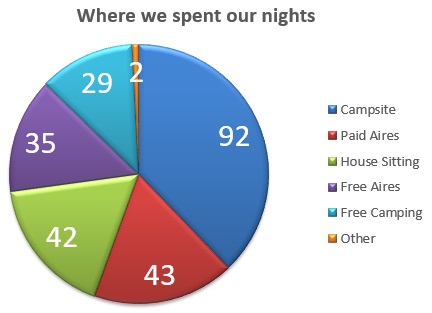 We filled up with LPG six times and diesel 28 times. Our most expensive diesel was £1.06 a litre in France towards the end of the trip. The cheapest diesel was a tie between two countries; at £0.76 a litre we filled to the brim in both Morocco and Andorra.
Our Tour cost break down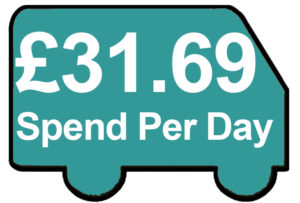 EVERYONE IS DIFFERENT.
These are our numbers, yours will not be the same. My best piece of advice if you are thinking of doing something similar and want to know how much you will need is to start tracking your own spending. That way you will know where your money is going and what things you like to spend on.
Also these figures do not include servicing, MOT, insurance etc for our van as they focus solely on this trip. If you want to know what it costs to spend a year in a motorhome, including the above, check out our 2016 costs. 
Caveat aside, when planning our trip I was always interested on what others spent, and so here are our figures: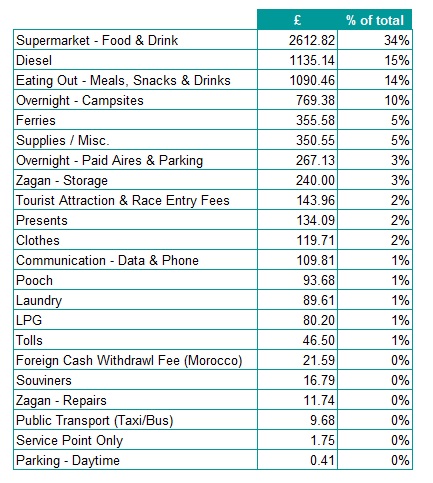 You might notice a lovely category that is a catch all for stuff that we can't squeeze into anywhere else – Supplies/Misc. This list should give you some idea of what things are included in there:
Bike covers, cycle helmets, inner tubes, lighter fluid, washing up bowl, velcro, gas canisters, shoelaces, house sitting site subscription, tagine pot, tagine mat, book for kindle, SD card for phone, ACSI book, corkscrew and much, much more.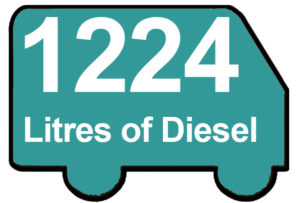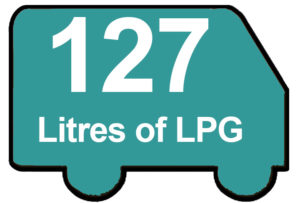 For those of you who like your numbers and pies, here's a pie chart of the above table. Now you can easily see that we like pies too, as we ate our way around this trip. 48% of total costs were spent on food and drink from either the supermarket or eating and drinking out- good job we were running too!
And finally, the moment you have all been waiting for – the grand total of how much our eight month tour cost: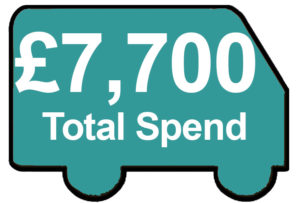 At just under £1000 per month for the adventures we have had, I think that was a bargain!
Ju x
Below is a blank copy of the spreadsheet we use, I've taken out all of our monetary data which may have broken some links. You'll have to update the dates to get the weekly and monthly round up sheets to work, but it should be a good starting place if you want to track your own spending.