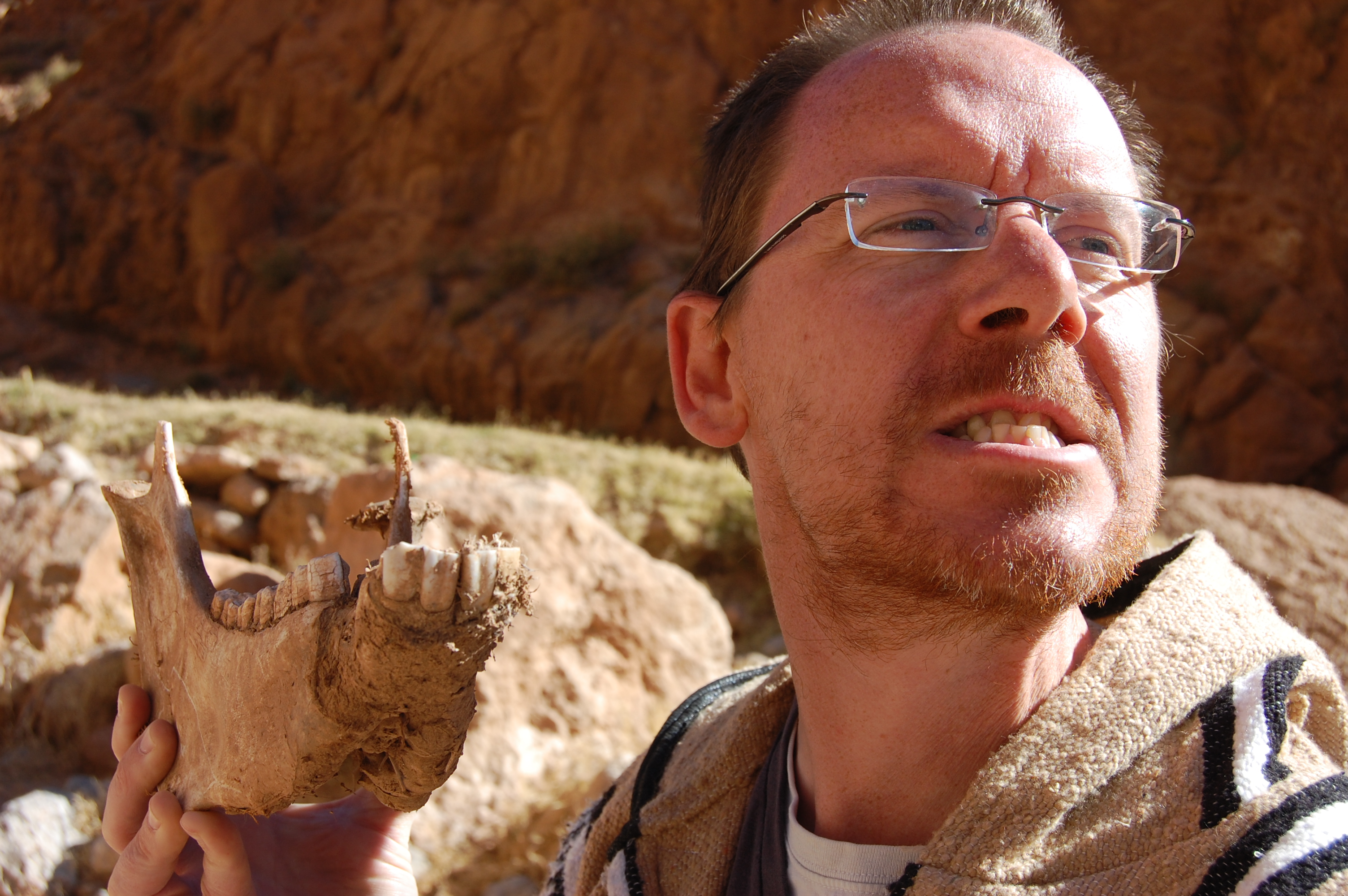 Tina cooked us up a treat last night – a roast chicken dinner with roast potatoes, veg and gravy. We really need to make more of an effort on our cooking! This was washed down by an almost full bottle of port I found in the laundry cupboard while sorting it out for our first Morocco load. I do love our laundry cupboard's ability to produce alcohol just when you think it's all gone. All we have left now is a box of wine and a bottle of sherry (they didn't have port in Lidl in Spain!) – sober times ahead.
While we're on the subject of things running out – today marked a sad, sad day in Dave. As I type this my last cup of hot ribena is being drunk. It's having a good send off with a toffee waffle warming gently above it, but when this cupful has gone, that's it – sob! I brought three bottles with me, which were rationed and drunk wisely at times of need, but now they're gone. I'm more worried the Ribena running out than the alcohol as you can get that pretty much everywhere if you try hard enough – even here as there are many "Berber Modern".
Enough of the sob stories, this morning I got up super early to get said laundry done as the machines here take around two hours to do the deed. My plan was to sneak back into bed for an extra kip, but when I got back to Dave J was up and the bed put back up. So that was that. I checked on the machine several times, which was a good job because on one occasion it was happily running with the door open. Didn't know that was possible, but still it means you can add extra items once it's started, you just have to watch your fingers on the spin cycle.
Our early start meant that around 9.30 it seemed quite OK to fry up some pork (we'd got out of the freezer to eat last night before Tina arrived with a chicken, and had to use up or waste) as a snack, Charlie was very happy with that. We hung out the laundry, tidied Dave up and all piled in for a trip down the road to the start of the Todra Gorge.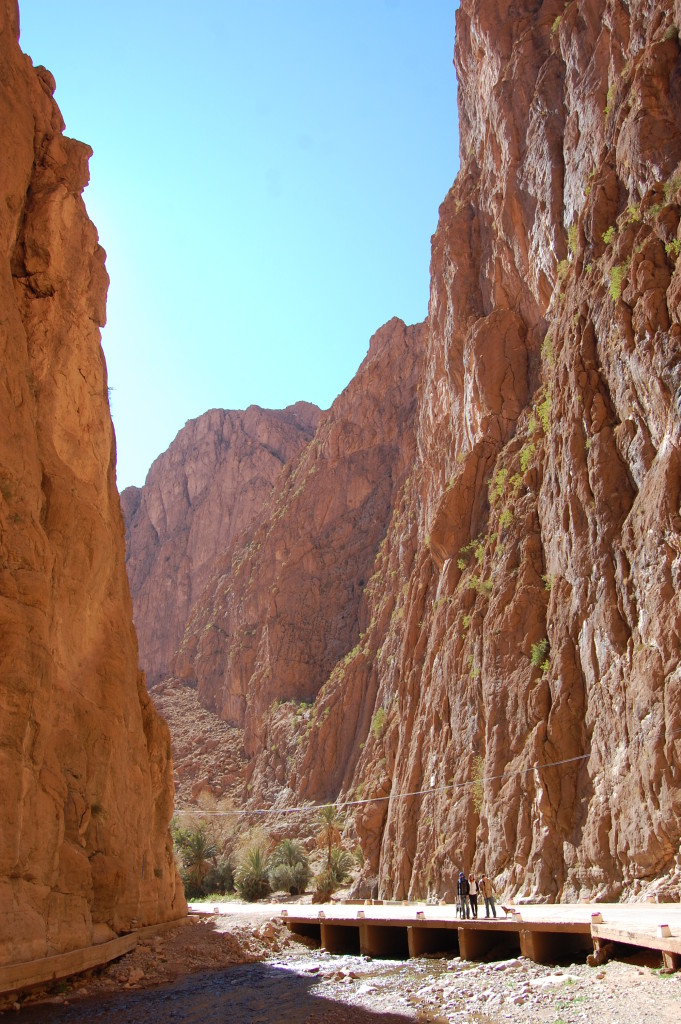 Our campsite and this whole area is in a gorge – admittedly a wide one – as the river flows down the middle creating an oasis. So we were a bit unsure as to where the official gorge would start. With several locals looking at us we parked up in a rock strewn patch of land next to the local mosque, then set off on foot through the town. I'm glad we did that as we saw people drive up into the gorge then back down again without even stepping foot out of their vans.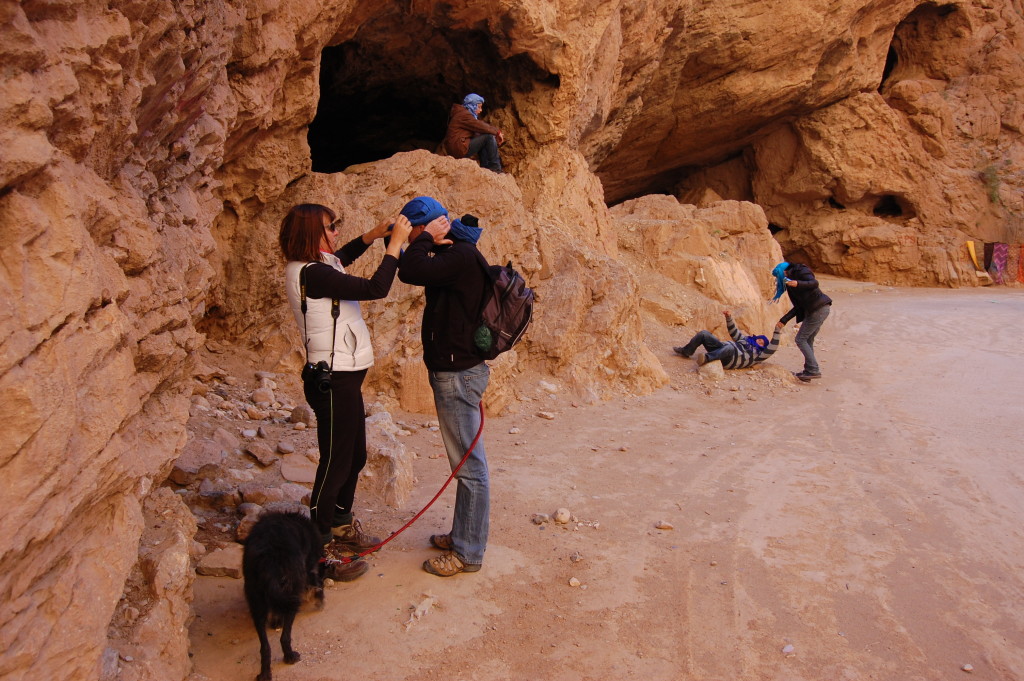 Our walk kilometer walk through the town was one of the best parts. We kept getting asked if Charlie was a dog, he is a very good ice breaker, especially with local children. When we reached the entrance to the gorge, we were greeted with two huge rock faces on either side and a river (and concrete road) running down the middle. It was breathtaking stuff.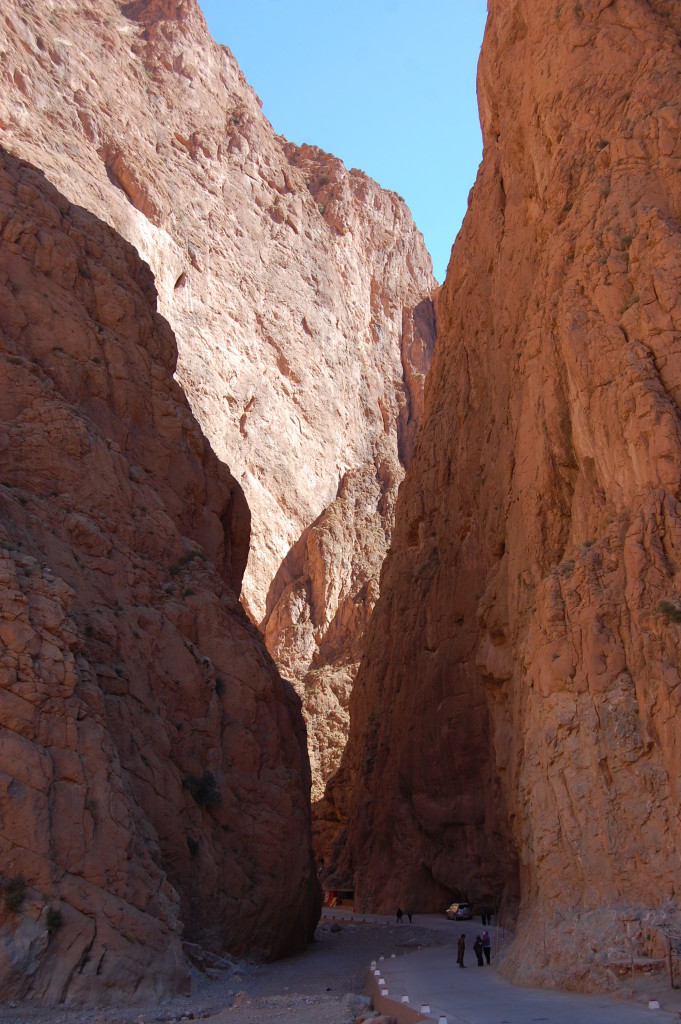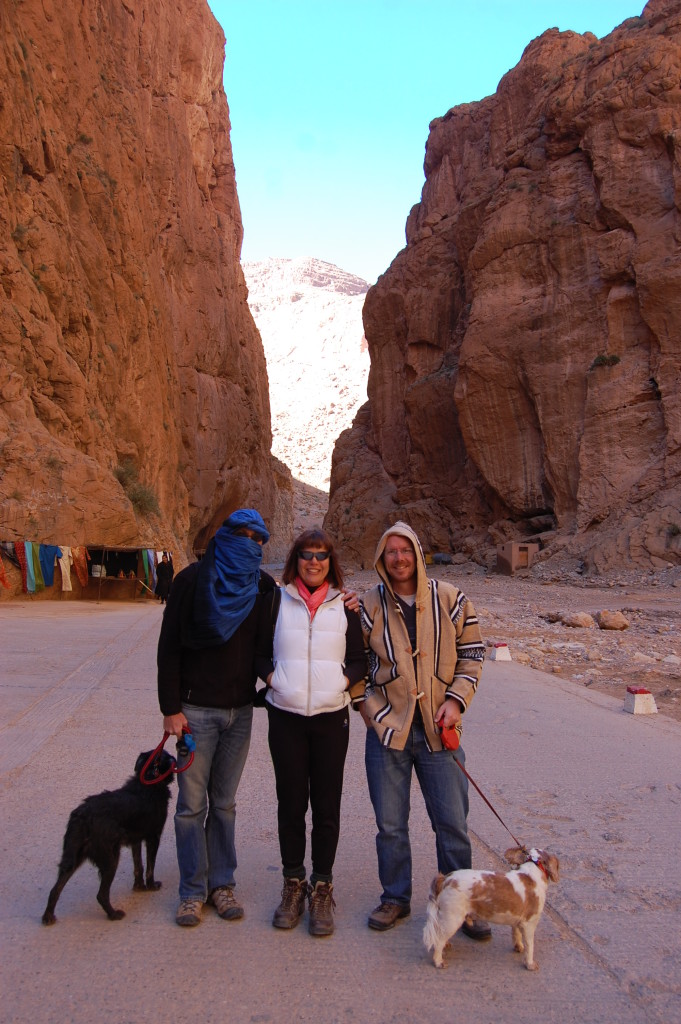 The walls were the orangey/red of the land around here and we were either so early, or it's so out of season that the famous touts and tat sellers were no where to be seen. Just a few small donkeys drinking in the river, locals walking past and mad tourists off rock climbing. We strolled thought the narrowest part of the gorge on the road, then as it widened out we walked along the dry riverbed (not sure where the river had gone because it was certainly further down the valley), where we found the remains of a poor donkey (we've now been told it was a camel – you can tell by the teeth!) and saw some little grey furry creatures (can anyone identify them? – ground squirrels apparently!)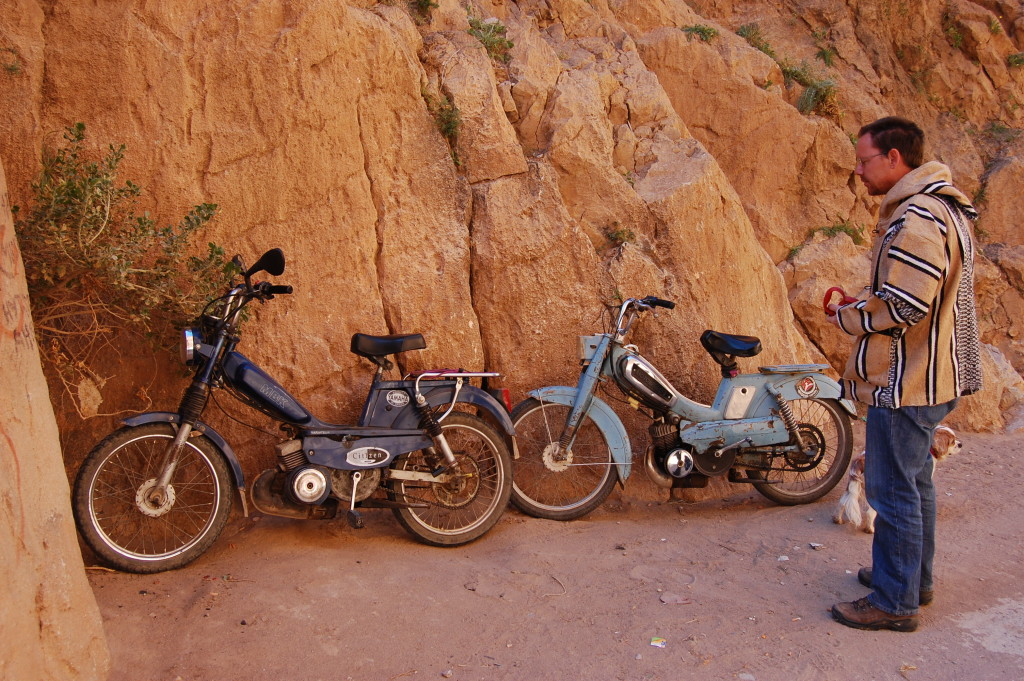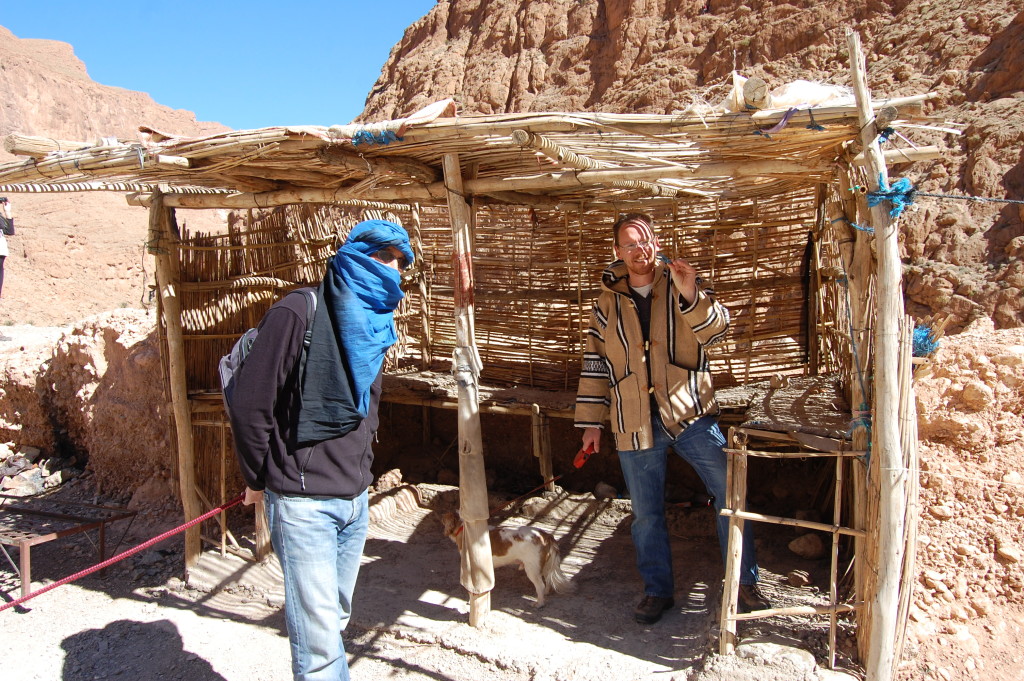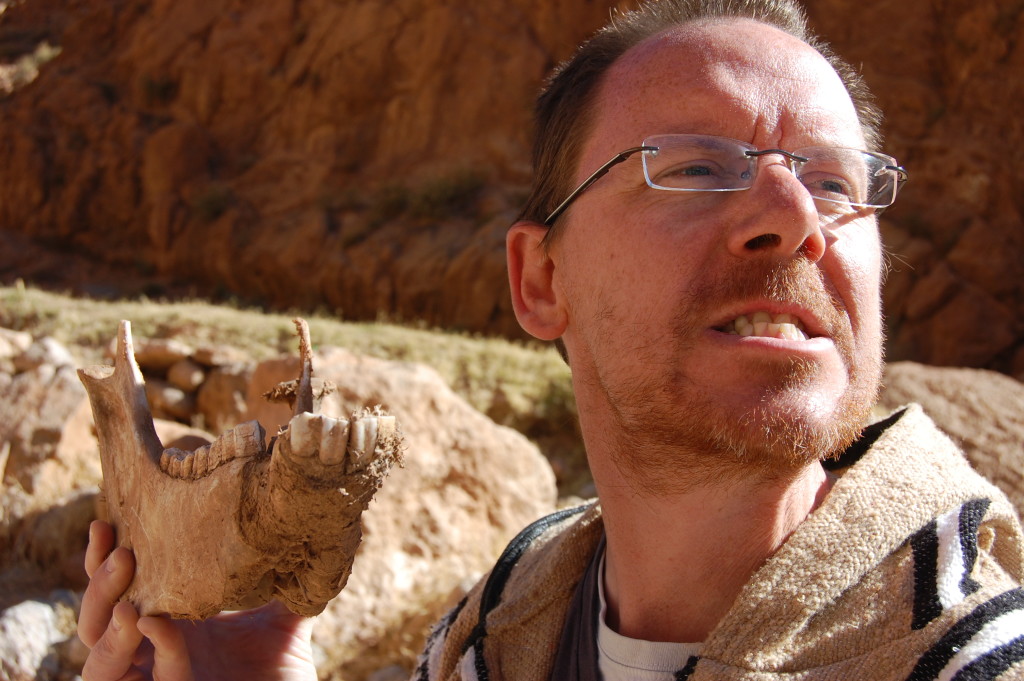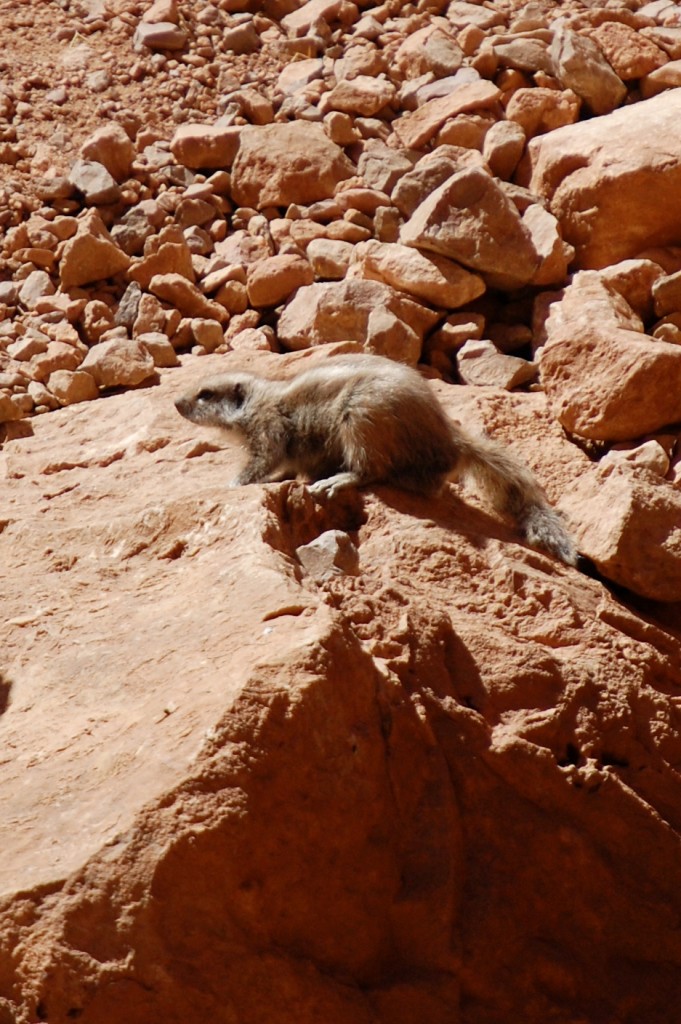 The wind (and dust) picked up, so we headed back down the road only to find the narrow part of the gorge had woken up, several coaches had arrived, accompanied by the tat sellers – lovely, lovely camel bone necklace, look good on you, err no thanks!
After a lovely lunch of omelette and chips we walked back to Dave, stopping off at a little shop to buy some provisions (unfortunately this one had no wine or ribena). As we turned the corner to where we'd parked Dave I half expected to see his door open and everyone walking around in our clothes (a bit like the scene in Coming to America with Eddie Murphy), but as Chris had assured me all along, the people around here aren't thieves, sure they'll fleece you on a deal when buying stuff, but that's your own fault for having bad business sense. When shops are shut a blanket is draped across the front and all the stock stays where it is. I'm starting to agree with him (although not sure the rule would apply in the big cities!). Of course as we got back to Dave someone approached us asking us to have a look at the rugs in their shop, they had watched our van but wouldn't charge us (normally you pay a guardian) – J laughed and thanked him for watching the van, but we didn't need any more Moroccan stuff. The guy laughed too and we drove off without even having to pay him.
Tonight we went out for a meal. We found a tiny restaurant and luckily we'd wrapped up as it was freezing. But the food was delicious, all fresh and probably grown/raised in the gorge.  The bill, around £6.50 per person – you could get used to this! When we got back the campsite was all locked up, but Chris managed to by pass the lock by pulling the gates outwards rather than inwards, otherwise we might have been in for some wall climbing or a night under the stars.
The sun has set on another lovely day here in Morocco. The more time I spend here, the more I'm growing to love the place. It's still scary at times, but I think I'm lucky being a slightly older, dark haired woman. I can wander around and the only attention I get is from kids asking for bon bons – and that I can cope with!