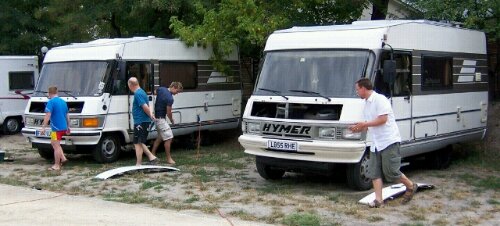 Dave the motorhome is parked in a car park near Visegrad's 13th Century citadel, high on a hill above a curve in the Danube (N47.796653 E18.996542).
This morning we bid farewell to the campsite in Budapest. We were beaten to the gate, by quite a long way, by the lads delivering the ambulances to Mongolia. Six degrees of procrastination (the site's since been removed) are keen to get out of Europe and showed their mettle by being up and on the road so early after a night on the beers in Budapest.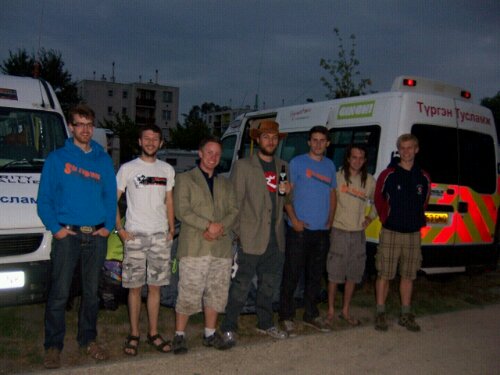 Adam and Kylie, fellow Dave style Hymer wanderers, were up early too although Adam did have to do quite a bit of exercise to work off last night's meal!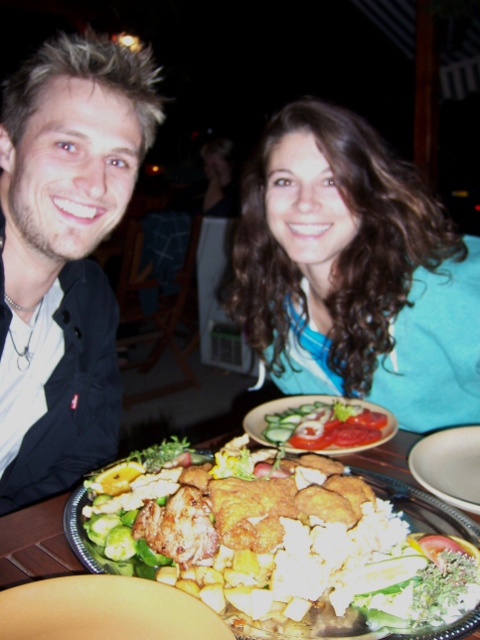 We left them in the capable hands of Stephen whose mobile phone we'd charged up the night before. He, his sister and her husband had cycled from Vienna – brave souls – and were now preparing for the cycle to the airport to head home. Fortunately Stephen is a mechanic as Adam and Kylie were experiencing a few electrical problems. The joys of old vans, but at least you don't need a computer to diagnose what's wrong with them! Hopefully they got sorted and everyone made it to their lakes and planes.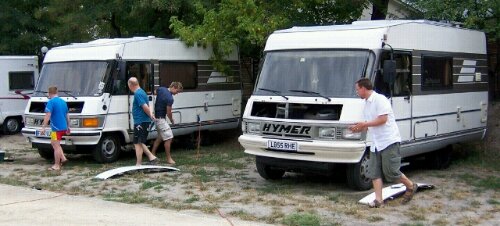 We struck out north, a patchwork of tarmac and multiple lanes taking us towards Visegrad. Rattling old yellow trams run in the central reservation with adverts for the Hungarian Grand Prix and cheap ice cream at Aldi on billboards along our route. Huge blocks of apartments had given over their roof spaces to famous brand names, so my excitement at finding the Nikon factory, so I could pop in and get our camera fixed, was short lived.
Tesco, Lidl and Aldi signs pointed us to our nearest source of food, while McDonalds drive thru's were in abundance to deal with any instant hunger emergency. We could have been on a ring road around any city in the world.
A huge logo on another block of flats caught our attention – Auchan – we haven't seen one of those supermarkets since France, and French means tasty in our books. We pulled into the massive car park and remembered, prompted by the sheer number of cars, that it's Saturday. Were we about to get trapped in supermarket hell? After weeks of fairly poor choice of supermarket food in Slovenia, Croatia and Bosnia, the lure of tempting treats was too much – we piled in.
The place was massive and the choice kept us captivated for way too long. As well as a hot food section and stand up tables you can eat it at if you can't wait until you get home, there was an ice cream stall – takeaway scoops went into polystyrene pots, cones were eaten as you walked round. Taster snacks were also provided as we wandered around, drinks, salami snacks and watermelon – the watermelon was so refreshing and good nearly every trolley had one in it. At around £2 for a whole melon even I weighed one up and put it in our trolley before I saw sense near the checkout and abandoned it, we don't have a cupboard big enough to store it in Dave.
All too soon we'd bought everything we needed as well as a selection of baked cheesy things for lunch and a couple of slices of cake. At the checkout we were impressed how cheap it was, mainly because we've bought local stuff, yet to see how the local baked beans stack up to heinz, but they were a fraction of the price.
Dave's cupboards bulging we carried on to Visegrad, where we found a man stood by the free car park in our database charging around £4 to get in, so we headed a kilometre back down the hill to the free car park we are in now.
A walk along a couple of the many hiking trails on the hill took us onto a grassy ski slope – is it me or do they look a lot steeper in the summer? – bales of hay still wrapped around the bottom of the drag lift pole.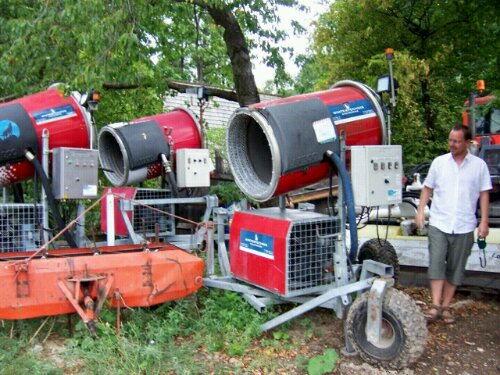 We thought we were walking towards the citadel, but after 20 minutes spot it across a valley on another hill, so we head back to the ski slope and watch huge barges float effortlessly on the Danube, trains on the other shore rattle along in the distance making us feel like giants looking down on a model train set.
A mechanical sound from above heralds the arrival of a group using the overhead 'flying fox' network, huge platforms rise above the trees with cables connecting them. We're tempted to have a go, but as we struggled to find a citadel up among the hillside maze of paths, we don't hold out much hope in finding the start – and Charlie voices concern that helmets and harnesses don't suit him.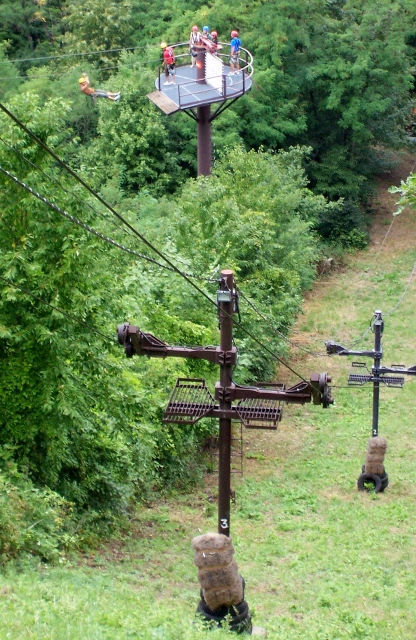 Back in Dave it's cake time. The locals have left and we have the same car park to ourselves. Time to manoeuvre into a flatter space with tree cover for the morning and hope we're not in another Saturday night party zone!
Ju x