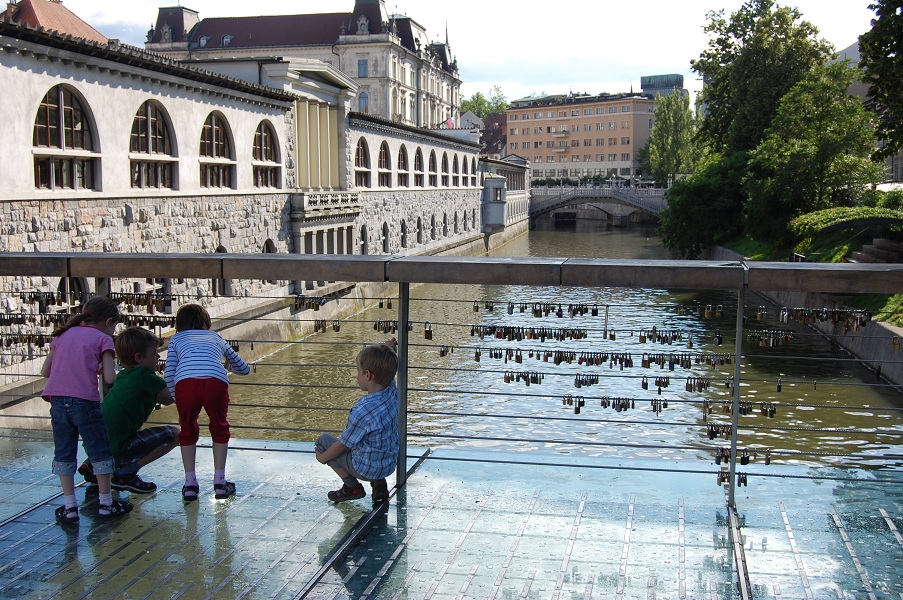 Dave the Motorhome is in Ljubljana Resort (N46.09830 E14.51907), a campsite about 5km outside the Slovenian capital city.
After driving over 14,000Km through 8 countries, I've just managed my first crash in Dave. Well, it was more of a rubbing, but the noise as we made contact was rather more impressive, especially since I was reversing into the bloke at the time and he was rather leaning on his horn… More later.
It rained last night. And it was cold, even Ju and I felt it a little in our snug drop-down bed. Poor old Anne and Jon were frozen and hardly managed any sleep. Their soaking tent was expertly emptied and the shell moved into a sunny patch of campsite to dry off, and we loaded Jon's Golf up with the stuff we'd packed 8 months ago and never needed. Like my 'Management Consulting' and 'Business Analysis Technique' books. These are fat old books, were taking up more than their fair share of space, and hadn't been opened; their reason for being in here in the first place being a misplaced guilt at making myself unemployed.
Once the tent had dried a little, it too went into the Golf and we said our goodbyes. As the black VW made its way down the tarmac path between the trees, Ju and I felt a familiar sense of loss and homesickness. It's stayed with us all day, and I'm blaming my awful driving on it. Anne and Jon: many thanks for driving across Europe to see us; we loved your company and we had great fun, especially on that toboggan thing. Thanks too for the real ales, a Bishops Finger is currently pushing towards a better mood.
As the weather had turned sunny, we steered Dave in the general direction of a nearby village: Podham. We'd read about Vintgar Gorge and wanted to have a look. The narrow roads through the Slovenian villages and the confusing signposts tied to throw us off the scent but we found the place – GPS co-ordinates of the car park at the end – big enough to take coaches.
Vintgar Gorge was discovered in 1891, and the locals quickly hit upon the idea of making some cash out of it. Within a couple of years they's somehow fashioned a mile long path through the gorge, snaking its way along the small cliffs, a few meters above the river, before leaping over rickety bridges to the other side. The river itself is a translucent turquoise, how the fish survive without being eaten by birds is anyone's guess. At €4 each, it felt like a bargain. Charlie was admitted for free, on the proviso he 'doesn't eat any tourists' as the ticket man quipped from his little log cabin. Charlie would have preferred a 2 hour kip methinks, his fear of water, bridges and loud noises being tested to the max; the latter coming from the couple of waterfalls along the path's length. All-in-all, a great way to kill some time and marvel at man's ingenuity.
Gorge completed, next stop Ljubljana. We've done next to no research into Slovenia (we'll be trying to catch up today and tomorrow) so that's the only place we could think to head for. More narrow villages, largely made up of new 4 to 5 bed sized mansions with new cars parked outside, means more narrow roads. As soon as we spotted a petrol station Ju legged it inside and spent €15 on a week's Motorhome vignette, so we can use Slovenia's motorways to our heart's content. Heading along one such motorway, a toll appears, causing great confusion in Dave's cab. Pulling into the right-hand booth, we realise the tolls don't apply to vehicles less than 3.5 tonne with a vignette; the booth operator, speaking perfect English, tells us no problem and opens the barrier. Good man.
I've mixed feelings about Ljubljana. It's the size of a provincial city in Spain or France, it's really not very big, which I really like. Parking would have been easy, if we'd paid up €15. We did a U turn and found a free spot on the road. The castle tourist office and the one in town confirmed no overnight parking is allowed, everyone has to go to the campsite we're on – which could explained why it is so packed. At least its ACSI, so only €16 a night. Slovenia's proving to not be cheap, at least where we've visited so far it's more expensive than Italy for us. The town's sights are all in a tiny area – a few bridges, cafes, a castle and a small square. It would make a great spot for a weekend away to chill out. As for us, we're tired, it's raining and the city looks like any one of Western European towns and cities; time to leave.
Leaving is where I had my little problem. Sat at some lights the car in front of us started to reverse as he'd gone too far into the junction. A quick check of the mirrors confirmed there was no one behind me, so I popped Dave in reverse and backed up a couple of feet. Just as the sound of the blaring horn reached my ears, so did the sound of the crunch. A Slovenian's Audi was obviously less than 2 feet from the back of Dave. Ah. Cutting the story short, the damage was fairly minimal, the guy was quite cool about it all (he spoke perfect English) and we agreed on €50 changing hands. Ju pulled €45 out of a her pocket, which he gladly accepted. More apologies from me, shaken hands and we parted ways. On the way to the campsite we passed a three car shunt, which cheered me up a bit. This Bishops Finger continues to work its magic.
Vintgar Gorge Car Park Location: http://maps.google.com/maps?q=46.39239,14.08469 (GPS: N46.39239 E14.08469)
Cheers, Jay