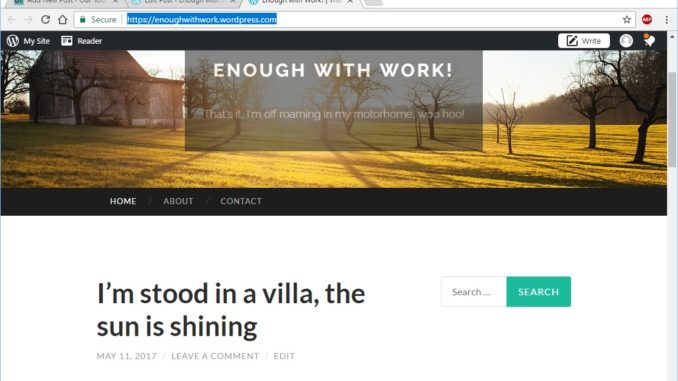 This blog post describes how anyone can create their own travel blog, in less than 30 minutes, and for free.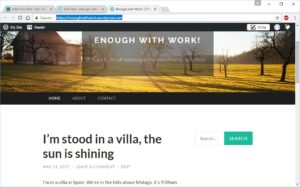 As you can see on our Fellow Traveller's page, there are stacks of folks out wandering in motorhomes and campervans, and sharing their experiences by blogging about it. If you fancy doing the same thing, but aren't sure how, here's a three step guide. It'll take you about 25 minutes, less if you click quickly! Get a brew, and let's go.
With this method you'll get:
A WordPress-based site, one of the world's pre-eminent blogging platforms
The site for free – that's right, no cost to you
A simple-to-edit site, no need to learn any nasty code, although you will need to learn how to use the editing interface, but it's not hard
Some restrictions, like the fact you can only upload 3GB in total of photos, and your blog name has to end in .wordpress.com
Note: ourtour.co.uk is a WordPress site, but it's self-hosted, so it runs a bit differently to the way described here. Being self-hosted gives us more flexibility but needs some IT nerd skills and money to power it. If you're into that stuff, check out how to start a self-hosted WordPress site here.
OK, let's go. Just follow the instructions in the three steps below. Note that this post was written in May 2017, and some of the steps might change a bit over time as WordPress update their platform.
Step 1: Setting up a Free WordPress.com Blog
In this step we'll create the bare bones of your blog, and set up an account on WordPress.com so you can later come back and add more blog posts.
Time taken: 10 minutes
Browse to https://wordpress.com/
Click on Get Started

Click on Travel >

Click on Start With a Blog

Click on any of the themes, you can change this later on so don't worry too much at this point
Enter the name of your site (ours is ourtour – just type in yours – like enoughwithwork.wordpress.com). WordPress will automatically add '.wordpress.com' to the end unless you pay for the premium version, which we're not doing here!

Click on Select against the Free domain name
Click on Start with Free

Enter your email address, and a username and password which you'll use to later log into your blog when creating new content.

Have a look in your email and find the one just sent to you by WordPress. In it, click on Confirm Now.

That's it, you now have the bare bones of your blog created. The blog is shown back to you ready to start adding content:

Step 2: Configuring Your Site
In this step we'll add a title and tagline (sub-title) to your site, getting you used to configuring the site itself.
Time taken: 5 minutes
On the bottom left of the page, click on Settings

Just enter a Site Title and Site Tagline for now, like this:

Click on Save Settings
Scroll up to the left and click on Site Preview. You can see that your site's been updated with the new title and tagline.
Click on the X button to close the preview screen and go back to the editor.

Step 3: Adding Your First Blog Post
In this step we'll add some actual content – your first blog post, ready for all the world to see, complete with a shiny photo.
Time taken: 10 minutes
Click on the Add button next to Blog Posts on the left.

Type in a title for the post, and underneath that write your content.

Let's add a photo too. To do this, click on the  button

Click on the Upload Media button.

Find the photo, click on it, then Upload.
When it's finished uploading, click on Insert.

Now click on Publish to the top right and BOOM. Your first blog post is up there, LIVE, on the internet for several billion people to see!

Browse to your site's URL (https://enoughwithwork.wordpress.com/ in this example) and you'll see what the world can see!

That's it.
You will most likely want to tweak your site, changing background images, categorising your posts, adding maps or other plug-ins, you name it (click help on doing this). But the basic blog is there, and ready for your content to go up.
When you want to share it out with people, just send them the link, in this case: enoughwithwork.wordpress.com.
If you're blogging about motorhome touring, then once you've added a few posts, be sure to send us the link (to julieandjason@ourtour.co.uk) and we'll add it to our Fellow Traveller's page.
When you want to add more content, just go back to WordPress.com, log in if you need to using the username and password you created above, otherwise just carry on adding blog posts or otherwise tweaking away!
Cheers! Jay