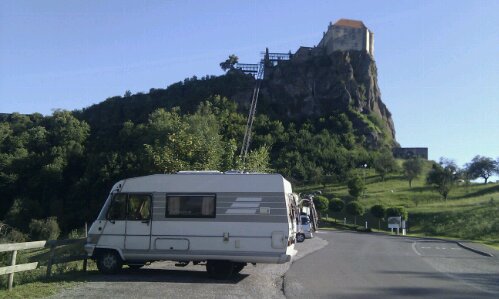 Dave the motorhome is parked in the car park of Riegersburg castle(N47.00797 E15.93299).
We slept well last night in our free parking space recommended by Bezi and Walter who parked there too after watching an open air performance of Carmen. This morning as they were leaving they popped by to say hello, soon we were all in their motorhome with the ADAC Stellplatz book and maps on the table as they recommended more good things to see in Austria. They pointed out their home town and the places they had visited in the UK – many of which neither of us have been to.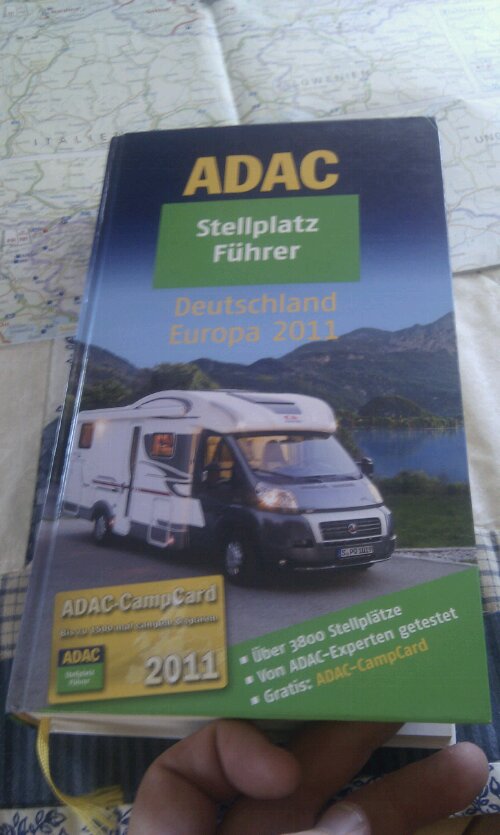 After exchanging email addresses we went our separate ways, although I was tempted to go with them as they were off to stock up on wine for the year at a local vineyard, then to a thermal spa on the other side of the lake.
We, on the other hand, had a date with Hungary to spend the last of our Forints as it was only a few kms away. Back through the empty border, signage still directing lorries and cars into separate lanes, and non-EU passport holders elsewhere, all redundant since Hungary joined the EU in 2004.
First stop was to fill up with diesel – at 420 forints a litre it worked out to a similar price to Austria at €1.37, but we had cash to use so Dave was filled to the brim. With our remaining cash (around €10) I carefully selected items in the local supermarket. Wine, beer and some savory baked goods saw me leave with just 25 forints left – less than 10p.
Back in Austria we head to another petrol station, this time for a vignette for the motorways and 'schnellstrasse' quick roads. Once again Dave's weight is a topic of discussion as vehicles over 3.5t have to use an electronic system and pay by the kilometre. Slim Dave at 3.1t gets away with using the same stickers as cars, so for just €8 we head onto the motorway and clock up some big kilometres.
We're heading towards Graz, but during a stop at one of the numerous car parks along the roadside we check out the maps and guides to make sure we're not missing anything. Jay spots Riegersburg castle's details and it looks good. Perched on a 200m high former volcano the 13th century castle was 'finished' in 1653. The two miles of walls, five gate houses and two trenches made it one of the biggest and strongest castles in Austria. During the war with the Turks local villagers, who had paid taxes for the privilege, took refuge in the castle. Sometimes a few thousand people were inside it's walls, today there were around 50.
It's easy to get into these days as a kind soul has put in a glass lift up one of the rock faces. We paid €2 each to go up in it. Giddy with excitement that we were ok to sleep in the car park we then paid €10 each to go into the museum – Jay had read that there were weapons!
It turned out that the weapons were in the free bit you could walk around, our museum entrance fee was for two exhibitions. The first on the witch trials which took place around here (and included an Iron Maiden), the second was about life in the castle and the family who lived there during the Turkish invasions – both were in German. Wikipedia was no help only having pictures of the castle, so Jay asked in the shop and was given a few sides of A4 paper which gave us a vague idea what was going on.
After reading the description of what a witch looks like – seems they have red hair – Jay kept his distance, Charlie will not be impressed when he finds out.
Some of the castle rooms had odd displays in them, one set of mannequins depicted a statement written on one of the windows "In the year of 1635 on the 6th of April a boozing was raised and since that time every day there will be a drunkenness except on the 26th". A quick check of the calendar and we're safe to open the wine tonight. However the decor  was amazing, one was white marble and stucco work with inlaid paintings in the ceiling, under one of them an inscription said "building is more beautiful than last and I am aware of what it costs".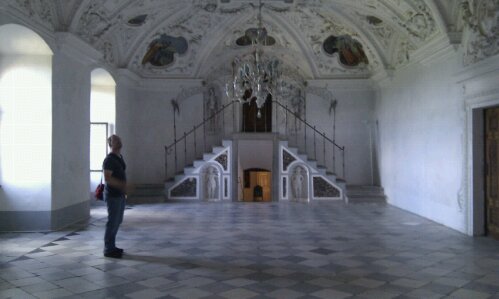 Our walk back to Dave took in the neat and tidy vista that is Austria. Clean rows of vineyards and corn, lush green rolling hills and deep green forests of trees could well have been a painting. We're impressed with Austria, and there is still loads more to see.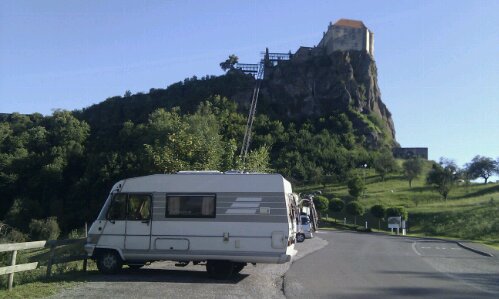 Finally – for those of you following the hinge saga. We were recommended a Hymer dealer in Linz, Austria, by Pavel who we met on Hvar Island in Croatia. Sulzbacher have helped him get parts for his old Hymer. We contacted them and they have the bit we need in stock. At €26, it's also cheaper than getting one in the UK, so we're heading there next week on our way to the Czech Republic, and we're going to get two so we don't have a repeat saga on another windy day!