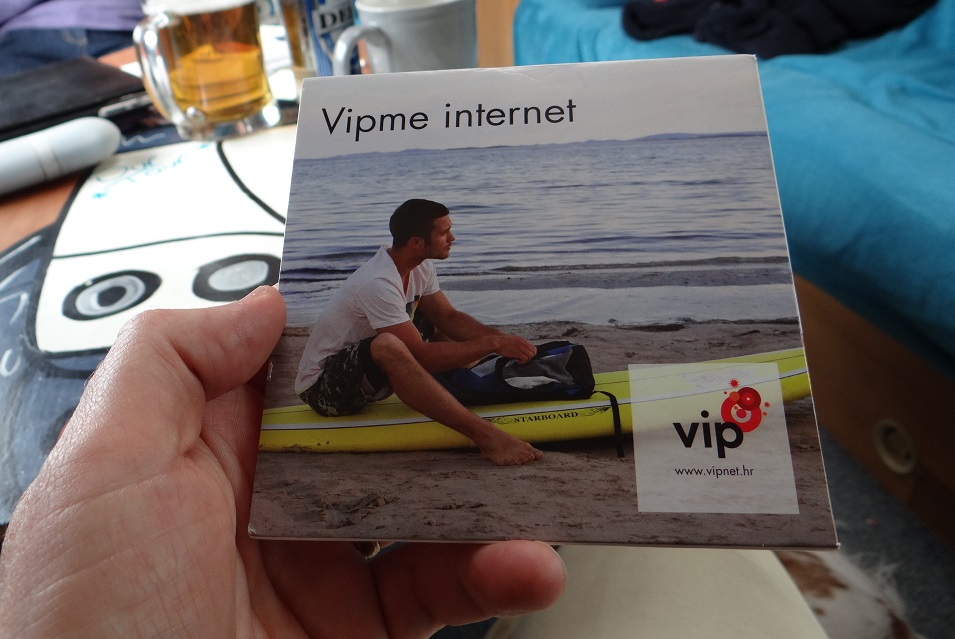 We're in Croatia for few weeks, travelling from Split northwards in our motorhome. We like blogging our way along, and usually pop something up onto the Internet every few days. Or every day when we're moving fast enough, so we prefer having frequent Internet access. As we're from the UK, we were using Three's Feel at Home SIM as we travelled south into Italy, which seems the best multi-country deal currently available in the UK. However, the Three offer only covers a few countries in Europe (as of April 2016), and Croatia isn't one of them. So we needed another solution. In fact, we needed two.
Solution number 1 is WiFi. The campsites we've stayed on to date (free camping is actively discouraged in Croatia and we've not dared try it) have thrown in WiFi with the deal. Using a directional booster antenna, we've managed with this for the past three weeks. Having spent a couple of decades working in IT, my patience for telecommunications technology is non-existent, and campsite WiFi is, ah, a bit flaky from time to time. That said, you can't beat WiFi for providing all-you-can-eat data. No worrying about using all your data by tea time, allowing Skype calls and listening to Chris Evans on Internet Radio 2 while sat alongside a foreign beach, sweet.
Solution number 2 is Cellular Internet. For this we have a MiFi which sits in a cupboard, connected all the time to an omnidirectional antenna fixed on the roof, and plugged into the van's 12V supply (more info here). Using this system, we've had decent Internet access almost everywhere we've been, no hassle, but limited data depending on the SIM it has in it and the associated deal. To get this working here in Croatia, we've nipped to a post office and picked up a Vipme Internet pre-paid SIM, like this: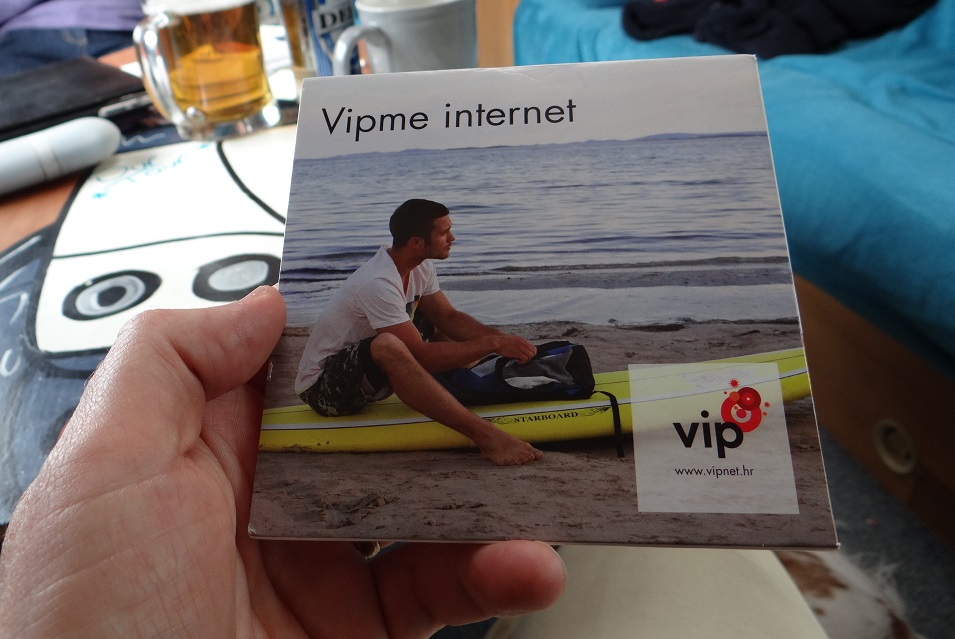 The deal with this is:
It cost us 85 Kuna (£9) for the SIM, pre-loaded with 10 day's data. Weirdly this gives you 100 Kuna's credit on the SIM (we didn't question the lower price…)
No ID needed, no address, no credit card. We handed over cash, and the post office lass handed over the SIM, all the while speaking perfect English, one of the easiest SIMs we've ever bought
The data is actually ten 24 hour periods, so if we don't use the SIM for a few days (when we can get decent WiFi), we don't pay for them
You get 1GB per 24 hour period. If you hit this limit you can still access the Internet but only at 64Kbps (which is going to feel a bit on the slow side, like the good old modem dial-up days)
As far as we can tell, we can recharge the SIM online at www.vipnet.hr/internet, but we don't know yet – we'll update this page if/when we try it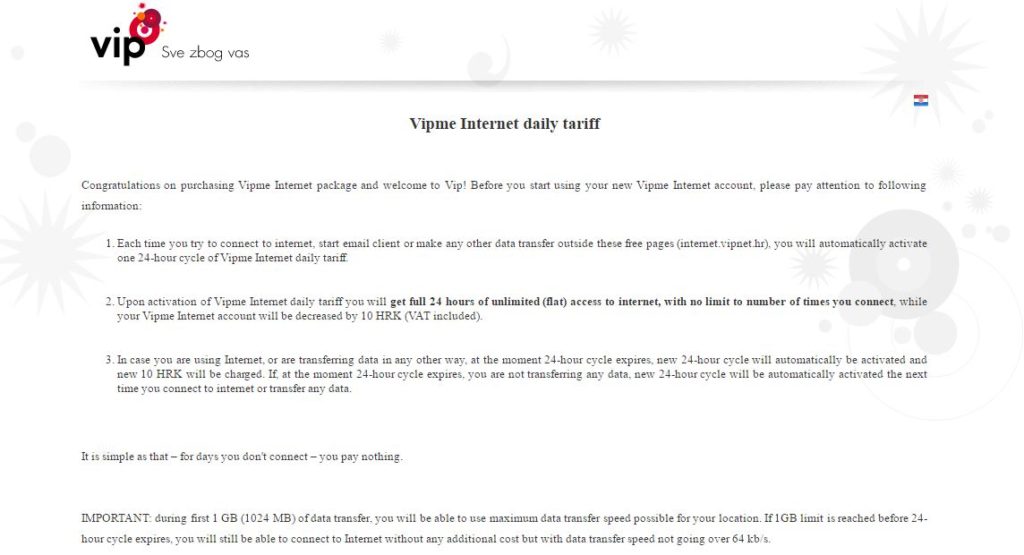 We popped the SIM into our MiFi, connected a laptop to the MiFi admin page (http://192.168.8.1 on our device), logged in and it prompted us for a PIN. This four digit number is on the plastic card the SIM came in. Popping this in, we waited a minute or two and voilà, we're on the Internet. The APN is data.vip.hr, but the MiFi picked it up automatically.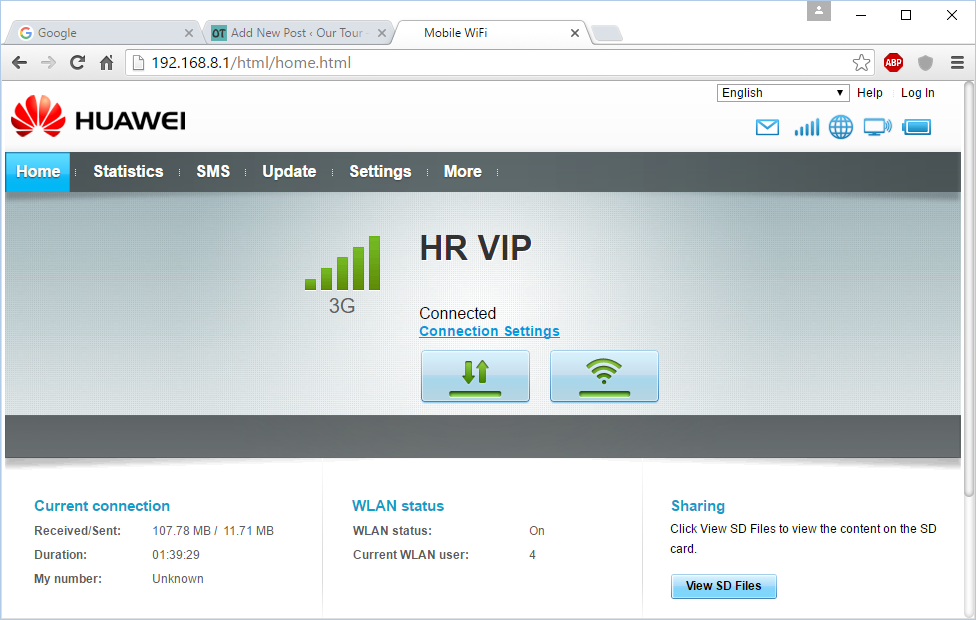 As you can see above, we're on a 3G network, although the MiFi and antenna are both 4G-capable. The MiFi can see a VIP 4G signal where we are (see below), but refuses to connect to it, so it appears the Vipme SIM is 3G-only. Ah well, it's easily fast enough for us.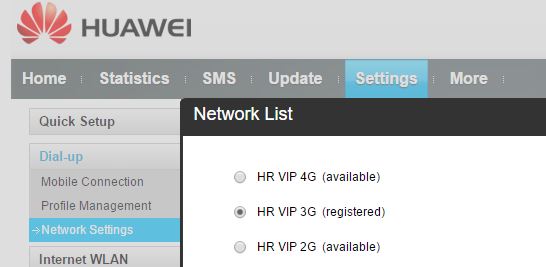 Please note: we picked this SIM after a brief Internet search while in Italy as it looked easy to get, and easy to use. It may not be the best deal, so if you've any better information, please could you share it in the comments section below?
Ta! Jay