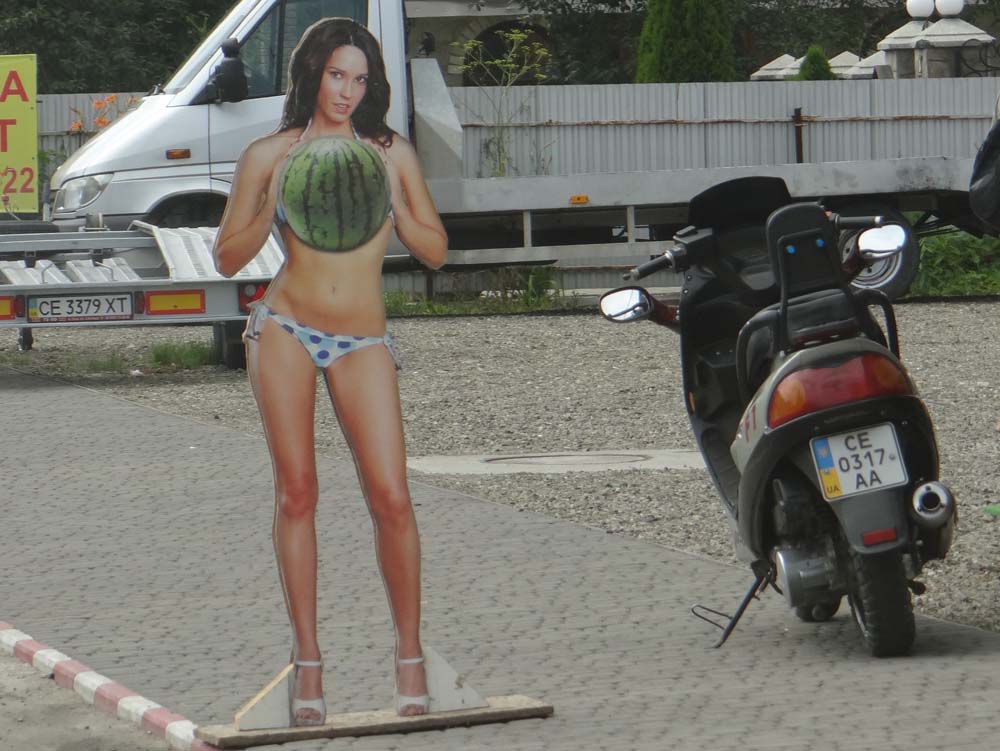 Having a motorhome means you can drive your house all over the place, and sooner or later you end up staying in spots which you might feel are a bit odd. Here are ten of the parking places we've stayed overnight which, for one reason or another, were quirky, or strange in some respect…
1. Benidorm, Spain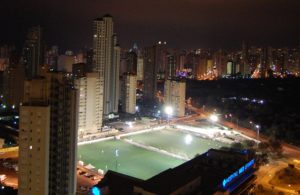 Ju's parents flew out to Benidorm after we'd been on the road for some months, and we nipped into the town to meet them, initially staying on a campsite close to their hotel. As soon as Malcolm, Ju's father, let on he often saw motorhomes parked in a car park far beneath his balcony (N37.57384 W1.26678), we quickly moved. We were amazed we could stay for free in the popular town, but then were equally amazed at how polite the police were when they asked us to move after three nights…! Our blog posts for Benidorm start here.
2. Porto Kayio, Greece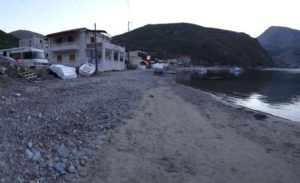 The Greek Mani peninsular is a beautiful place to behold, and a lot of fun to travel by motorhome. One place we stayed was at Porto Kayio (N36.42832 E22.48695), the parking area for motorhomes had the odd feature of only being accessible by driving along the beach. The informal deal was you could stay a night for free, as long as you patronised the local taverna (good deal!). No point asking them for water though, they still get theirs from a well. Our blog post for Porto Kayio is here, but **sigh** I was very drunk on ouzo when I wrote it, so it's just a bunch of photos…
3. Mostar, Bosnia and Herzegovina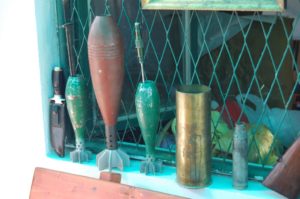 After a sobering visit to Mostar, which was still being rebuilt after war in the 90's, we asked the tourist information for details of any campsites in the area. There was only one: Autocamp Paradise at nearby Blagaj (N43.26911 E17.86447). As we arrived the owner was stood ready for us, and we later found there are more campsites available, so we rather suspected the tourist info weren't as impartial as they might be! We didn't regret the choice though. The campsite was, ah, interesting. The Doberman trying to get in the van to eat Charlie, the mortars on proud display at the concrete bunker office, the fact the owner left us to drink as much beer as we wanted ("all inclusive" he proudly told us, without telling us what the "all inclusive" price was), and numerous other oddities. This is one place I'll never forget; it was a lot of fun! The blog post is here.
4. Sibiu, Romania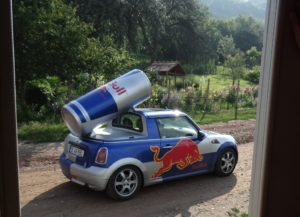 While on the top of the Transfăgărășan Pass (which was also a candidate for this list – blog post here), a long-distance biker told us of the Red Bull Romaniacs bike competition taking place at Sibiu. With no more details to go on, other than a vague map to the finish line, we headed off down dirt tracks until we eventually found something which looked like it **might** be the place (N45.814361 E24.198707). Two nights in a field later, we'd had another unforgettable, if a bit weird, experience. The posts start here.
 5. Неполоківці, Ukraine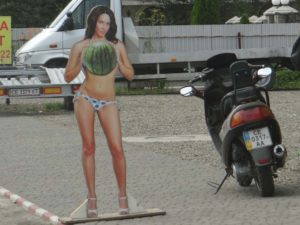 Ahhhh, OK. Taking any kind of motorhome across Ukraine, even before the latest trouble there, was an odd decision, as the roads are the worst I've ever driven on/alongside/around. It turned out to be an enlightening decision though, especially as there is essentially nowhere to stay. Feeling the effects of culture shock on our first day in the country, we eventually found an events centre, and Ju tried to explain we wanted to sleep in a van in their car park (they, of course, thought this a bit odd…). At one point a Spanish-speaking local was engaged to communicate with us, but sadly we don't speak Spanish! Once they sussed what was happening, they kindly moved cars around to get us the best space, asking for nothing in return (N48.39901 E25.65314). The associated blog post is here.
6. Oświęcim, Poland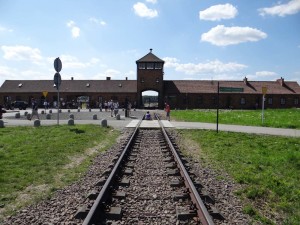 Oświęcim in Poland was the location of the infamous Auschwitz-Birkenau camp in World War II. After paying our respects on the Auschwitz museum tour, we took up the offer to sleep in the museum car park (N50.02886 E19.20039). This decision in itself was a bit odd, but the subsequent decision to watch Schindler's List that night was highly questionable. We were wrecks that evening, but again none of it was an experience I would choose to change. Auschwitz isn't an easy place to write about, but we did our best here.
7. Marrakech, Morocco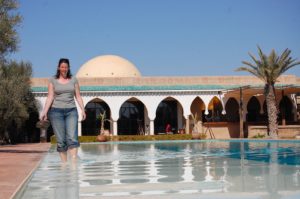 Campsites in Morocco are what most people would regard as walled compounds. Their main purpose seems to be to limit the number of sellers wandering about proffering fish, crabs, fruit and so on. The campsite we stayed at outside Marrakech was jaw-dropping in its complete opposite nature (N31.61473 W7.88949). You still had to drive 2km of dirt track to get to it, but once there an infinity pool, beautiful restaurant and fabulous landscaping greeted us. We couldn't believe it, the place felt like an oasis. Blog posts for Marrakech start here.
8. Metameur, Tunisia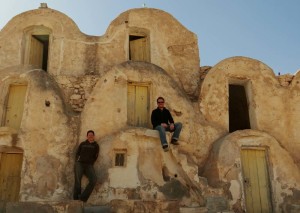 Thinking about it, just about everywhere we stayed in Tunisia could go on this list! We'd entered the country with nigh-on no preparation, thinking we could just free-camp our way around. Nah. The police made us aware this wasn't a go-er on our second night there, so we hunted out 'secure' places to stay, one of which was this gorfa (old grain store) in the south. We arrived to find it was closed, but stayed anyway. Find out more in the blog post here.
9. Camping on Board, Italy to Greece Ferry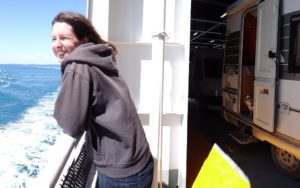 Up until we looked into getting a ferry from Italy to Greece, we'd never come across the idea we could sleep on deck in our motorhome. The 'camping on board' option is only available for a few ferries, and only in the summer, but was fabulous for us. It meant we avoided needing a cabin, could stay with Charlie, had a cracking view of the sea, could cook (electricity only – hook up provided – the gas had to stay off), could sup a beer with neighbours and play ball on the deck in the morning! Details in the blog post here.
10. Meteora, Greece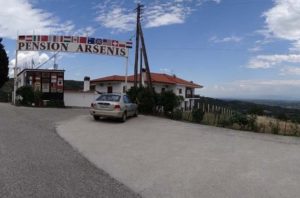 Meteora is the site of some rather incredible monasteries, built in the most unlikely locations on high, inaccessible fingers of rock. Once we'd enjoyed the views we nipped to nearby Pension Arsenis which accepts motorhomes in its car park on the basis you have a meal. All I'll say is: the meal is great, but you **might** want to consider carefully any offer of a post-meal drink on the veranda afterwards. We left such a rendez-vous looking at each other and asking "errrm, what just happened?". The blog post is here.
Well, that's the lot. Some odder than others. Some deeply thought provoking and others just plain weird. Any thoughts? Have you any places which felt a bit odd to stay in? Feel free to comment below guys, we'd love to hear your stories.
Cheers, Jay