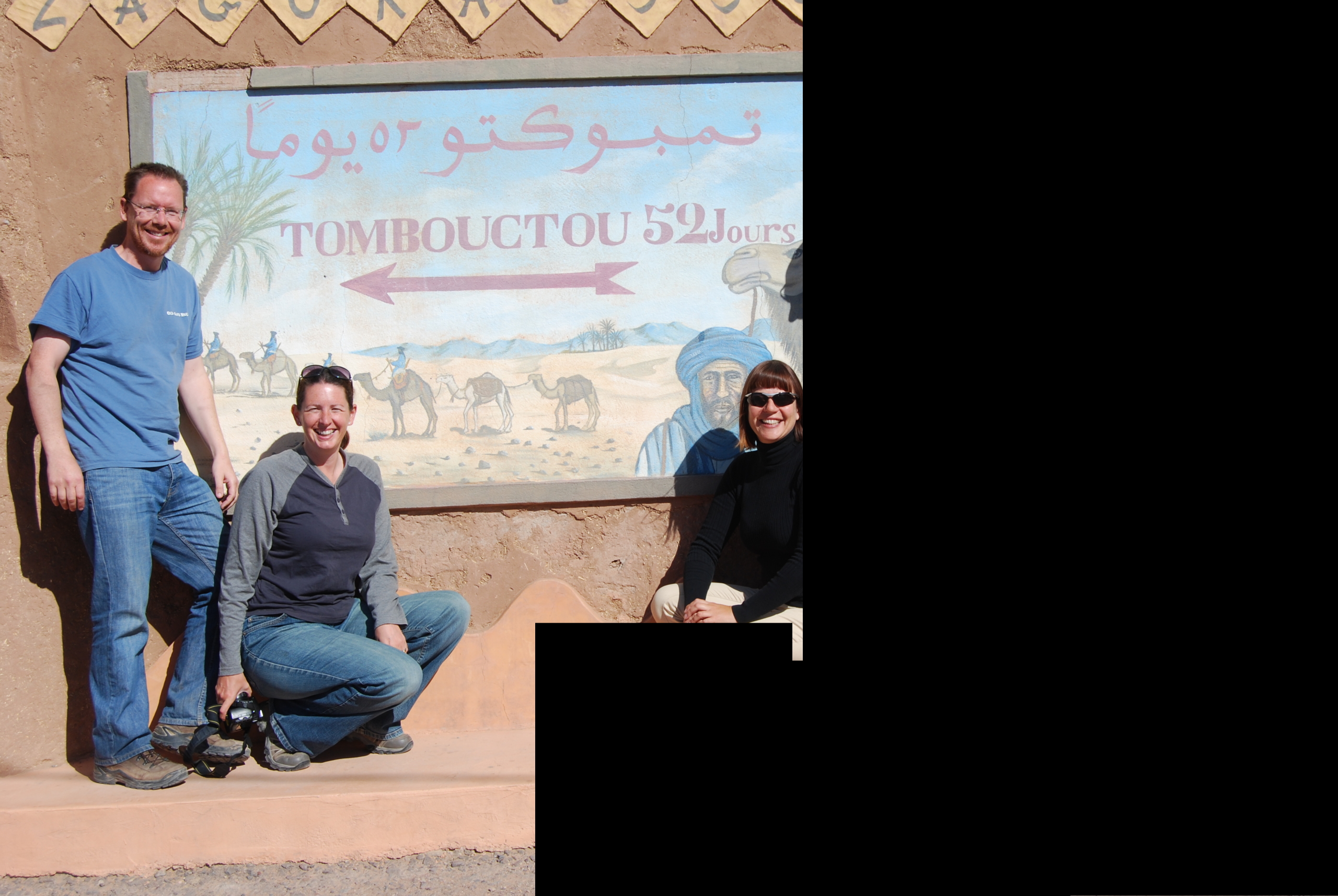 We're still at Camping 'Take Your Time' about 400m from the main road in Zagora. It's a tiny campsite, like a little walled oasis within the general chaos that is Morocco. Good showers here, running off a gas bottle connected boiler, but the drain was full so I came out to find I'd flooded part of the campsite.
A look around our campsite and surrounding area:

Last night saw the last of the Spanish, and newly acquired Moroccan alcohol drained by Chris and I. We had a great laugh planning how we were going to buy a goat (Chris would be chief negoatiator) and take it further north to sell at a huge profit. After 3 litres of wine I think we were only half joking too!
I've done this today:
Fended off Abdula, the campsite owner, who had advised both Chris and I our suspension springs needed extra leaves and his cousin could fit them for us. Pull the other one Abdula :)

Walked the dogs around the palmerie, which had been irrigated, resulting in filthy mud dogs and a bath for Charlie.

Shouted at some kids who had begged for money (including pulling Chris' arm) and thrown stones towards us. 

Snitched to the campsite owner on 3 nippers trying to get in everyone's motorhome (the same ones as the video above). The kids here are the worse beggars we have seen.

Looked for the famous 52 Days to Timbuctou sign, and missed it despite being about 5m away.

Rode my bike through town, thinking how great it was getting no hassle, then got hassled by about 6 people, including 2 guys on a motorbike after our clothes. Zagora is a bit like Milton Keynes. A new town and hence dull compared with the crazy old towns. It even has two roundabouts.

Bought 2 loaves of bread, 1.5 Dh each (about 12 pence)

Oiled Abdula's moped chain with WD40 (he'd never seen it before). The 50cc bikes cost about 16000Dh new and run forever. His has done 22,000km (he thinks, the odometer cable snapped a while back) and looked almost new. Second hand they are about 8000Dh (£700). Not cheap
Ju's been sorting our half a million photos and sussing the finances. Our average spend is now €43 a day (gone up a few Euros due to ferry fares etc). Dave's MPG has gone up a bit to between 32 and 36MPG, we think due to us being forced to drive slowly by the various hazards and rough roads.
Abdula's restaurant is calling tonight. Tagines, cous cous and brochettes are all on order. He's sorting some music as well. Champion!
Update: we got the music, it was great, we recorded a bit of it and uploaded it here:
Cheers, Jay