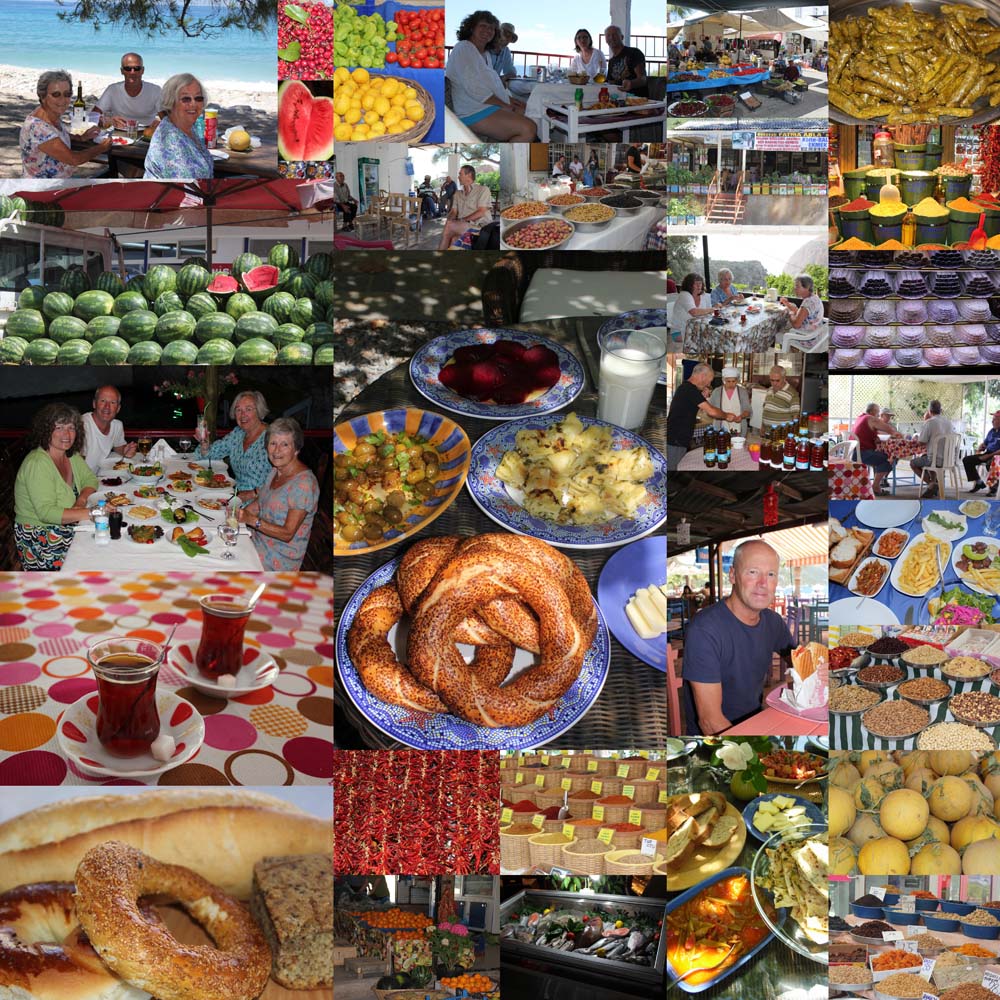 Wild Camping on Turkey's Western Coast
2145 miles – May/June 2013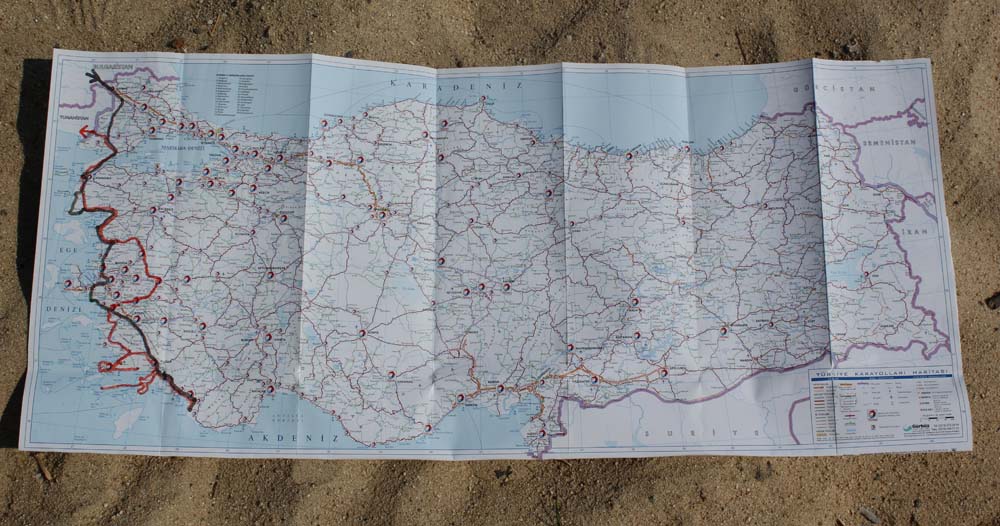 Background Info
We are –
Kath & Dave, a couple in our early 50's taking a year out – to travel leisurely around Europe from UK as far as Turkey. We will return home, which is Shrewsbury in Shropshire, sometime in the autumn when the money runs out!
Our van is –
A RHD 'W' reg CI Autoroller with a 1.9 TD diesel engine. Good ground clearance and solid suspension.
Our trip –
We left the UK in November 2012 and spent a few months working in the Alps before setting off on our travels again in March. We have driven through France, Switzerland, Italy, Slovenia, Hungary, Romania, Serbia, Bosnia & Herzegovina, Croatia, Montenegro, Bulgaria, Turkey and Greece.
Declared interest! –
We love Turkey and probably can't see it with the unbiased eyes of someone who has never visited the country before. In the 80's we spent 6 years working in the Bodrum area managing a yacht charter business so we speak the language reasonably well and understand the mind-set of the average Turk. During that time we travelled extensively all around the country making road trips in our old Rover 3.5 SD1, cruising the coast by yacht, taking the long distance buses and travelled on the Black Sea coast by ferry.
This was the first time we had travelled by camper van through Turkey so here are the highlights of our trip and hopefully food for thought if you are planning a visit here. We wild camped every night finding plenty of places to stop, and saw very few other campers on the road or parked up.
Turkey
The country –
With a coastline of 4500 miles and stretching for 1000 miles east to west and 500 miles north to south it is big country. Topographically it has some very high mountain ranges and plateaus so any long distance trip needs careful planning taking into account the time of year and costs involved. Unfortunately diesel (and alcohol – but more about that later!) is very expensive and this, and the sheer scale of the country, may limit the miles you can clock up.
Roads –
Our old Sat Nav didn't cover Turkey so we dug out our 5 year old map and made do with that. Signposting is generally good though and the alphabet doesn't leave you scratching your head. The road network, particularly on the western coast has improved significantly over the past few years. Journey times have decreased and the dual carriageways certainly make driving a little safer! We didn't use the motorways (otoyol) at all as it is easy to travel on the dual and single carriageways to most areas. An internet search should bring up information on how the cashless advance payment system works. Road works are on-going everywhere so things change constantly but most roads have good surfaces, even those out to the furthest tips of isolated peninsulas. We found some of the roads with poorly finished surfaces in the more remote areas actually started to melt when the temperature climbed into the 40's! I doubt there would be many Turks classed as 'Completer-Finishers' if they were subjected to Belbin's group role analysis – most roads, pavements, buildings, towns etc. are never completely finished, there is always a new project to move onto!
Standard of driving –
When we lived in Turkey for 6 years we became accustomed to the driving style of the Turks – the roads may have improved but the driving standard hasn't so be prepared for anything and everything in the course of a days driving. In no particular order here are a few things to be aware of
Allah will protect a Turkish driver from most eventualities so overtaking uphill on a blind bend isn't considered dangerous! All buses and lorries have slogans emblazoned across the back confirming their belief in Allah's shielding properties and drive accordingly.

Driving whilst on the mobile phone is commonplace as is texting, eating and having your 3 year old child on your lap (sometimes doing the steering).

Whoever is biggest, fastest or cockiest has priority on the road. Pedestrians beware!

Turkish roundabouts have their own rules – don't expect priority even if it is your right of way and be prepared for anything, even motorised disability scooters coming at you the wrong way.

The local dolmuş (minibus) drivers have their own indicator codes which mean nothing to a foreigner so treat all manoeuvres by them with extreme caution! They will stop anywhere without notice to pick up a fare – even if the minibus is already jammed full.

The new dual carriageways don't have enough openings so rather than drive to the next available one the locals will take a short cut to save a tiny bit of fuel and time. Expect to find mopeds, tractors, cars and minibuses driving the wrong way down 'your' lane in order to turn off.

A broken down lorry will be surrounded by a pile of stones – why bother with warning triangles and hazard lights!

Most traffic lights have a countdown system – this lends itself beautifully to racing starts and if you are not out of the blocks the second the green light appears expect to be hooted at by most of the vehicles in the lane behind you.

Any space, however small, left between you and the vehicle in front will be filled by another vehicle.

Campervans appear to be invisible to the police, the police are out in force checking driver's papers but we were never stopped.
Getting fuel / LPG –
Petrol stations are everywhere and are always manned. There is often a significant price difference between the big boys – Petrol Ofisi, BP, Shell etc. who have garages everywhere and charge the highest price and the smaller independent garages offering discounts. The highest price charged (June 2013 – £1 = 3TL) was around 4.30 TL per litre, the lowest we saw was 3.69 TL per litre. Look out for a garages advertising 'şok fiat' (shock price!) or 'indirim' (sale).
Using a combination of the larger and smaller garages works well. At the larger garage a car/van jet-wash is generally free and done for you while you wait, there will be toilets where cassettes can be emptied, water taps for filling the tank (not necessarily drinking quality though) a café and some even have free internet.
LPG is widely available at nearly all garages – prices vary but generally around the 2.30 TL mark. The fitting is the standard dish connector used through most of Europe.
Formalities –
Vignette – not required. There are a few toll motorways using an advance payment system. The tunnel through the mountain near Fethiye accepts cash payments. 

Insurance – We had Green Card Insurance cover for Asian and European Turkey issued through Saga and papers are checked at the border crossing. We entered from Bulgaria through Kapitan Andrevo near Edirne, the crossing at Ipsala bordering Greece is smaller but I would imagine there are insurance agents at both who could arrange basic cover insurance if required.

Visa – A tourist visa needs to be purchased from a separate cash booth before presenting passports for entry stamp. This costs £10 or €15, has to be paid in foreign currency and allows entry for 90 days. It takes the form of a large postage stamp and is stuck onto a page in your passport.

Border crossing – be prepared for a long wait depending on the volume of traffic crossing and the enthusiasm of the staff on duty!
On arrival the numerous steps, if my memory serves me well, were –
Initial check of car documents, insurance and passports

Visa purchase at cash booth

Passport control

Customs booth – vehicle 'entered' into drivers passport electronically

Customs – either physical check inside vehicle or cursory glance through side window

Final check that all the above has been done!
On leaving through Ipsala to Greece
Initial document check (passports and car documents)

We were told to take our campervan through the X-Ray hanger with TIR trucks!

Passport control

Customs check

Final document check
Currency / money –
ATM booths are everywhere, with banks and exchanges in all major towns. We are using a FairFX pre-loaded MasterCard and this was accepted at all ATM's and supermarkets and all bar one petrol station.
Overnight stops –
Having read a few blogs with grim descriptions of 'campsites' it came as no surprise to find that, on the whole, few sites are geared up for campervans or have facilities you would hope to find for the money being asked. Of the ones we saw many had very low entrance gantries, trees providing shade for tents but impossible to park under with vans and ropey toilets and showers so we didn't stay in any. It wasn't a problem for us though as we wild-camped near the sea or parked in car parks every night but if it's a must then do your research beforehand as sites, especially good ones, are few and far between.
Wild camping was a dream – whether in towns, in a deserted bay or on a seafront car park (£1 – £2 per night). The Turkish holiday season kicks off at the end of June when the schools break up so many resorts were only just getting ready for the short season when we visited. We avoided driving through the centres of the busy tourist towns like Bodrum, Marmaris and Çesme, although it is easy enough to get a dolmuş back in from the outskirts or neighbouring villages. In the time we were there we only saw about a handful of other campervans, normally travelling in the opposite direction, and only twice did we end up with another van for company overnight.
So without the luxury of campsite facilities how did we manage?
Toilet waste – Disposed of at petrol station WC's or, if suitable, in public WC's

Grey water – Disposed of in drains or on scrubland

Showering – We have a 20 litre Gelert solar shower bag which we fill up and throw on the sand before we go for a swim. The water warms up quickly and it's perfect for rinsing off after a dip in the sea. It helps conserve water too but we do have an on board shower for longer scrub-ups!

Water – Roadside in most areas, occasionally indicated by a blue tap roadside sign. It is good quality drinking water normally from springs where passing locals will stop to fill up bidons, have a drink or splash water over themselves if it's been a hot trip. Some taps helpfully have small hoses attached to them, if not just top up your tank using a bidon. Some are just pipes with continual running water; others are more elaborate built into shrines by the family of a loved one.

Power – We aren't running an air-con system and don't have TV or high energy use items so we can manage on our domestic batteries. The sun is pretty much guaranteed from May to October so solar panels are useful. Restaurant owners offered to provide us with electricity in exchange for some custom – a quick check of the connections might be advisable!

Laundry – Wearing fewer clothes as the temperatures climbed into the high 30's we hand washed a few items every now and again. There are laundries in some towns if needed, most will do it for you whilst you go off and see the sights or have some lunch.

Internet – Many bars and cafés in the larger towns have free Wi-Fi which was all we needed to answer emails, Skype and check the weather – sunny, sunny, and sunny! Watch your mobile phone costs as Turkey is definitely outside the area defined as 'Europe' by most providers so charges ramp up significantly.
Ancient sites –
If you have an interest in ancient ruins then the western region of Turkey is the place to go. It is worth investing in a book or good map with the historical sites marked to ensure you know how far off a main road you might have to travel. Some sites are unmanned, free and largely unexcavated. At the other end of the scale you have the likes of Ephesus and Didyma which pull in the crowds and charge accordingly. The most we paid was 15TL each to see Troy, the average was 5TL and many are free.
Shopping –
Shops are open all day, every day – no afternoon siesta for the hardworking Turks. Even the smallest of villages will have a 'bakal' or 'market' – a small shop with the basics – bread, water, milk and drinks.
Larger towns will have a whole host of supermarkets including Migros, Tansaş, Bim (similar to Lidl), Dia and Kipa (owned by Tesco). Take your pick – we found Kipa a bit expensive, Migros and Tansaş were good but the discounted offers can only be claimed if you have a 'Money Club' card. We didn't but on a couple of occasions the assistant put the items through on someone else's card meaning we got the discounted prices. Bim had some great cheap (< £1) packets of 'mantı' which is tiny Turkish ravioli normally served up with a pile of yoghurt and an oily pepper sauce on top (pul biber) – try it it's delicious. Dia had some tasty 'köfte' (meatballs) on their meat counter and sell flatbreads to eat with them.
Fresh produce is best bought from a roadside stall or the weekly market. Most items 'in-season' were 1 TL per kg – about 30p. You can buy more than you can carry and still end up spending no more than £5.
Fresh bread is sold from cupboards outside small shops as well as bakeries. The traditional Turkish white loaf, which is very tasty, can dry out quickly if not wrapped and you can now buy brown bread, rolls, flatbread and simits from most bakeries.
Alcohol used to be dirt cheap but over the past few years the government, in an attempt to reduce consumption, has hiked the tax to extortionate levels. A 500ml bottle of Efes costs about £1.30, a small bottle of Rakı about £16 and a bottle of wine upwards of £7. On top of the beer bottle price is a small deposit charge although we never fathomed out how to exchange them or get our deposit back. Make the most of your duty free allowance and then buy according to your budget and needs!
Eating / drinking out –
From the simplest of tea (çay – pronounced cha-y) houses to the flashy seafront restaurants the choice and quality of food and drink on offer is just amazing.
Tea houses – In the villages these will be full of men drinking tea and playing 'Okey' – a tile game played in 4's. Towns may have an 'Aile çay bahçesi' meaning family tea house which are often in shady gardens, are council run or approved and have lower prices than the touristy cafés.
On the move – Along busy roads you will find all types of different eateries. The most basic is probably a 'tost' stall (serving half a loaf of bread stuffed with cheese, tomato, salami – you name it they'll do it, squashed flat under a weight and griddled). Gözleme is delicious – a savoury pancake, çöp şiş are small skewered meat, çorba is soup and guveç is a stew. A selection of the above will normally be on offer at roadside cafés which are generally in lovely shady spots.
Evening out – Pide is a long pizza, with an assortment of toppings, cut into diagonal slices. Most 'pide salonu' will also have different soups and salads on offer too. In the more traditional restaurants if you have a small appetite just choose a selection of meze (starters) from the kitchen cabinet and feast on them with a pile of fresh bread or go the whole hog and finish it off with meat or fish as a main course.
Alcohol – There is no getting away from the fact that alcohol is now very expensive compared to other European countries, this is the current government's way of trying to force people off the evil stuff! Ayran is a popular drink served with meals which is a slightly salty watered down yoghurt drink which is served cold and tastes better than it sounds.
The people –
Most people's abiding memory, apart from the delicious food, will be the friendliness of the Turkish people. Everywhere you go you will be greeted by the words 'Hoş Geldiniz' meaning 'Welcome' – they will be curious about where you have been, where you are going, where you are from and whether you like Turkey. In most areas campervans – called caravans by the Turks – are a novelty and kids will wave enthusiastically, adults will smile or stare. Other than on the news we saw nothing of the recent demonstrations whilst we were in Turkey and consider it an extremely safe place to travel.
Our trip
The place names in bold are places where we stopped overnight.

Ancient sites are written in italics and are free unless indicated otherwise.

Exchange rate in June 2013 was approx. £1 = 3 Turkish Lira

In 6 weeks we drove 2145 miles and spent £465 on diesel, £17 on LPG, £390 on food and drink (in and out), £47 on entry charges to ancient sites and car parks, £34 on ferries and £20 on other items. A total of £973 averaging out at £23 a day.
Heading south –
About 2 miles before the actual border in Kapiten Andrevo the TIR lorries were queuing up, with weary drivers sat on the tarmac, talking to colleagues and smoking. In parts it had to be controlled by police to ensure the single carriageway was kept open for cars and, thankfully, campervans. The reason for the queue wasn't obvious but I'm guessing it could be over zealous customs controls.
The contrast between Bulgaria's small border crossing and Turkey's massive post couldn't be starker. With a panicky feeling in the pit of my stomach, remembering numerous prolonged crossings in the 80's, we presented all our documents and smiled sweetly. Perhaps we now look like respectable middle-aged travellers – back then we were dodgy looking 20 year olds in a flashy Rover 3.5 SD1 with blue import plates. Times have changed; we were treated courteously and waved through with big smiles.
In search of an ATM we drove through the centre of Edirne which is dominated by three huge mosques and colourful Turkish flag bunting flies across the main thoroughfare. A bin man hanging off the back of his wagon welcomed us to Turkey through Dave's open window and in the short time before the traffic lights changed asked where we were from and where we were going, and wished us a good trip 'iyi yolculuklar'.
We drove down the Gallipoli Peninsula towards the ANZAC beaches and parked up in Kabatepe for the night watching a naval vessel patrolling the coast and seeing off a small fishing boat. Thinking no more of it we settled down for the night only to be almost thrown out of our bed as live artillery firing started at midnight and continued for about ½ hour. The same thing happened at 2am, the noise was deafening but we could see nothing untoward in the darkness. In an area that saw so much fighting in 1915 it really brought things home and we later found out it was the first night of the country's largest annual naval exercise!
The ANZAC landing beaches are beautiful – it's hard to imagine these coves and hills were the scenes of such massive loss of life on both sides. All up the peninsula are small cemeteries with graves and memorials to the 36,000 Commonwealth troops who lost their lives here. There are also memorials to the Turks who perished here as well as a large visitor centre. You can't help but be moved when you read the inscriptions on some of the headstones, realising how young the soldiers were and how many perished in such a short time.
We crossed the Dardanelle straights on the Kilitbahir – Çanakkale ferry which cost 50TL and took about 20 minutes. No bookings necessary just turn up, pay and drive on. All the ferries arrive in the town centre which can be a bit chaotic but as long as you stand your ground it is relatively easy to navigate out of. Turning off the main road we drove through the pretty seaside village of Dalyan stopping at Alexandria Troas to wander round the ruins before arriving at Appolon Smintheus in Gϋlpinar (5TL). A little further on we parked up in Babakale for the night – the most western point of mainland Turkey with a huge harbour, restored fort and the first of many beautiful sunsets.
All roads seem to lead to Assos which was signposted for miles around and we parked up in the Bahramkale village centre running the gauntlet of the ladies selling headscarves, wooden spoons and rugs. What kind of a wife was I who didn't need these things for her home on wheels? Arriving at the smart barrier controlled cash desk we paid our 8TL entry fee. The temple setting on the upper site overlooking the beautiful coastline is very impressive but it is worth making the effort to drive down to the lower site which is included in the ticket price. The lower gates are unmanned and we wandered around here alone for a good hour exploring the huge tombs, a large theatre, stoa, gymnasium and agora through the overgrown thistles and shrubs.
The next stretch of road climbs up into the mountains before descending again and joining the coast again in the somewhat overdeveloped Gulf of Edremit. Driving past Edremit we headed for the pretty town of Ayvalık with its busy waterfront lined with wooden gϋlets. We stopped overnight on the beach at Saramsaklı, a resort just waking up from the winter hibernation – no parking attendant on duty yet.
Izmir is a huge sprawling city requiring a confident driving attitude to navigate across, either that or take the motorway around it! We headed out towards Çesme before detouring to Teos, another sprawling unexcavated site and later Claros, probably one of our favourite ancient sites of this trip. Partly submerged this ancient prophecy centre was alive with history and wildlife. We parked up on Panamos beach just north of Pamuçak beach near Kuşadasi – a 12 km stretch of golden sand. We were all alone except for a couple of hardy café / shack owners with whom we shared an hour or so chatting over a glass of çay (tea).
The following day we drove past Ephesus which, having visited a few times before, decided to pass by today. At around 20TL plus an additional 15TL for the Terrace House it is probably Turkey's most expensive ancient site but well worth a visit. Go early to get the most from your visit avoiding the Kuşadasi cruise ship crowds and the worst of the heat.
En-route to Aydın we stopped at Çamlk to visit its small but quirky train museum. Dave no longer has the excuse of two young boys to entertain as his reason to visit every manner of transport museum, but he still can't drive past one. On this trip so far we've done the Le Mans 24 Hour museum, Venice's Maritime Museum, the Moto Guzzi collection in Mandelo del Lario, the National Airplane museum in Belgrade and some ramshackle Hungarian helicopter museum! Here, for a mere 5TL, you can wander around and climb onto some huge engines as well as walk through Atatϋrk's state carriage. Fethiye was our final destination for the night – sneakily parking up just outside the town centre on the road out towards the boatyards. It was noisy but very convenient for a walk back into the town where we enjoy a basic but tasty meal of soup and pide (pizza).
Most people will have seen the picture postcard images of Őlϋdeniz with its beautifully blue lagoon and almost white beach. In reality it is now a very busy tourist resort and stopping and parking up is quite difficult – especially in a campervan. If you follow the road that goes south and climbs out of the resort you can park up and admire the famous view from a great vantage point. A little further along this road is council maintained Kirdak beach. With an entry fee of 4.5TL per person the beach is just as beautiful as Őlϋdeniz but without the crowds. There are toilets and showers and a small café. We stopped another night in Fethiye and enjoyed a big selection of meze's (starters) in the 'Duck Pond' a popular town centre restaurant.
Heading back north –
At beautiful Sarsala Bay the car park attendant charged us 3TL and said it was OK to stay the night. Anchored off are a few foreign yachts and on the jetty are a few day trip boats getting ready for the season. One of the captains asked Dave who was snorkelling around in the amazingly clear waters to search for his missing oar – in return for which we were invited onto his boat for endless glasses of tea. Another glorious sunset, a huge moon and an idyllic spot.
Back on the road we headed north towards Marmaris stopping at Köygeiz Lake for a drink and a short walk around. From here you can get a boat trip to Dalyan through reed lined tributaries to the ancient site at Caunos. Köygeiz is a pretty town and worth a stop for lunch in one of its many waterfront cafés. Our night time spot was opposite a large jetty from where many day trip boats head out towards Sehir Adasi (Cleopatras Island) and its small but beautiful golden beach and ancient theatre. The boat trip costs 15TL and the site entry another 10TL, having been there before many times we spent the afternoon watching a boat being launched across the huge car park in the traditional way by dragging it over greased poles. Lots of arm waving and shouting as it inched its way very very slowly into the shallow bay.
Avoiding busy Marmaris we drove through Içmeler and onto Turunç, a lovely small harbour with plenty of potential wild-camping spots. Minibuses and water taxi's ferry visitors between Turunç and Marmaris throughout the day. Just south of here on a beautiful headland is the ancient site of Amos where you can sit in the theatre and gaze out across the huge bay. Further inland at Osmaniye is a honey co-operative visitor centre which was very interesting and we were fascinated by the bees doing their pollen locating 'waggle-dance'. Although you are under no obligation to buy anything the local pine honey they sell is delicious and the staff very friendly and enthusiastic. We parked up overnight in Bozborun on its seafront which is lined with wooden gϋlets, many built in the town which is famous for its boat building tradition.
Turkey isn't however famous for its waterfalls and the ones at Tϋrgϋt were a bit of a disappointment although the dragon flies were out in abundance and very colourful. Heading west we drove out along the Datça peninsula stopping in a deserted bay to the east of Palamut for two nights before driving to Knidos on the westernmost tip. This ancient site, which has to be seen to be appreciated, is situated overlooking two very gusty bays on this exposed headland – one bay is full of visiting yachts swinging at anchor the other is silted up and used by fishermen. It is a huge site with an interesting history and well worth the 8TL entry fee for the hours of exploring that can be done. I posed where the Aphrodite statue used to be (not naked as she was mind) and Dave tried to work out the time (as if it matters) with the ancient sundial – all good fun!
At the head of the Gulf of Gökova is Akyaka a traditional Turkish holiday resort, where we parked up overnight not far from the Lycian rock tombs overlooking the stream. It has everything – a small sandy beach, day trip boats to nearby Cleopatra's Island, cheap cafés, and all manner of shops. Overhanging the stream are lots of fish restaurants popular with the locals. Along the back road of the town are a number of simple establishments selling olives and honey and serving gözleme and tea – a great combination.
Whilst staying with friends we went on day trips to various places around the Bodrum Peninsula which is now horridly over developed and extremely busy in the height of the season. Driving around, even in a car, can raise your blood pressure and take a lot longer than expected. In Bodrum the Museum of Underwater Archaeology in the castle and the new Maritime Museum (5TL) in town are well worth a visit. The theatre on the back road is now wedged in between a row of endless shops and somewhere in the back streets the ruins of the Mausoleum can be found. It is all so different, and not necessarily in a good way, from when we lived here in the 80's. We also had day's out in the van visiting Bitez, Gϋmϋşlϋk, Keramos, near Őren, Heraklea on Lake Bafa (3TL), Lagina and Stratonikea near Milas.
Saying goodbye to our friends having filled up with water, emptied waste and done some laundry we got back on the road and stopped again at Panamos beach north of Kuşadasi where an attendant was now charging 5TL per night. The sea had warned up since we were here a month ago and a few more stalls were set up on the beach. Locals arrive in all manner of vehicles with the whole extended family and kit needed for a grand day out stuffed into a tractor and trailer or minibus. In hindsight heading inland as the temperatures rose into the 40's was probably not our wisest move, the road melted, as did we, but the van coped admirably and we lunched near picturesque Gölcϋk Lake popular with local anglers. Sardis was our next destination where we paid 8TL to visit the beautifully renovated gymnasium complex with its complex mosaic floor and the remains of the excavated temple of Artemis situated about 2 miles apart. In a quiet car park we squeezed ourselves under the shade of the trees and tossed and turned in the muggy conditions.
Beating a hasty retreat back to the coast we bypassed Bergama with its ancient acropolis and theatre and arrived at Dikili, another traditional Turkish holiday resort. With seemingly no foreigners around it reminded us of similar places we first visited in the 80's, some of which are now overdeveloped and teeming with tourists. On the roadside was a row of neon lit horse carriages making a change from your standard yellow taxi cab rank! We parked up on a small road leading to the beach and spent a leisurely afternoon swimming before wandering around the lively town in the evening, having an Efes in a bar watching the sun set on the horizon.
Our final evening was back at Kabatepe on the Gallipoli Peninsula having taken a different crossing from Çanakkale to Eceabat this time, it takes slightly longer but the price is the same – 50TL. With no naval artillery fire to contend with we had a much quieter evening and reflected on our 6 week trip. Looking at the map we realised we had only just touched a very small part of the country. We hope to return to explore further afield – there is so much more to see.