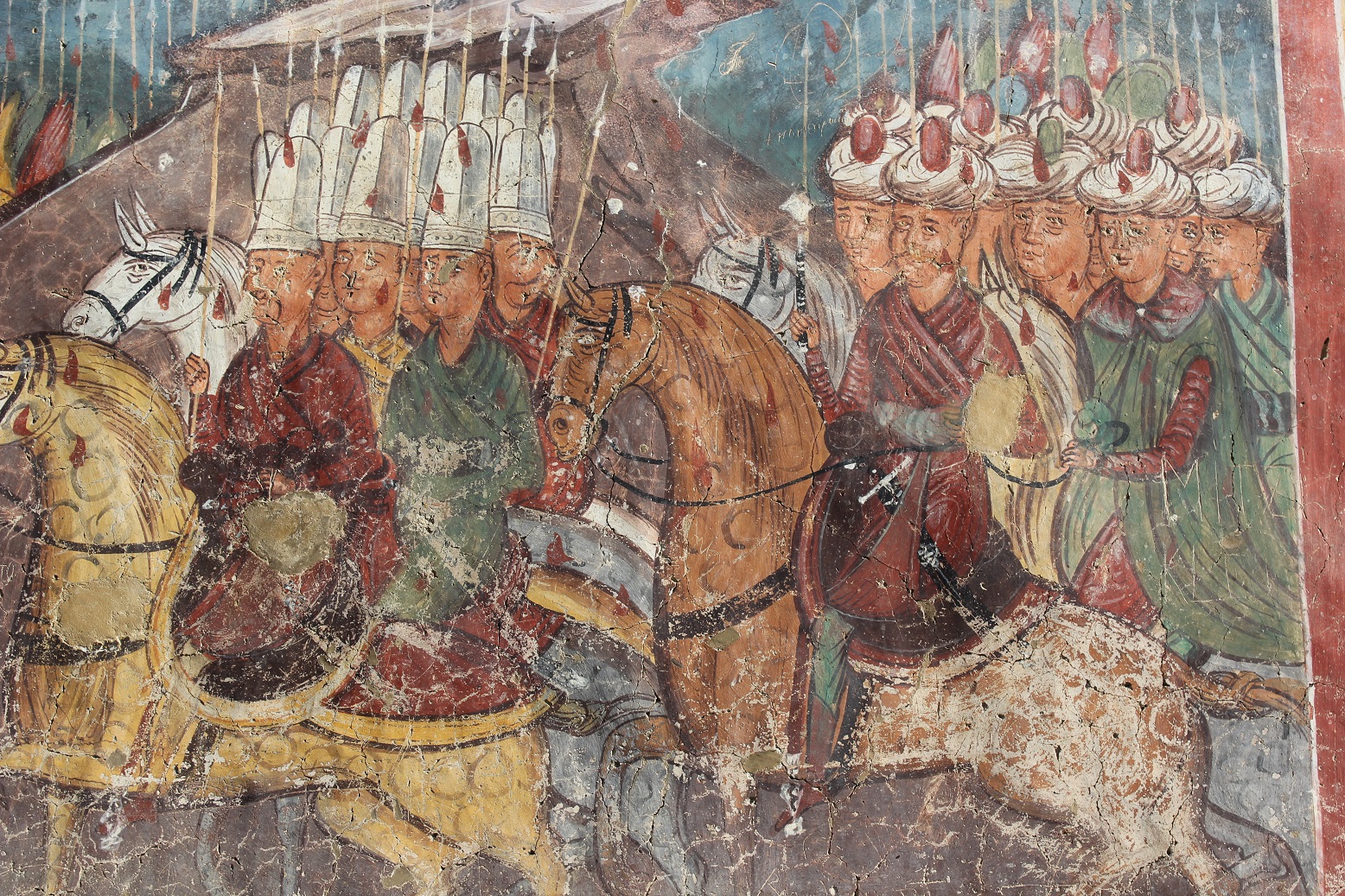 Romania – 16 days and 1600 miles – April 2013
Background info
We are –
Kath & Dave, a couple in our 50's taking a year out – to travel leisurely around Europe from UK – Turkey from November 2012 – autumn 2013. 

In the 1980's BC (before children) we lived and worked in Turkey for 6 years driving out from the UK through a very different Europe back then. We had a rather quick LHD Rover 3.5 V8 SD1 and were generally in a rush to get to our destination. We also spent 6 months driving around Australia and New Zealand in the early 90's in a Toyota LiteAce van. 

Home at the moment is Shrewsbury in Shropshire but we have moved around a lot with work and will probably move again to find employment when we return to the UK.
Our van is –
A RHD 'W' reg CI Autoroller with a 1.9 TD diesel engine. Good ground clearance and solid suspension. We have low energy needs and minimal water consumption and can usually manage about 5 days before needing a campsite.
Our trip –
We left the UK in November and spent a few months working in the Alps before setting off on our travels again in March. To date we have driven through France, Switzerland, Italy, Slovenia, Hungary, Romania, Serbia, Bosnia & Herzegovina, Croatia and Montenegro. Insurance and funds permitting we hope to visit Albania, Greece, Bulgaria and Turkey before returning to the UK in the autumn.
Romania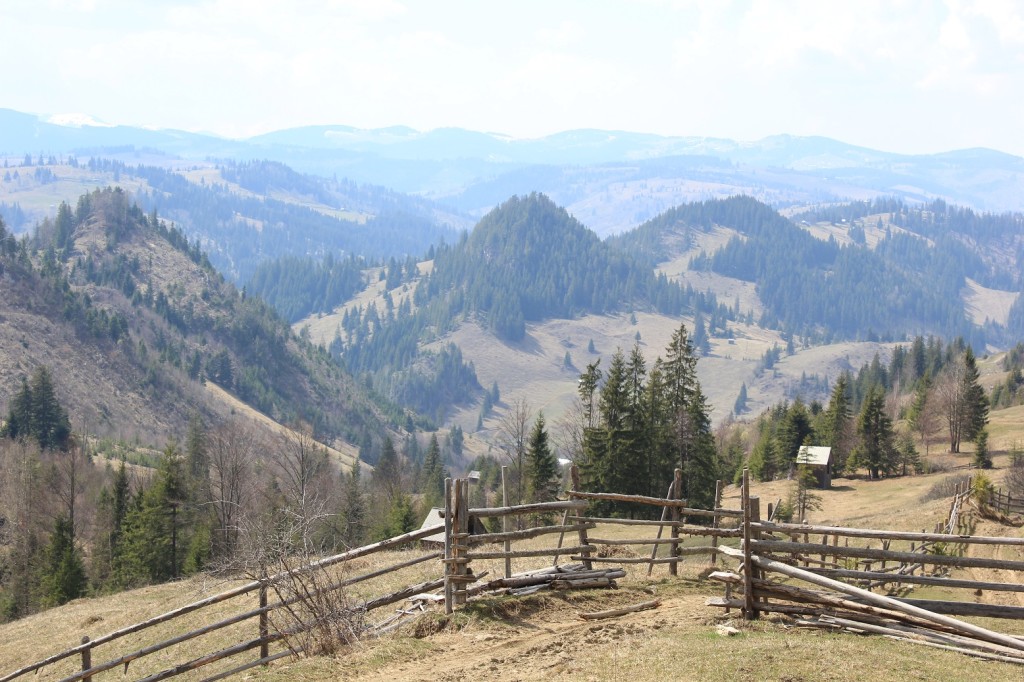 The country –
Romania is a BIG country – our AA Road Atlas of Europe deceptively changed scale for Romania going up to 1:3000000 having been 1:800000 for the other countries we had driven through. Our Sat Nav gave up completely and we were floating in space for hours on the first day after which it was resigned to the glove-box for the remainder of our 2 week trip. The Tourist Information Office we first pulled in at in Arad couldn't provide a country map so we bought one in a bookshop in Arad costing £3 – Huber-Niculescu Romania Tourist & Road Map 1:600000. The quality wasn't great but the detail was good.
Currency / money –
Very colourful notes, hardwearing with an odd plastic feel to them. We are using an FX pre-pay Mastercard and this was accepted at all ATM's and supermarkets and most garages.
Roads –
There is a huge road building programme going on in some parts of the country. In other parts there are road signs saying there are road improvements going on but nothing is happening and in many areas there are no signs of any work and the roads are just dreadful. To see the best of Romania you need to be prepared to travel on the potholed, gravel roads at slow speeds and have a van capable and happy doing that. Some roads start off great then turn to dust, others just start that way.
Standard of driving –
When we lived in Turkey for 6 years we became accustomed to the driving style of the Turks and to some extent the Romanians are very similar. Only that was in the 80's and most cars and trucks didn't go that fast then. Nowadays the trucks are going fast and the cars faster still and most Romanian drivers seem to be short on patience and oblivious to approaching hazards. Roads are shared by fast cars, heavy lorries, pedestrians, tractors and even horse and carts. There are few lay-by's on the main roads to pull into. Everyone drives while on the mobile phone and reversing seems to be a bit of a mystery!
Getting fuel / LPG –
All the big towns have a range of different garages, a lot having LPG. The prices vary quite considerably – the most we paid for diesel (April 2013) was 5.74 Lei per litre (£1.10); the least was 5.55 Lei (£1.07). Out in the country it can go above 6 Lei per litre. LPG was reasonably priced. Watch out for weekend discounts on prices – normally only on the more expensive diesel but we found a garage offering discounts on all fuels. The AA Touring Tips guide to Romania says that you are taxed on petrol and diesel in the vehicle tank when leaving Romania so we kept some money back for this but were waved through the border post at Naidaş without any mention of paying a tax.
Vignette / Roviniete –
A vignette is required for all roads in Romania. We entered Romania via Mako in Hungary crossing at Nagylak where we purchased our vignette in no-man's land at the border post. We pulled up alongside the booth and the girl saw the type of vehicle we were driving and said we were Class A (under 'Type' the paperwork says A-Autoturisme). She gave us options of €6 for 1 week or €9 for 1 month which can only be paid in €'s or Lei. You are issued with an A4 sheet with your vehicle details and driver details on it, check this carefully especially your registration number as this feeds into the ANPR system used to automatically check all vehicles have a valid vignette. No stickers are issued and the sheet advises you keep it for 1 year after expiry.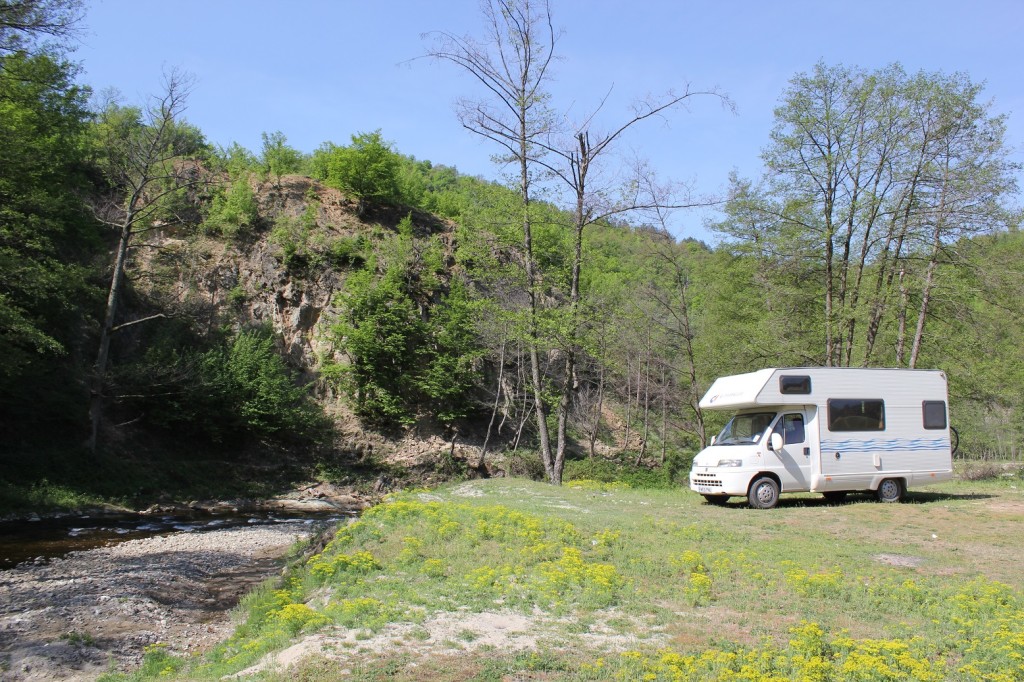 Camping –
We struggled to find details of the campsites in Romania, the Tourist Information Offices aren't too knowledgeable about campsites in their local area and there is no national map or booklet that we could find. We were given a leaflet at one campsite which lists a number of campsites but it is written in Dutch and aimed at that market www.paspoortroemenie.nl. On their website you can however download an English pdf version.
We had no trouble finding places to stop and wild-camp each night – whether it be a car park, layby or beside a river. Our thoughts on what makes a good wild-camping spot might differ to others so I won't list exactly where we stayed but we didn't have any problems and in the summer Romanians like to get out and wild camp in the countryside too. We saw very few campervans when we were travelling through in April – in 16 days we only saw another 2 vans who parked up near us in the car park in Sibiu.
Shopping –
Lidl and Penny Market can be found in most towns. A few of the cities have a Carrefour and there are a number of other local supermarkets – including Penny Market and Billa. There are loads of bread 'booths' where you approach the glass window and point out whatever takes your fancy and there are roadside stalls selling everything from fruit and vegetables to wicker baskets.
Tourist Information Offices –
We don't have a set itinerary and are not travelling with loads of guide books. We try and find Tourist Information Offices to pick up maps and useful information on the area and hopefully see if they can supply some little nuggets of information on places they like or recommend locally and hopefully en-route to our next destination. We found some staff to be really helpful and friendly (Sibiu, Cluj Napoca, Predeal, Sighişoara) and others to be the complete opposite (Arad, Braşov, Câmpulung Moldovenesc). Very much pot-luck!
Our trip
Day 1 – Arad to Geoagiu Bai (168 miles)
Formalities sorted – passports checked, eyed up by customs officer and vignette purchased we set off in unchartered territory for us, excited and curious about what this country, one of the newest members of the EU, would be like.
Having spent the last week on the flat plains of Hungary it was good to see some hills in the distance. Within half an hour we had done a text-book emergency stop and this set the tone for the days driving really on the busy E68 route where the road signs warn of 'Accident Black spot' for the next 10km – every 10km! There are countless garages, truck washing stops, TIR parking places and a fair few 'ladies' offering other services on this route where the road cuts a swathe through towns and villages and the lorries thunder through ignoring the speed limit. We were the only vehicle sticking to the speed limit, bar one German registered car, much to the annoyance of every other driver. Relieved to divert off the road we eventually found a place to pull over for the night in a valley north of Geoagiu Bai, not the best first impression but we remained optimistic and on the positive side the weather was warming up!
Day 2 – Geoagiu Bai to Sibiu (68 miles)
Back on the busy trucking road we travelled the short distance to Sibiu which has big signs on the approach road warning drivers about illegal parking. We played safe and parked up in the central car park which is within a few meters of the pedestrianised area of the town with the National Theatre on one side, fortified city walls on another and is overlooked by two large hotels. In the corner is a bike-hire enterprise although walking around seemed the best way to soak up the atmosphere and see the sights. Wary of the city approach warning we checked the car park sign to fathom out the rules and regulations but could see no mention of not staying overnight and, despite it being barrier controlled, there is an attendant who seemed to be there 24/7 (or non-stop as they say in Romania). He helps confused drivers with their tickets – perhaps this is new technology for them? The cost is 1 Lei per hour so our 19 hour stay cost us about £3.65, it wasn't peaceful but it was very convenient and we were joined by 2 other campervans later in the day.
The young lad in the Tourist Information Office furnished us with maps, suggestions on what to do in Sibiu, where to go to next and some campsite information; he couldn't have been more helpful. We walked around the city walls, wandered around the cobbled streets and squares and went up the Council Tower to get a bird's eye view of the city and the snow-capped mountains in the distance. It was our first taste of the numerous medieval cities in this area of Transylvania and we found it enchanting.
Day 3 – Sibiu to Braşov (115 miles)
After another amble around Sibiu and armed with fresh warm simits (sesame coated bread rings) we headed south to the villages recommended by the lad in the TI Office. Driving to Cisnadiora we passed locals in traditional outfits, the men with large black felt hats and dark clothes and the women in colourful tops and skirts travelling along in loaded up carts pulled by horses with bright red tassels. We also saw shepherds tending their flocks, one in a full length sheepskin coat, another with a jazzy tartan affair – we were off the beaten track so these weren't being worn for the tourists benefit.
Arriving in the village we were approached by friendly locals curious to find out if we were lost and despite them speaking no English or us any Romanian we managed a conversation with smiles, gesticulations and a little German which came back to me from my school days. Atop a hill was a fortified church where a young guardian and her buddies were clearing the shrubs and handing out proper official entrance fee tickets for 5 Lei (£1). The view was impressive and the church, whilst being in a state of disrepair, housed a number of memorial plaques to those who lost their lives in battles in the Sibiu area during WW1.
We tried to get back on the E68 to Brasov by taking a 'short-cut' to Avrig but ended up having to back track when the road turned into a muddy track – the first but not the last of similar route diversions during our 2 weeks here. We passed the turnoff for the C7 road which heads south off the E68 and leads up to the Transfăgărăşan Highway – made famous by the Top Gear trio who after 'racing' 3 supercars on the road declared it to be 'probably the best road in the world' – it is however closed between November and June so if you have a real urge to take your campervan up there make sure you get your timings right.
Arriving at Braşov in the late afternoon we negotiated the busy traffic and considered our parking options before finding a spot near the fortress walls on Mount Tampa. As night fell the Hollywood style sign on the hill lit up confirming, in case we were in any doubt, that we were in BRAŞOV and on the opposite site of the town the citadel walls were also bathed in floodlights.
Day 4 – Braşov to Rupea (99 miles)
We indulged ourselves with coffee and cakes costing 22 Lei (£4.23) in the beautiful Mado café in the town centre – worth visiting just to admire the interior but a great place to access fast internet. Despite having a central position in the main square finding the door to the Tourist Information Office proved difficult and eliciting any useful information almost impossible. We were looking for a campsite in the area but didn't fancy the Dirste Campsite which sits just outside the city in a busy commercial area. She knew of no others and wasn't interested in sharing any information with us – it was hard work even getting a smile out of her!
Armed with more simits, they are addictive, we set off in the opposite direction we had planned to go and ended up driving through Predeal, in the Prahova Valley, a popular winter ski base and summer hiking area. Here a more helpful TI lady told us about 'Vampire Camping' in Bran and even phoned them to see if they were open. There was a deathly silence as the number just rang and rang – was that an omen? Thanking her we carried on our way and found ourselves driving into and out of Bran, stopping to snap the impressive looking castle, built in 1212, set against the wooded mountains but being put off by the sheer volume of stalls selling all manner of vampire related tat. The campsite didn't look too inviting either and despite having an overfull toilet cassette we decided against it. We could have carried on south and visited Peles Castle but decided to head back north towards Braşov. Thankfully at the garage where we filled up with diesel we were able to empty the cassette taking the pressure off having to find a campsite. Having spent most of our time so far on the busy truck route it was great to head off north on the E60 and find the countryside opening up and the road followed pretty river valleys with a few short climbs. We parked up in Rupea where the castle, currently undergoing a massive reconstruction programme, stands out majestically in the with uninterrupted views of the surrounding plains and hills.
Day 5 – Rupea – Sighişoara (40 miles)
We had a short days' drive planned today and punctuated it with a visit to pretty Sachiz parking up in the town square from where we picked up a useful leaflet from the Tourist Information Office. The leaflet described the fortified castle high on the hill dating to 1347 and the fortified church dating to 1493. Walking through the back streets and up through the green pastures we soon found ourselves wandering around the ruins, peering down the unguarded 60 meter deep well, cautiously climbing the stone steps to the first floor and gazing down into the wooded valley from the high walls on the far side. A very peaceful and beautiful place.
Arriving in Sighişoara we parked up on the outskirts and a helpful young lady in the Tourist Information office provided us with a town map and campsite information. I already knew Villa Franka was not yet open for camping but the Aquarius site was so after getting our bearings we walked over the river bridge for a site reccie. The old boy and his wife running the site spoke no English other than 'No problem' which he repeated to every question we asked – Did he have room for a campervan (we were the only people there) – "No problem", Did they have Wi-fi – "No problem", Did they have laundry facilities – "No problem" (they didn't but I think he was volunteering his poor wife to wash our smalls!). It didn't really matter – we needed a campsite and for 40 Lei (£7.70) it was a great stop-over. For the second time since leaving the UK the chairs, table and awning came out of the locker and we lunched al-fresco in the warm sun.
After a very long lunch we ambled across the bridge and up into the charming inhabited medieval citadel perched on the hillside. We walked around the streets for hours before returning to the van armed with yet more simits!
Day 6 – Sighişoara – Lacu Izvoru Muntelui (137 miles)
The road north from Sighişoara through Targu Mures and Reghin was quite bad with endless road works and hawking from wicker basket sellers at every temporary road stop. Heading towards Toplita the scenery changed again as did the housing styles and we were greeted by cheery waves as we drove past. It was a long day with not many miles covered by the time we settled down in a layby overlooking Lacu Izvoru Muntelui (Bicaz Lake) but we had driven through some beautiful countryside.
Day 7 – Around Bicaz area (80 miles)
We kept our eyes peeled for signs of a Tourist Information office as we continued on the road following the lake contours and crossing the huge dam at the end of the reservoir. We parked up in the small town of Bicaz and asked in the Post Office – they pointed us in the direction of the museum which was closed but we spotted a Tourist Information sign on a library wall. I approached a lady on her hands and knees spring cleaning, asking her if she spoke English. The Romanian response I got back obviously meant 'no' as well as a plea to get off her lovely clean carpet. Another lady who spoke a smattering of German told us the library was actually closed but she helpfully managed to find a bundle of maps and the cash tin from a pile in the corner and 3 Lei (58p) lighter we left the building and the door was locked behind us! The map was really useful with walking trails on one side and a large scale area map on the other.
We headed out to Bicaz Gorge which is short in length but impressively high sided. Parking is difficult as the souvenir sellers have commandeered the best spots meaning visitors have to find a place to park up then walk back. If there is no-where to park just enjoy it on your way through to Lacu Rosu (Red Lake) which, contradicting its name, is actually almost jade green and had melting ice cover when we visited. The story goes that the lake was formed when a landslide blocked the river killing some people in the vicinity – all that remains of a submerged forest now is the tree stumps popping out of the water.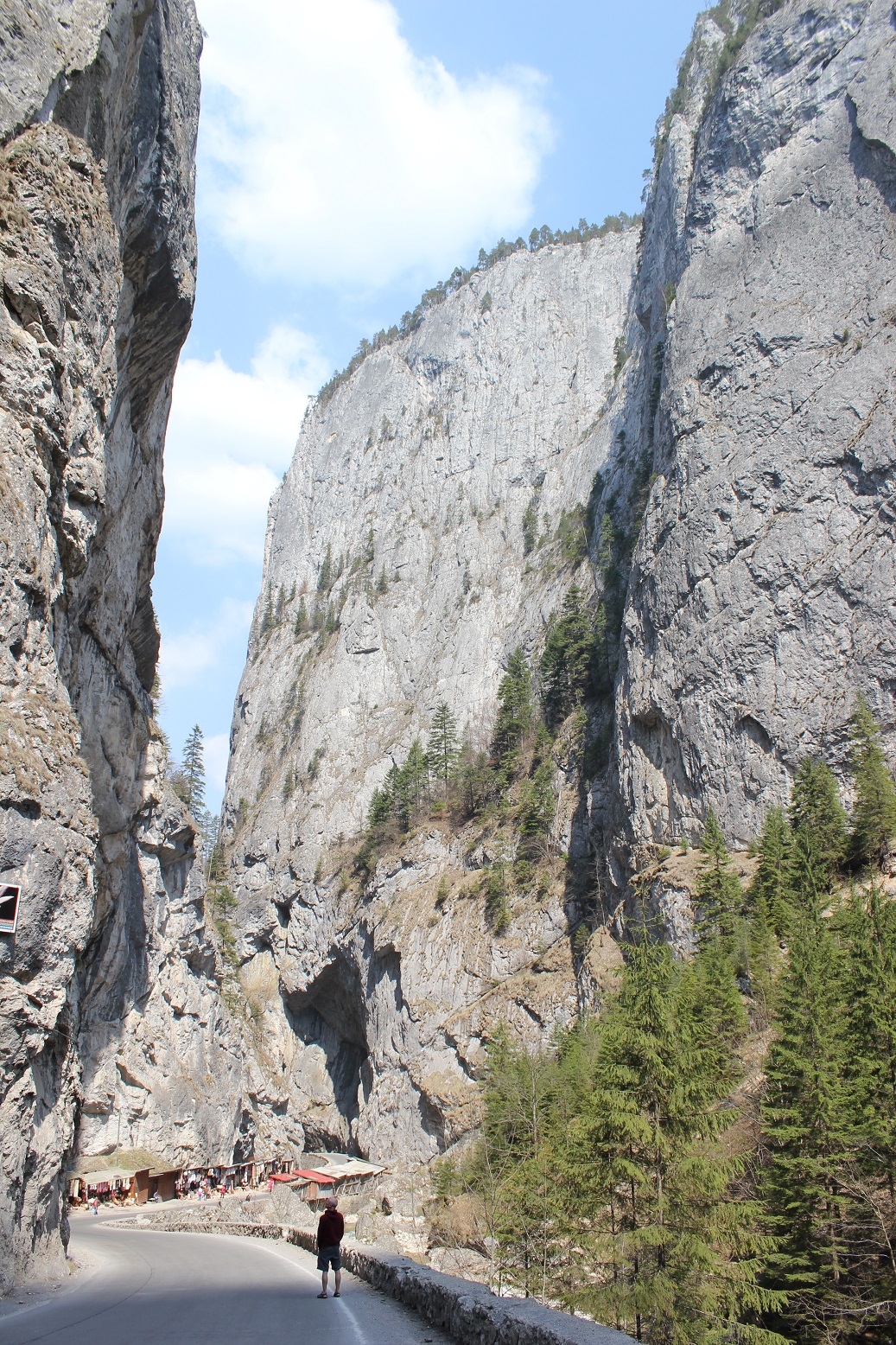 Retracing our steps we headed back towards the dam and up the valley leading up to Ceahlău National Park taking note of the 3m height restriction warning on the road – our van is 3.1m high. The road deteriorated and for most of the 10km or so was gravelled and potholed. Arriving at the 'back to basics' campsite at Izvoru Muntelui we were greeted by a friendly park warden who opened the gate for us and showed Dave the facilities – a drop toilet and water from a spring! The cost was 10 Lei (£1.92) though – so no complaints there plus 5 Lei each for access to the National Park for our walk tomorrow. A beautiful quiet setting and a starlit night – just perfect.
Day 8 – Walking in Ceahlău National Park (- miles)
The campsite sits at 797m altitude leaving us a climb of just under 1000m to reach Dochia Cabin which sits just below the parks twin peaks at 1907m. Some of the trails are closed in the winter and even the trail we chose was difficult in parts with snow and ice but the views were spectacular with almost a 360◦ view from the plateau just past the cabin. The trail leaflet and information boards on the route explain the wildlife to be found in the area including bears, wolves, lynx, snakes and deer – though the only thing we caught glimpse of was a very industrious woodpecker. We spent another peaceful night alone in the campsite.
Day 9 – Izvoru Muntelui Valley – Vatra Moldovitei (131 miles)
All day long we were waved at and stared at by friendly and curious locals as we drove through the towns of Bicaz, Piatra- Neamt, Targu-Neamt and Fălticeni on our route north. Arriving at Gura Humorului we followed signs for the Voronet Monastery. If you like visiting churches and monasteries then this area called Bucowina is for you – we tend to visit just one or two but you could spend a whole week in this area alone. Arriving at the somewhat touristy end of the road Dave offered to pay the 3 Lei (58p) for our parking charge but the attendant wanted 10 Lei – the charge for a bus. Dave argued the toss – it wasn't the cost really but the principle but the attendant wasn't having it so we left and can only go by the guide books which describe the Church of Voronet Monastery as the "Sistine Chapel of the East". Another long day driving through ever-changing countryside, we parked up in a layby on a quiet forested road as the sun set across the valley.
Day 10 – Vatra Moldovitei – Fundu Moldovei (37 miles)
With an early start we arrived at Moldoviţa monastery before 9am and tentatively peered through the open wooden gate to find a beautiful church set in a delightful courtyard. No parking charges, no entry fees from what we could see and no other tourists. We quietly walked around admiring the exterior murals dating to the 1530's – some depicting scenes from the Siege of Constantinople. From one building a nun appeared and rang the bell to start the day, another nun shuffled along the courtyard corridor eating a simit.
Back on the road we spotted a sign for a narrow gauge railway and headed north for a few kilometres – it wasn't yet open for the season but Dave had a nosy in the engine sheds – because he just can't walk by and not do that!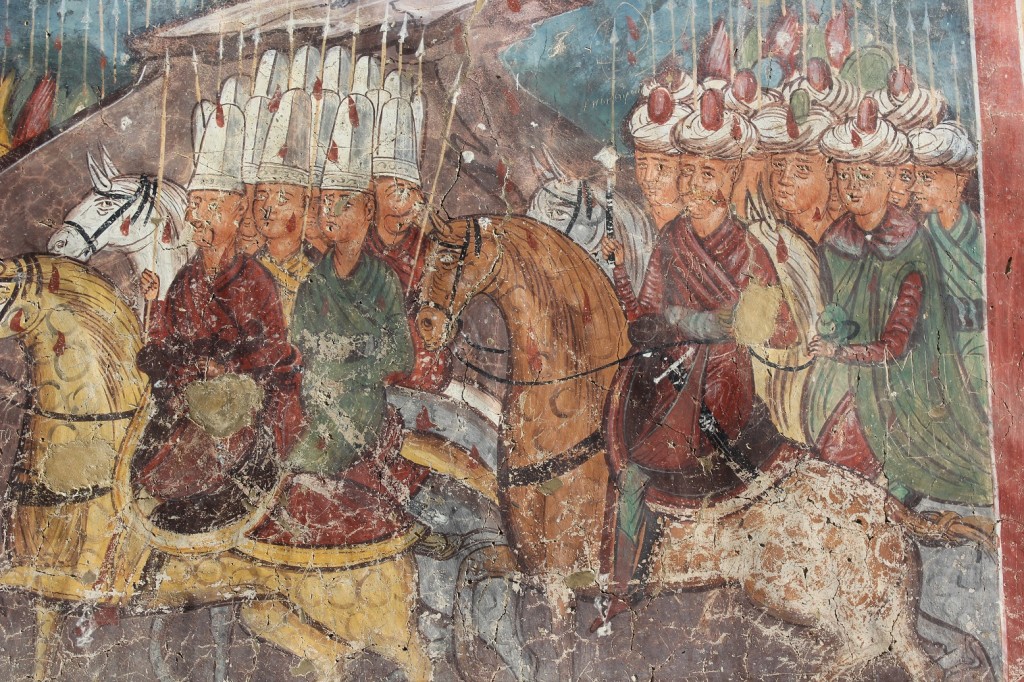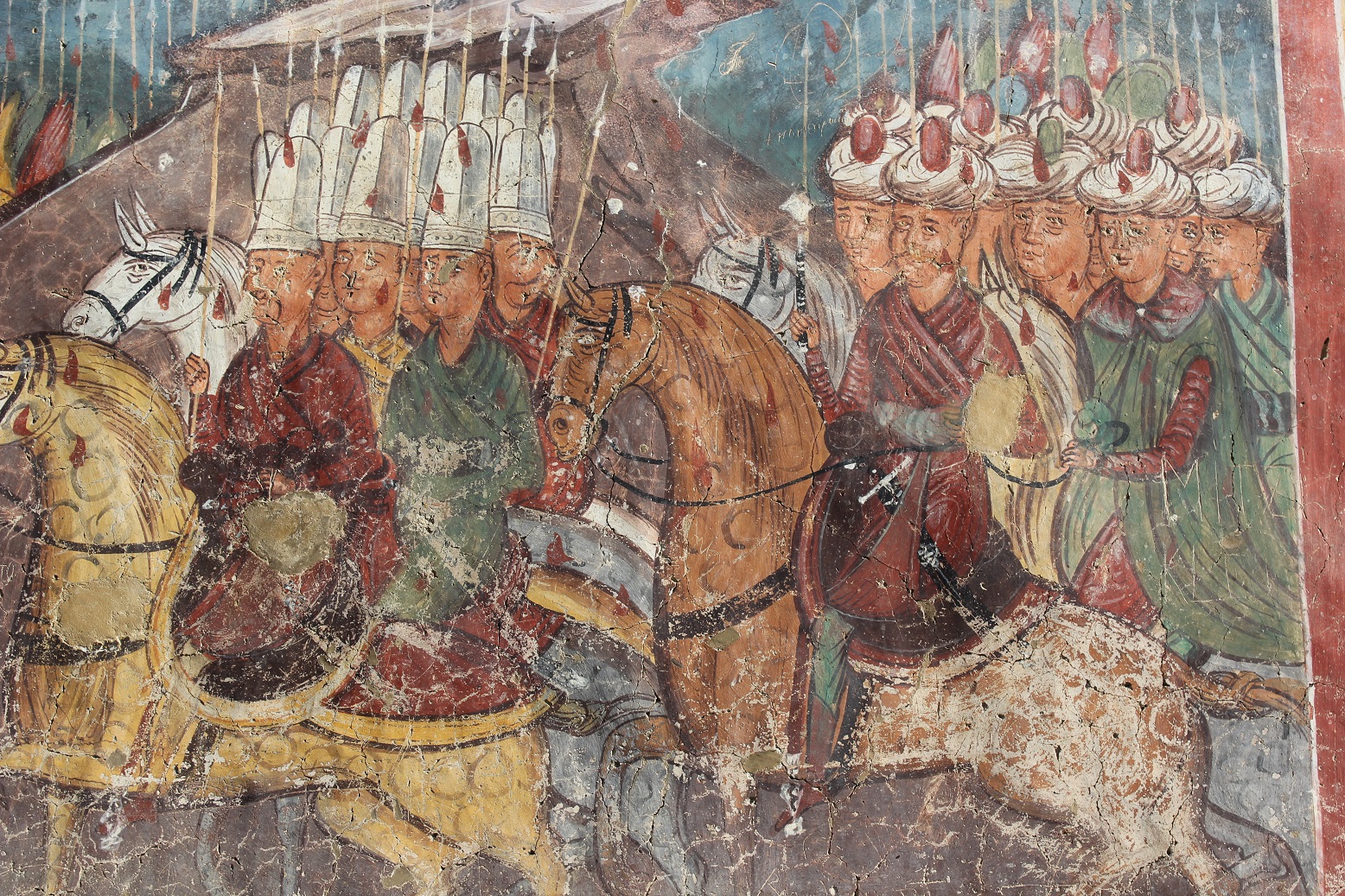 We pulled into Câmpulung Moldovenesc, admired the churches, bought some fresh simits and popped into the Tourist Information Office picking up a leaflet on trails in the area before heading out to Fundu Moldovei. In this quiet valley is an oasis of a campsite – Camping de Vuurplaats – run by a lovely Dutch couple. Beautifully clean and well laid out we stopped here 2 nights, did all our washing, caught up with emails, Skyped everyone and enjoyed the company of our hosts. John even helped Dave arrange an oil service for the van!
Day 10 – Fundu Moldovei ( – miles)
After a slow lazy start we set off for a walk into the hills behind the campsite armed with John and Engelines photo guide. A very peaceful, secluded walk, we passed no-one else all day but we did spot a fox and some deer in the woods. Another beautiful day and peaceful night.
Day 11 – Fundu Moldovei – Maramureş area (114 miles)
The campsite is priced in €'s which worked out at about £11.50 per night and we set off after settling up and getting advice on the state of the roads east from here. We were warned that route 18 towards Borşa and Vişeu de Sus was bad. The signs proudly announce that the road works will be completed in July 2013 – by no stretch of the imagination will that ever happen. For hour upon hour we negotiated potholes at an average speed of around 20mph -painfully slow. Eventually finding ourselves back on the tarmacked road we drove up a few valleys to see the famous wooden churches of this area – the Church on the Hill at Ieud was particularly attractive. As the sun set we found a small layby on the banks of the River Iza, tentatively opening all the cupboards to check what had dislodged and then settled down for the night watching the farmers return home from the fields in their horse and carts.
Day 12 – Maramureş area – Bondita (135 miles)
We decided to abandon plans to visit Săpânta, famous for the 'Merry Cemetery' where every grave tells the colourful history of the deceased person. We couldn't face another drive like yesterday – unbeknown to us the next stretch of road heading south was not going to be much better than yesterday, just shorter! Our route took us to Baia Mare and Dej before we diverted into Gherla which our map seemed to suggest had 'touristic attractions' – Wikipedia only suggested it was famous for having a high security prison. A pretty town centre and park but not much to keep us here.
We parked up at Banffy Castle at about 6pm, the site was still open so we paid the 3 Lei entrance fee (58p) and had a good wander around. The building is in need of huge financial funding to restore it to its former glory but it is a lovely big site that hosts a 3 day music festival in the summer. We stayed the night here listening to the frogs croaking in the small brook and the village dogs barking at everything that went by.
Day 13 – Bondita – Cheile Turzii Gorge (45 miles)
Parked up on the outskirts of Cluj-Napoca we walked for 15 minutes into the centre to find the Tourist Information Office where a very helpful young lad spent quite a while talking through the city attractions as well as recommending some places to visit on our route south. Armed with the city map we visited the lake and tree lined promenade, the botanical gardens and the old part of the city before buying some lunch and heading back to the van.
We arrived at Cheile Turzii Gorge 'upper' car park in the early afternoon and parked alongside two coaches. The road to the 'lower' car park, from where the gorge walk starts, is gravelled and very steep in parts – fine for cars and minibuses but campervan owners should assess the situation before venturing down. At the bottom there is a large area where the Romanians camp and set up BBQ's as well as food stalls and a hotel. The gorge walk itself takes about an hour each way and costs 4 Lei (80p) – the path crosses the river over rickety bridges a number of times and there are places for experienced climbers to try out a number of marked route with established pitons. It is very pretty but you have to turn a blind eye to the litter strewn all around – as is the case sadly in most parts of the country. Returning to the van late in the afternoon we decided to stay the night in the 'upper' car park with the sheep and stars for company.
Day 14 – Cheile Turzii Gorge – Luncu (153 miles)
Another of the young lads' recommendations was the village of Rimitea, built in the Austro-Hungarian style, which has been sympathetically restored to its former glory. Like a number of villages in the valley the style of housing is different again to that which we have travelled through in the country and this village has a startling backdrop of mountains.
Following the River Aires we drove on to try and find Şcărişoara Glacial Cave which I had read about in a guide book, both the roads and signs were dreadful and when we finally arrived in the nearby village there was no-where to park. Poor roads leading up to the attractions some 10km away were not at all campervan-friendly so we drove on out and as darkness fell finally found a layby to rest our weary heads.
Day 15 – Luncu – Ilovita valley near Orşova (153 miles)
Knowing we had a long day ahead of us we set off early and headed towards Brad, then Deva from where we went south to Hunedoara. We passed some amazing houses with elaborate guttering and ironwork and shiny roofs – all glistening in the sun. We followed the road to the top of the pass at Petrosani which is an interesting town with a huge steam engine on display as you enter the town and an aeroplane on display as you leave. Dave loved it! Carrying on south the road narrows and follows the Jui river gorge which is very spectacular, clear and fast flowing with some amazing scenery. Leaving the gorge the valley opens out to wooded slopes and rolling countryside.
Skirting round the side of Drobeta-Turnu-Severin we soon join the E70 road which runs alongside the beautiful Danube. At this point in the river it is wide and majestic and although there is a crossing point to Serbia here we choose to carry on the road to follow the Danube up its length for a few more miles. We turn off the busy TIR road and head inland up the Ilovita valley finding a group of Romanians having a lovely Sunday afternoon camped by a tributary, music blaring, campfires burning and everyone having a great time. By 8pm they have all gone back to their cosy homes and at 10pm we are sat outside having relit one of their fires listening to the river rush by and watching the stars. What a perfect place to spend our last night in Romania.
Day 16 – Ilovita valley near Orşova – Naidaş (88 miles)
The road that follows the Danube starts off well and we divert into Orşova expecting to find a busy riverside port – instead finding a town almost caught in a time warp. The road out soon deteriorates and what we expected would take about 2 hours does in fact take nearly 4. At times the Danube is quite narrow in places yet wide and marshy in others, the water level seems very low at the moment with swimming platforms meters above muddy banks with the water nowhere near. The tourism funding in the area seems to have dried up, like the river in places, with numerous pensuines, hotels and restaurants in a half-finished state.
This area, like the whole country, has great potential and there are a few tourists around drawn here by the pull of this magnificent river. We pass a number of cyclists who must find the potholed roads more of a nuisance than we do, but still they come.
We leave Romania with fond memories; it's a complex country with many different facets and very hospitable, hardworking people. With an ever changing scenery from the mountains to the rivers, the towns and villages, the smart citadels and the shocking roads it surprised and delighted us. Hardly touching the south or eastern parts of the country and missing out quite a chunk of central Transylvania there is plenty left to see. We hope to be able to return before it changes too much. Go with an open mind, the time to enjoy it and a vehicle with good suspension and I'm sure you will love it as much as we did.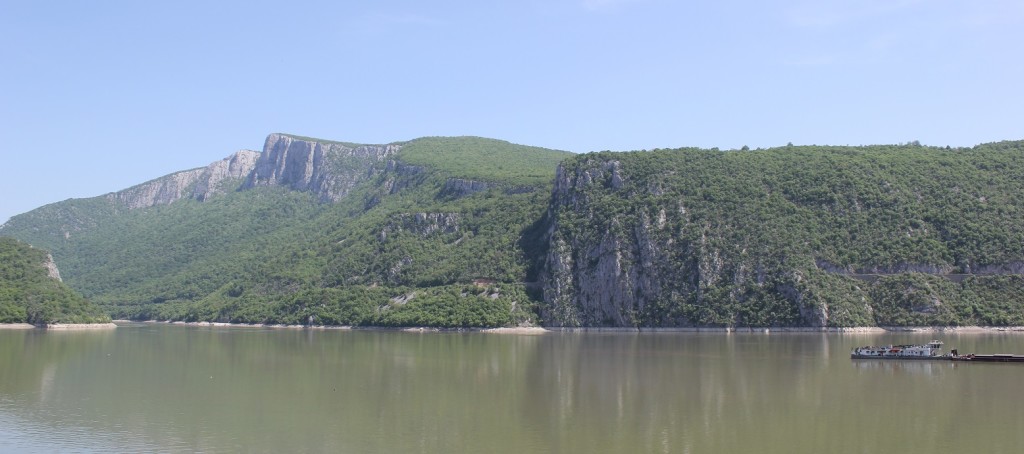 More fabulous photos from Kath are available in the gallery below, just click on any of the images to see it full screen, and to browse through the other photos: