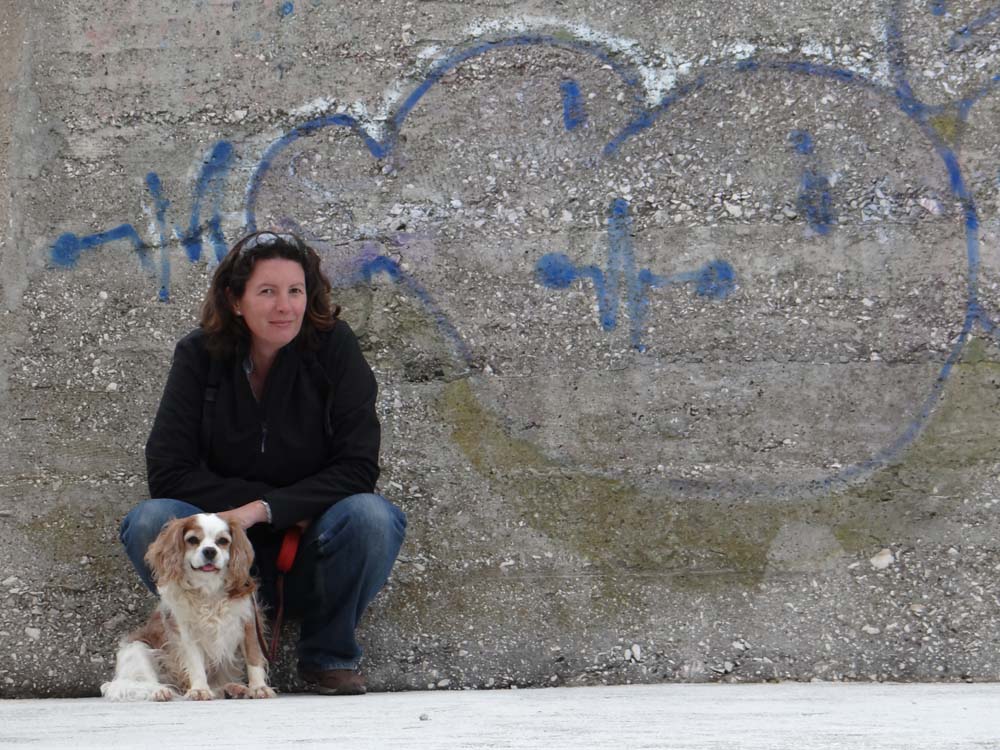 Dave the motorhome is sideways on, a view of the Strait of Otranto out the left side window at Tricase Porto (N39.93071 E18.39481). Albania's off in the distance, although we can't see it yet as the cloud's moved in. Word is an inflatable boat will arrive here or hereabouts from time to time, full of folks desperate to sneak into the borderless Schengen zone. We'll keep our eye out, although I'm unsure what we'd do if we spotted any; it's hard for me not to respect that kind of life-or-death commitment to a better life.
Dave creaked us awake this morning, the heat from a full sun stretching his skin and warming our drop-down bedroom. Google's fancy weather forecast for today summarised it as rain, and has eventually been proven right, but for a good few hours we enjoyed the warmth and keen light of a coming summer.
Ju gave me first dibs on the choice of programme to watch last night: she knew what was coming: Life on Earth, the Frozen Poles (as my Dad would say 'I'm watching me wildlife!'). A young(ish) David Attenborough firm-footed his way about the nether regions of the Earth, the square shape of the window we watched him through took me back to those pre-widescreen days, not long ago but now seemingly an age back. As it was still light when he finished his most English of presentations on polar bears, penguins, fearless goats and tough-as-old-boots plants, we moved onto something more modern: Luther, a London-based man-on-the-edge detective series. The dank light and car number plates shifted us sideways again, this time not through time but space, 2500km to England.
Tuscany's hill towns raised a question in my mind: just how much does the proximity of so much in-your-face culture and historical architecture affect the way the inhabitants of such places think? In a similar vein: how much does our UK climate affect us, the dim light and damp cool air? If we too were presented with a continual choice between being outside in the heat and sharp light, to chat with friends over an al-fresco coffee, to walk and play with our families among the streets, late into the warm night, how would we be?
Last night's choice of TV obviously permeated today's camera clicking? In the morning light I sat on Dave's step and snapped at lightning-fast lizards as they skipped over the permeable surface of a bush. We took a walk, grabbing shots of flowers and creatures which had been there yesterday, we just hadn't noticed them. At one point a black snake spun off up the path, maybe a metre or so long, only the second one we've seen in all this wandering. Charlie remained unaware, busy chasing down his eight-thousandth stick.
Choosing one of the spots from our Wohnmobile book, we headed off back up the track, a chap in a car having to reverse back out of the top and wait for us. I gave a thumbs-up of thanks, no longer looking for a response as there never is one. Ju waved too, at which point he waved back, but in general Italians (maybe everyone but us English) expect no quarter given when driving, and expect none in return. There's a theory that this dog-eat-dog attitude has created a tough race of individuals, maybe not a nation of soldiers, but a nation of fine artists, writers, musicians and chefs. I dunno about that, they are bloody awful drivers though.
The coast road shadowed the rocky edge of land, occasionally delving into the bowels of a hibernating town. As dead as a diced dodo, hardly a soul to be seen, we'd wander about what seemed to be a straightforward grid-system of roads, somehow morphed into a Krypton Factor test of one way pot-holed streets, switched-off traffic lights and white-line-less junctions. They're all modern enough though, easy to get Dave through the lines of shuttered-shut blocky whitewashed villas, cafes and restaurants. One town announced a motorhome service point with the universal blue and white sign: we nipped in to find it chained off, but the loo point easily accessible. These things are few and far between down here in the heel, in fact almost non-existent off season, making life a bit awkward for us non-plumbed in itinerants.
The Wohnmobile book was written five years ago and the onward march of 'No Motorhome' signs has since continued. The stop-off point was one of the most heavily-signed newly-illegal spots we'd come across, and yet an Italian van was parked up in the dunes behind. We know by now that only foreigners take any notice of these unenforced 'suggestions not to park' out of season. But the place was scattered with litter anyway, so we plotted in the next spot, Punta Ristola, the most southerly point in Italy, no, hang on, it's only the most southerly point on the heel of Italy. And for some reason the place just up the road from it, Capo Santa Maria di Leuca, chooses to falsely make that somewhat prize-less claim for itself?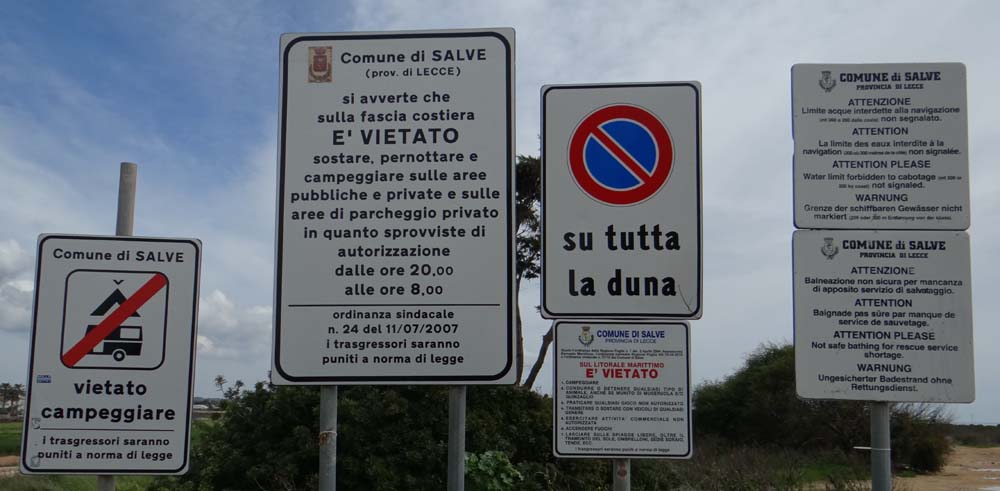 For us, the best part of Punta Ristola was the massive Italian flag, an enormous thing standing above Dave, if somehow harnessed, its flapping could power a small town. We fooled about underneath it for a while and then went to peer off the edge of a cliff, eyeballing the crashing waves rushing over the turquoise bay below. Still only 2pm, now what? Next place plotted in.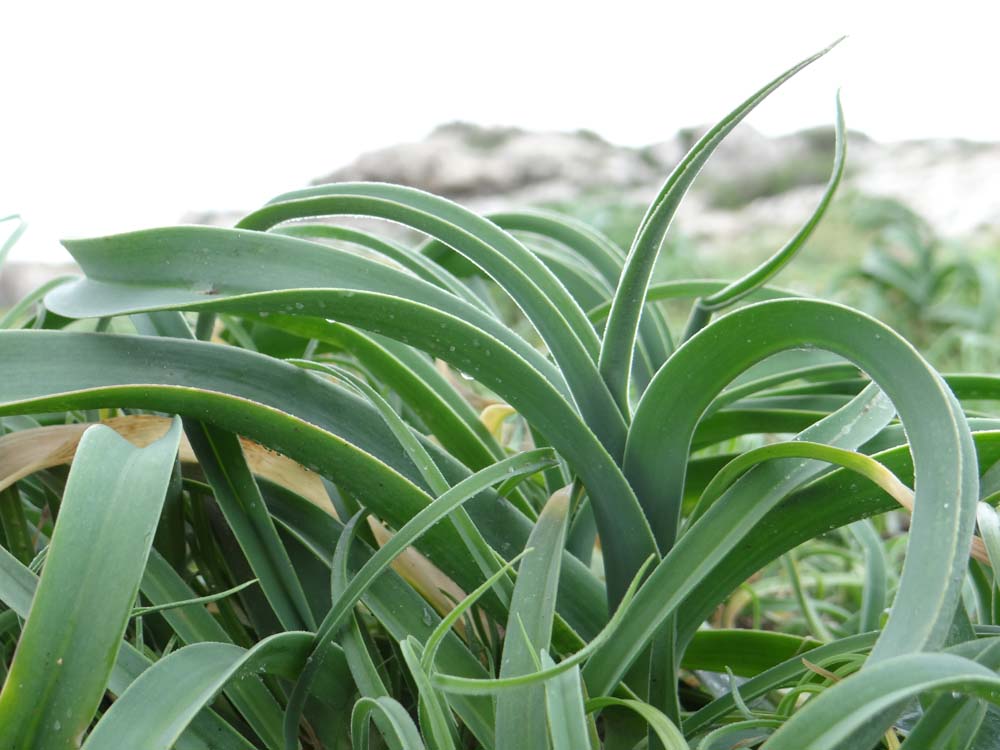 As we rounded the heel and started to head north again the sea sunk down below us. The road's a corniches of sorts, the kind I like, an easy one to drive! The cliffs are shallow, the road wide, only a few switchbacks to wrap Dave's steering wheel around and lovely views, although the clouds were with us by this point. A 'camera' symbol appeared on Dave's sat nav as we drove over a bridge: a view point, Gagliano Del Capo. Out and up into the gorge which gave the bridge reason to exist, we stumbled about on the path, all around us the by-now familiar dry stonework walls and rounded tower-like abandoned homes. They're all around this area, many of them in good condition, sat among overgrown olive trees and natural rock poking up white from the scrub.
As we moved on an orange glow from the dashboard told us the evil diesel monkey had been at its tricks again, siphoning off Dave's tank and with it our tight-grasped euros. Plotting a course inland (there are no stations on the coast road) the first station we came across was the cheapest we'd seen all day, €1.65 a litre, a cheer goes up in the cab. Other stations were charging up to 15c a litre more, sometimes within sight of a far cheaper filling up spot. Weird.
Filled up and back on the coast road we spotted a space and pulled in at Tricase Porto. It feels like an artificial place, all concrete formed into sea defences and a small harbour. Somehow it's welcoming though, perhaps down to the lack of no-motorhome signs? Around the edge of the sea past inhabitants have quarried from the rock, creating a series of personal cool-pools of varying sizes and depths for us modern folk. We'd be in there, joining the army of crabs, but for the fact the gorgeous blue water's still flippin' freezin' in March. We've decided to stop here for the night, our next plotted in place can wait until tomorrow.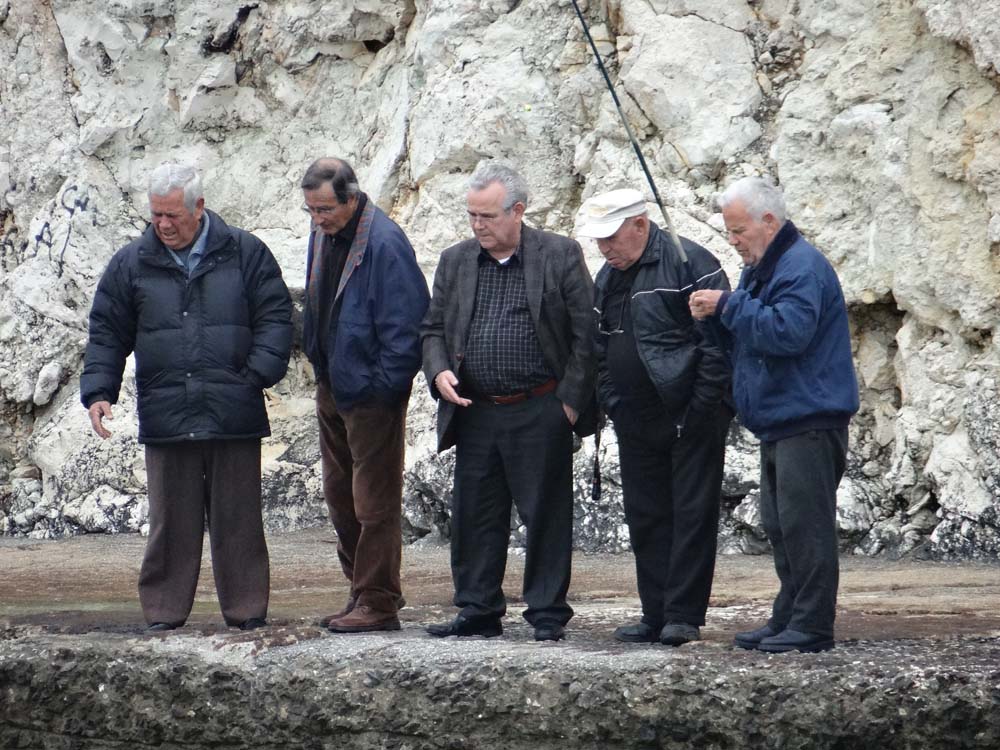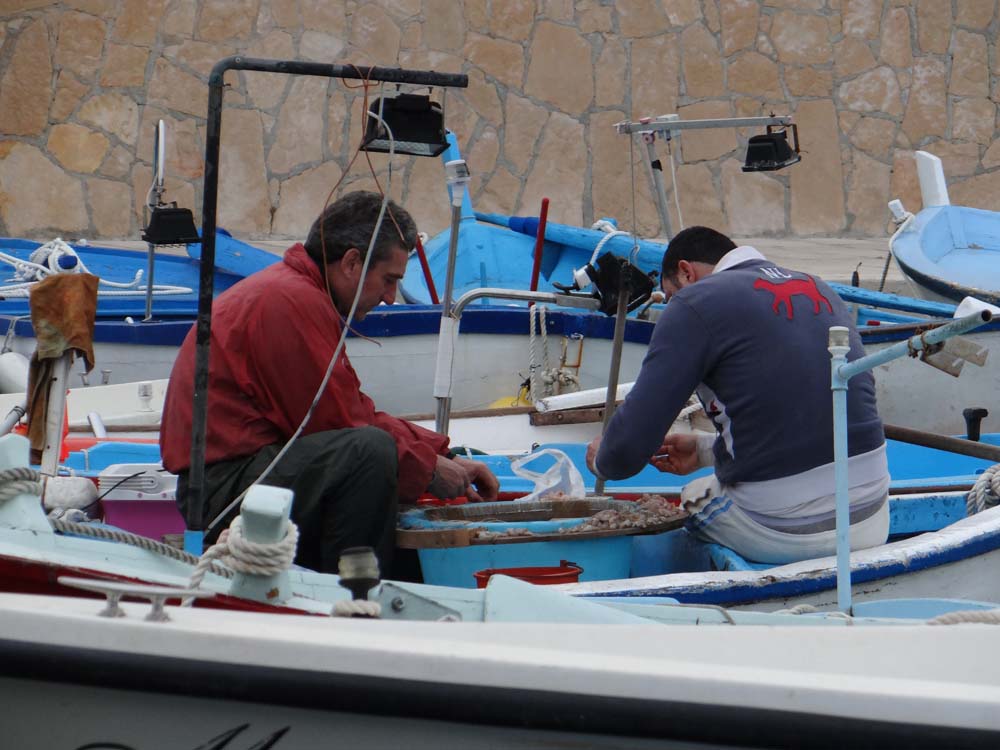 Cheers! Jay