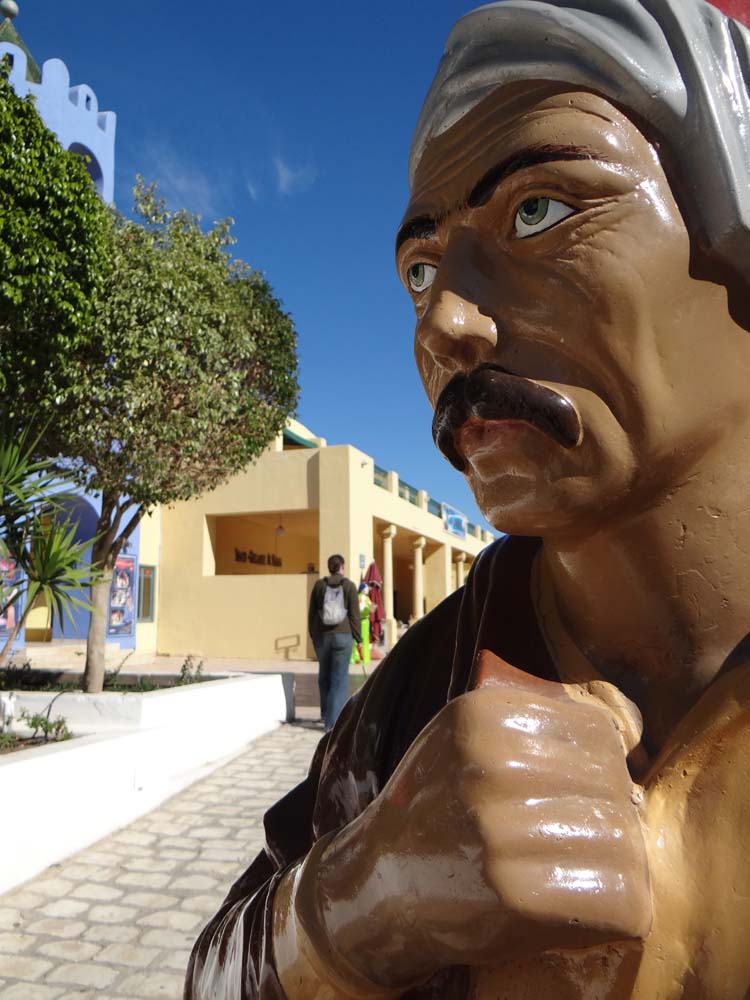 Dave the motorhome feels safe, surrounded by walls and more pertinently, fellow Europeans in Camping Les Jasmins, Nabeul. It costs 11.4TD per night for two people, plus a bit more if you want electricity or a hot shower (N36.44281 E10.71566). The camping area is packed earth in among mature orange trees, and is almost completely full of German adventurers in Unimogs, four by fours with roof tents and off-road bikers. The Austrian and German guys we met at La Louza are here, and waved us in from the road, seeing us drive past them twice as the youth hostel we initially went to is shut, 'un problem' an old fella told Ju at the gate before grunting and shuffling off.

OK, I admit it, I lost the plot in Kairouan. Lost sleep through a continual, if low-level, stress over wandering about as just the two of us in among weird and wonderful Tunisian cities had worn me down. We slept well last night, under the watchful eye of the port authority CCTV system. I felt safe in the knowledge there were far better prizes than filthy old Dave, in the form of luxury yachts, to tempt any likely lads out with their swag bags. I'm almost back in the room, another night's good kip here and I'll be raring to go (back to Italy). Bring it on!
Sunlight streamed in as we cracked open the curtains at 8am, a pure blue sky does wonders for my spirits. Before heading off from Hammamet Yasmine a closer look was called for. Charlie in tow, or more accurately us in the tow of the excited canine, we hit the beach and threw baseball-sized found weed things (we see them all over the Med) for him to seek and destroy. The beach was beautiful, clean and shallow, easily dipping into a pure turquoise sea.

Hammamet Yasmine is purpose built, a Las Vegas strip of cleanliness, broad tarmac and whitewashed hotels. Even compared with Sousse and Jerba, it's about as Tunisian as a Cornish Pasty. You could fly into Tunis, get a train or bus down here, enjoy a week or two in the sun, sup ale and chow down every night in another flash restaurant, before heading off back again with only passport control to remind you of the bothersome effort to leave Europe. I loved it, it was off the scale on the chintz chart, and felt familiar and fun.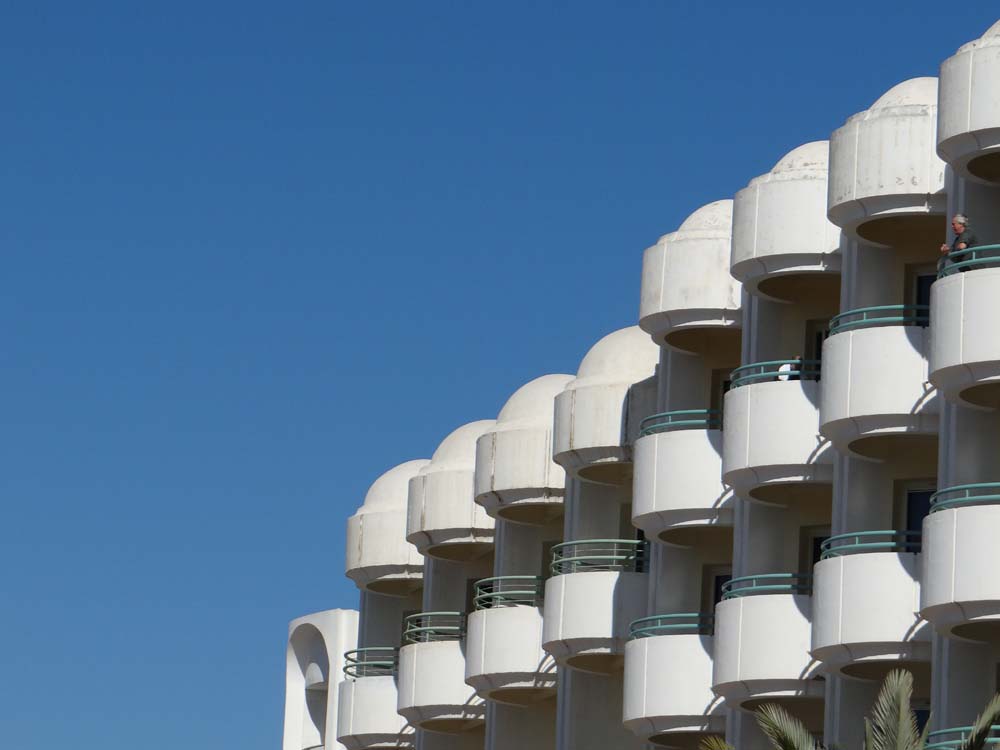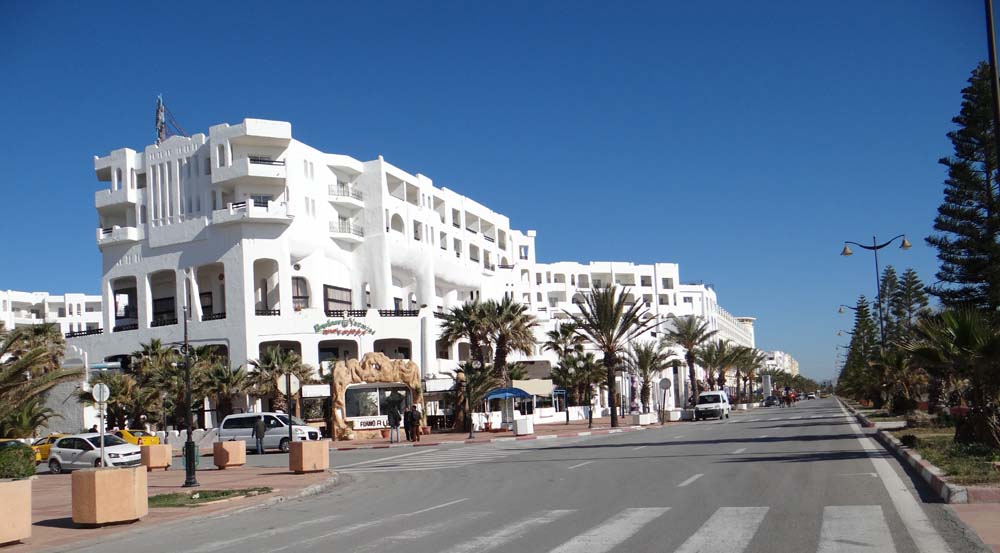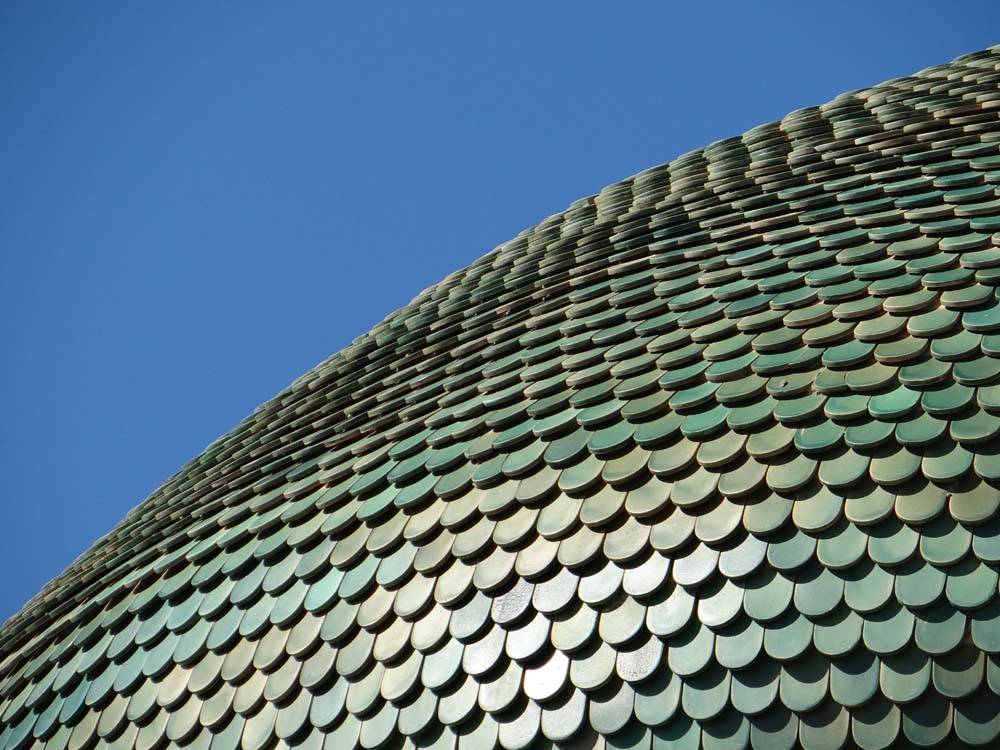 The old medina is a wonder to behold, practically brand new, a wonderland of tat and knock-off goods enclosed in ancient walls of pre-aged stone. As we entered it, a small group of German folks passed us,  being led through by a, ah, erm, guide? Somehow this guy makes a living leading people through what is effectively a shopping centre.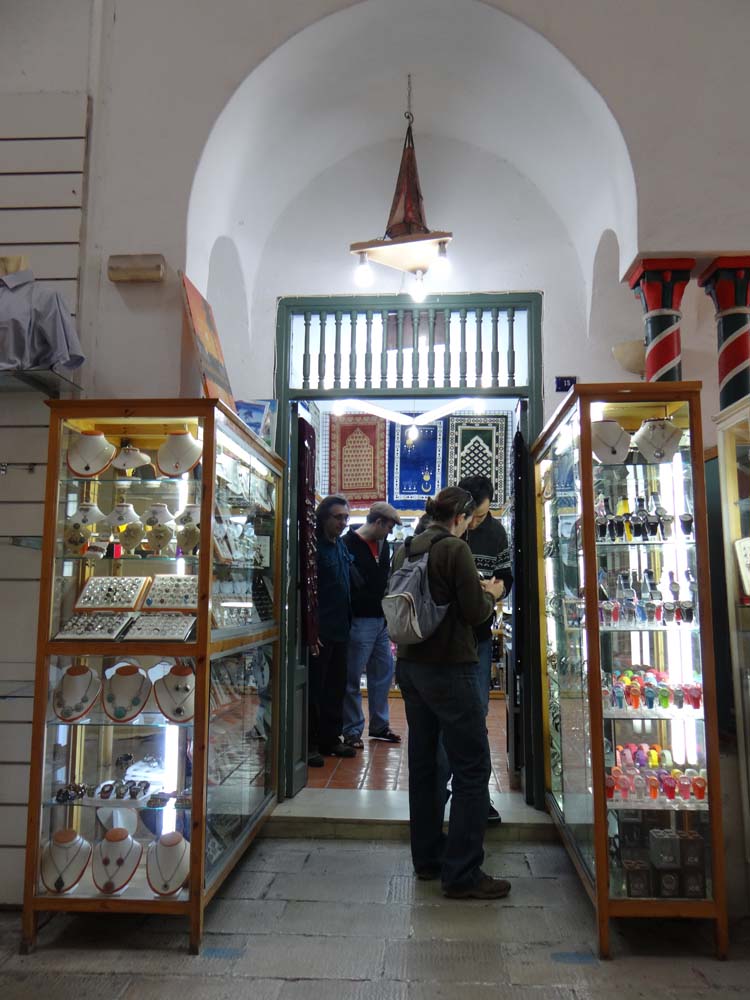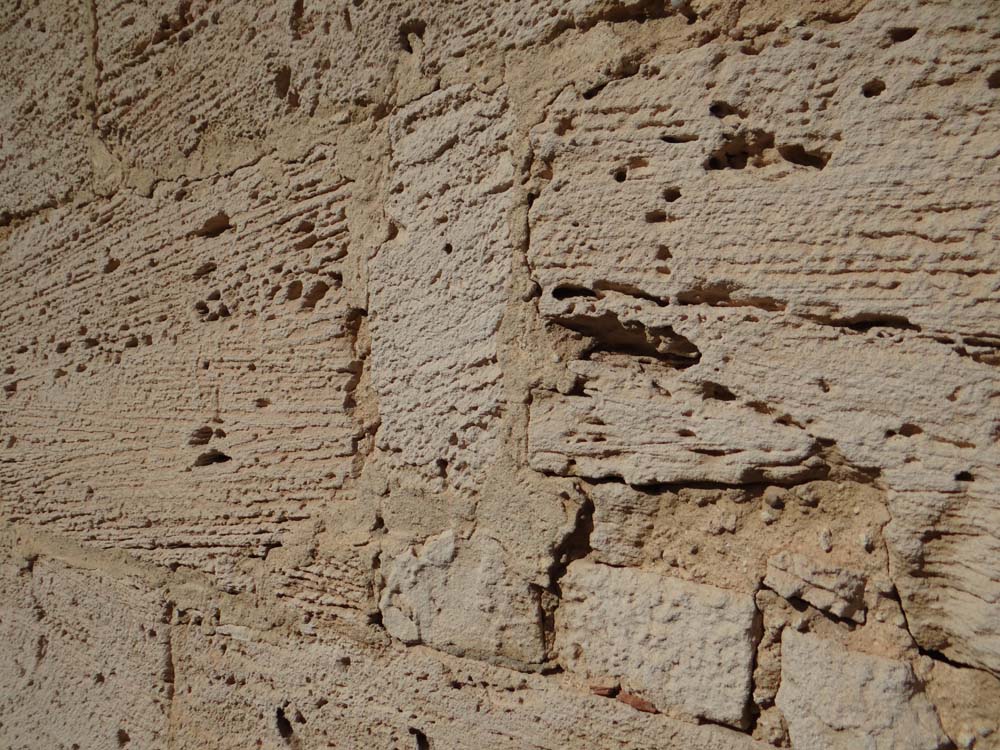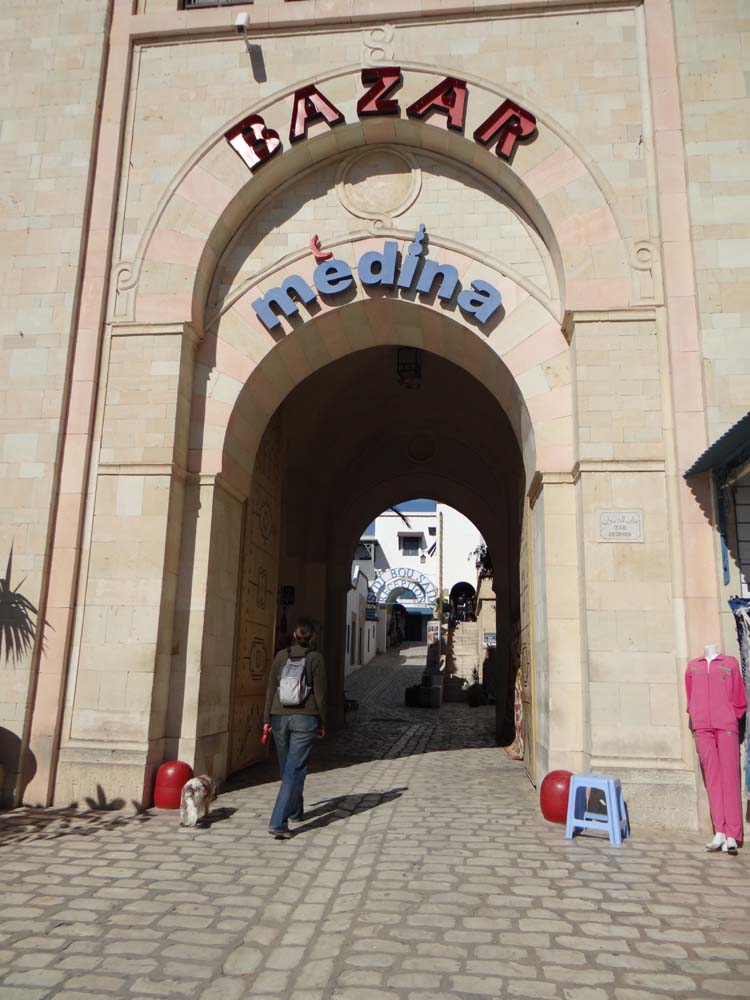 Taking a couple of 'runs' through the corridor of half-hearted tat floggers, Ju managed to buy nothing. The 'Converse' she fancied started off at the special business price of 65TD a pair, but the seller couldn't ease the dinar out of Ju's pocket, she insisted on 10TD. He did his best bless him, even employing his own € exchange rate '40, that's 16 euro'. Eh, what's that you say? It's €20, either his maths is bad or…!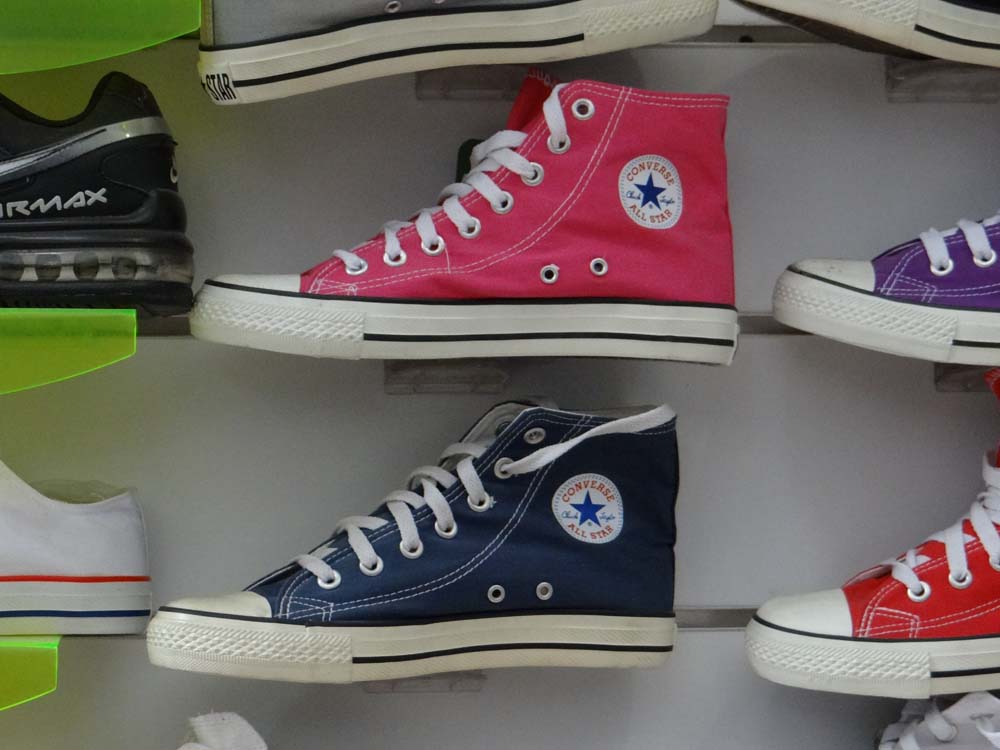 Hammamet Yasmine'd out, we headed off under the tunnel from the marina and back into reality. As we pulled into the dual carriageway outside the town, a car drove alongside us, but on the wrong side of the central reservation, chatting on his phone as he nipped along against the flow of traffic. It's a weird mindset. A moped exiting a side street nearly found himself supporting the weight of Dave, half waving an apology (presumably for the just-avoided injury to my mental health rather than the very physical injury to his body) as we just failed to mangle him beyond recognition. Folks step from the pavement into the road, right into our path, seemingly surprised by this metal monster bearing down on them. A car drifting from the left lane into the side of us again appeared similarly amazed as I employed the Horn of Dave to announce our impending cold-weld situation to him. I don't really get it. Maybe the Green Cross Code didn't get taught here. I would be looking forward to getting back into European driving, but for the fact we're going back to Palermo, which is worse than here.
Ju did a sterling job of getting us to the campsite here in Nabeul (creep creep) after I decided the best approach would be straight down the main street, oops, it was nuts. We're navigating using the maps in the Rough Guide, which don't bother with all the street names, using hotels and restaurants as way points instead. This is fine except here…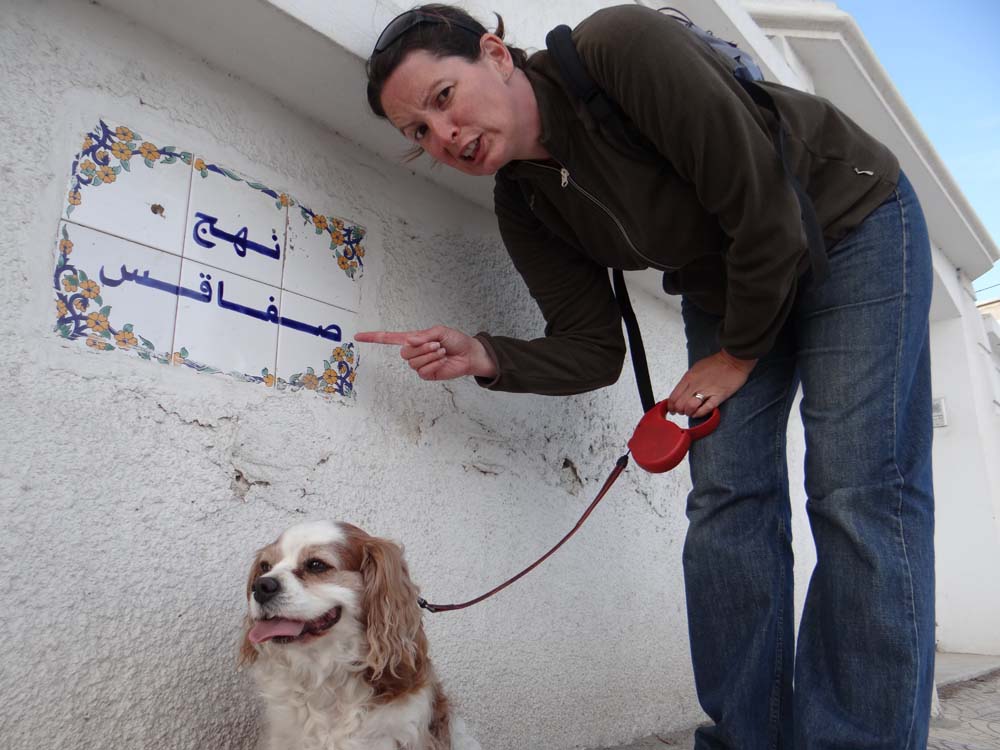 Into the parking, I felt dunked in a sense of ease, German's everywhere, fan-flippin-tastic, another night's sleep in the bag.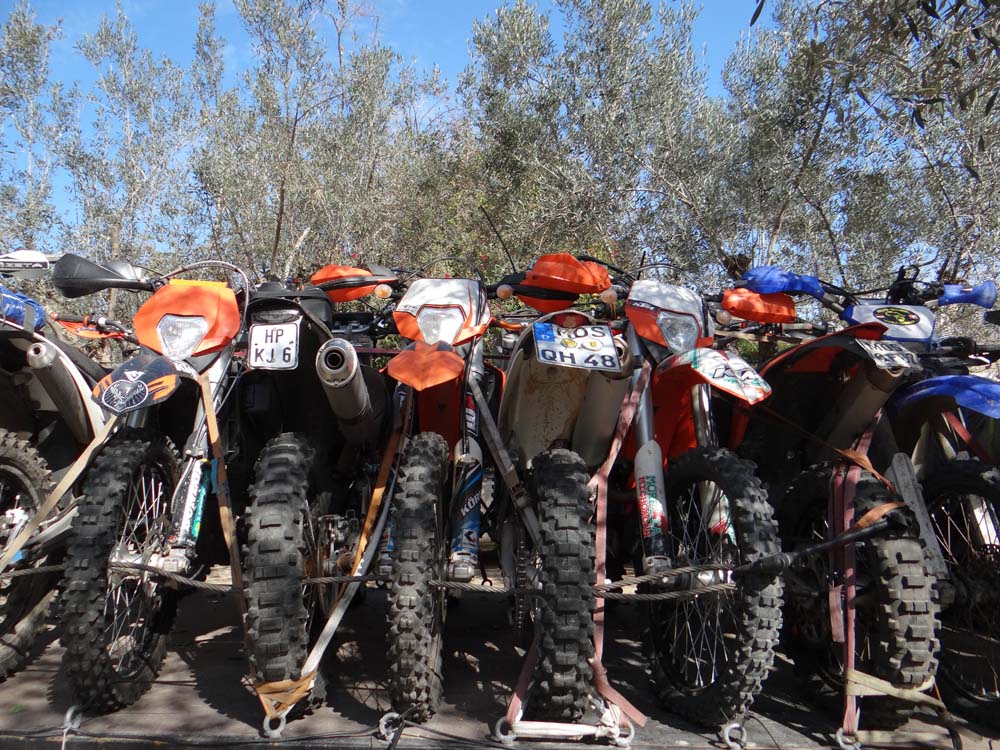 Nabeul's just down the road. We took off with Charlie to have a look around and to see if we couldn't satiate Ju's desire to buy, ahem, tat. The place is famous for knocking out china ware. Shops popped up immediately, bowls, fatima's hands, giant urns, you name it, but without a single seller in sight, never mind trying to drag us in. We spied the dusty contents and decided to have a look on the way back.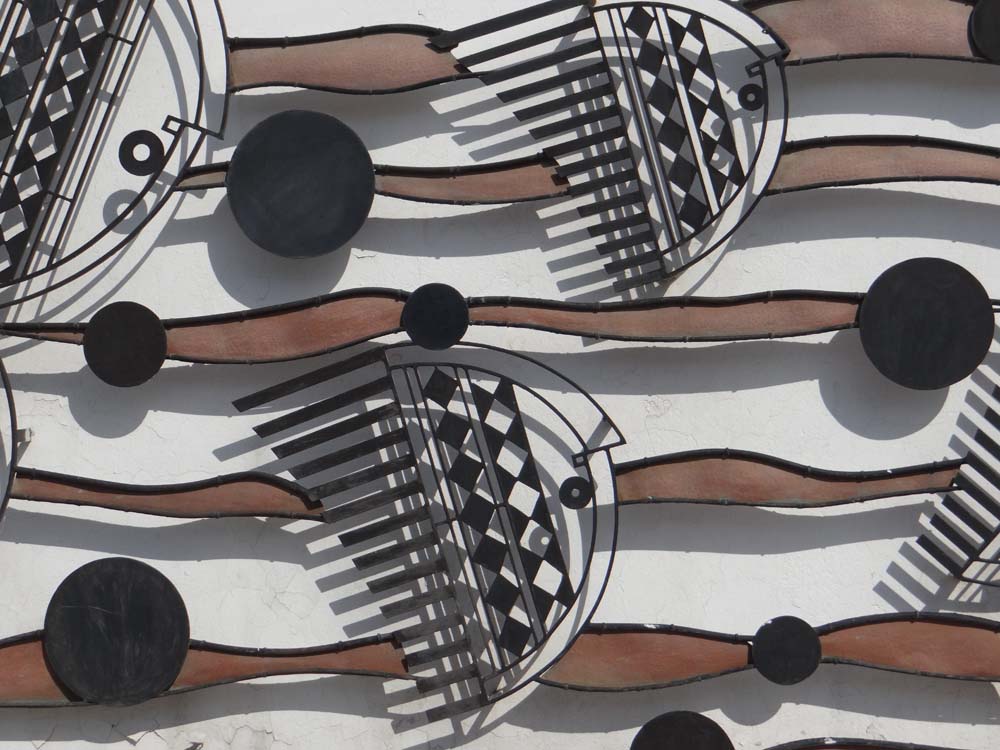 Into town, quickly in and out of the ONA, and into the medina, the tat levels mounted up, albeit in a more genuine tat-flogging environment than Hammamet Yasmine (the call to prayer echoes off the walls here, have a listen below if you fancy).
Audio clip: Adobe Flash Player (version 9 or above) is required to play this audio clip. Download the latest version here. You also need to have JavaScript enabled in your browser.
The guys were all pretty cool, the first chap easily allowing Ju to finger the not-a-Swatch watches and walk off when she didn't see any she liked. Once she had found one she liked, and eased the price down from a 'testing the water' €32 down to €5, hands were shaken and the links were adjusted so that it fitted. My mate Bruce once bought a 'Rolex' in a dodgy back alley of Hong Kong, me thinking him and partner-in-crime Andy had been killed by the triads as they went off with some oddball for 30 minutes of haggling. The crown fell off the watch face within about ten steps of the door. Ju's Swatch lasted about as long, the strap coming to bits as we sat and had a coffee, our ears full of the cat calls of Tunisian cafe-dosser-youths shouting at passing women. Super-glue has been purchased, adding €1.50 to the watch price!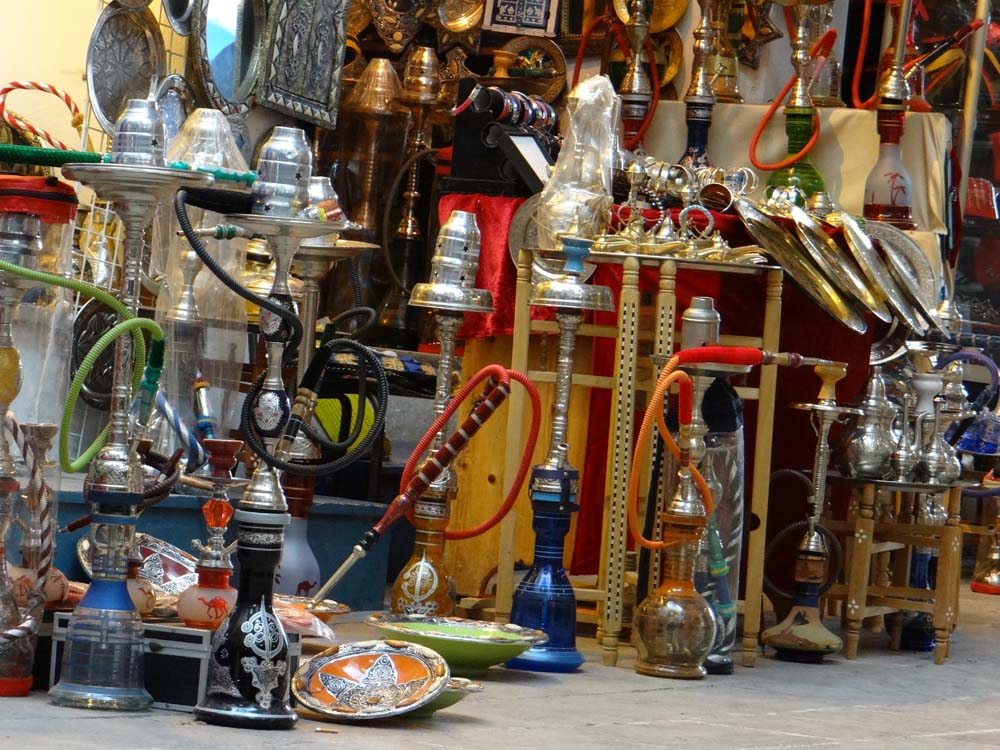 I managed a very decent Brian Blessed guffaw at a chap who tried the crappy 'don't you remember me from your hotel' scam (to which I replied 'no, since we're staying in the campsite, you fool', which he responded the way all the low-lifes of the world respond, zero embarrassment, just looking around for someone else to cheat). And with that we headed off into the back-streets, as the tat meter (did I mention they flog a boat load of tat here?) quickly dropped off to zero. We enjoyed a nice wander into reality.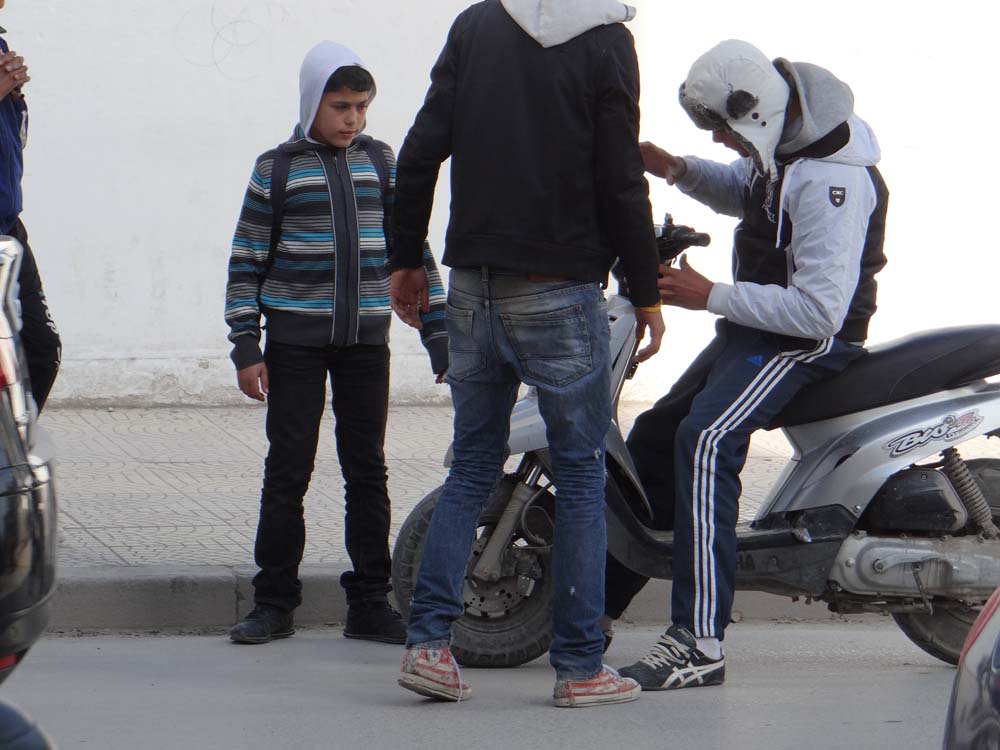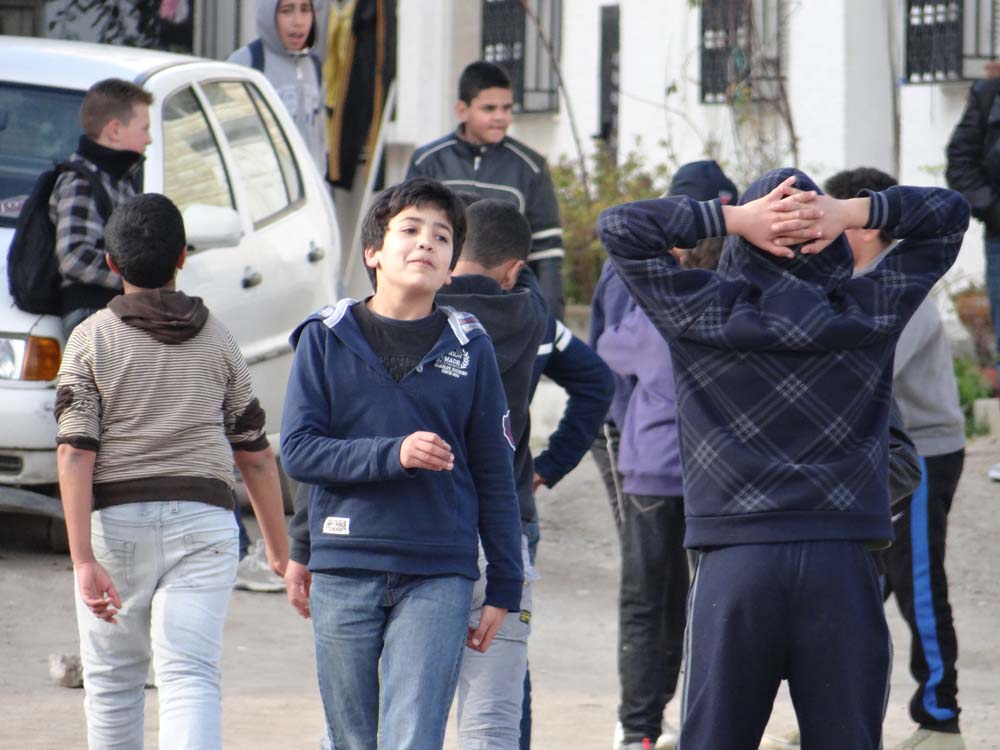 On the way out of town Ju tried the pottery shops, walking in, around and out of one without a seller appearing (Tunisian's seem to think crime has gone epidemic here, but stuff doesn't get nicked, we guess). In the next shop she found a door-blue bowl for €4, but all five copies of it were chipped and we gave it up as a bad job, heading back into Dave, cranking the heating up and cooking up more garlic-mince for tea. I can sniff it now, time to go. I'm now on a countdown to Europe (E-Day): it's E-3, we leave on Saturday.
By the way, they don't just sell pottery here, they decorate the roundabouts with it; my favourite's the second one!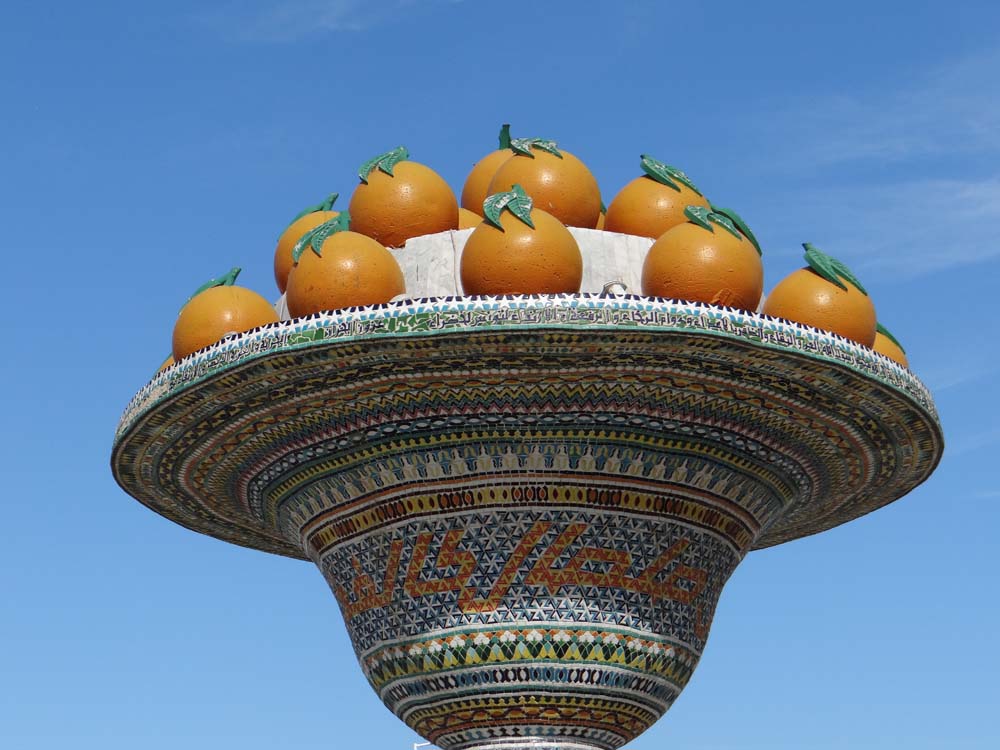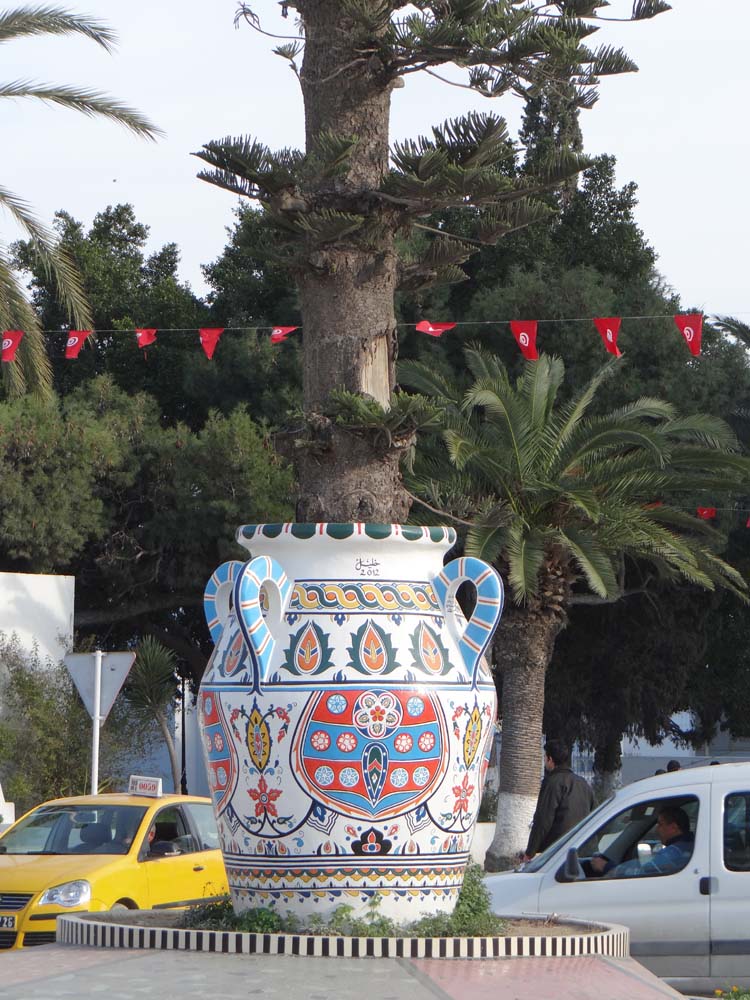 Cheers folks, Jay