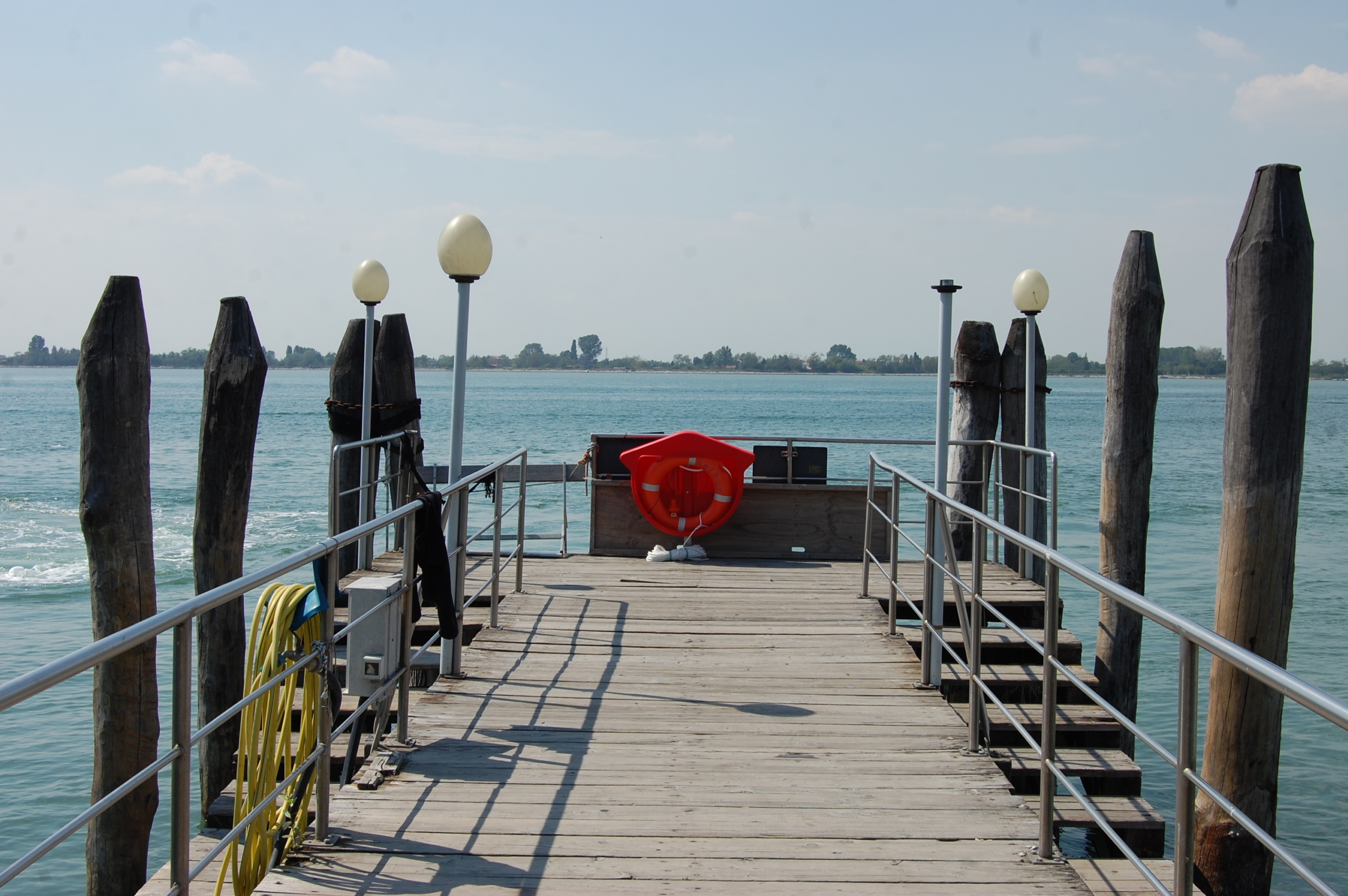 We're here: N45.44278 E12.42293. It's a very pleasant, grassy and secure motorhome campsite near Punta Sabbioni, a short walk and boat ride away from the city of Venice. It's €22 a night for 2 people, a motorhome, electricity and small dogs are allowed (Charlie was lifted into view and confirmed as 'yes' he's small). The showers look fabulous, I'm off for a cold one once I've written this.
The weather is: honking hot. A pharmacy sign read 32 degrees at 11:30am.
We bounced between a couple of motorhome dealers in Castelfranco Veneto this morning, on a quest to get a new door hinge for Dave. No dice. One was closed Mondays (we'd nipped to it on the way in yesterday, seen a big 'Open Mon to Fri' sign, but missed the small 'Closed Mon' one). The engineer at the other one, a big gregarious fella reminding me a bit of Hagrid, looked at it and told us to swap the hinges about, we think. He seemed to be saying 'hmmm, you'll be needing to buy that from Hymer'. All of this was in Italian, and our efforts to explain we 'Non Capsico, No Italiano' just had him trying various other Italian words, more slowly, none of which we understood. Deflated, I shook his hand and we set course for Venice. The door's still attached, we'll fix it another day.
The A roads brought us through farmland with low crops, unidentified types of trees and vines, interspersed with billboards and industrial units. The hills on the horizon started to sink below my wing mirrors; we're on the flatlands now. We'd decided to round in on Venice, travelling past it, up the north and then back down the peninsula we're currently sat on. In my mind's eye, I'd looked at the map and imagined driving the spit of land, with a view of the Adriatic sea on our left and Venice's islands to the right. Reality was a little more stark, the pensisula is a kilometre or two wide and all we could see were industrial docks on our right and not much on our left. Eventually we started to arrive 'somewhere' as the cyclist numbers increased, and a few guys started to wave at us hopefully, directing us into the car parks they were touting for. We cruised past them, feeling a little bad, even though we'd already decided to live it up a little here.
Another kilometre or two later and satanic (that should be 'satnav', it's a typo, but an apt one methinks) announces confidently 'you have reached your desitination'. As often occurs this is followed by us bending our necks in every direction trying to spot said destination. Not for long at this one though, a sign beckons us to drive 50m down a gravel path and here we are, chilling out in the heat. As usual, there are no other Brits around.
Despite being roasting, Charlie immediately took it upon himself to investigate the docks outside the site as soon as Dave became stationery. As I'm wandering along trying to avoid stepping on any of the scooting lizards, and staring at the huge barges carrying concrete mixer lorries and cranes, I spot a sign on the metal fence. It's not docks I'm staring at, it's the saviour of Venice! Maybe.
The sign was in Italian, but was clearly showing the work is part of the MOSE project to prevent the city flooding. Returning to Dave I've plunged into the t'Interweb to read up. I'm appalled. The project has been stop-starting since a flood killed 5000 people in 1966. A call for urgent action was raised, and it's taken until 2012 to get something in place. When I say 'in place', it should be finished but clearly isn't. There are stacks of industrial pipework, massive barges and cranes, silos and the like all assembled and shifting around on the dock and in the water. Latest estimate says 2014, assuming Italy doesn't go bankrupt by then. Until it's working, blocking the tide as it flows from the Adriatic into the Venice Lagoon, St Mark's Square will continue to flood around 100 times a year. I've read there is a siren which sounds in various ways depending on the expected flood level, so you can at least tell how far up your trouser leg the water is going to be! I've been involved in a few projects which have been dogged by poor decision making, weak sponsorship and changing political environments, but this is farcical on an epic scale. Critics even claim rising sea levels will quickly make the solution defunct.
We've had a wander over to the vaporetto (water bus) stop a few minute's walk from here to check out the times and costs for tomorrow (an €18 ticket each will give us 12 hours unlimited boating – Ju's thinking of just going round and round without stepping foot on the place). It's busier down at the quay, a few US and German tourists, but still pretty quiet. We bought an ice cream and were invited with Charlie to sit inside and look out over the lagoon. We had the place, and the distant silhouette view of Venice to ourselves as the boats smoothly slid along the docks, disgorged a few bright T shirts and churned their way off again to the city.
Little else to report, it's a waiting game now for the big event tomorrow and I can't wait. I'll kill time with above-mentioned shower and another plough through the several Venice pages in the Rough Guide to Italy (thanks Jon and Sue, it's proving rather handy).
Stop Press! :-) We wrote a letter to Practical Motorhome Magazine weeks back which has been published as the star letter in the June edition. Fame, fame at last! There's a copy of it below, for posterity. We also created a site dedicated to our Motorhome Morocco book – it's here if you fancy a look.
Cheers! Jay
The Star Letter? It's like being back at school. Anyone else remember demerits?