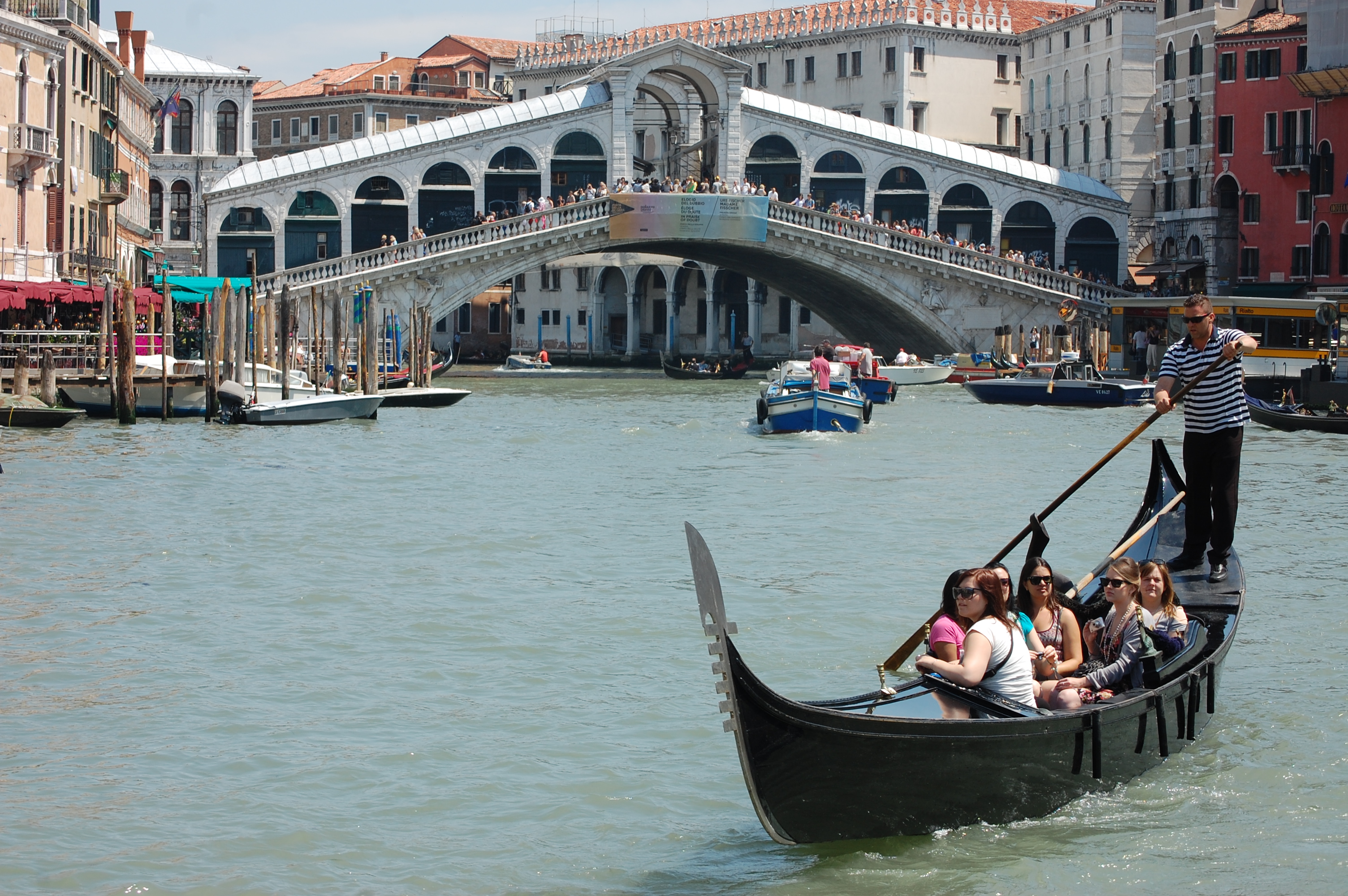 We're still on the farm campsite Al Bateo near Punta Sabbioni.
Weather: warm and sunny – perfect sightseeing weather
This morning Jay went for a shower and the earth moved for me – literally. I thought he was outside wobbling Dave for a laugh, but sadly it was another earthquake here in Northern Italy. We're quite a bit away from it so everything around here is fine, Jay didn't even notice in the shower block. But Dave having super soft suspension rocked for a good 10 seconds or so – Charlie as usual slept through it.
We set off at 10am for the ferry over to Venice, we only had to walk 300m to it, but we walk slowly and the ferry was bang on time so we missed it by a few seconds. We bought our 12hr unlimited travel passes for €18 each (Charlie was free) and assumed position at the front of the 'queue' for the next ferry in 30 mins, the 'queue' being a Ryanair elbows out affair – luckily I'm au fait with such procedures and secured us some prime seats outside at the back. We sailed past the building site that is the monster sized MOSE project to hold back the sea and stop Venice flooding, and soon the buildings underneath the towers we could see from Punta Sabbioni came into sight.
We'd both seen it in numerous films, but nothing can prepare you for when you actually see the city of bridges/canals – depending on who you talk to – yourself. I could spend all day sitting on the ferry or by the water watching what was happening on the water. Huge cruise ships escorted by tugs at either end shares the same space as gondolas, delivery boats, water taxi's and the vaporetti (plural for vaporetto aparently). They danced around each other in seeming chaos, but as none of them made contact (just) there must have been some organisation to it. Once we docked we set off on foot straight into the back streets, here we had little  alleyways to ourselves. We stood on a bridge and watched a gondola go under us, to our left was the bridge on the main drag packed full, to our right two other bridges both empty. We knew we'd have to face the crowds to see a couple of the sights, but our day would be mainly spent enjoying our own Venice far from the crowds.
Aiming for St Marks Square (and missing by quite a bit) we spot the stop for the number one vaporetto line with a boat approaching, so we hop on. I get a seat, Charlie positions himself under it and promptly falls asleep (well he'd had a busy morning) and Jay leans out of the window above me and takes pictures. The number one stops at pretty much every stop along the Grand Canal, so we have plenty of time to take in the sights. We get off at Piazzale Roma after reading about a good viewing point there. Good, meaning free and dog friendly, finds us at the top of the car park looking out across the rooftops and canals. To our left we can see the bridge that brings the cars and trains to the city, and to our right is the land of the boat. Signs all around the car park ask you to leave your keys in your vehicle, as a man on the rooftop directs cars into the last few double parking spaces available. Back on the ground we stop under the Venice People Mover (a rope operated mono-rail type thing) where the nice planning people have lined a wide alley with fragrant flowers and benches – ideal for a snack to fuel us along.
Once fed and watered we get on the next vaporetto to pass which takes us around the outside of the main island and to Isola San Michele which is contains Venice's cemetery. It was chosen in 1807 to become a cemetery as it was thought to be unsanitary to bury the dead on the main islands. So, they're all here in this island of the dead. Some have little houses for the family, others tombstones, and some are even stacked up like in apartment blocks – a most strange place indeed. Charlie wasn't allowed to visit (probably for fear of him trying to make off with a bone or two) so we took it in turns to sit outside with him in the sunshine.
Next we sailed over to Murano, famous for its glass making – as one guy we met said 'you'll never need to buy glass again once you've been there'. Pretty much anything that could be made from glass was there, including a life-sized statue of Charlie Chaplain! Some of the pieces were beautiful, some were minging – or maybe just not my taste. Being in Dave meant buying a vase or anything big as a memento was a no-no, so I settled on a small necklace for the princely sum of €3 – last of the big spenders.
Another vaporetto (well we needed to get our moneys worth) and we're back at St Mark Square again. This time we make it into the square and marvel that the queues to go into the Basilica. We spent the next few hours strolling around more of the back streets, having sandwiches and cake in a small cafe that would let Charlie in, walking across the Ponte di Rialto, and finally listening to a gondolier singing the cornetto song. That was all we needed, Venice was done. People will say what about all the art galleries, churches and other sights to see? Not for us, we enjoyed what we saw and are all shattered after several hours of sightseeing.
Charlie slept on the ferry all the way back and we're now back in Dave with the fly screens down to keep out the mosquitoes – as the day progressed we saw more and more of the bitey things and I've already got several bites on my leg – grrr. Jay's on the wine and in the kitchen, Charlie is fast asleep again and we can hear thunder in the distance, there's a storm on the way. We've all had a great day and have taken far too many photos, so no apologies about the number of them below, as they are but a fraction of what we've taken.
Ju x