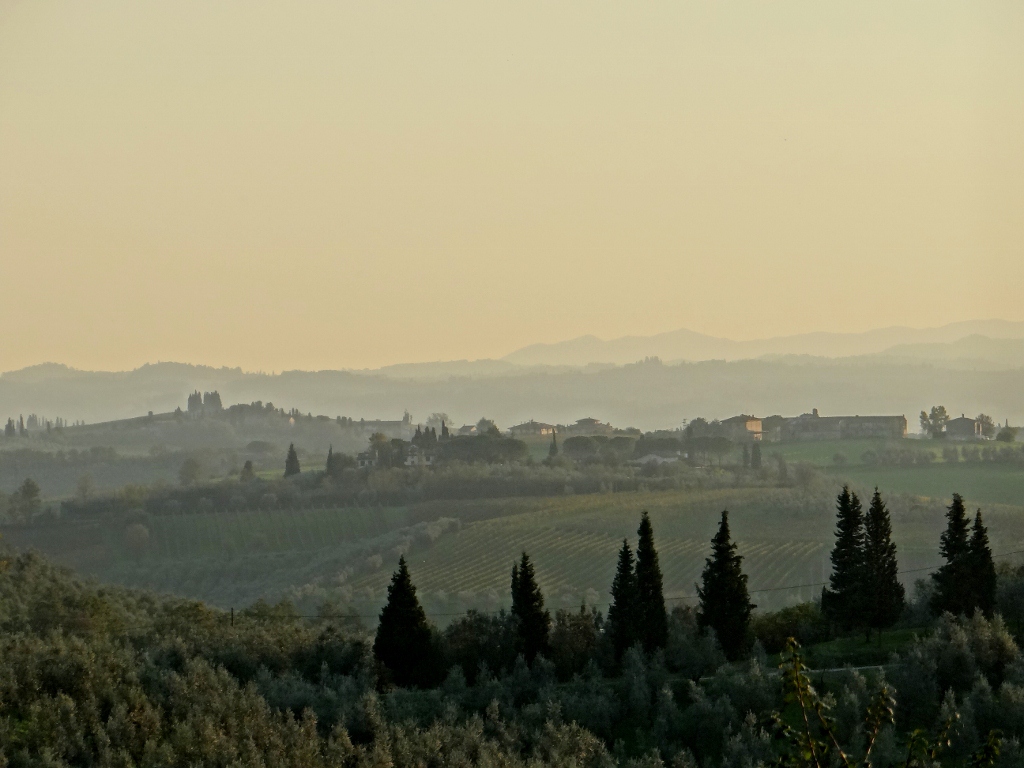 Dave the motorhome is parked up all on his lonesome in the free sosta (N43.78087 E10.92843) in Vinci – yes, of the Leonardo fame – but more of that in a bit!
We still haven't got quite into Italian timings for things. Shops, petrol stations and other essentials close for up to three hours at lunchtime, they then stay open until 7pm. Food isn't eaten until around 10pm and noise levels remain high until well after midnight. So, by eating our tea at 6.30pm (we tried to wait later but were too hungry) we had several hours to kill before the designated earliest feel it is acceptable to head for bed – 10pm. We'd walked miles around Pisa in the day, so plans to return and see the tower lit at night were shelved. Instead the last episodes of The Inbetweeners were watched – we'll just have to wait until we get home to see the movie – before we hit the sack. Our Italian neighbours, being on very different body clocks, decided 10 minutes later to start their engine and rev it for around 20 minutes. Jay grumbled something about them using it to power their TV to watch the football, but with their reflective screens blocking all windows we'll never know what they were up to.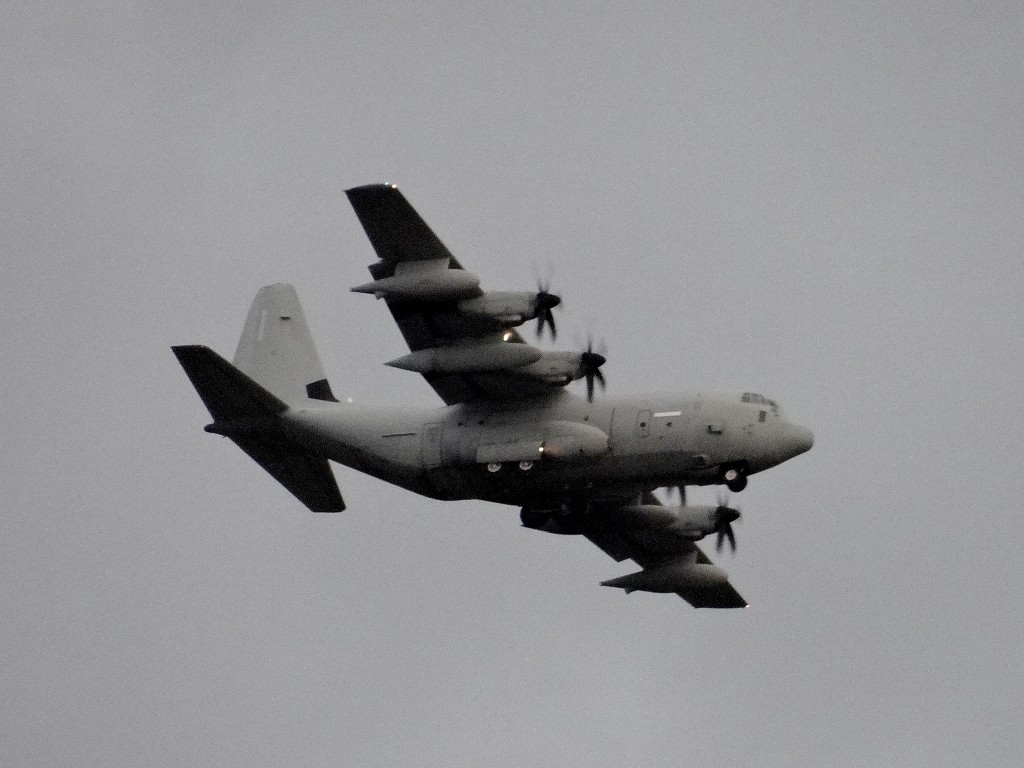 To accompany the engine the local airport stepped up a gear, propeller planes flew in low at a regular rate. Charlie joined in with yelping whimpers whenever he moved in his bed – it looks like he might have pulled a muscle, or it could be his age – but all the walking and sightseeing of the day soon had us fast asleep. Until 7am, when next door started up their engine again – grrr!
We manage to drive a kilometre to the nearby Carrefour supermarket on the hunt for silicon to seal a crack in the shower tray. I'm on edge as we turn into the one way, single lane, high-sided lane that is the entrance, ahead of us a mass of height barriers, then a reprieve – a camper parking sign. We follow it past the height barriers to a sosta for around 30 motorhomes. There are two French vans at the far end, so we join them. A quick cheeky check that the electrical sockets aren't working – well it was worth a try – before we look closer at the faded sign by the entrance. No parking between 10pm and 8am. We couldn't have stopped here overnight, but could have spent the day in Pisa then moved on. We'll have to add it to our database of places to park. It was around 2km flat walk to the tower and free – if you're planning to visit and don't want to stop the night the co-ordinates are (N43.72415,E10.41972).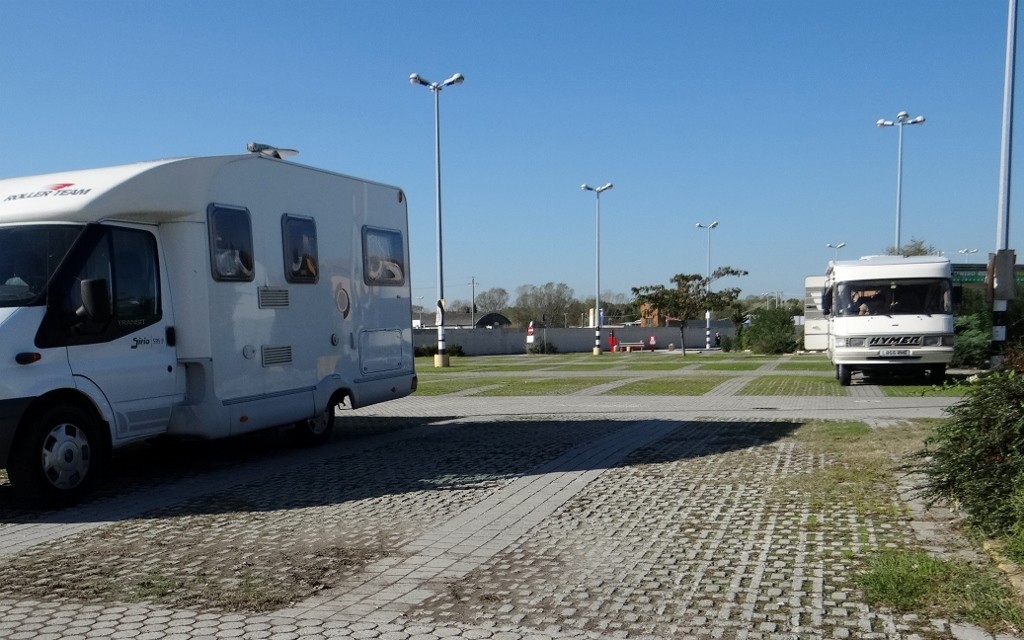 On our kilometre drive we passed a ferramenta (ironmonger to us Brits) so we walked back to pick up the silicon from there. Next to it is a pet store so I try to buy some worming tablets for Charlie only to be told I need to get a prescription from a vet then buy it from a pharmacy. Not too sure if something was lost in translation, so might try a pharmacist before a vets, after all there are usually least two pharmacies in every town! The only other thing we are need is diesel, and despite the direction sign for Carrefour displaying a petrol pump, there wasn't one to be seen anywhere so we head off and pull into the first station we see.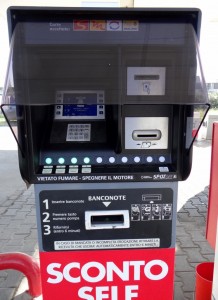 By now it's 12.30 and the shutters are coming down for lunch. The forecourt attendant heads in our direction, even though we've parked in the self-service side (we don't like Italian petrol stations, they're very expensive and very confusing – discounts if you self serve, but you need to get the right set of pumps) he points at the self serve machine and heads off for his lunch. Oh no, one of the dreaded 'I refuse to take any card you have English person' machines, but wait this one is bank notes only – nice! I hand Jay our last €50 note and off he goes to try and fathom out the instructions. All seems good, our pump shows €50, but won't dispense any precious liquid. By now a woman is using the machine for her pump and had stuck in €20, which is added to our pump – looks like a missed a button somewhere! I hand over our last €20 note, counting our blessings that we had enough to pay her and making a mental note to go to a cashpoint. Soon the motion lotion is flowing into Dave, making him happy.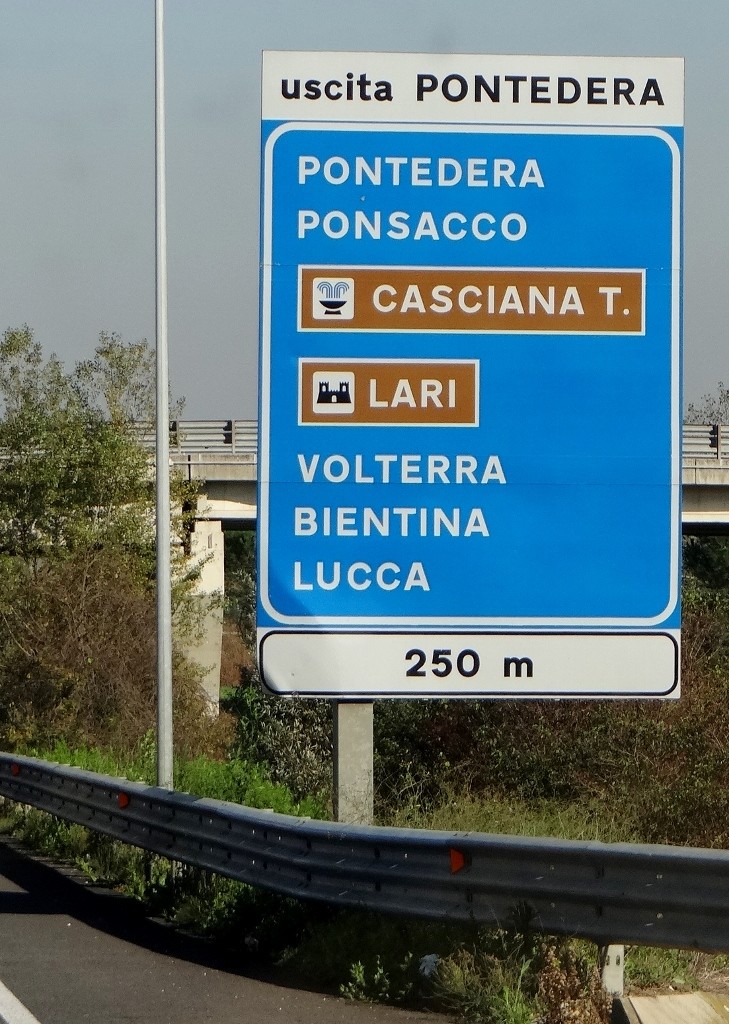 We're aiming for the hilltop town of San Miniato. Satnav is desperate to take us there using the fastest route possible, even if it involves going through an aqueduct. The Medici Aqueduct of Asciano is around 6km long, with over 900 arches, so, you would think the authorities would pick either a break in it or a broken arch to direct the flow of traffic through it? No. Instead they put scaffolding across the curve of the arch and sign post a 2m 80 height restriction, lower than Dave. In a panic we turn left at the traffic lights, much to the bemusement of a driver going in the opposite direction. who pops through the arch with a plan to go straight on – but that was all he was, bemused, no shouting or horn honking to let us know he'd nearly gone into the side of us.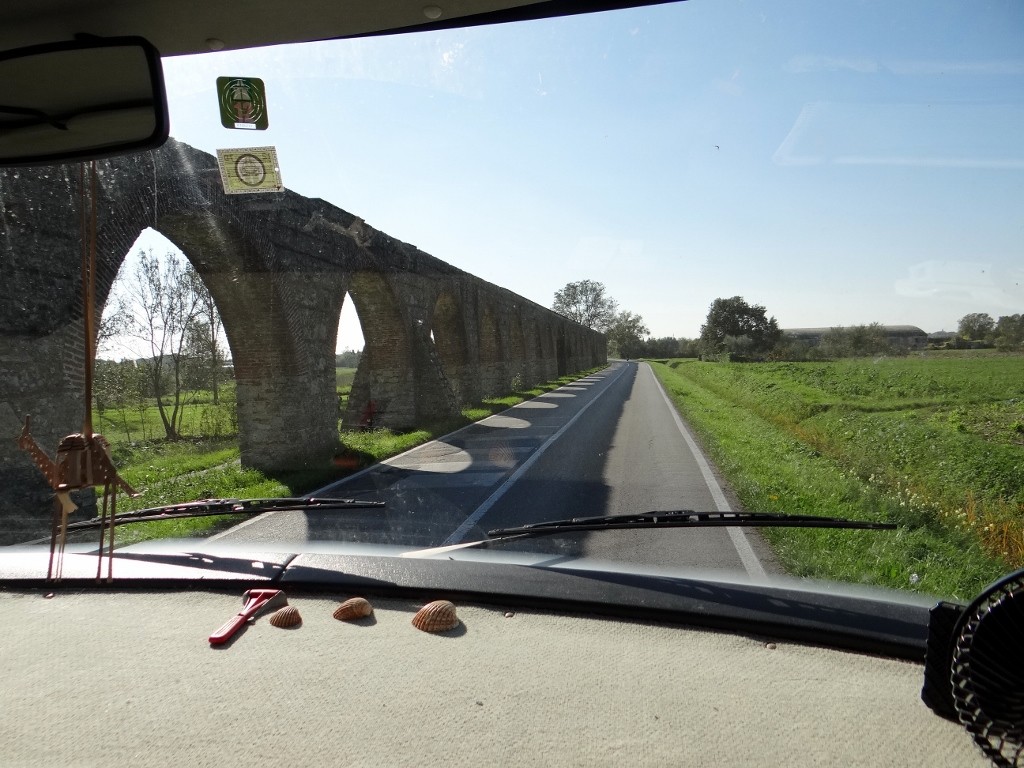 We follow the straight road until the arches finally end, with Charlie squealing/yelping all the way trying to get comfortable in his bed. At Satnav's request we 'turn around where possible', before following the arches all the way to the other end. Finally escaping from their watery grip onto the catchy titled Fi-Pi-Li dual carriageway.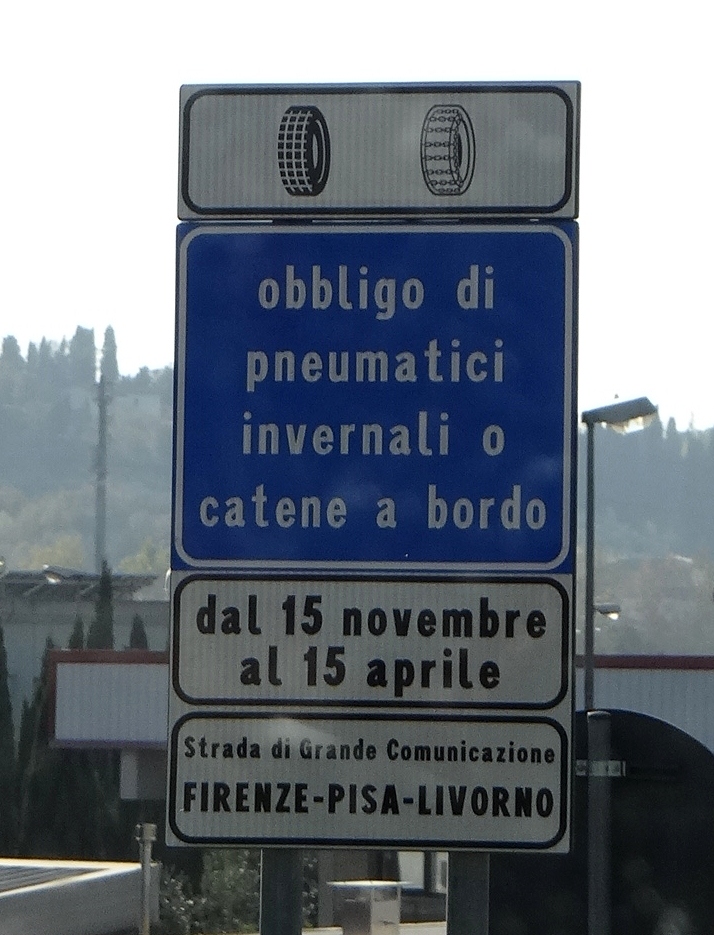 A lovely, if slightly bumpy, strip of dual carriageway whisks us to San Miniato. We drive through the lower town and then head up towards the hillside old town. A sign telling of a 2m width restriction at the top worries us. Dave is 2.22m, but we don't know if that's with or without his sticking out ear-like wing mirrors – we really should measure him! Stopping on the winding hill Jay nips out to investigate while Charlie happily munches his dinner (whatever is wrong with him isn't upsetting his appetite). Jay returns and the decision is made, it looks steep and narrow up ahead and we really don't fancy getting stuck. So after a nifty five point turn on a nice steep stretch of hill we take the reverse side of the hairpin bends back to safety.
Reaching Vinci we have the sosta to ourselves and it's free. It's the birthplace of Leonardo Da Vinci (the town not the sosta – at least I hope not!) and has a museum which contains models and information taken from his notebooks. The sun was shining, not good museum weather. So a walk in the beautiful countryside was called for, minus Charlie who is on bed rest (that's what we had to do last time he pulled a muscle). The bathroom floor has been sealed and tomorrow we hit the museum. Fingers crossed broken pooch will be feeling a bit better by then too.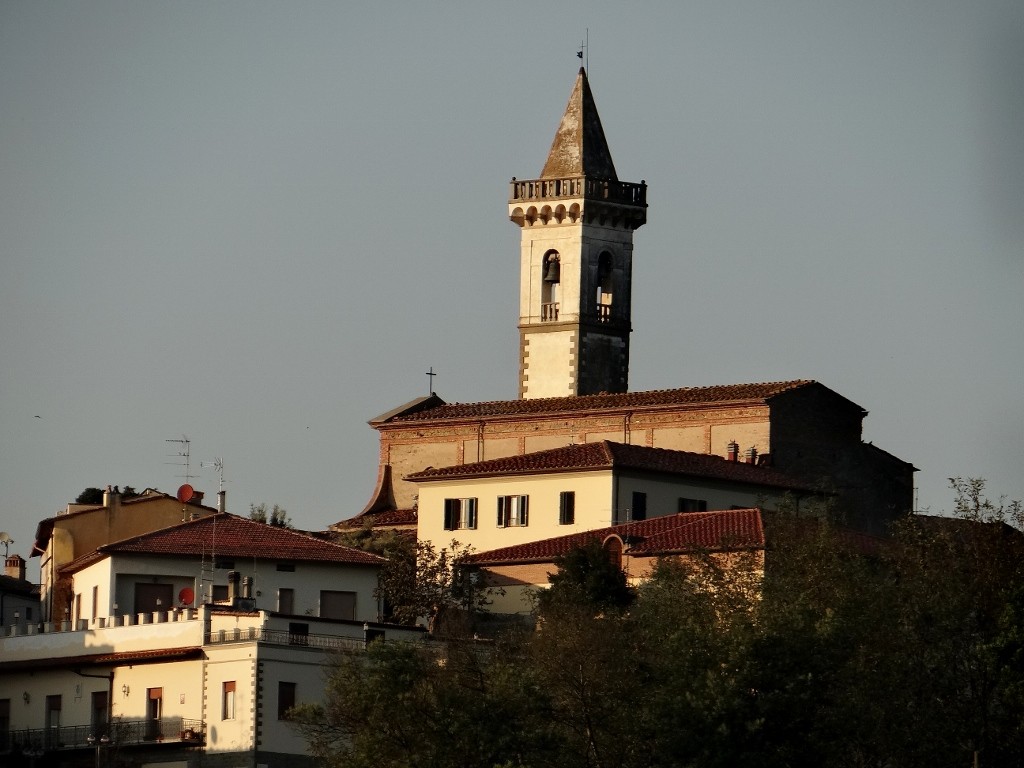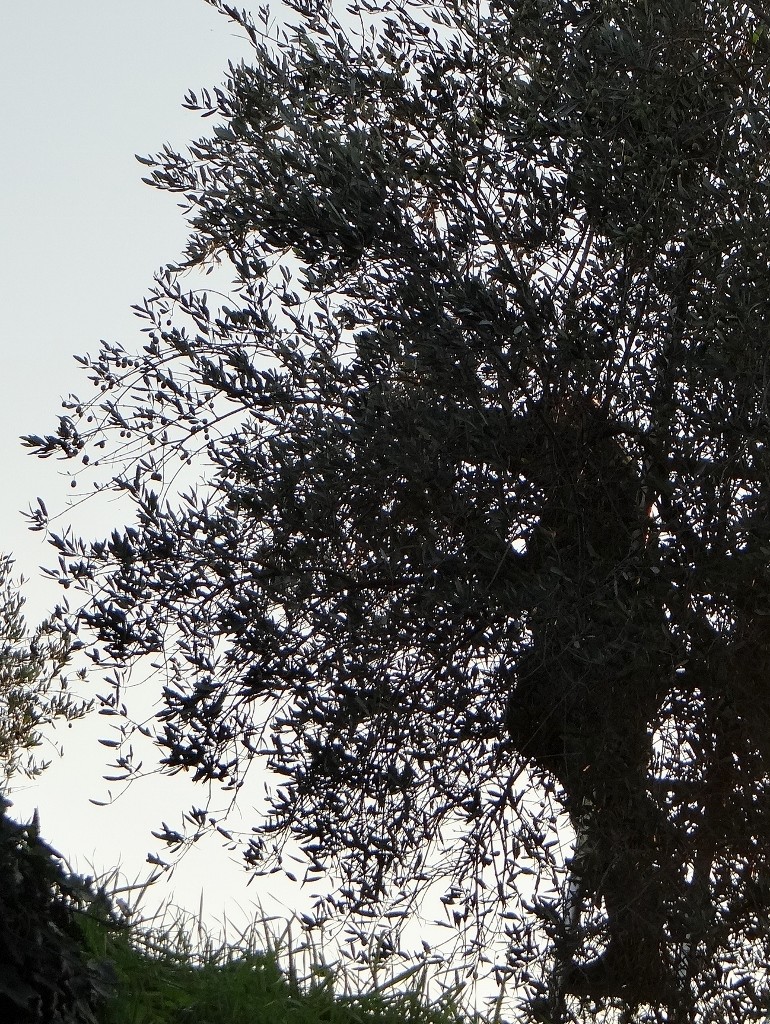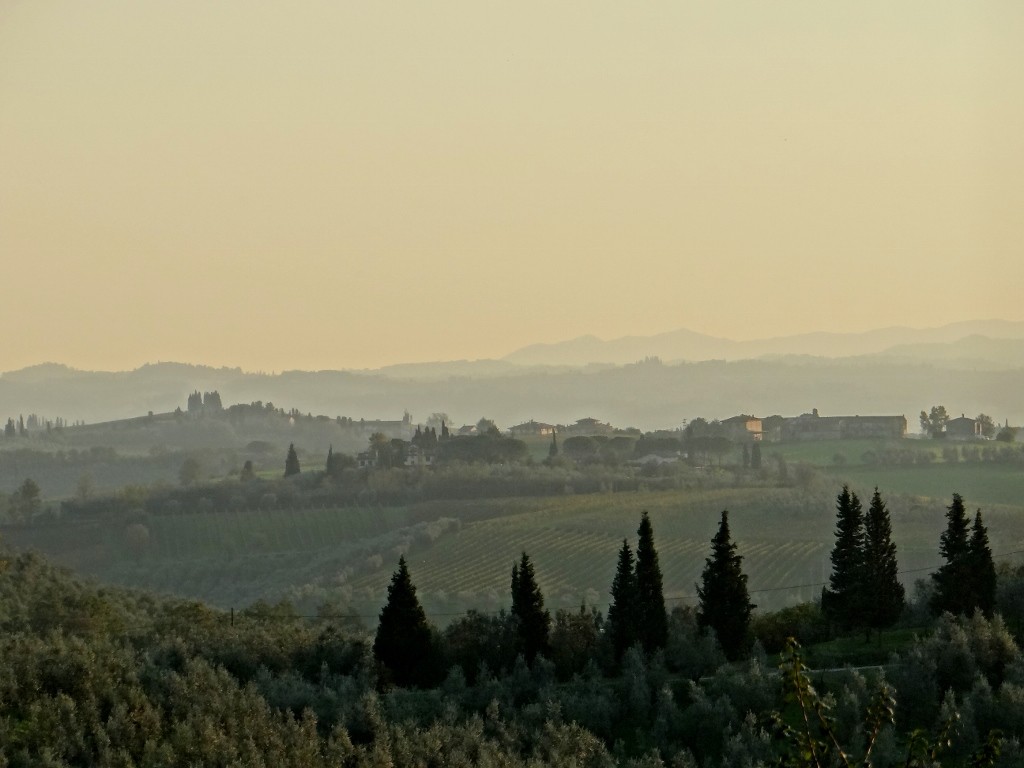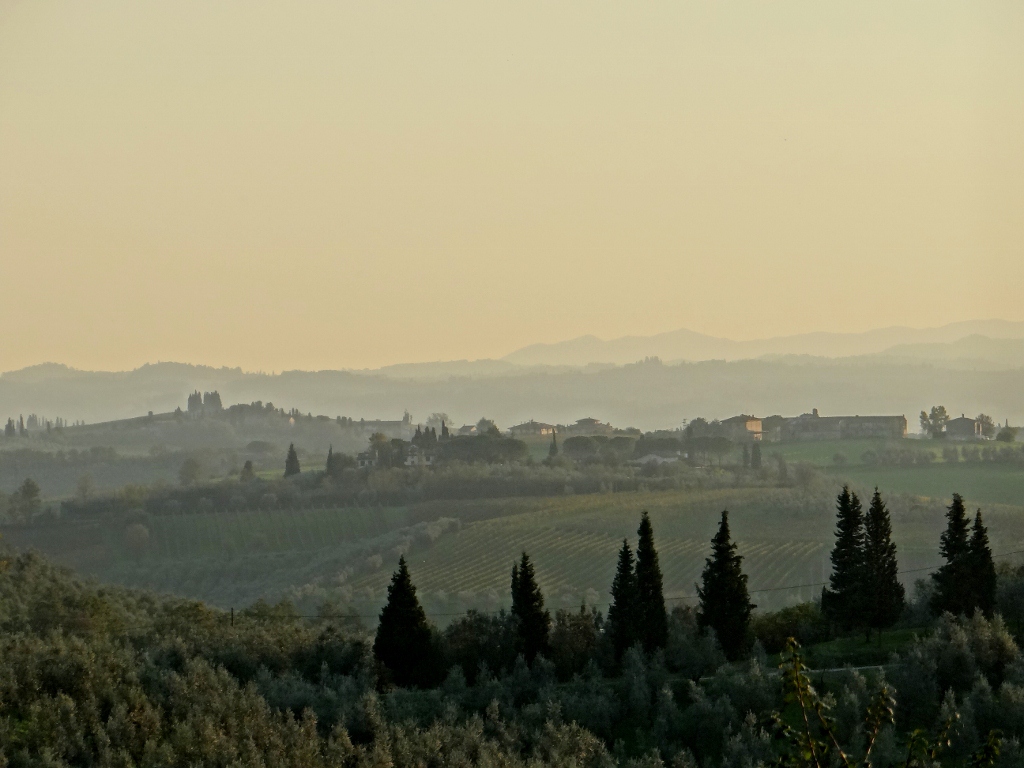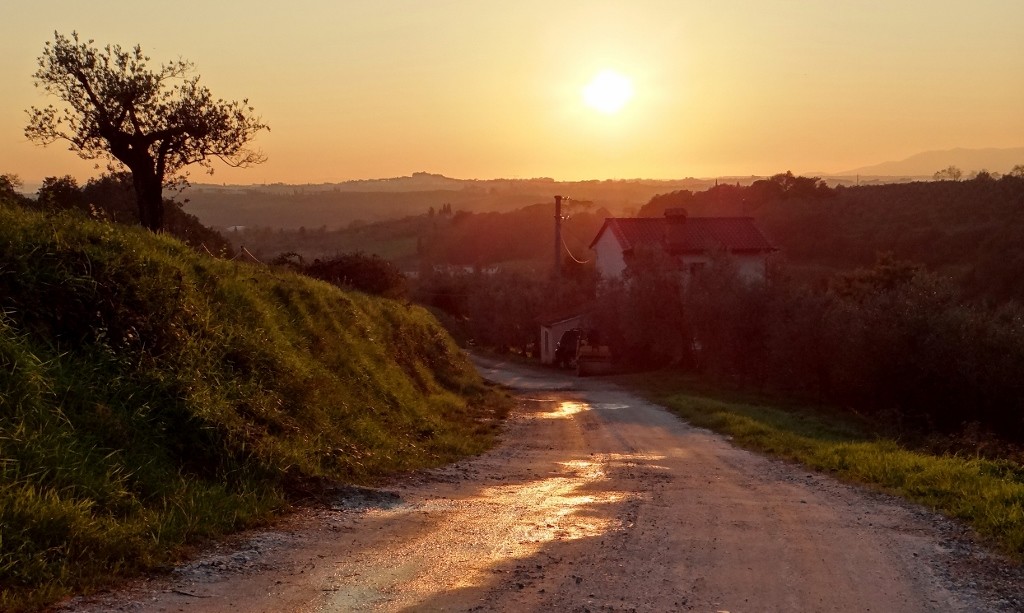 Ju x