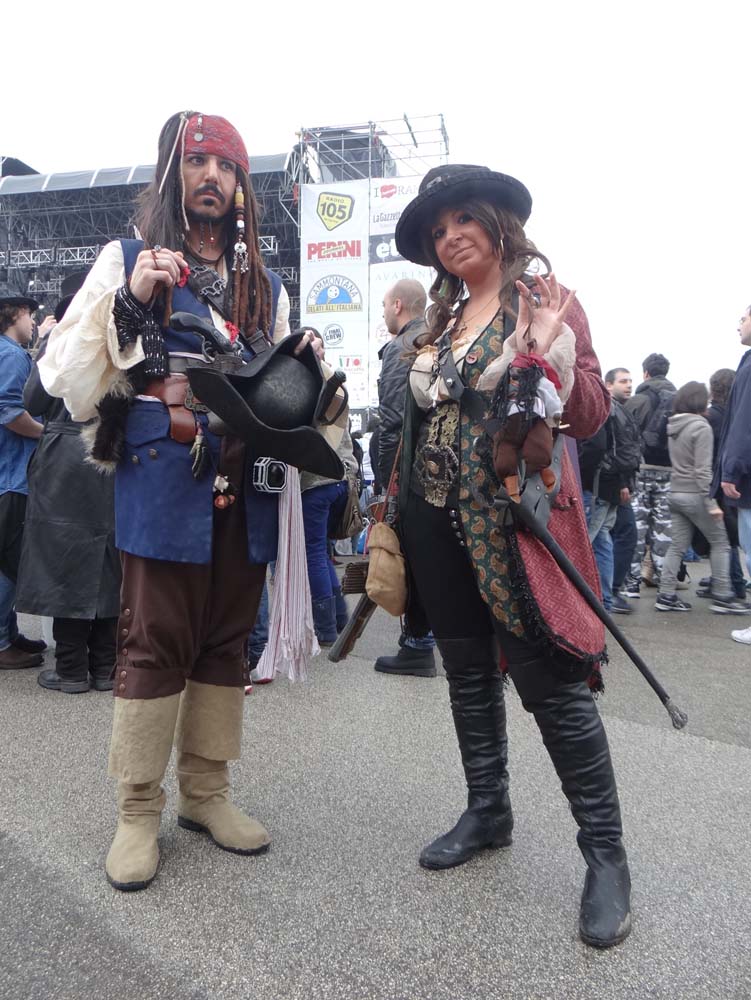 Dave the motorhome is a legal alien, parked in the official sosta at Lucca (N43.83966 E10.48798), surrounded by a dwindling crowd of Italian motorhomes. It's €10 per 24 hours, great value for easy access to beautiful Lucca and we'd happily pay far more after last night.
Our short stint down the coast yesterday had brought us into Tuscany, although we didn't spot any signs welcoming us in. I started to read Under the Tuscan sun before losing interest a little at the style of it, and popping it into a corner for later consumption. The few pages I did read, coupled with TV images of gleaming travel reporters and gushing chefs, painted the picture. Sunshine, rolling hills, crumbling farmhouses, vineyards and probably a fair few Brit registered Range Rovers. It's fair to say that the northern Tuscan coast more closely resembles Blackpool than this idyll. Despite having a wonderful broad beach backed by alpine mountains, the man-made strip between the two has well and truly ruined mother nature's canvas.
On the other hand, we could park up for free within meters of the sea, who cares about a never-ending line of mothballed, tacky restaurants? Oops. They're not mothballed we discovered last night as we found our deathly quiet strip of car park emerge from its Saturday afternoon crysallis into the bright, banging lights of a car-packed, Peroni-fuelled butterfly. I had a wander around at 1am, still not quite believing the place had flipped from Bognor to Vegas within a few hours.
Eventually we slept, not that the delay mattered much to us, we can just lie in. Come something-o'clock in the morning darkness there's a knock on the van. Then another. A third knock is followed by a loud 'Hallo?'. Ah, must be the police. We shuffled out of bed, and I (school boy error) opened the door. Nothing. Ju opens the curtains (a better idea) and scans around. No-one. Unnerved, we lay awake for a while speculating. Maybe just drunk, or someone checking the van was occupied and deciding to hide in the dune behind us when we lumbered out. I half expected Dave to be sporting a fetching bit of graffiti this morning, but all was good, we were back in Bognor.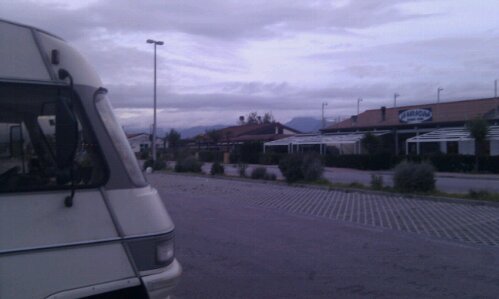 Turns out the town nearby had been the scene of one of Italy's worse train disasters. A freight train pulling LPG-filled wagons derailed in the town's station, exploding some of the tanks, and killing a fair few innocents asleep in nearby houses, poor folks.
With that in mind we set off hunting LPG on our way here, down to the dregs we needed gas to keep the fridge cool and ensure a continuous supply of cuppas. Most petrol stations don't sell the stuff, but Ju spotted one which did, and also had a small queue of Fiats filling up with Methane. At about €1 a litre, the bilingual attendant told us lots of cars use Methane, but they're slow. He also taught us the Italian for 'full' which sounds exactly like 'piano'.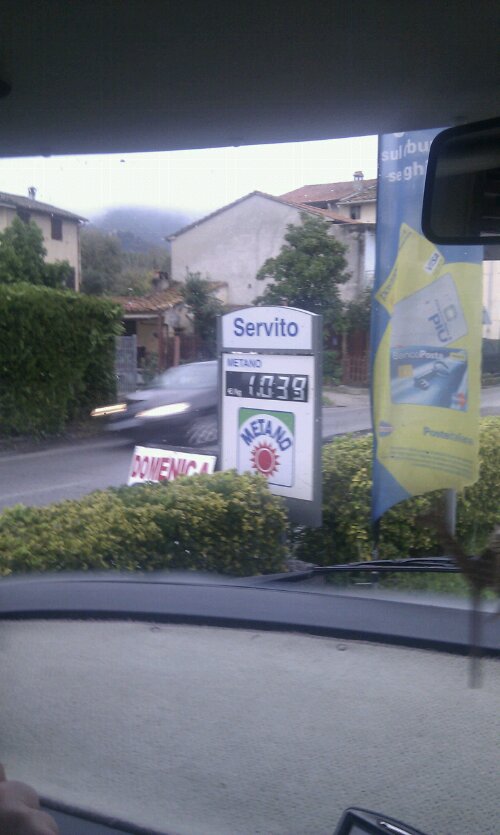 A few folks have recommended Lucca, a small town about 20 minute inland via the twisting hill road. On the stilts and tunnels toll it probably takes about 5 minutes, but that's no fun. Going that way would have deprived Dave's horn of a good airing, as a couple of locals kept my reactions sharp, pulling out directly into our side.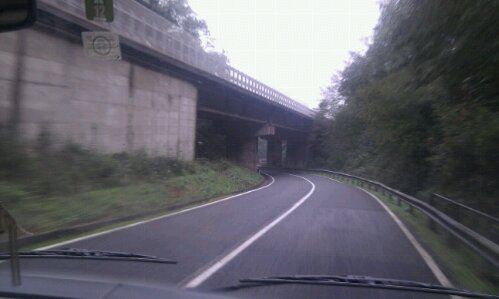 The first sign of the sosta was a huddle of Italian motorhomes parked up outside. Others are parked in the 2m height barrier car park behind, presumably it's been removed. Italians, we're finding, like paying to park even less than us. As we walked back from town just now we passed tens, maybe hundreds of cars parked on pavements, each plastered with a parking ticket.
Huh? Hundreds of cars? In a European town, a Catholic one, on a Sunday? What's going on, have we finally arrived somewhere to coincide with something happening. Oh yeah! It's only the Lucca 2012 Comics and Games festival, and it's HUGE, taking over most of the medieval walled town. An expected rain-threatened wander around quiet streets and churches turned into a spot-the-character fest. Thousands walked the streets, a good number of them in stunningly realistic costumes. Captain Jack Sparrow was even in character, prancing about as I tapped him on the shoulder for a photo. The tables are turned for the photographer here, pointing a camera in the vague direction of anyone dressed up has them acting up for you, these guys love the attention, and we loved giving it, snapping hundreds of photos.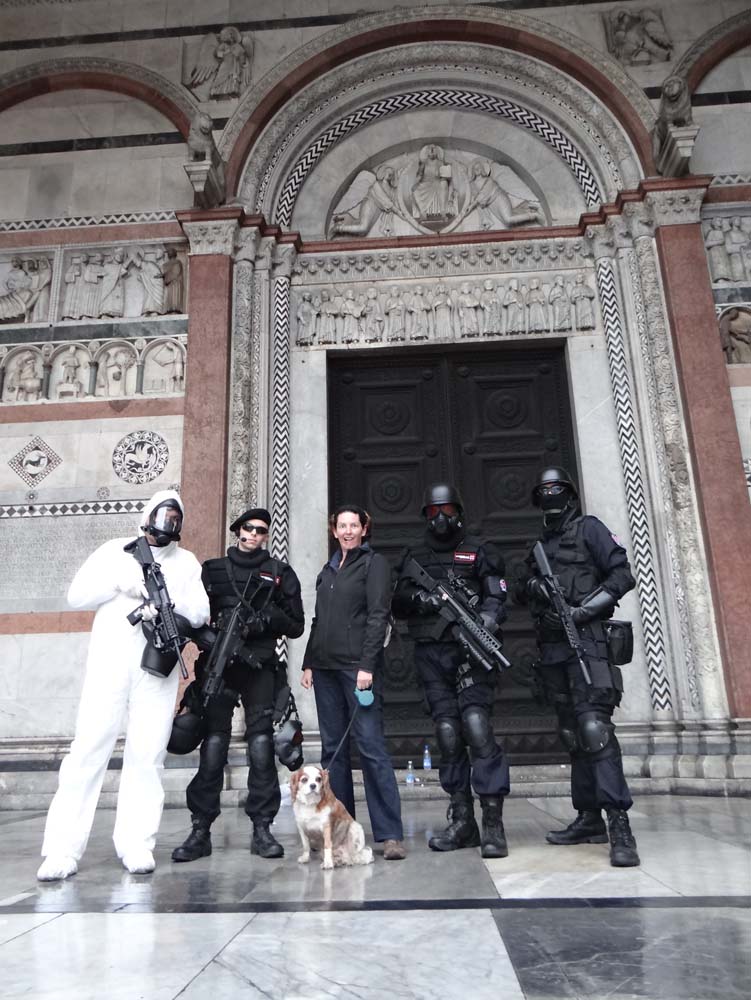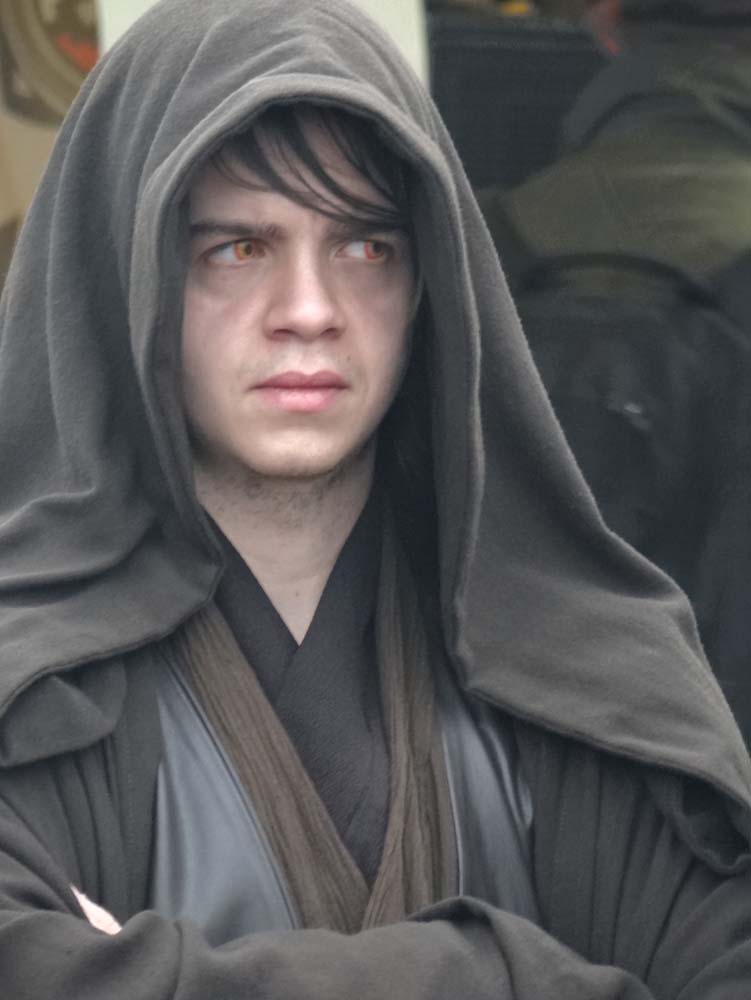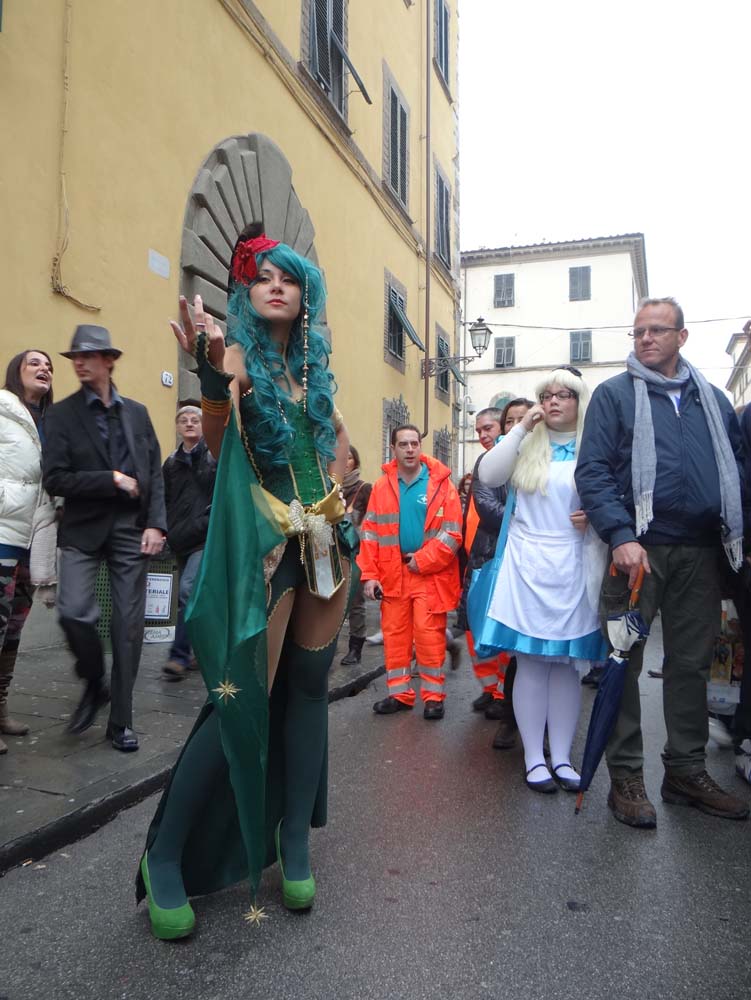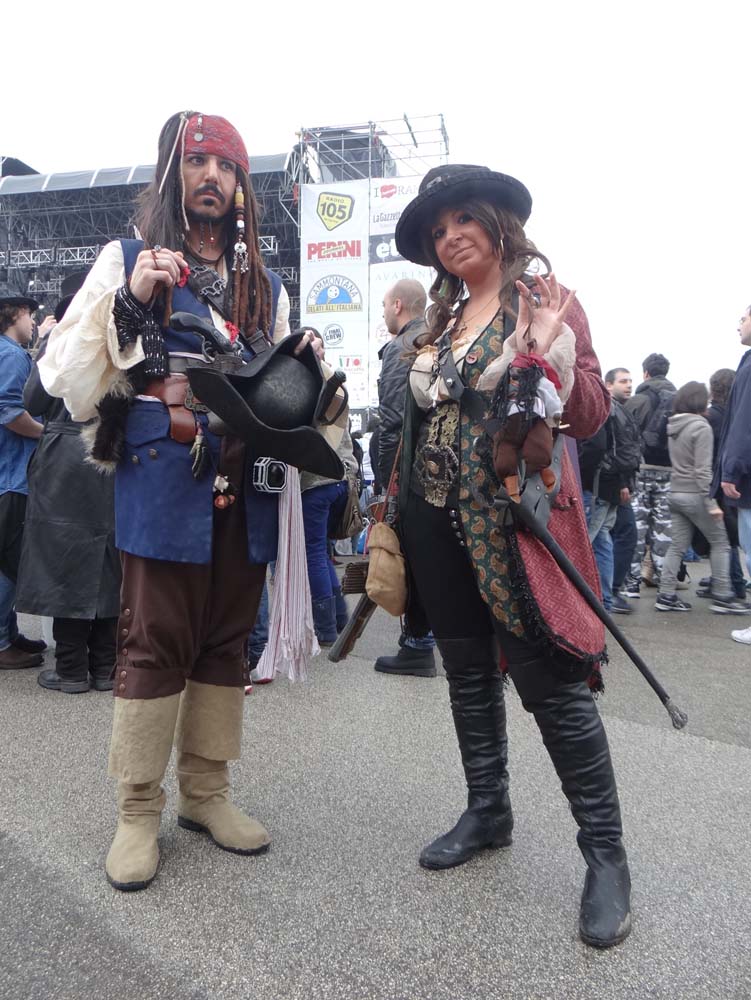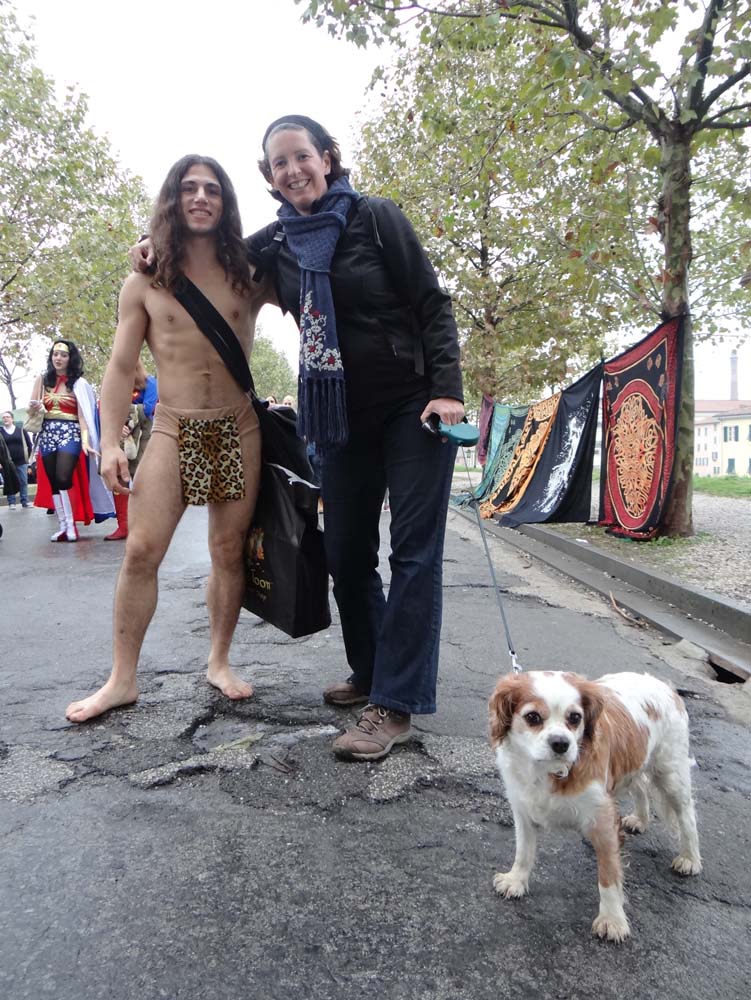 With the exception of a few minutes in the Duomo, Lucca's ancient streets and buildings have managed to grab all of none of our attention today. It was hard to stare at walls when you're being whistled out of the way to allow Darth Vader and a procession of storm troopers through.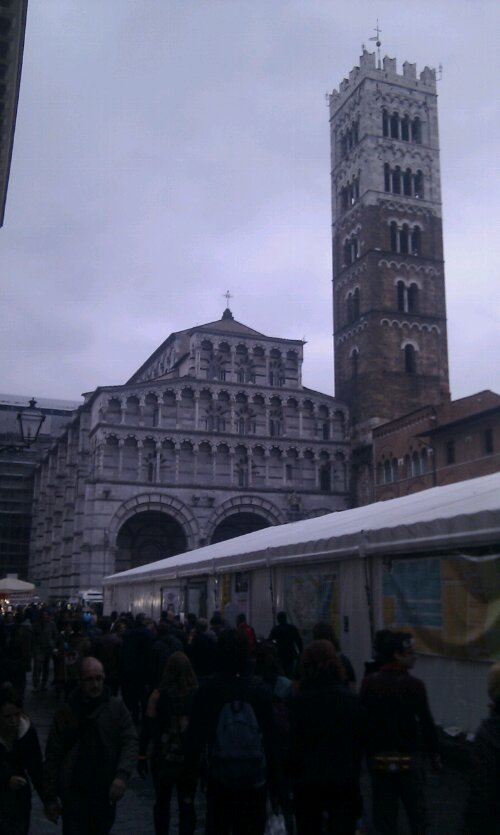 Charlie, of course, hated all of this. Small scenes were being acted out here and there, one involved group of black ops fellas and their blank bullet shots had the furry one scampering for cover. A pretty much constant stream of coos and strokes from passers by didn't help calm him so we eventually quit, just as the heavens cracked open, to the delight of an army of umbrella salesmen.
Sat in Dave the music from the enormous stage where we'd seen a bunch of 'we have no idea which super hero you are' guys acting out a scene earlier, pulling laughter and applause from around our confused faces. We'll grab some grub and go see the finale, the fun officially ends tonight. Charlie has requested to stay here, warm and dry, and devoid of Batmen. Oh, and despite the thousands of costumed folks, we've sadly not seen a single Banana Man, what's the world coming to?
Cheers! Jay
P.S. Like seeing two Santa's side by side, seeing two Batmen having a chat is just wrong. My illusions are shattered.