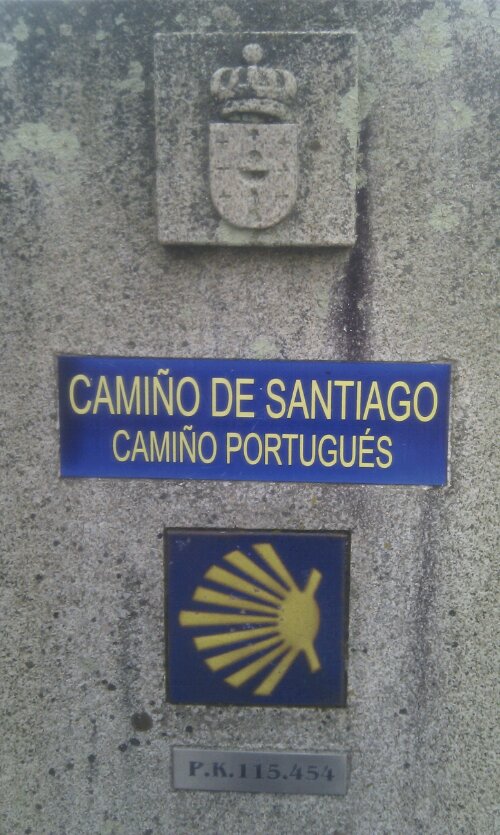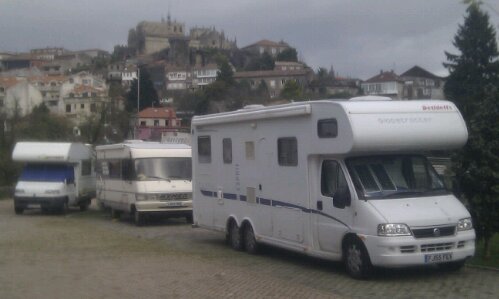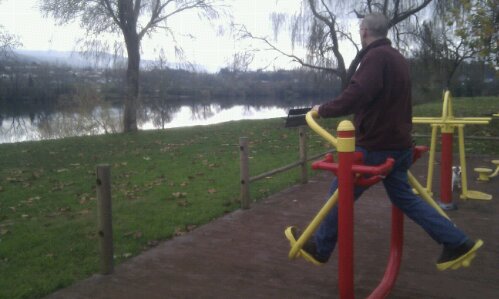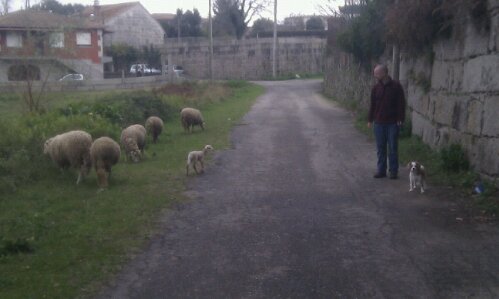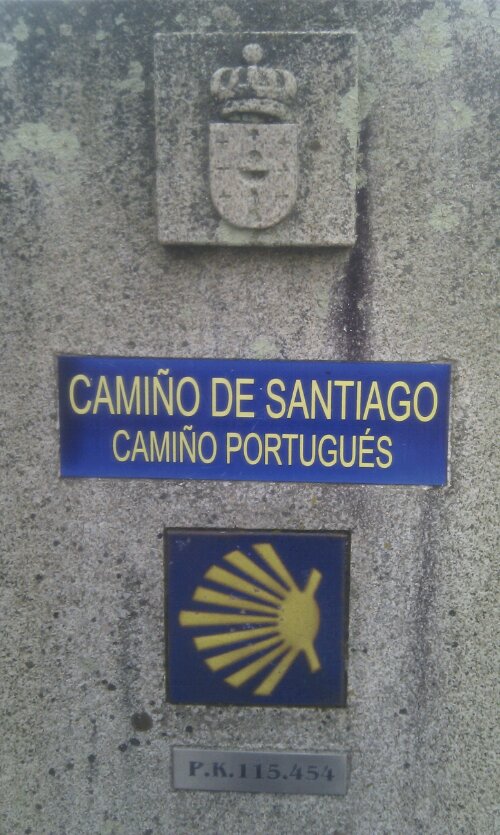 We're here N42.04337 W8.64619
Weather – cloudy with occasional light rain
We slept quite well last night considering we were both nervous about our wild camping spot. It was chilly as we were quite high up, but we were snug in bed with Charlie in his sleeping bag and it meant we woke up to a great view in the morning.
J's been thinking about shaving his head for a while, and there would be no better place than where we were, so out came the clippers and I did the deed. We then left the old J by the side of the road (there wasn't much once the wind had blown a bit) and headed for Tui, our last stop before we enter Portugal.
All the motorway signs were lit up. We couldn't understand them but suspect it's information about the new toll system that's recently been introduced in Portugal – might have to nip to tourist info to get all the details, or stay off the toll roads. We reached the Aire at Tui, which has space for 3 vans under 6m, to find one big British van parked across two of the spaces, so we squeezed in making sure we had room to manoeuvre in case we were blocked in by some of the crazy Spanish parking we've been witness to. Once we were parked up we secured Dave (and closed all of the curtains) and headed off for a walk around the town.
We could see the fort-like cathedral from the Aire, so we headed up to it assuming we'd find a tourist info place to grab a map before siesta time. No such luck, we couldn't see signs of any life or shops, so made our way down towards the river and went for a walk along there (and a play on the gym equipment). We're still seeing signs for the Camino de Santiago, it looks like there are routes all across Spain. Over the river is Portugal, so close that we can hear the church bells, and on top of the hill opposite sits another fort like building – a reminder that Spain and Portugal haven't always got on.
Unable to find the town centre we found ourselves back at the Aire and just across the road were some sheep roaming free. Among them was a new born lamb, so we figured the winters can't be that harsh around here – although J's freshly shaven head thought otherwise. A bite to eat and a hat later, we set off again and this time found the tourist info housed in an impressive old building which looked to have been rejuvenated with EU funding. It was closed but a notice with an arrow and some words we couldn't decipher was in the window. So, we followed it to the municipal tourist office in the main square – housed in a shed, quite a comedown. We got a map and were shown the highlights – the cathedral and a river walk, so it seems we've done Tui.
Tonight we're planning what to do and where to go in Portugal and tomorrow we might have a walk over the bridge into another country, because we can!
Ju x