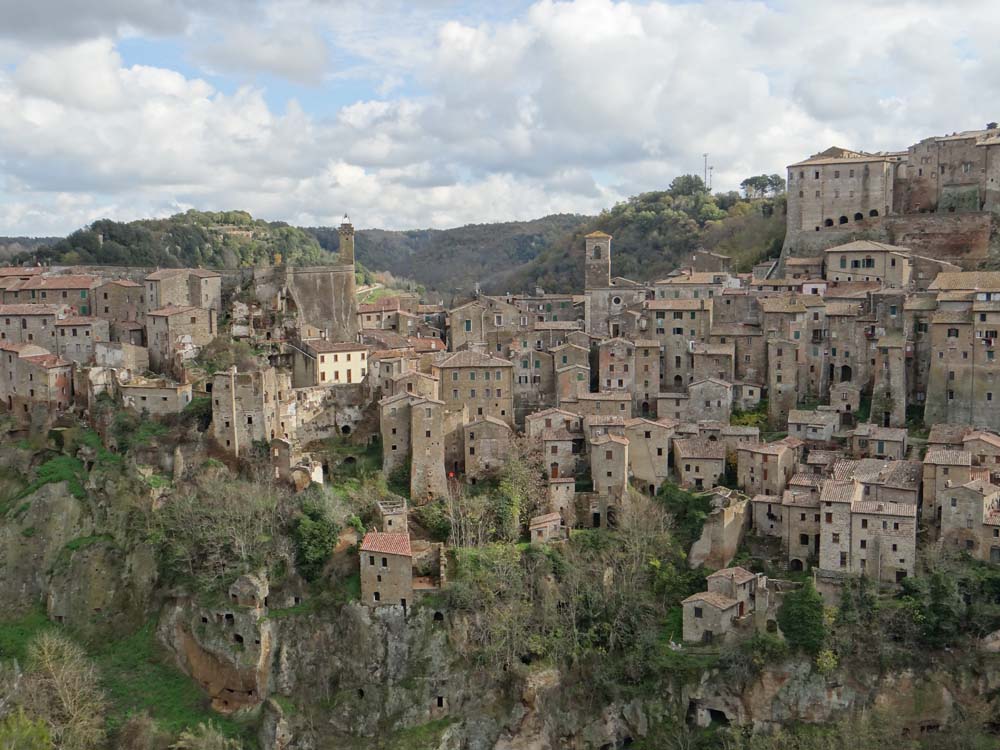 Dave the motorhome is holding his stubby nose. We're parked up a few meters from the sulphurous and hence slightly stinky waters of the Terme di Saturnia, a natural thermal river in Southern Tuscany (N42.64886 E11.51186).
"Jay, Jay, what's that noise?". I was woken up at some point into the night by a worried Ju. Parked just off hairpin bend below the literally tumbling town of Sorano, we were in the kind of place where, once the sun has set, sound seems to set with it. I listened, immediately nervous. I can't describe it, but it was close to us. Ju was worried the tall slope alongside us, unsettled by the floods, was dropping packets of mud, warning us we were about to be under a deluge of stone and earth. I thought it was a cat. Neither of us will know since as soon as we moved it stopped. That's life free-camping; at least for us, we don't completely relax (as evidenced by the kip-robbing mog) and lay awake listening to pure nothing for a while.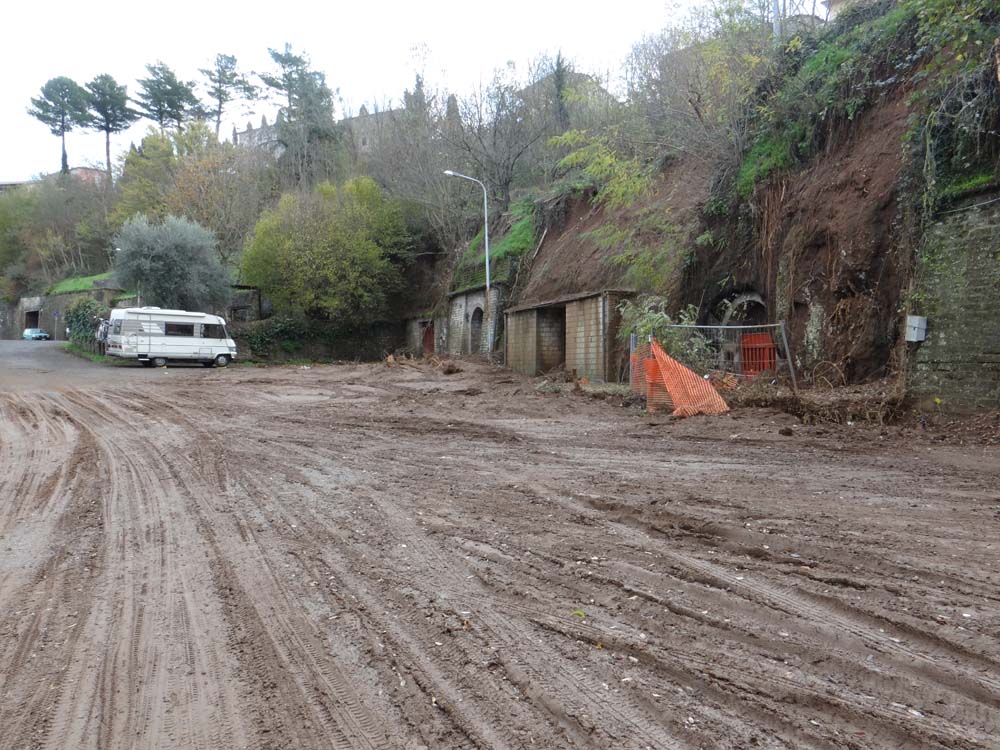 This morning a two stoke engine rattled it's way past us down to the mud-bath below, followed by a lone man walking down to one of the lock-ups. The mud had wiped away a high wall and poured itself and a few trees down into the parking area, blocking some of the doorways, and leaving me wondering how we managed to drive over it twice last night without getting stuck. The few people we saw looked dejected, but I'm sure that's something I projected onto them. Italian folks have had plenty of struggles to deal with over the years.
We pulled out of our cat-stalked camping spot, down the hillside and immediately into a high-sided U-shape chopped into the tufa. The hills around Sorano are steep and soft, and some energised soul had managed to create a road out of a cliff by simply delving into it until it was flat enough to drive. The modern-day road builders weren't the first to pull this trick though, as we found out a few minutes later.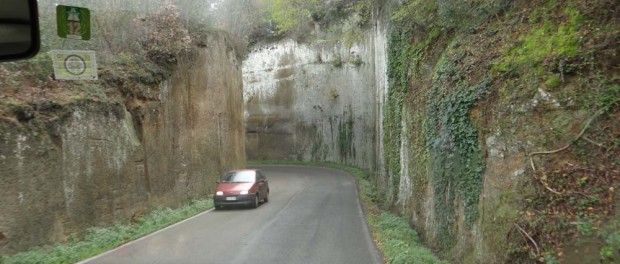 Thankful that fate saw to it the petrol tanker in town wasn't on the road at the same time as us, we drove a kilometre or two, crossing a bridge over the ravine before pulling over for a short hike to a viewpoint, passing a few Etruscan tombs, man-high holes hacked into the rock, the pre-Christ tool marks clear to see.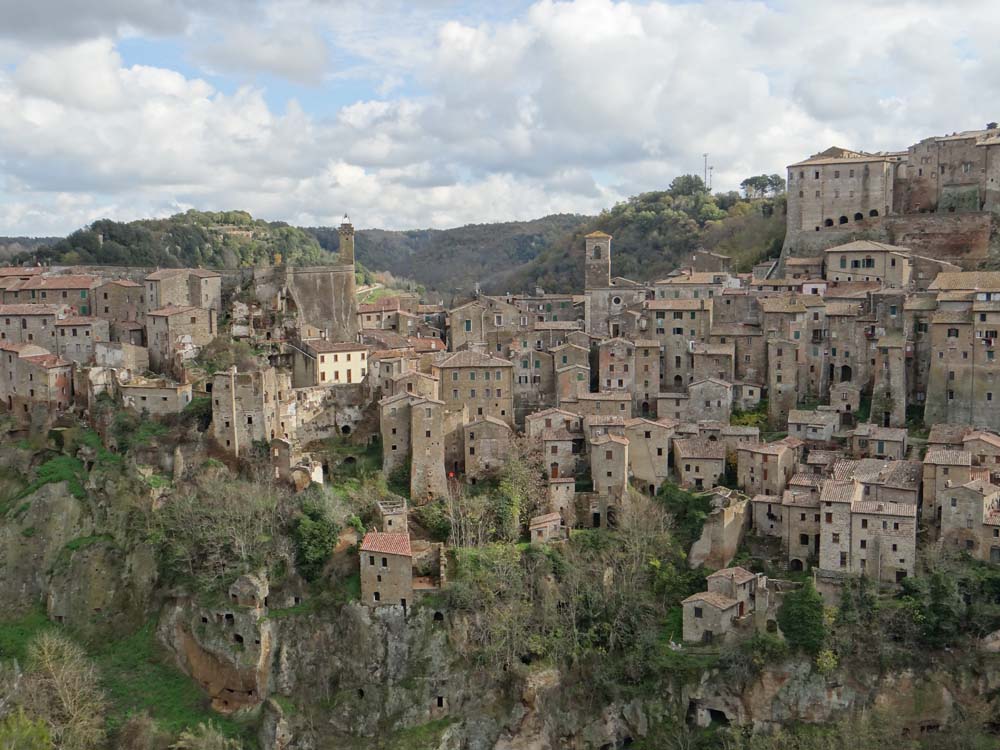 Stumbling back down from the viewpoint, a sign told us of a nearby Etruscan pathway, the Via Cava di San Rocco, the sunken path. 'Of very ancient origin, the path was used to serve the necropolis', the city of the dead. 'Then from the late middle ages until 1940 it was the only road linking Sorano to the "Pianetti" and hence to Sovana'. The pathway turned out to be an incredible pre-cursor to the modern black-topped carved gulley we'd just drive down. Sides rising meters up either side of us, with a central gulley cut for water, the path wound away for 500 meters through the hillside, past man-made ancient caves, and covered in mosses and tree roots. It was simply beautiful, although we only made 250 meters before turned back fearing for our coccyx on the slippery slope.

Next stop: here. I've been looking forward to this place since Frances Mayes wrote of it in Under the Tuscan Sun as "In the morning, I have one of the favorite experiences of my life". Ooh, come on, that's gotta be good hasn't it? Sure enough, it's pretty cool. Just 30 meters from Dave, with none of the €22 entrance fee of the spa up the road, the 37 degrees milky blue water of a thermal river tumbles out the side of the hill into a cascade of mini infinity pools. Each is seemingly the perfect size for a couple of people to wallow in, the water spilling over you. Ju suspected one of the Italian couples was getting a little too carried away, and we averted out eyes, we're British, don't you know. Should you venture here, and I'd seriously recommend it, be prepared for looking a little foolish as you move from pool to pool. The Italians seem to float over the fat tufa lip of each of them, while we kind of stumbled about, my inept stagger not helped by my forgetting to pop in the old contacts, my glasses were well steamed up!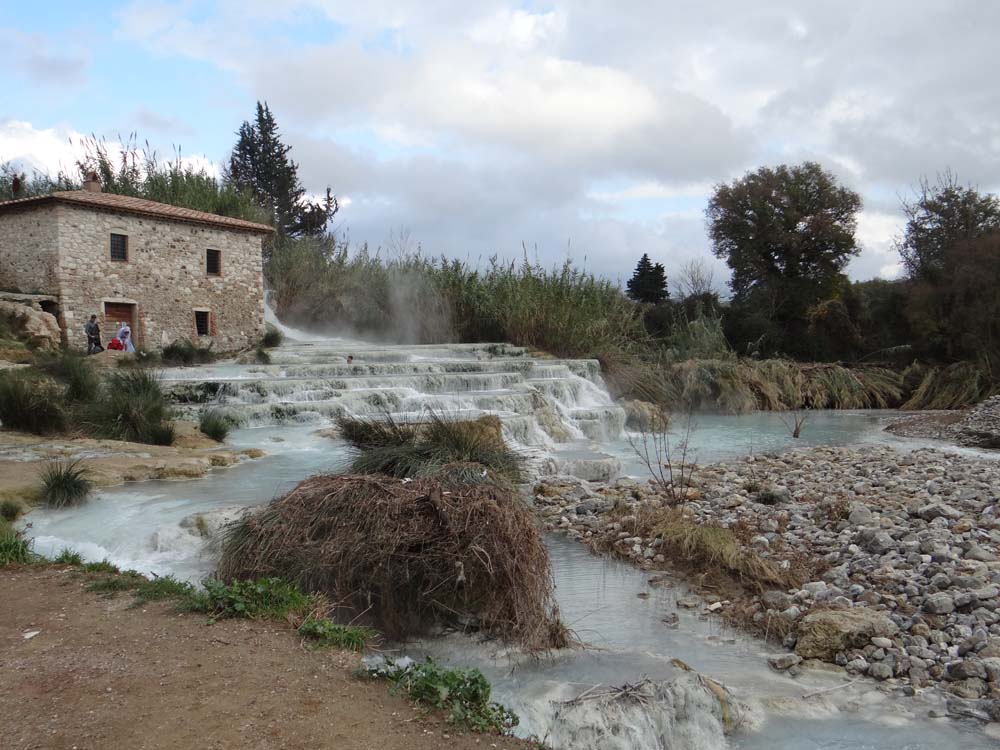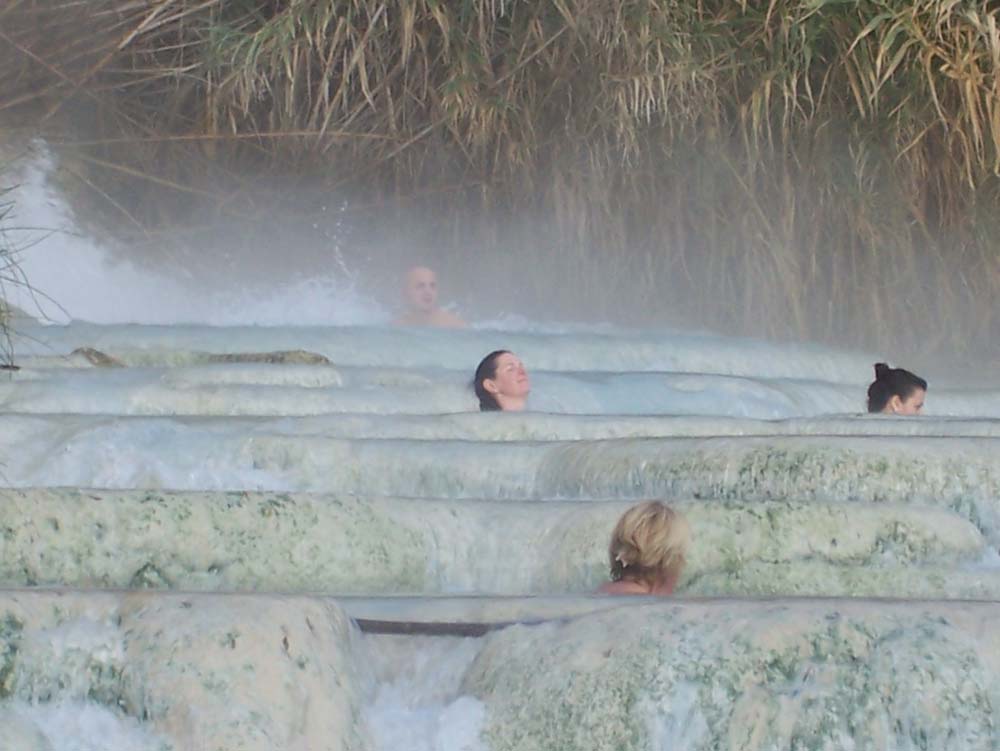 Maybe we'll have another dip for an hour in the morning? Decisions, decisions.
Cheers, Jay