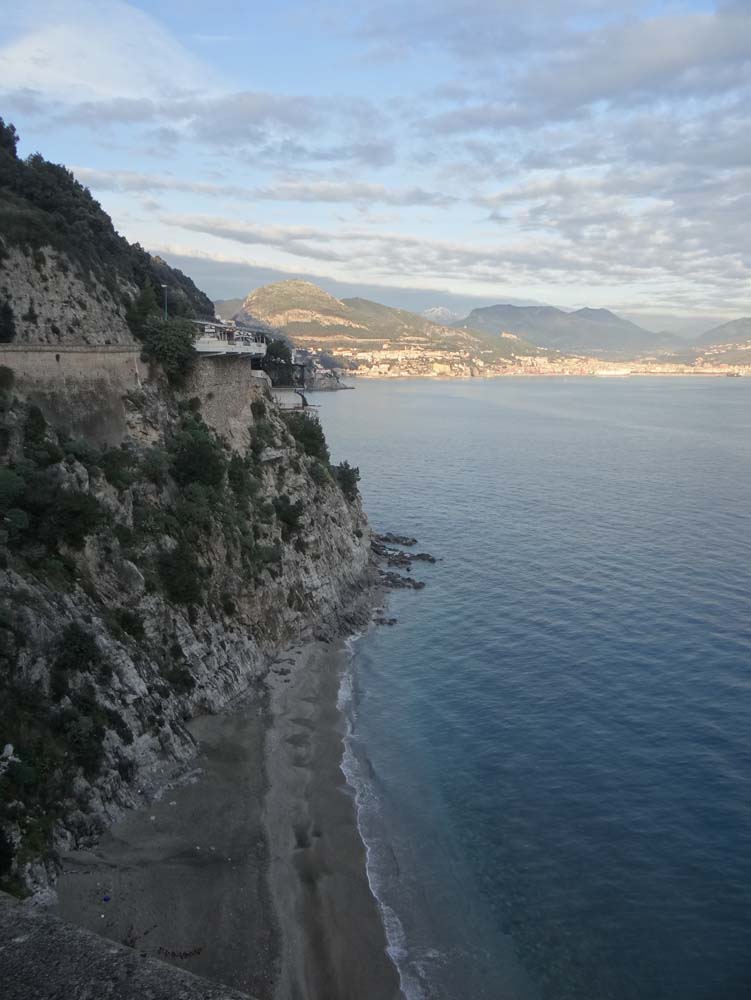 Dave the motorhome is resting up, a little worried about the proximity of falling oranges to his brittle ageing skylights, but on the whole fully chilled out at Camping Zeus, Pompeii.
Lady Lazy tempted me this morning, offering a day of dossing under the pretense of planning our wanderings on public transport around the Bay of Naples. A quick check on the BBC weather (question for those over the age of 35: don't you just love the internet?) shows a big fat laden cloud of soddenness on it's way tomorrow. Levered into action, we first enjoyed the fruits of our €16 a night ACSI campsite, hand-squeezing a pint of fresh OJ, a job not to be done if you have any minor cuts or abrasions on your paws, unless you're into sadomasochism!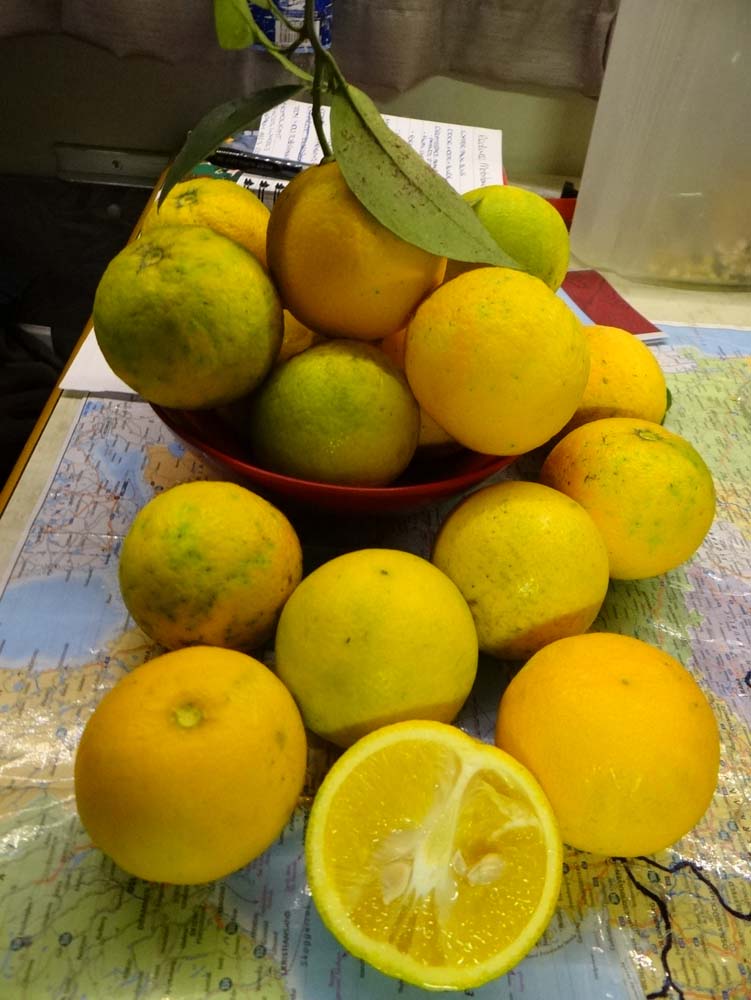 Vitamin C consumed with squinting faces, we hiked all of 5 minutes to the train station, which is sat just outside the campsite entrance. We'd checked yesterday whether dogs were allowed 'cane? piccolo?'. The answer from the ticket office man, once he'd stop playing with his phone, was beautifully Italian: a shrug. The same thing played out today, different man, same shrug. Took him longer to break off his conversation with his co-talkers though, and I had to smile when he started rooting around in an old moisturiser tub for change.
Our target for today, you will have guessed from the post title, was the Amalfi Coast. If you think of the Bay of Naples as a mouth, about to consume the crumbs of Capri and Ischia, then this coastline is the stubbly underside of the chin. The front cover of our Rough Guide sports a photo of it, a ribbon of black top wedged into the side of an endless cliff, passing through clusters of flaky-painted villas super-glued onto any surface which isn't completely vertical. We also knew that motorhomes are prohibited from driving along it between the hours of 6.30am and midnight, and since we sleep during this time, we used that as a great excuse to take the train to Sorrento and pick up the bus from there.
I was a little taken aback by the fact we climbed aboard a full-sized coach at Sorrento. Huh? Motorhomes are banned but vehicle big enough to carry 40 odd people is OK? As we took in the first few miles, before we even reached the coast proper, it dawned on me why this curious state of affairs is as it is. Bus drivers here, it would seem, are ex Top Gun fighter pilots from the Italian air force. They're fearless. I'm not referring to the precipitous drops, but more to the fact this road was never meant for buses. Like trying to drive Dave to the moon, they are the wrong tool for the job.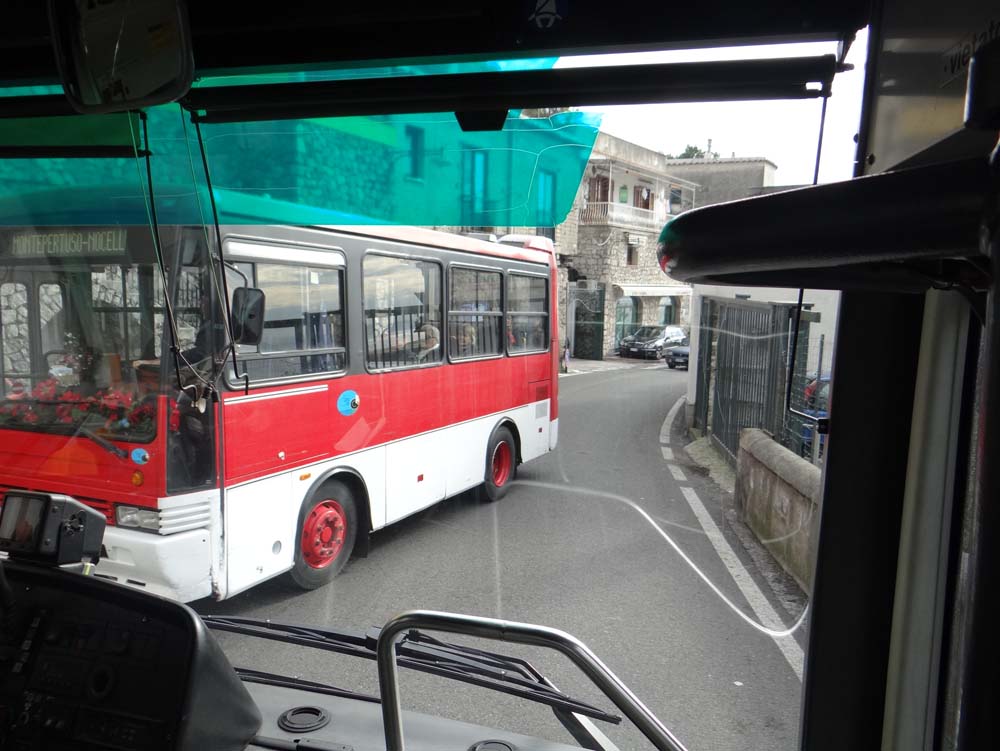 Time and again the sun-glass sporting fella would slam the brakes on, propelling Charlie about the floor like a dropped coke bottle, as he rounded a corner to find a car incomprehensibly overtaking another car into a hair-pin bend around a cliff edge, or simply had to squeeze past a Fiat Panda on one of a million narrow sections of tarmac. We picked Charlie up.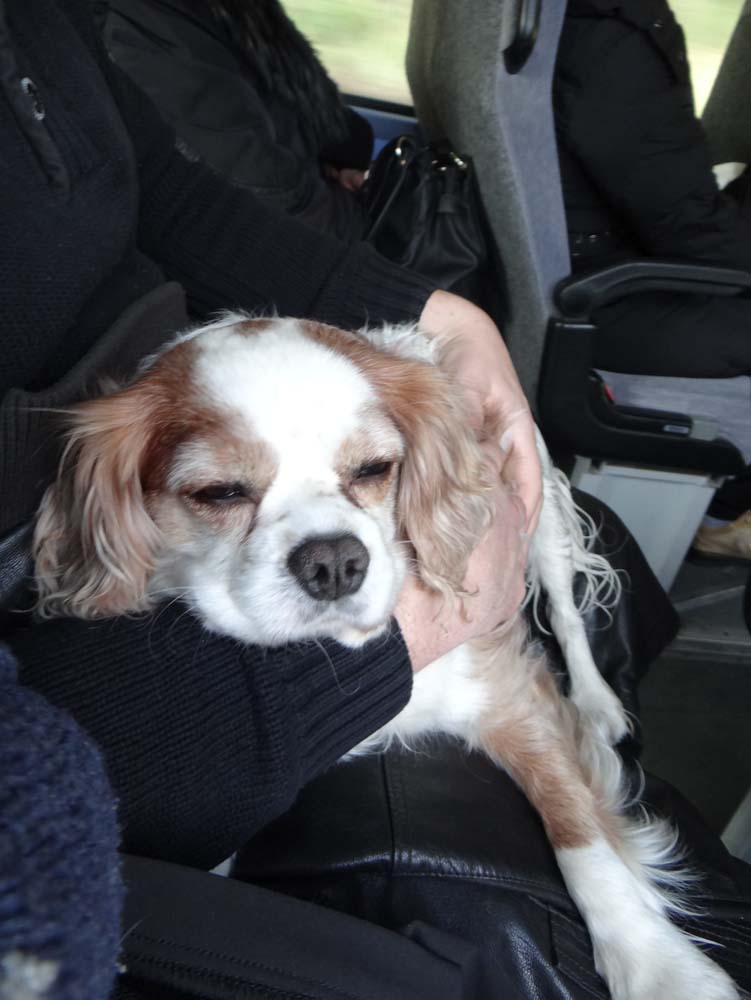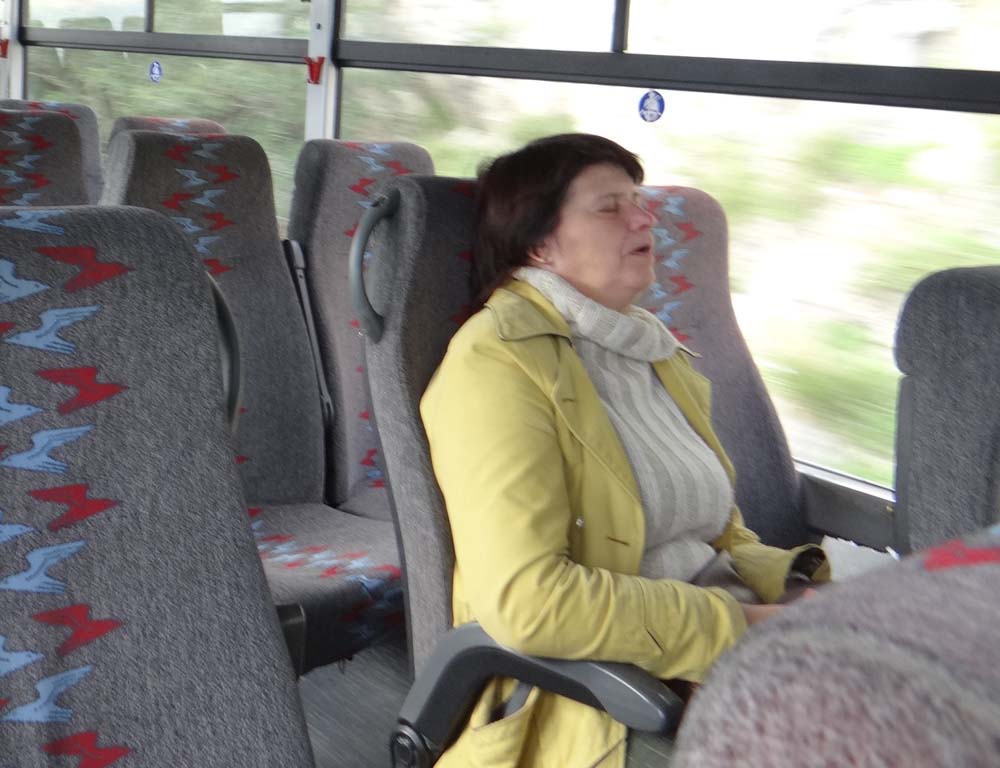 The coastline played out to the right of the near-empty bus, a jaw-dropping affair, staggering. The Cinque Terre was a walk in the park compared with whoever conceived of living here and building this crazed corniche. We laughed, especially at the driver tourettes syndrome-esque leaning on the horn, and edged to the front of the bus to get a better view and to grab some video (it's high def – will pop it here as soon as we loosen the grip on our €s long enough to get WiFi).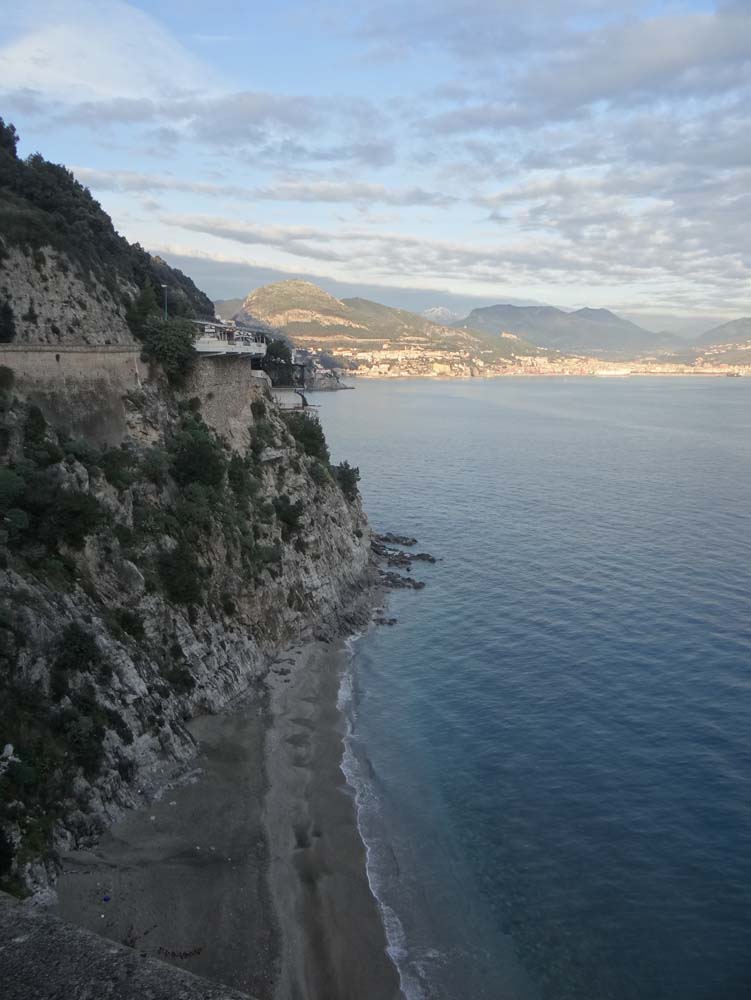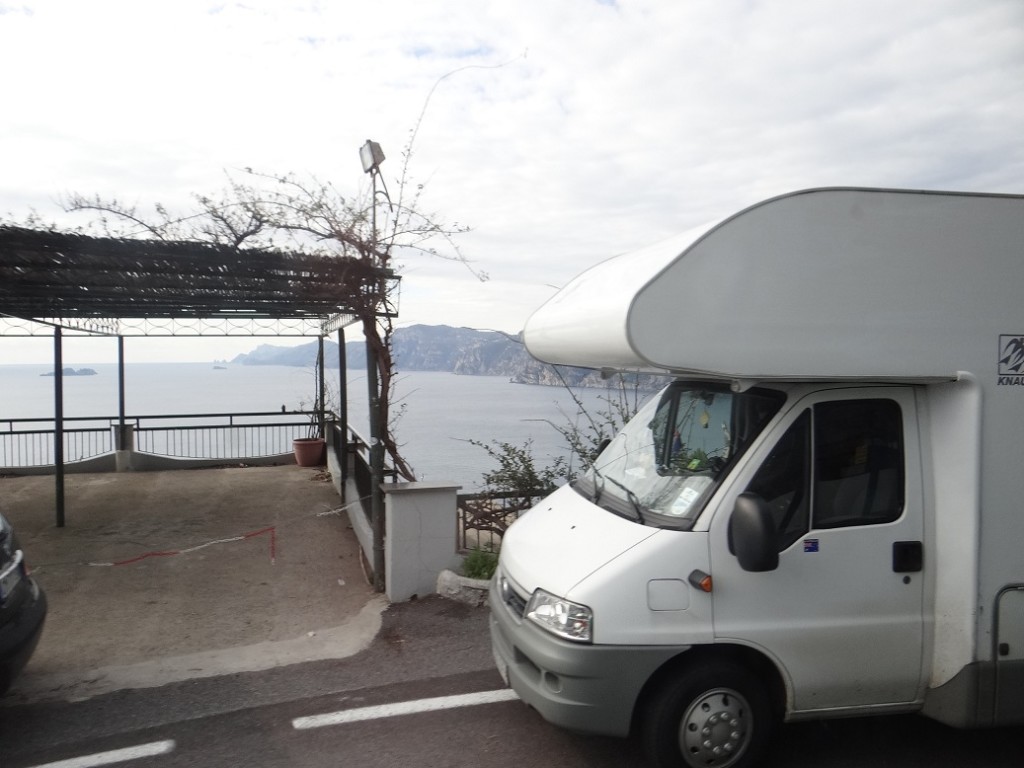 After an hour's side to side flinging and somehow, incredibly, unbelievably, not hitting anything, the bus pulled up in Amalfi. A thousand-odd years back this place was the centre of a city-state, a maritime power. Nowadays it's a pleasant place to wander about, a warren of streets around an improbably large duomo, all steps and arches. We took off a little way up the main street which runs up into the gorge, which from the sound of rumbings from below tops off a river, and Charlie stood from time to time bemused by a high-pitched 'ah! bellissimo!' from hand-proffering Italian ladies. Ju bought a porchetta and mozzarella sandwich and we took to the clear-blue harbour to chew at it.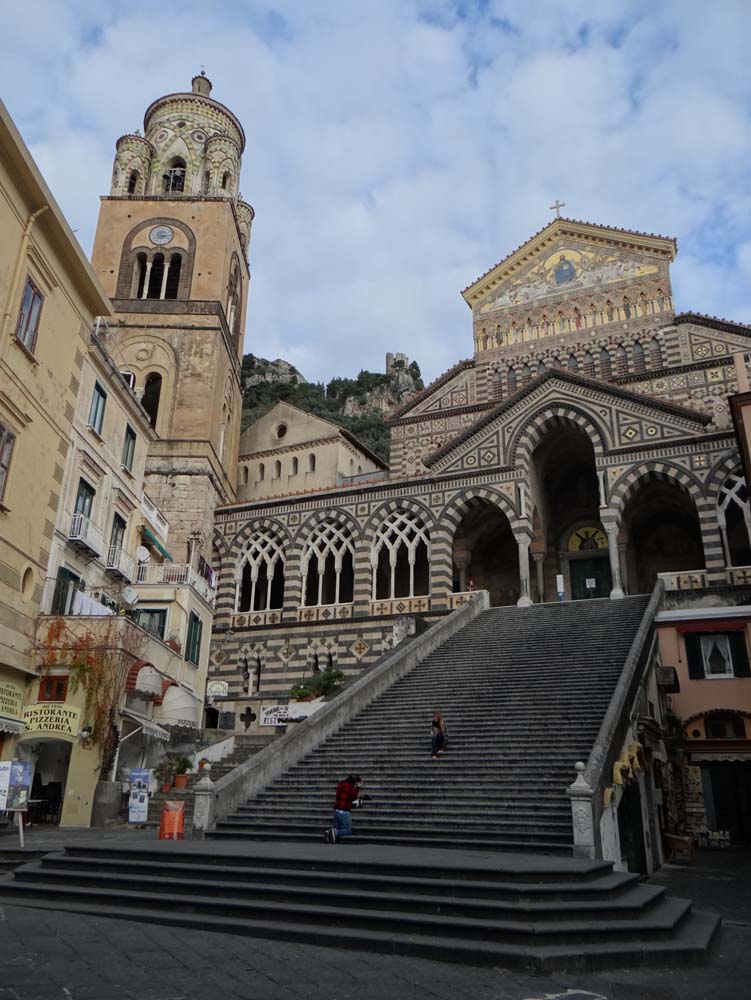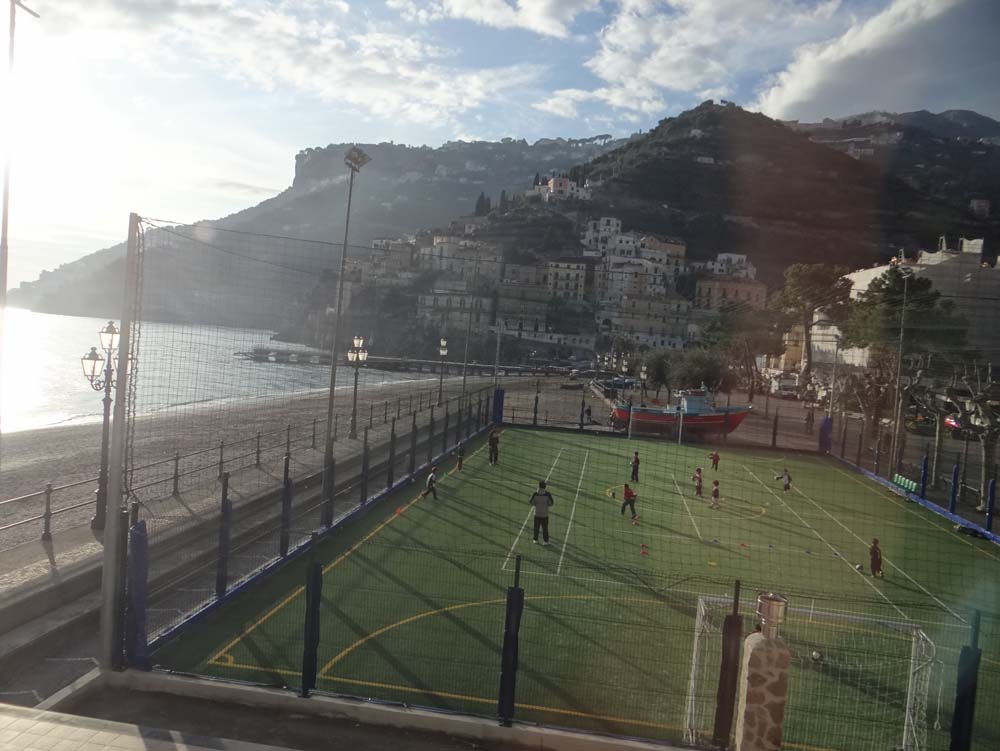 As it gets dark at 5pm, and we'd been a bit lapse in leaping from bed this morning, we decided to press on and head back via Potisano. Leaning on a butt-polished fountain, water dribbling over the umbrella of a couple of very English-looking ladies, one of the idle buses idle lit up a destination of Salerno (one time capital of southern Italy for a few months in WW2). Hmmm, it's in the opposite direction, but the Rough Guide says that's the finest part of the coast, and hey, we can get a train back to Pompei from there too. Decision taken, we hop aboard, onto a much fuller coach.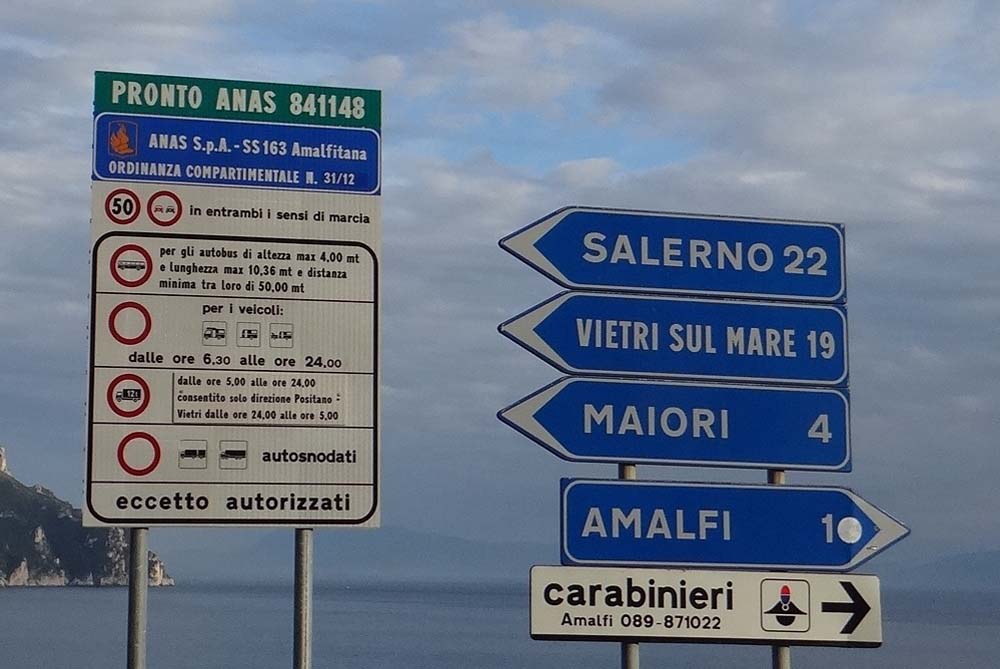 The corniche didn't disappoint, became more coiled, wrapping itself high up onto the plummeting rock and causing Crazy Bus Driver #2 to break a sweat as he spun the wheel about like a Hollywood stunt driver. It was beautiful to watch. Almost everyone on the bus was local though, given away by their utter disinterest in their all-action daily commute.
Salerno wasn't of much interest to us, a port laden with about to be exported white vans and containers. A dockside ship did that trick of looking about to topple over as more and more metal boxes were poured improbably high onto its decks. After a brief look at the place we walked to the train station and back to Pompei. That's right, Pompei, not Pompeii. Thankfully there's only about 15 minutes difference between the two spellings. Pompei is the modern town and Pompeii the ruins. The station next to the campsite isn't the main station in town, but we enjoyed the walk through town, which has entered the spirit of xmas and decked itself out in glowing colours.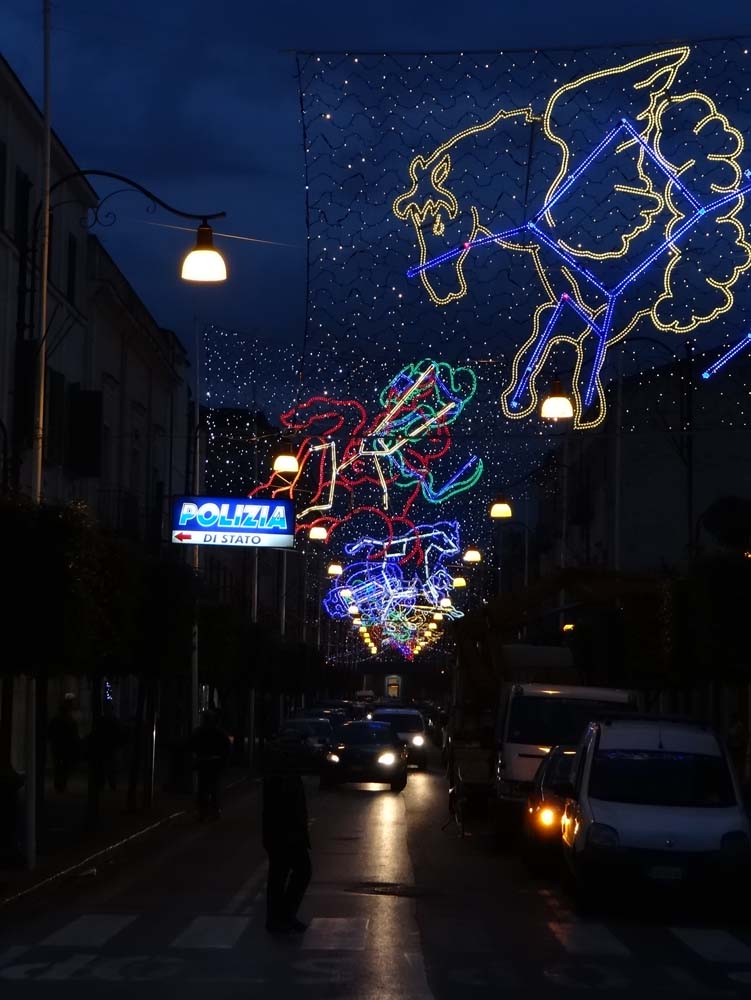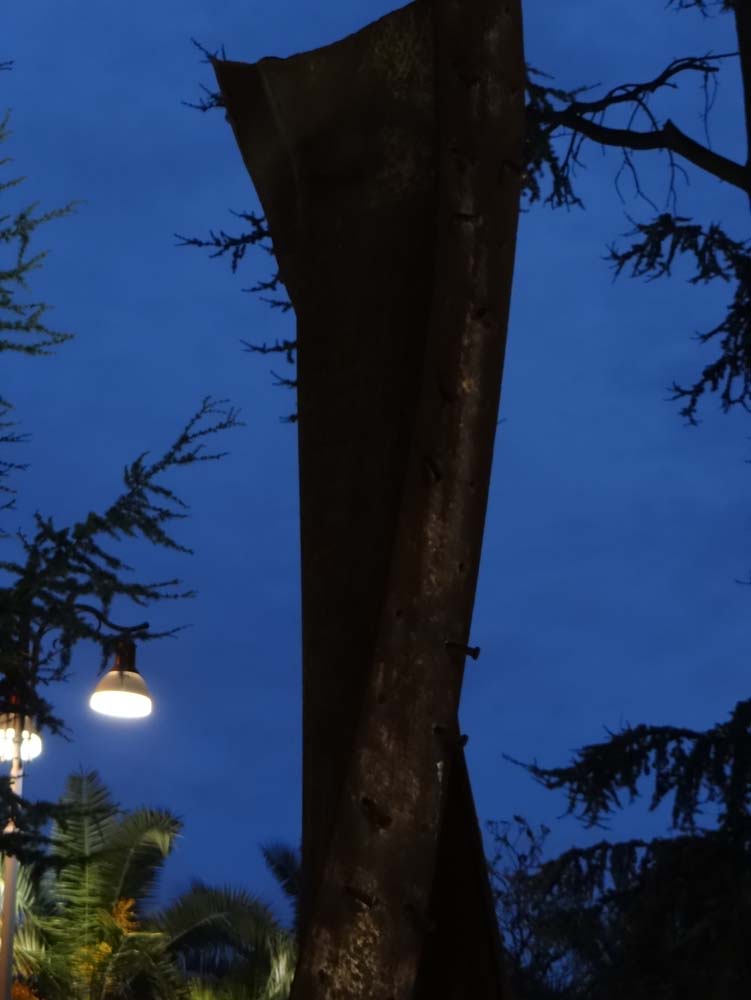 A tiny bit tired we're back in Dave, have made an attempt to eat the entire frozen section of our fridge to free up xmas nosh space, and have sunk some more hand-squeezed squash. We'd had a fabulous day. Tomorrow, we hope, the rain will not come!
Cheers, Jay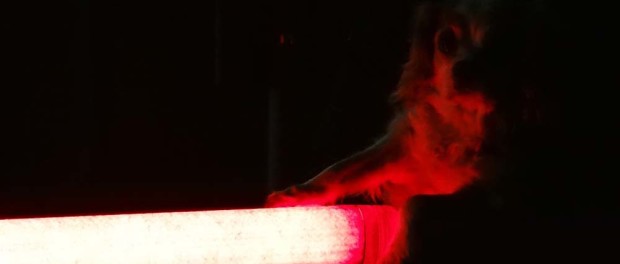 More Amalfi coast bus-based madness: