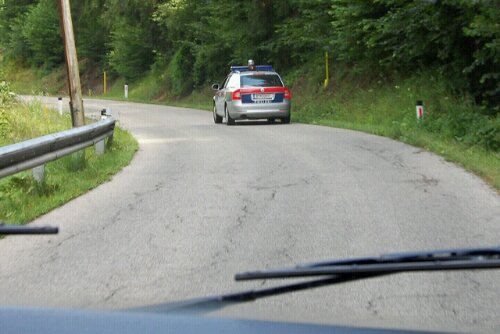 Dave the motorhome is parked in a lay by overlooking Hallstatter See (N47.61836 E13.65304).
I struggled to get to sleep last night, the air felt heavy. Before too long flashes of light coming through Dave's skylight heralded the arrival of a monster storm. I moved down to the lower bench (Charlie was snoring away on one of the shorter benches, lying across Jay's clothes) to peek out of the curtains, the castle stood high above ready to take the brunt of the lightning. Quiet taps of rain on the roof turned deafeningly loud, drowning out the almost constant roar of thunder, as the lightening flashed illuminating Dave like a disco. Charlie raised his head, looked over towards me, let out a disgruntled grunt, then went back to sleep. He's getting used to the angry weather gods, we've met them several times and nearly always at night. The air finally felt lighter and I dropped off to sleep around 1am.
This morning our website was down, nothing to do with the storms, but because it was using too much server space in Houston, so the plug was pulled. We knew it would be a long, frustrating process to get it working so after a quick check that the fairytale castle was OK – I'm sure it's been through much worse – a fresh headlamp bulb for Dave we set off. If you're reading this then we must have finally got it sorted!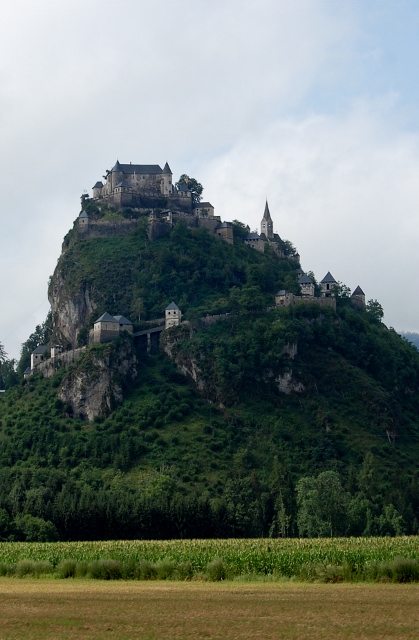 Winding our way North I looked at the map, yesterday we were about 30km from the campsite we visited in Austria back in early June, we've taken the long way round! We passed several signs, something was wrong with the road up ahead, but the picture – as we couldn't understand the writing – implied that vehicles under 3.5t could carry on, so we did. A few miles further along we pass a frantically waving police car and stopped. He spoke no English, but his actions were clear, we had to turn around. He then showed us the way around a diversion, yes Dave had his own police escorts, if only for a few miles.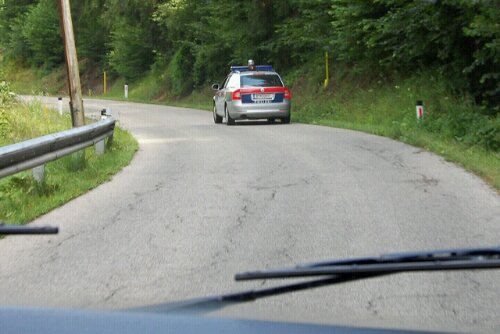 The diversion took us through the small town of Knappenberg, before a long downhill section brought us into our destination, Huttenberg. We're here to see the Heinrich Harrer Museum, the world famous climber, adventurer and best selling author.
If (like me, two days ago) you've never heard of him, I've linked his name to a Wikipedia article on him, he certainly lived life to the maximum – climbing the Eiger, being captured by the British, introducing ice skating to Tibet and tutoring the Dali Lama. He even had Brad Pitt portray him in the film 'Seven years in Tibet', which is based on his book.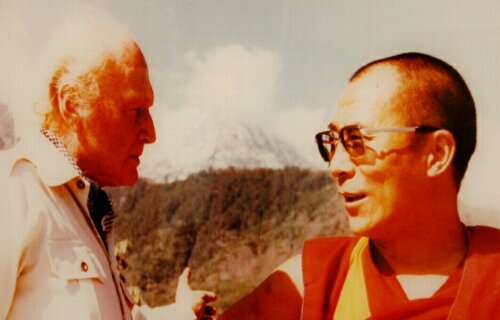 Our ticket to the museum also gave us entry into two other museums about mineral mining and puppets, located in nearby Knappenberg, back up the hill. After Dave's smoking brakes a couple of days ago, we decided to get the most out of the museum we were in, and spent a good couple of hours wandering around. The displays were all in German, but we had a couple of sides of A4 notes in English to help us along, and a lot of the artifacts were accompanied by photos so we could work out what we were looking at.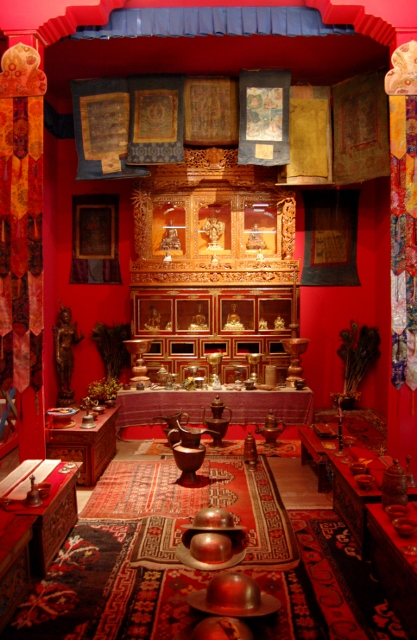 Afterwards we climbed the Lingkhor, Tibetan pilgrim path up a rock face opposite the museum, passing traditional rock paintings of Tibetan culture and prayer wheels.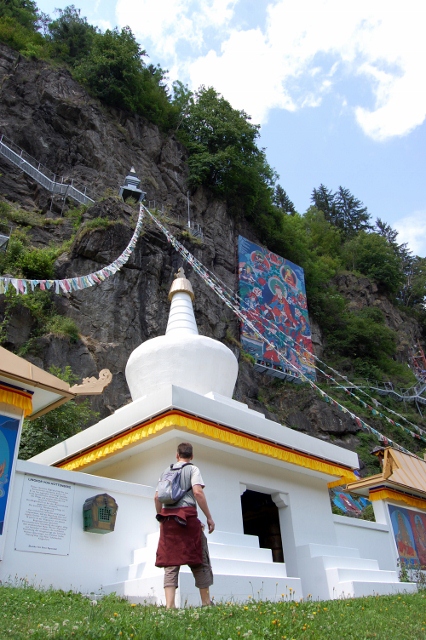 Feeling thoroughly relaxed we set off on a long drive, made even longer by having to navigate away from all the mountain passes. Motorway finally brings us round the base of several mountains, their peaks shrouded in cloud, as the heavens opened. The day went dark, we were glad we'd changed Dave's headlamp bulb, and we ploughed on.
Across the fields I spot a train speeding along, behind its engine sits a row of lorries like a fast moving traffic jam, it's obviously quicker and cheaper than driving around the winding motorways. It's  gone 5pm by the time we reached our turn off, so we pulled over into one of the handy parking areas along Austrian roads and I walked Charlie while Jay used the facilities to empty Dave's loo. We watched as a Hungarian lorry driver did battle with a shredded tyre, using a hook attached to some strapping he hauled the useless wheel round his truck and into a storage locker in a task reminiscent of world's strongest man competitions.
Driving along the north of the lake we spot several parking places, but they are all surrounded by trees, we continue towards a road leading up to a ski chairlift, there's bound to be a good car park there for us to kip in. But, before we reach the road we spy a car park overlooking the lake. A deft turnaround of Dave and we're in. We're on quite a wonk, so going to the back of the van is like walking along a corridor in a house of fun, but it's worth it.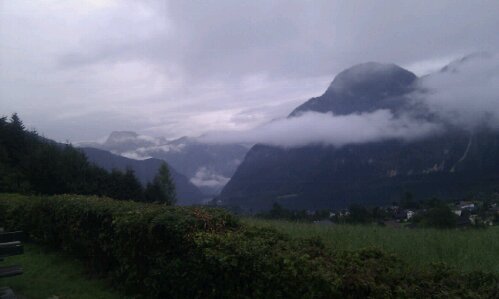 Have a great weekend!
Ju x