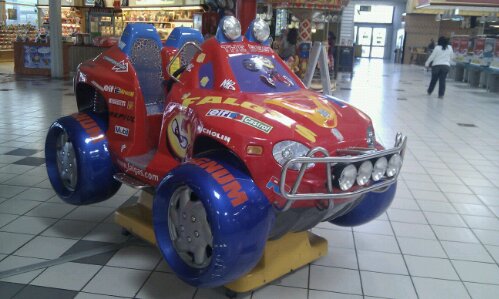 We're here: N40.62384 W0.09186.
The weather is: sunshine and cloud, with some snow on the ground! Yes – snow!
Last night we took Charlie out for a walk as the sun was setting. We headed up into the nature reserve we were parked in front of, then back along a road lined with orange trees, still laden with oranges. The windfall provided Charlie with a multiball challenge and by the time we got back to the entrance of the park, we were all ready for some tea. One slight problem though – the gates were shut and we were locked out. Dave was just 20ft away, but the high fence, river and gates meant we had to walk all the way back round the way we had come to get back to him. Oh well, the exercise did us good.
This morning we walked the route again armed with the long lens for the camera to get photos of all the birds we could hear. Funny how as soon as you have a camera, you can hear them, but not see them. We managed to capture a Robin, a Bee and a Frog! I think the wildlife photographer of the year prize might go elsewhere again this year.
We decided last night that we'd get in a long driving day today and head up the coast, past Valencia and inland to Morella. Sat nav kindly told us we'd arrive around 2.50pm. But she never takes into account Dave's speed. Several times we're reminded that we're still on the fastest route as she assumes we're held up by traffic. But it's quite the opposite, hardly any traffic to be seen, a beautiful new road with views of the equally empty toll road running alongside us. If we look closely we can also see the old road too!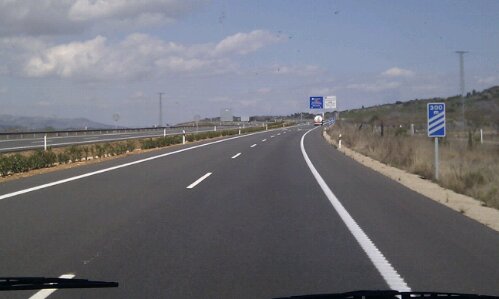 After a detour round the houses we ended up driving through a small town, another sat nav short cut special – or did she really know we were low on diesel and at €1.41 a litre, she took us to the cheapest station we've seen for ages? Either side of us the fields were full of orange trees for mile after mile, with tonnes of oranges lying on the floor. Some trees were quite clearly dying off with the oranges still on them, and at one point we could see around us green trees with oranges on them, dying trees with oranges on them, trees with no leaves or oranges and trees in full blossom – we're not entirely sure what season we're in now.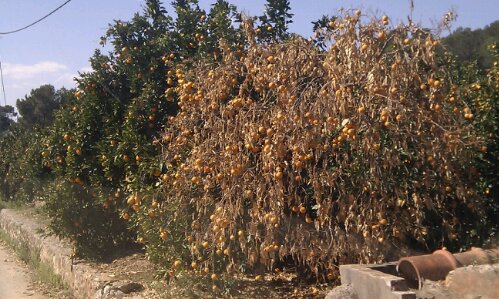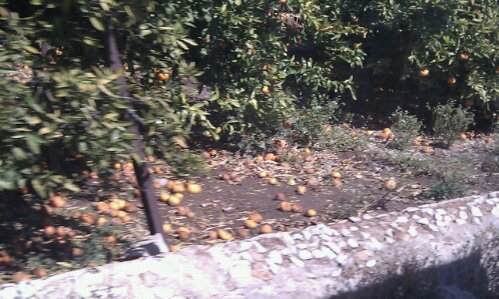 We made another detour courtesy of the police, as they used a crane to right a tanker who had been a bit hasty on a roundabout. They sent us to the start of the toll road, but for once we were allowed to make a u-turn at the booths and head away from them.
The final detour was ours, into a centre commercial to stock up at a Carrefour supermarket. We do love Lidl, but have found the Carrefour discount range to be just as cheap for the essentials – wine, beer and milk! So we'll stop at either now. Today we didn't buy any dogs or guinea pigs (but did stand and watch them for a while), and although we found the English section, the bulmers stayed on the shelf.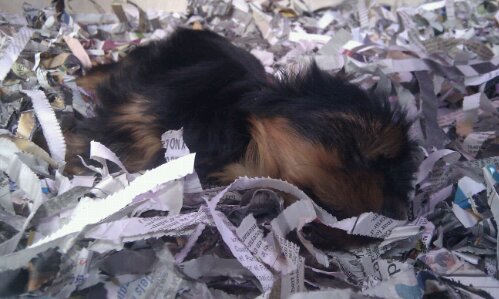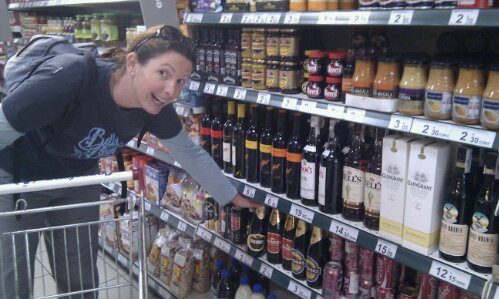 What we did get was a takeaway Menu del Dia from the hot food counter. So for the grand sum of €8.95 we had a whole roast chicken, apple sauce, baguette, Spanish omelette, a big bottle of coke and two chocolate deserts. Chicken sarnies for lunch, we'll stretch this menu to three or four meals!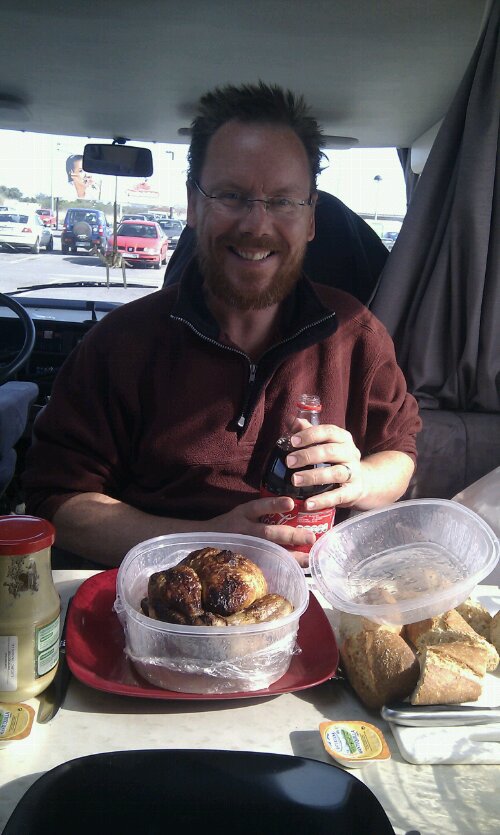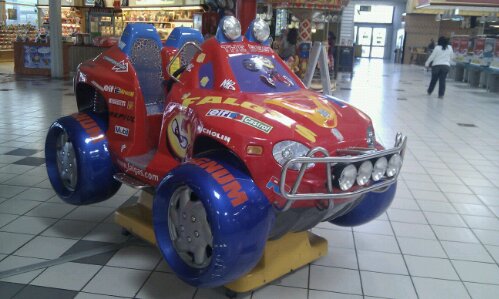 The nice smooth tarmac road turned into a series of hairpin bends as we climbed up to 1000m. We keep happening upon these winding roads to test Dave's clonk. Snow lines the sides of the road where it's seen no sun and the air outside has dropped several degrees.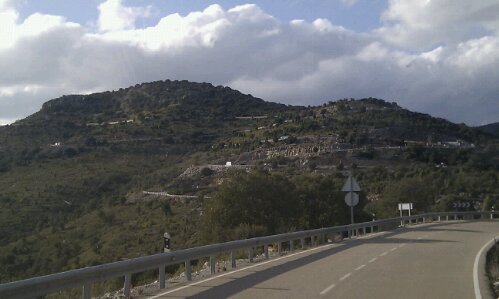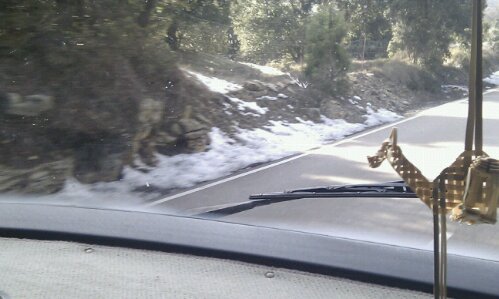 We finally arrived at Morella and it's a sight to behold. The castle perched high on top of the rocks with the village tucked inside it's defensive walls. It's 5.30pm and the sun is setting, so we pull into the Aire (alongside three other vans – one of whom is a Brit), put on Dave's silver screens to keep the heat in and settle in for the night. We can explore the town tomorrow – we've got plenty of time!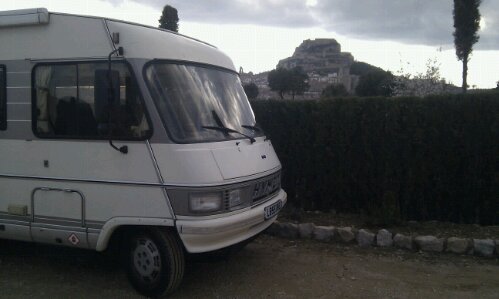 Ju x