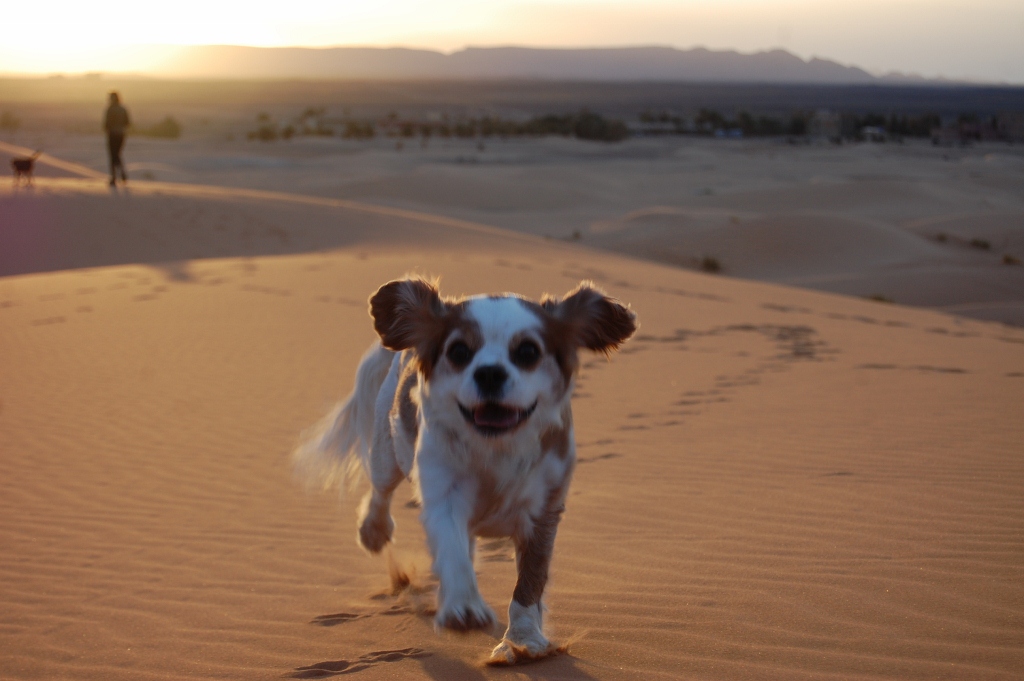 We're here – N31.12817 W4.01261
Weather – it's the desert, sunny then a bit cloudy, and rain tonight, but I don't care, it's amazing!
We've had a great day. We woke up in our little oasis in the desert, J went out and bought some supplies from a local shop and picked up from home made bread from Mohammed, who has been looking after us.
We then did some bartering with him and I'm sad to say, my bike – sorry Dad – but it's only been off the bike rack twice, and pooches chariot (which he's never been a fan of) we're traded for a jacket for J, a silk throw for me and a compass necklace so I can navigate by the stars. We were really pleased with our trades as Dave is now quite a bit lighter at the rear and hopefully Mohammed and his family will get a lot of use out of the bike and shopping cart – we last his little brother Abdul racing around the campsite on it.
We thought yesterday's drive was breath-taking, today's was no less impressive.  The gorge we were travelling along widened and looked like the grand canyon filled with palm trees.  It was remarkable.
Soon we were on a dirt track to meet up with Chris and Tina at Erg Chebbi – the edge of the sahara desert. When we arrived at the co-ordinates it turns out to be an amazing hotel (it reminds me of our honeymoon resort), right next to the sand dunes.  We're parked up between the hotel and sand dunes right next to the camels!  I kid you not.  This evening we climbed up to the nearest high dune to watch the sun set and play in the sand with Chris, Tina and Loli.
Tonight we had a slap up meal in the hotel (it seems this is where all the stars stop when visiting the desert, today though it was just full of Japanese tourists), then walked over to the spa to book ourselves in for a Hamman tomorrow morning – can't wait. We're really slumming it at the moment – not!!
We've been so busy it's just a short update today, but to make up for it there are lots of photos!
Ju x