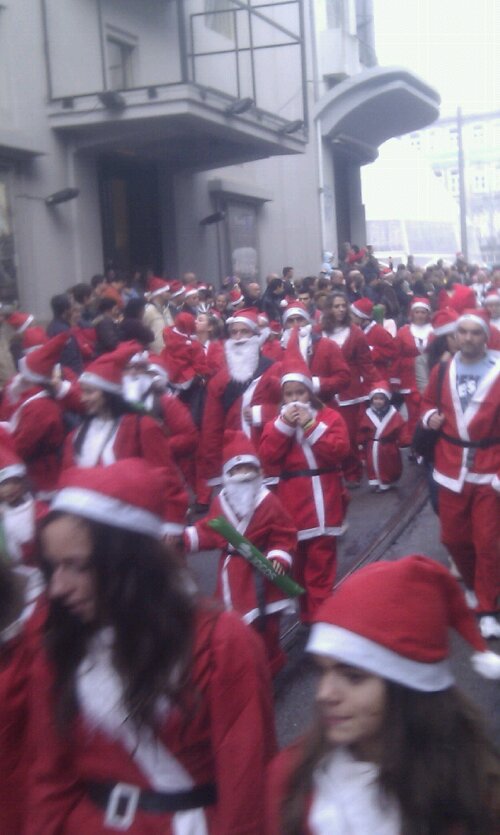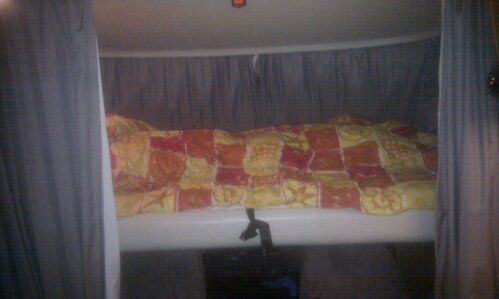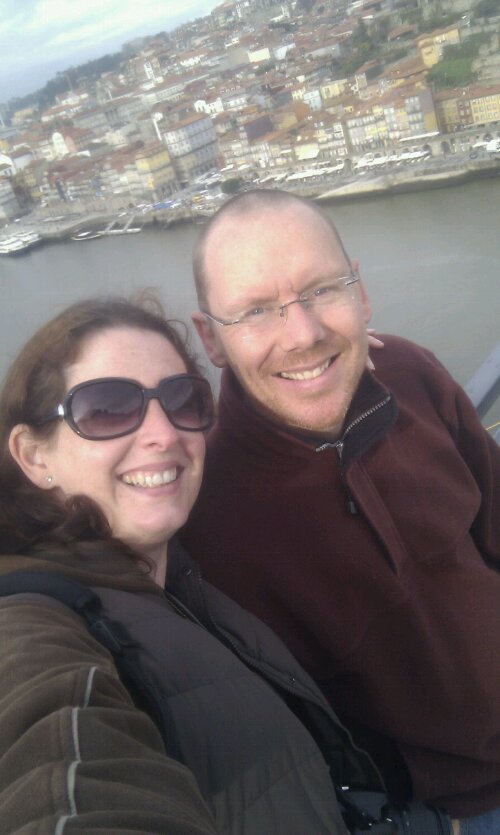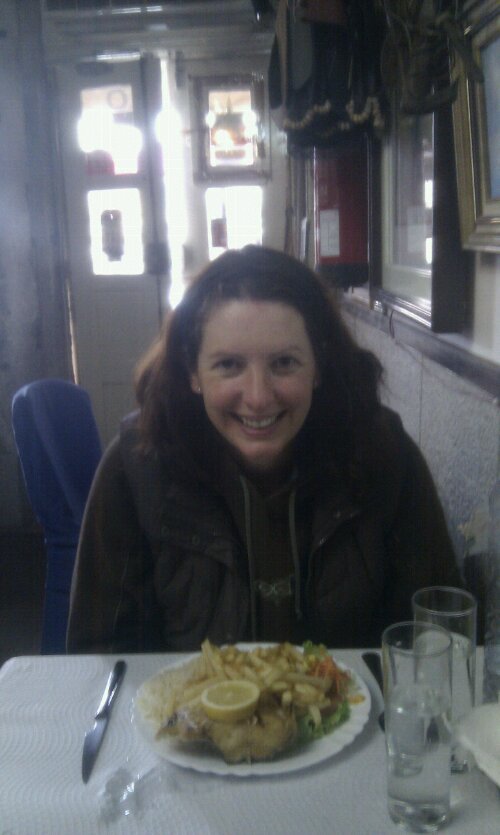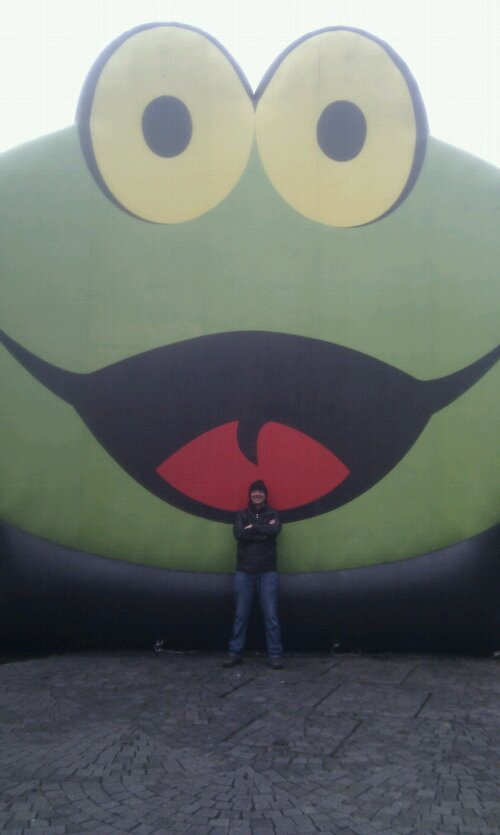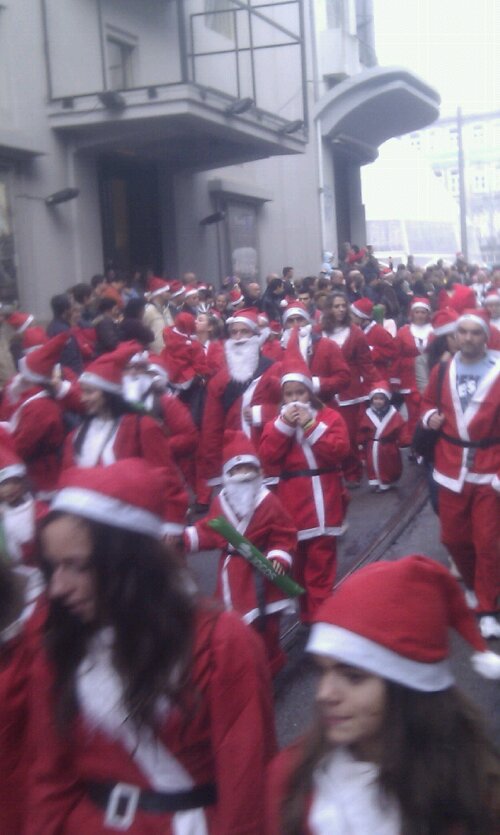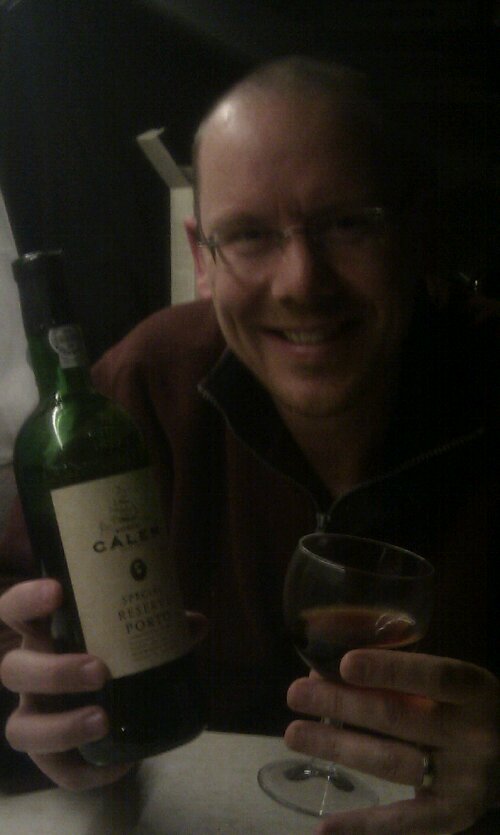 We're here – N41.14337 W8.63236 (again)
Weather – a bit sunny and a little bit cloudy with one rain shower (but we were snug inside a restaurant)
Where to begin, it's been a record breaking day – hopefully!
We slept well last night despite our uncertainty about the safety of the car park we were in (so much so that I'd put a sign in the window saying 'beware dog' and left 'false Dave' in the van when we went out yesterday – the bed down with pillows in it to look like someone is sleeping, see photo). I think it's good to take precautions and to listen to your instinct when it comes to picking somewhere to park and sleep. Although my imagination sometimes gets in the way a bit, my instinct said we'd be ok to sleep here, but I didn't fancy leaving Dave while we walked around Porto all day. So, we found a secure paid parking place in Porto for peace of mind.
To ensure we got a space and to avoid any traffic (in case we had to reverse back along a satnav chosen road) we set off early. We were so excited that there were spaces when we got there we totally missed the 'No Motorhome' sign as we drove in. It's no wonder the security guard said no when we asked if we could sleep there overnight – but as Dave only takes up one space and it wasn't that busy on a Sunday they weren't bothered about us parking there in the day. If you need somewhere to stop the gps is N41.14145, W8.61878 and we parked from 9 to 5.30 for €8.35.
We started off by walking along the waterfront, then headed up what seemed like a thousand steps through small alleyways connecting the houses. We popped out by a church (but that's pretty much every tenth building around here) with a great view out over the city – I am finding that religious buildings get the best views. We were also right up by Pont de Luis I, the bridge we drove over earlier on the lower level, so it would be rude not to wander across it again.
The views over the Port cellars on one bank and the stacked houses and churches of Porto on the other were amazing, and I always love looking down on all the small people below going about their business unaware they are being spied on. We walked back across to the Porto side and were astounded to find some of the prime real, right next to several tourist attractions, boarded up. Looks like the economic problems of the country are starting to show.
We stopped off for a drink at a small cake shop and shared what looked like a chocolate eclair, however it had the Portuguese version of cream which is a custard type of filling used in most cakes, but it was still tasty. While waiting for J three teenage girls asked if they could stroke Charlie – seems he's quite the chick magnet around town, young and old alike make cooing noises at him as we walk.
While walking around the plaza in front of the town hall a stage was being set up for a concert. The posters had today's date on but no time so I asked in tourist information. Porto have an event every year to break the world record for Santa's in one place, and it was today. There were aiming for 15,000 and 'only got' 13,000 last year. That many Santa's we had to see so we headed back to Dave and dropped Charlie off for a sleep (he's not a big fan of crowds or multiple santas).
With a couple of hours before the main event we went for some lunch at one of the quayside restaurants. It was a tiny placed seating about 20 people and was full of paintings and drawings of the area and so much other stuff it was a feast for the eyes as well as the stomach. The food was fantastic, there was so much of it we haven't needed to eat again and to top it off it turns out the owner used to play for Porto!
We rolled out of the restaurant and headed up to see the Santa's. It was a huge carnival with Santa's as far as you could see coming down the hill into the main plaza. They were escorted by the police who moved so slowly they were mainly stationary, but the following crowds were stopping to dance and play drums. Others were on bikes, stilts or in cars – it was a great atmosphere. I think they must have broken the record as they just kept coming.
Afterwards we treated ourselves to a bottle of Calem Port (I'd say it's the local tipple, but they're all from around here so I'll come clean, it was the cheapest reserve) on the way back to Dave. We then headed back to where we stopped last night and were joined by Marc and Jacqui. We've been looking at their photos and testing out the port (it's smooth, warming and tasty). Tomorrow we'll head for the coast to a place recommended by Buks and Sonja to hopefully see Chris and Tina again, then who knows where.
Ju x