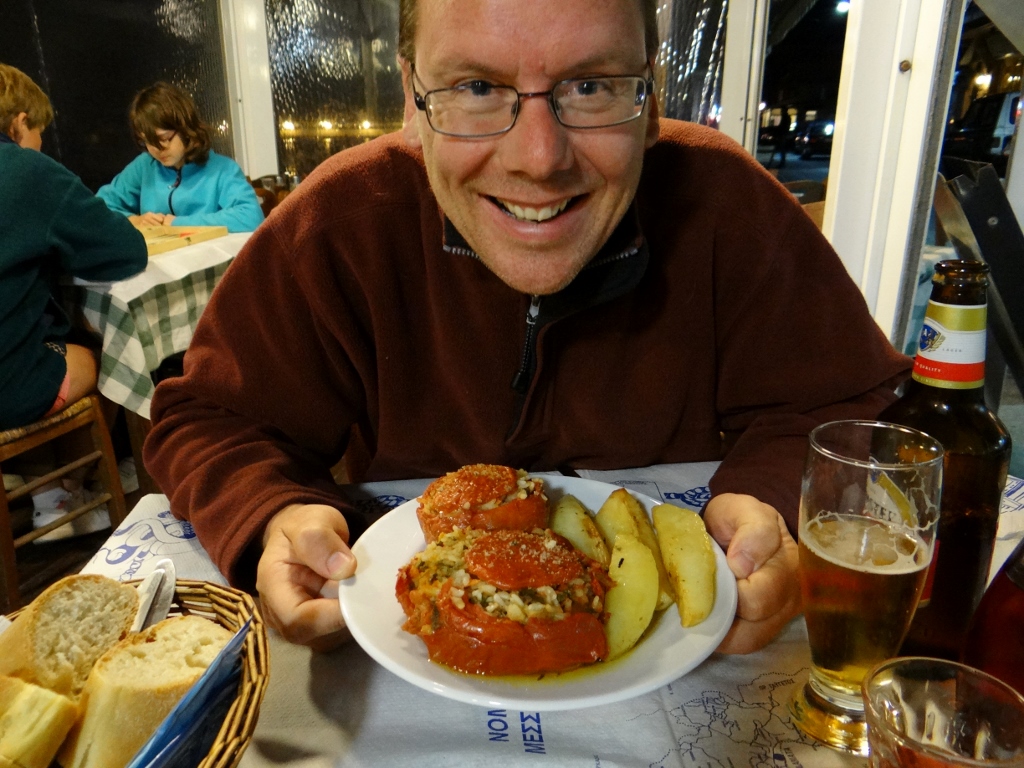 Dave the motorhome is on slightly shaky ground, but has a great view over the Messiniakos Kolpos (a bit of the sea) to the Mani, the mountainous part of the Peloponnese. His kipping spot is on the sea front in the small town of Petalini (N36.95961 E21.92845), to our right the harbour, behind us the main road and shops – three supermarkets, one petrol station, numerous cafes and several agricultural suppliers make up the majority of the potential spending places.
Last night we rounded off our mini-holiday in Koroni with a farewell feast at the Parthenon restaurant – it was the most recommended by our guidebooks, trip advisor and a couple of locals we met. We weren't disappointed, although we still haven't mastered the art of ordering here and ended up with way too much – but Charlie is very happy with this as we bring him back the leftovers for his breakfast.
This morning I did our weekly budget, despite eating out twice, a couple of coffees and cakes out and two nights in a campsite we still only spent €156. Sure we hardly drove so didn't put any diesel in Dave and didn't do a 'big shop', but I'm still impressed at how cheap it is. After a quick clean and tidy of Dave we set off up the coast to Petalini. My video diary let's you know what we've been up to for the rest of today along with some news that has us very excited here in Team Dave (you'll see what sad lives we lead!), there are also a few pics to tell the rest of the day's story.
Have a great weekend everyone!
Ju x