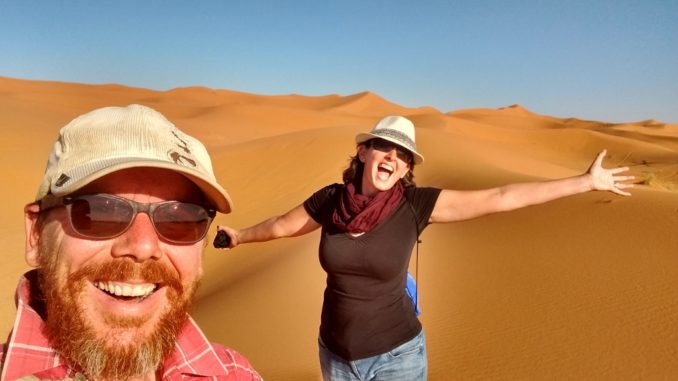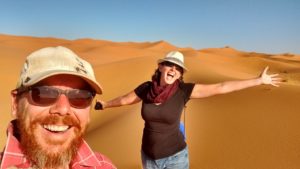 We've just completed the second full year of our strange life experiment that's called financial freedom. Why do we call it an experiment? Mainly because we've no idea if it will work. In theory we never have to work again, that's not to say we won't work again – there's a difference between wanting to and having to. So, if we have our numbers right and there are many, many spreadsheets we've used to number crunch this, then we have more than enough to keep us going well to retirement when our private pensions will kick in and give us a pay rise.
We've already published the costs for our last 8 month trip which began in November 2016 and saw us arrive back in the UK toward the end of July. We've been back home ever since enjoying being in one place and part of the local community again, something I've realised I miss when we are on the road. So, this post covers our crazy life experiment for the whole of 2017, not just our trip costs, as a sense check for us so we know we are on track, and we figured you might be interested too if you are thinking of doing something similar.
You can find out here how we did in our first full year of financial freedom 
To give you an idea of how we manage our finances, here's a bit of background information.
Tracking – I track all of our income and what we spend each and every day in my diary, which then gets put into a spreadsheet. The information is all there, but we don't spend hours studying it. We'll have a quick monthly check to ensure that we aren't massively overspending. We don't accrue/spread/weight the big annual costs, such as MOT and service of the van, across the year, so we know some months we'll be up, others we'll be down.
The spreadsheet is split into three tabs:

2017 Numbers
We know from previous years on the road that when we are touring we tend to keep within budget, however in 2017 we spent quite a lot of time at home, and we had no idea if that would work as cheap as life in a van.
When at home we live in a part of our home that we call The Cooler. It's effectively a small out-building that we converted to give us a place for our stuff. We share the rest of the house with a tenant, which works out well as it means there is someone at home when we are away – to keep the house insurance company happy. This also means that the bills are shared, which helps keep our costs down. Our tenant gets a discount on the rent which covers the bills which are incurred if we are there or not, the costs you see below are for extra bills due to us being at home.
In terms of our 'Living Expenses', we came in under our £15,000 budget this year. Below you can see a full breakdown of our costs and how we allocate them, hopefully the categories are pretty self explanatory. Supplies / Misc is our catch all category – in here we put everything from haircuts, radio, books and plants to matches and cleaning stuff.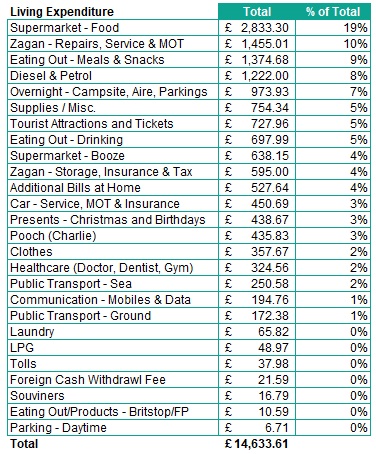 We're pleased to see that we have managed to stay under budget while spending so much time at home, as this is further confirmation that our crazy experiment is working. While we were back in the UK Jay went back to work as a contractor for four months and the money he earned from doing that, after taxes etc, hasn't been included in this because we haven't touched it, we have invested it to help generate further income and give us a bigger safety net.
The really interesting thing for me though is our overall numbers. Taking our Fixed Costs from our Income you can see that we had £22,355 of Net Income in 2017.
Taking our Living Expenses away from our Net Income means that at the end of this year we had £7,721 left in the bank – you can probably guess what we are going to do with that! Yes we even living this lifestyle we are spending less than we earn and this year were able to invest 25% of our total income.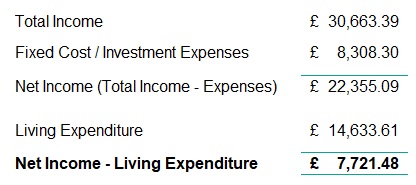 This crazy experiment thing seems to be working!
Ju x
Huge caveat time – everyone is different, so please don't use our numbers for your own calculations. Track what you spend yourself and soon you'll have a picture of how things look for you.