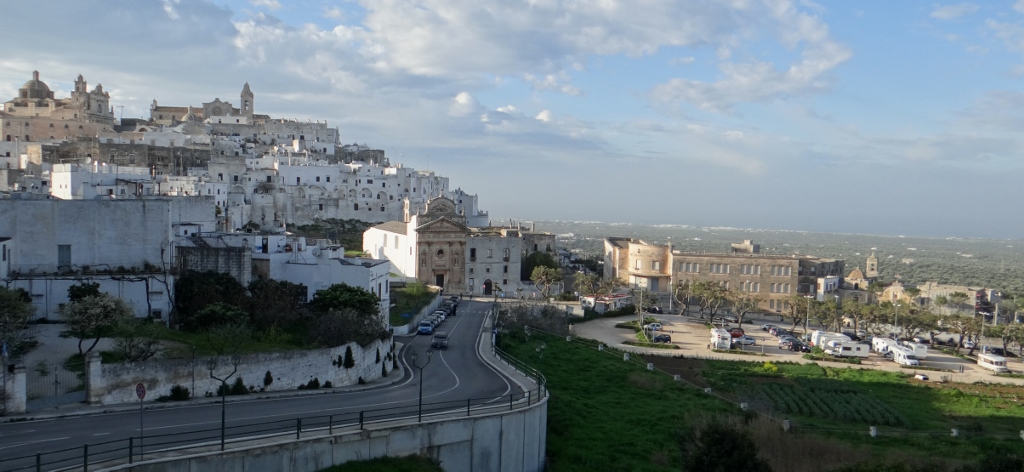 Dave the motorhome is with his more of his Italian brothers and sisters in a free car park/sosta right next to the hill top town of Ostuni, in Southern Italy (N40.73257 E17.58172). The sun has set so Jay and I have cracked open a bottle of the local vino – yes that's right, a bottle! We've gone all posh (we usually drink the cheapest possible box). To go with it we're trying out the latest flavour crisps around here – Lime and Red Pepper – they're surprisingly good (and actually taste like Lime and Pepper as opposed to Paprika ones which taste of smoky bacon)!
This morning we found even more Italian motorhomes huddled around Dave – they do seem to arrive in the dark quite a lot, something we try our best to avoid. A gathering was taking place outside our neighbours van when Jay took Charlie out for a walk, we've no idea what they were discussing, but everyone stopped chatting, turned and wished us a good morning. I suspect if we could speak the language we'd be in there with them putting the world to rights, I think that is my one regret about Italy, we've been here ages and have learnt so little of the lingo.
Our next destination needed to have one thing, or at least for there to be one thing on the way to it – somewhere to empty the loo! Checking an Italian website I spotted that Ostuni has a service point in its car park, not only that but out of peak season (ie now) it's free. What sealed the deal was that Ostuni was mentioned as a good place to see in our Rough Guide – a course was set, via the nearest Lidl, it was time for a country change sized stock up.
As we tootled along the lovely, if slightly bumpy, dual-carriageway towards Brindisi a steady stream of motorhomes passed us in the opposite direction, Easter is here, motorhomeing season has begun. Now we no longer need to peer at signs to find places to stop, we just look for a gathering of white homes on wheels and join them – it makes life so much easier and sleep so much better, safety in numbers. We'd read yesterday of fellow Hymer adventurers whose van had been sprayed with diesel as they slept in North Italy. Poor Stella (the motorhome) is resting up at Lake Garda right now with Rob and Pete deciding what to do next, they're seriously thinking of heading home. I really can't blame them, but hope they take a few days and give it another go it would be a shame if some idiot ruined their adventure of a lifetime.
As we arrived at Lidl I remembered that we had no cash. Lidls here only take random local cards, so we spent a nerve shredding fifteen minutes driving around the crazy one way system in the local town looking for a cash point. Fortunately we found one, right next to a pedestrian crossing. Jay did as all locals do and pulled in, parking on the crossing; no one batted an eyelid. Stocked up with cash we stocked up our trolley in a serious way, we're going to miss so many of the tasty treats you can buy in Italy – but we might lose a few stone too!
While pushing our bulging trolley I suddenly went fluent, I could understand totally the couple chatting by the  freezers. After chatting to one of them in the queue it seems there is quite a large ex-pat community in the area, and as Lidl was selling lamb chops (something we haven't seen for ages) it was no surprise they were there. As we passed the wine section I succumbed, a few bottles of the local stuff went in. As I wandered along the aisle I was surprised at just how many of bottles were named after places we've been – I had visions of walking into our local store back home and having a trip down memory lane. This was dashed by a look on the Lidl UK website, most of the wine for sale is from France and at considerably higher prices than we pay here. We're currently quaffing a bottle of Primitivo Salento (made from the local grape which has been exported to California and is known as Zinfandel there – a personal favourite of mine) which cost €1.89, the only red Italian on the UK website was £5.99, me thinks we're in for a nasty shock when we get home!
With Dave's cupboards so full their contents disgorge whenever they're opened, we drove as the crow flies; we suspect it was a Roman road, super straight and heading for our destination. Ahead of us we could see The White Town, or Città Bianca as it's know in Italian, Ostuni sits perched across three hills, its white washed buildings looking like snow on a peak.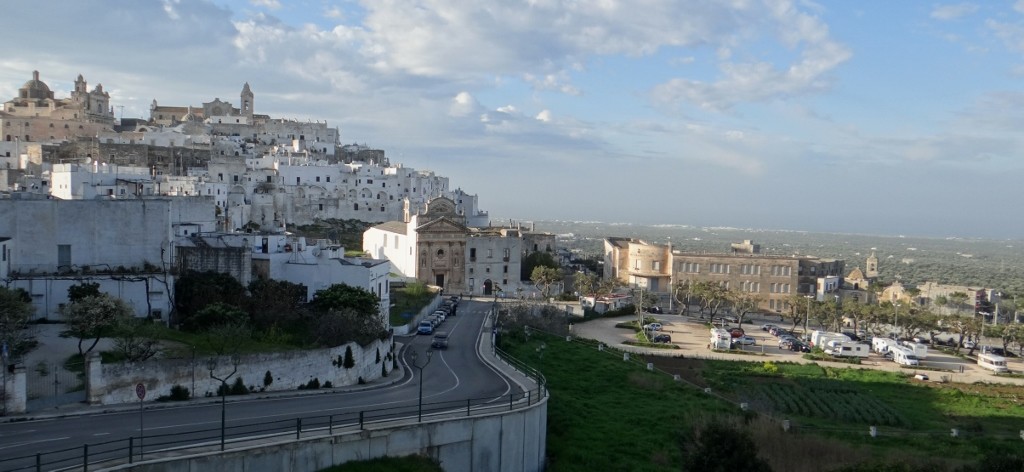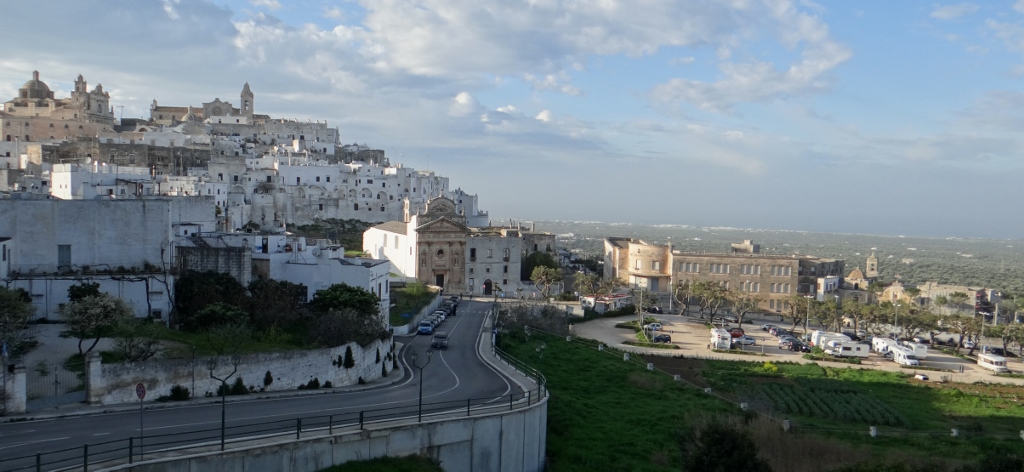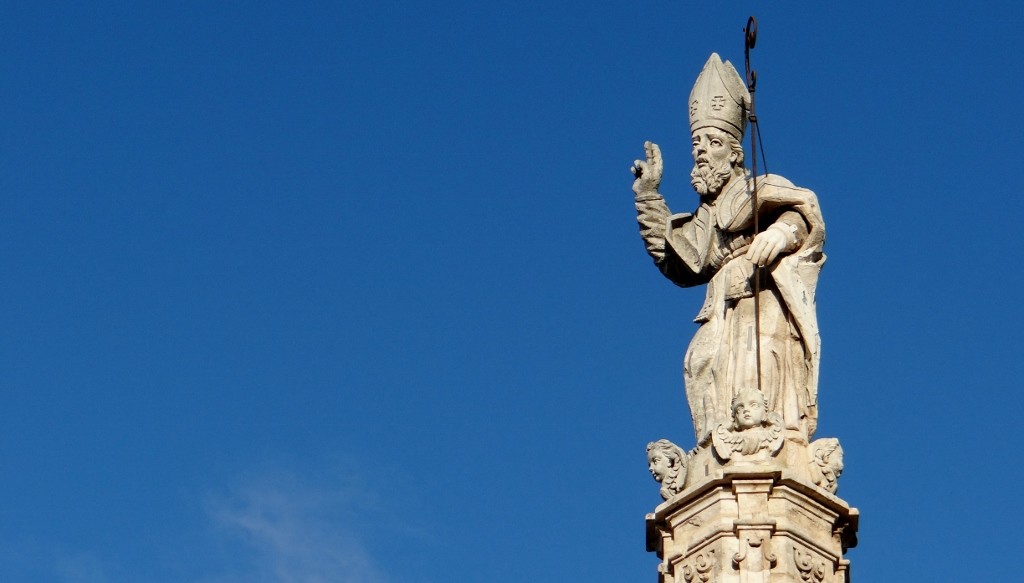 Arriving at Ostuni we pulled in and had a spot of lunch before heading off for a walk around the town. It was locked o'clock, but being a Saturday and Easter there were still quite a few places open. Reaching the dizzy heights of the top of the town, we wound our way around the labyrinth of cobbled streets. Jay's nickname when we're out exploring is 'dead-end Jay' if there are multiple paths, he'll always pick the one that goes nowhere. In a town like this he didn't stand a chance.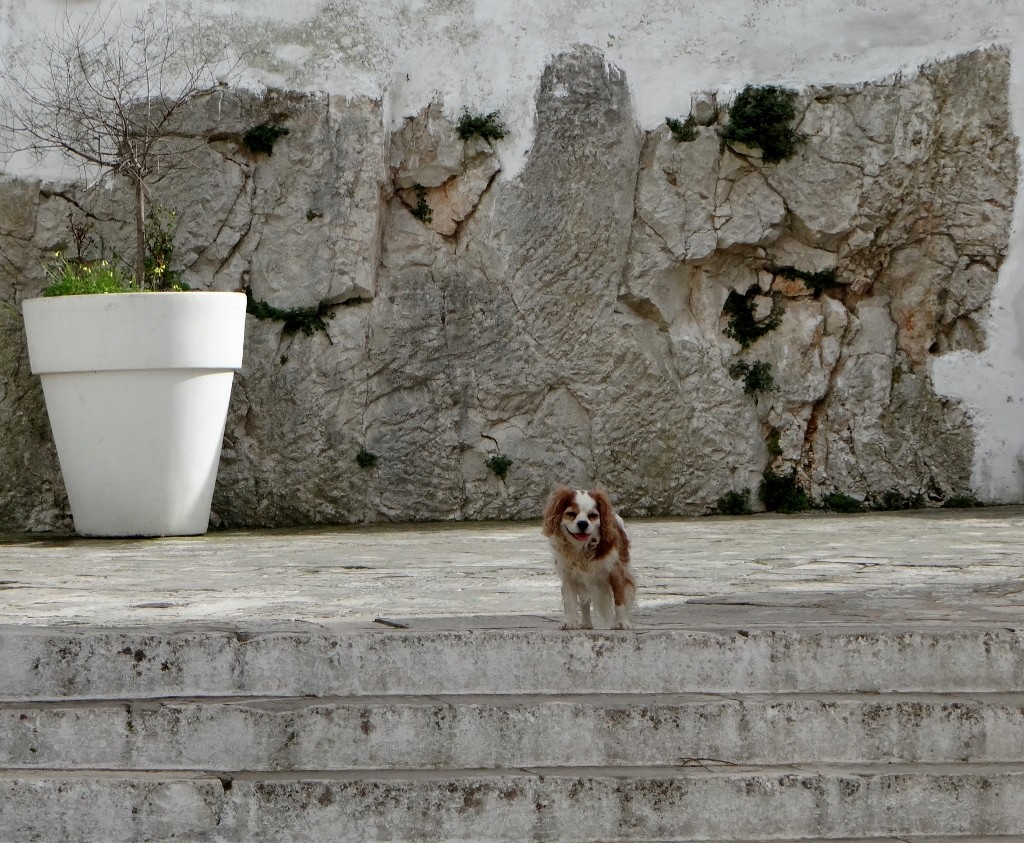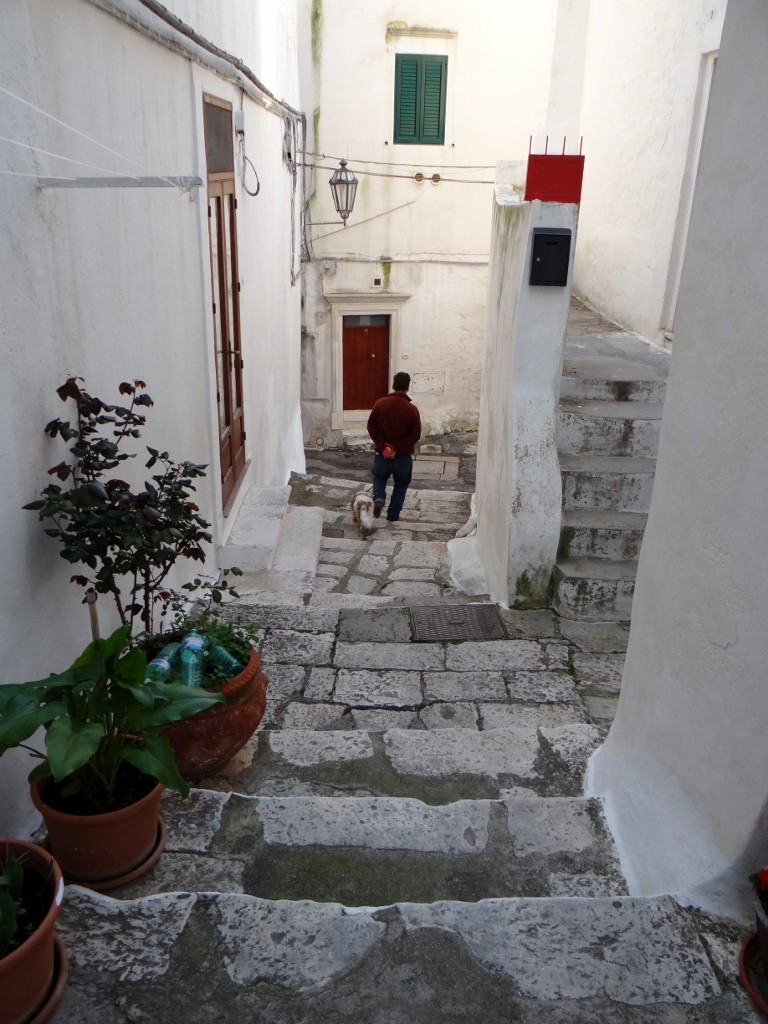 We eventually made our way out of the white-washed maze (because I took over navigating!) and rested up in Dave for a while, then as the cloud cleared just before sunset we headed out for another walk around. My backpack got caught on a passing chap who turned around and said 'Sorry', I think I was as shocked as he was when I replied, neither of us expecting to bump into an English speaking person. The wind picked up as the sun set and we made our way back to Dave.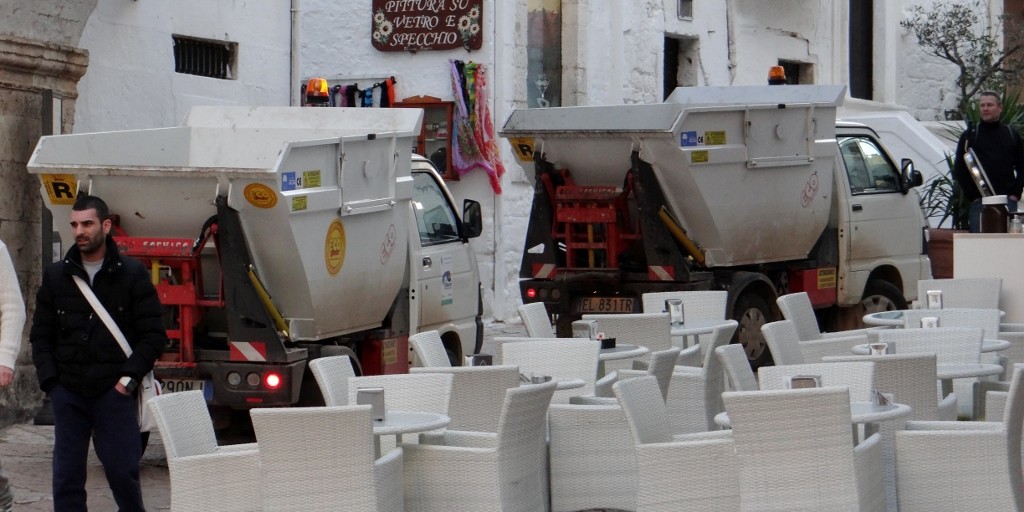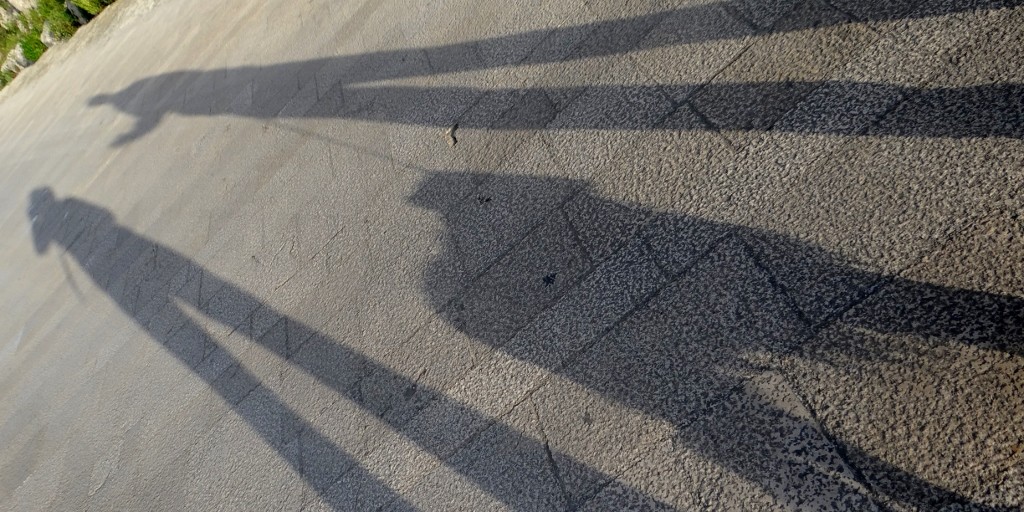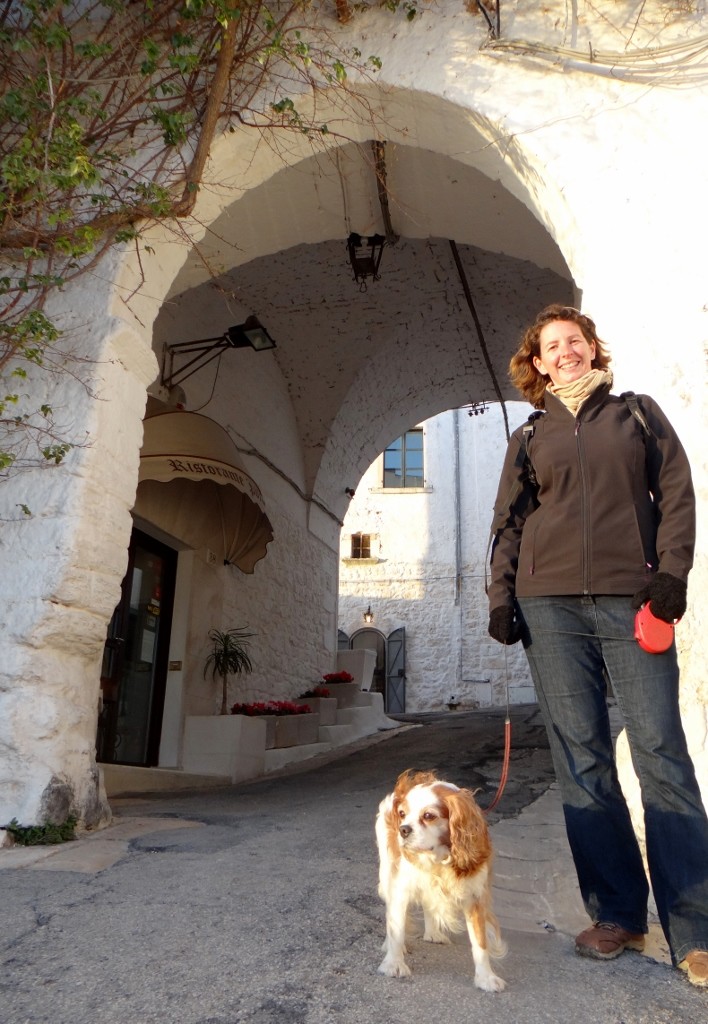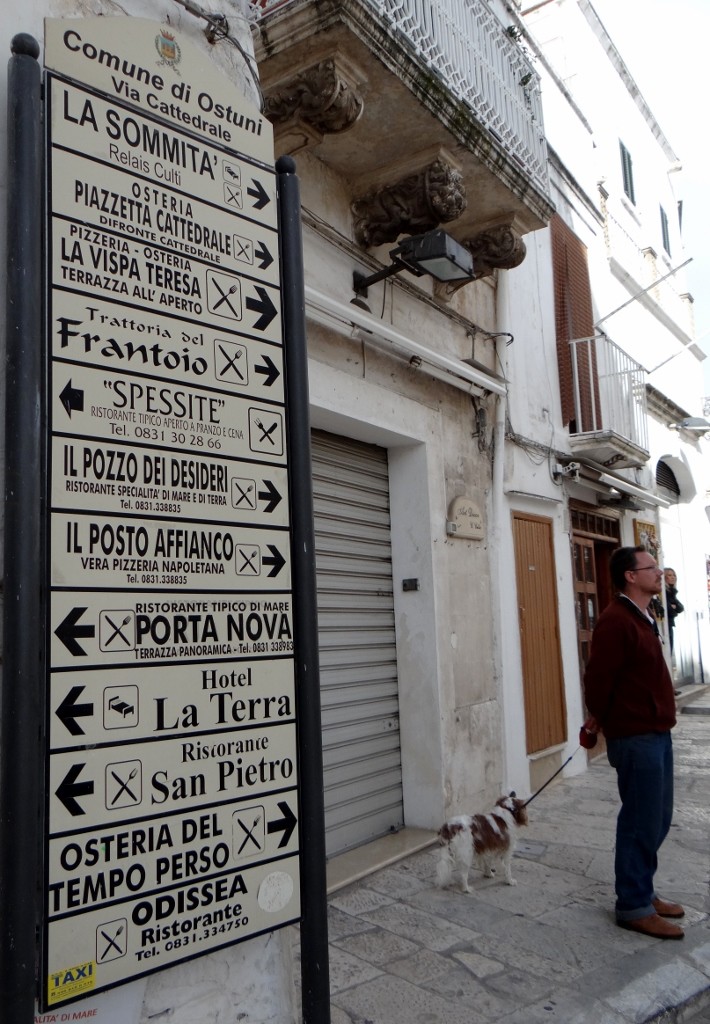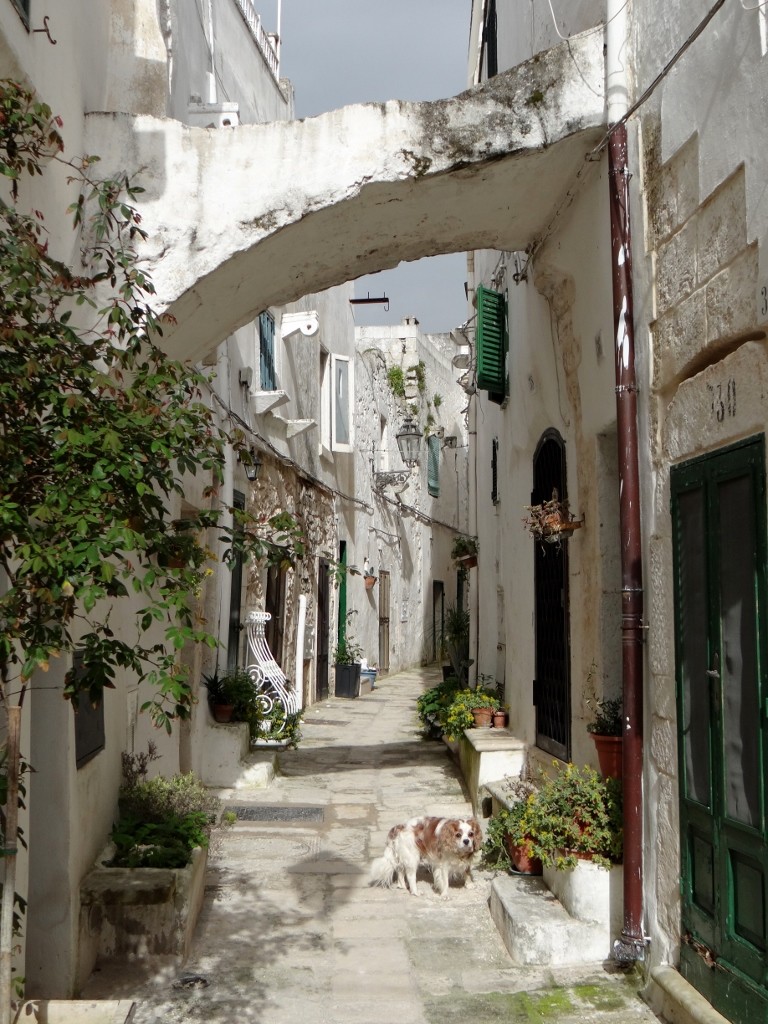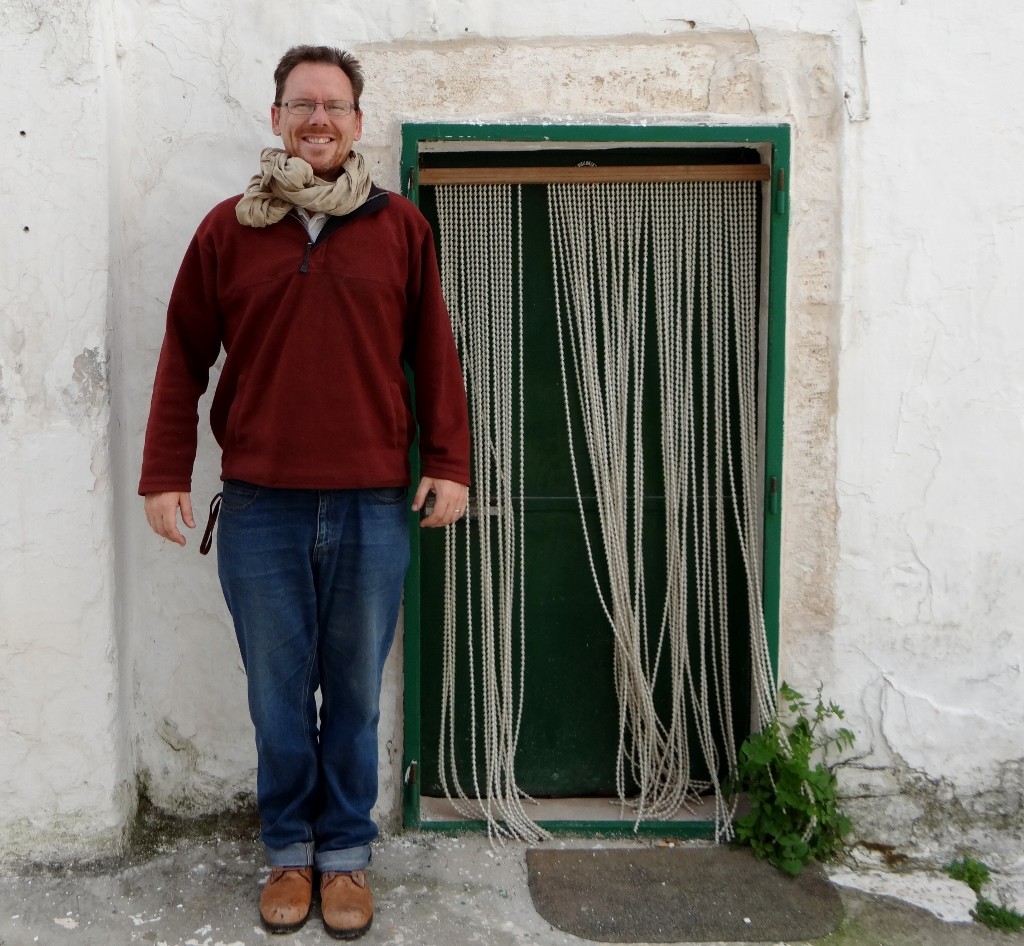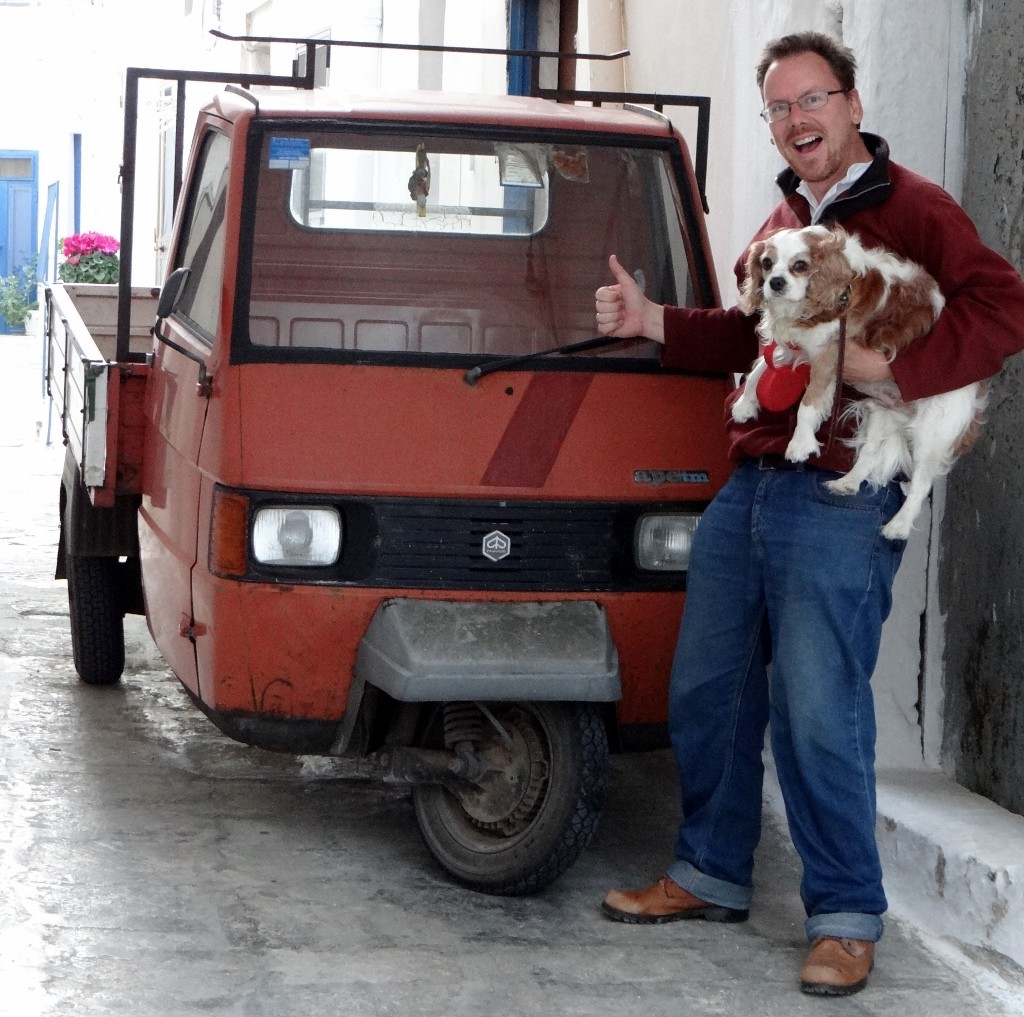 The town is all lit up out of our window now and more motorhomes have arrived (I really don't know where they spend their days). Jay is cooking up a stew from some skewered meat that was reduced and loads of veggies we stocked up with; aubergine, courgette, fennel – he's getting to be quite the chef! Tonight we relax, tomorrow we visit the Trulli houses nearby then it's time to head over the Greece – the new country nerves are kicking in already!
Ju x