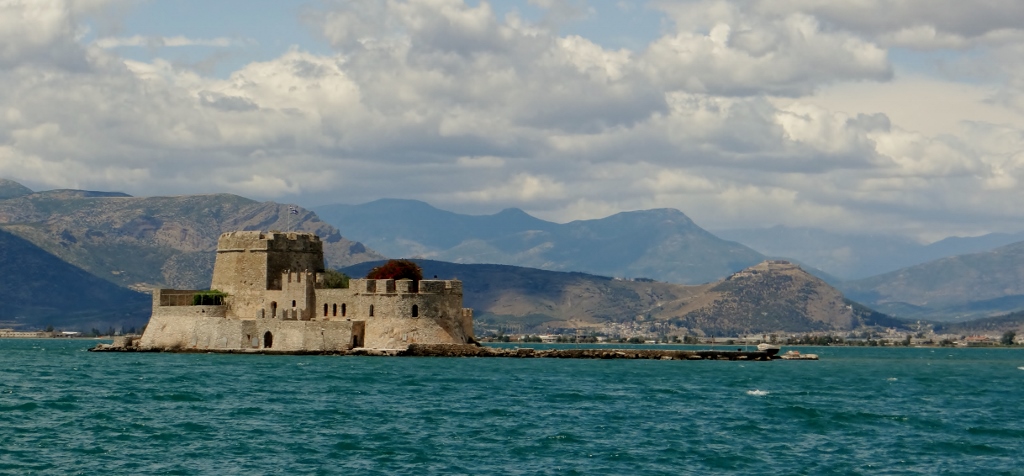 Dave the motorhome is being a bit buffeted by the wind as he sits with a few other motorhomes in the huge car park which forms Nafplio harbour (N37.56906 E22.80084). The BBC weather forecast predicted rain from 6pm, it's half an hour after that but the wind has picked up and the dark, ominous storm clouds are slowly making their way overhead as I type.
Last night two more motorhomes arrived in our little enclosure and a car, which we think a Swiss couple slept in. They all gathered in the centre of the car park chatting in German, I would have loved to have gone over and joined them, but felt bad because I would have needed them to speak English, which I knew at least two of them didn't! I really must try harder on my language skills.
This morning we were woken by the sound of prayers being sung out via loudspeaker from the local church. The other vans left one by one, after using the service point (one of them was on his van's roof hosing it down, making the most of a long hose and free water). Soon it was our turn to head off, a splash of water into Dave's tank and we were gone, it's so nice to have a place with dedicated services so you don't have to sneak into beach or petrol station loos to empty your cassette.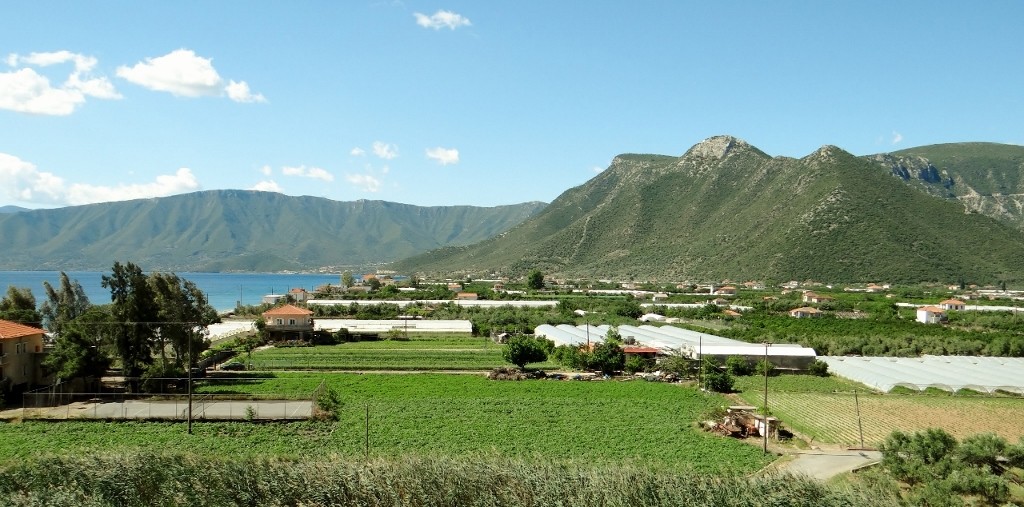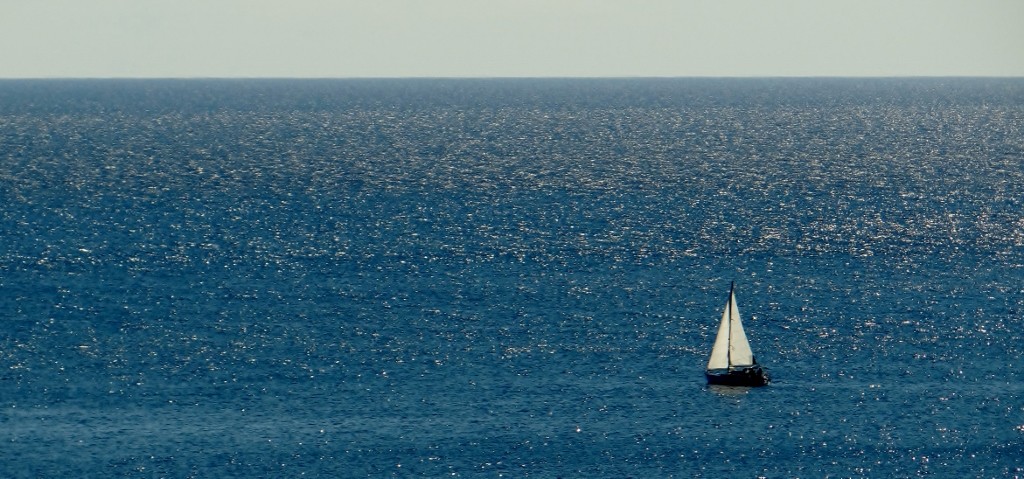 We headed north, hugging the coastline, climbing over rocky promontories and dipping around behind beach-fronted villages. Usually I'm looking at the scenery, but as we are now on the hunt for a new bathroom cabinet door, I took much more of an interest in the businesses lining the road. There were many builders merchants, several UPV window manufacturers and a lot of homeware stores which contained mirrors and got me all excited when I saw their reflections in the window, but alas no glass or glazing places to be seen.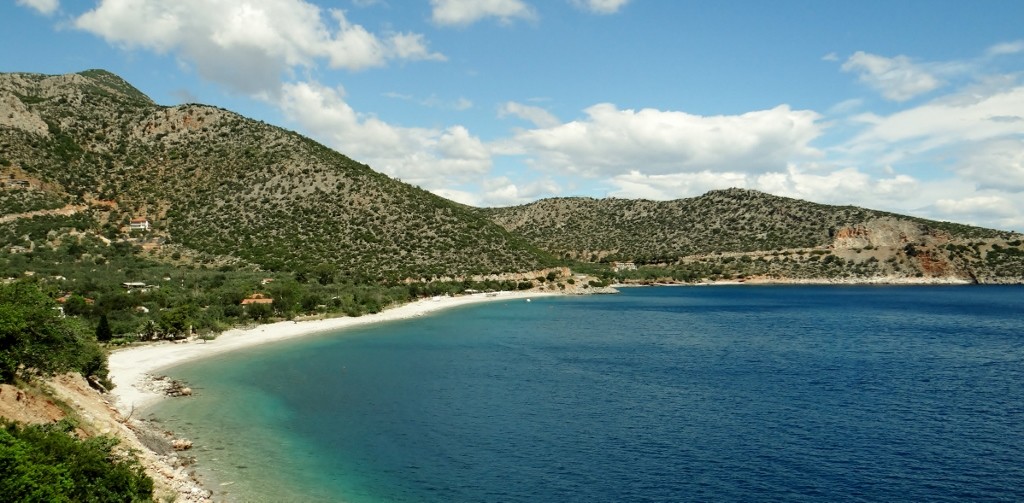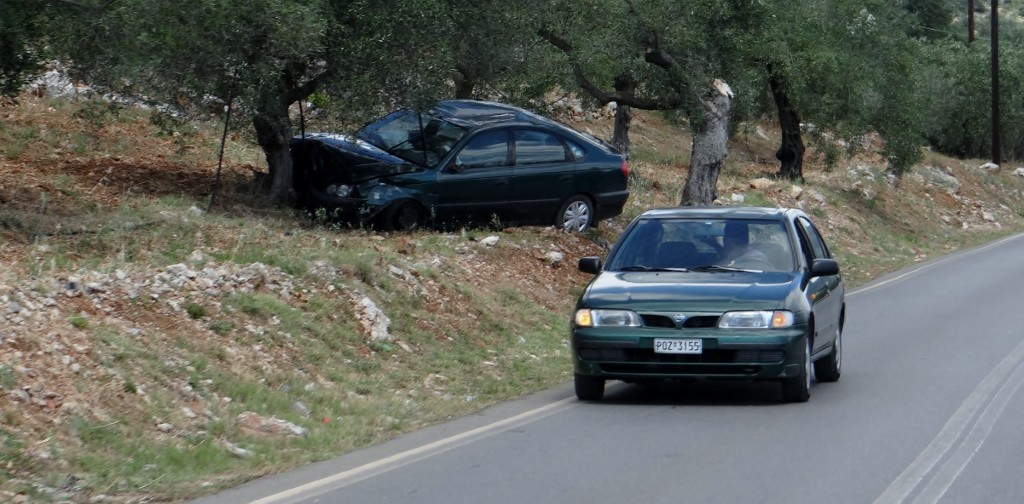 The time flew by and before we knew it we were at Argos – no not the catalogue store, but what claims to be the oldest inhabited town in Greece – meaning we'd missed our short-cut turning to Nafplio. It was easy enough to miss as there weren't any signs for it, well none that I saw, but going on this slightly more roundabout route meant that we stuck to the main roads, always handy in a Dave-sized vehicle. As we turned south on the road to Nafplio we spotted an 'AB' supermarket. Several people had told us that these were reasonably priced local supermarkets and as the spuds we bought at a market a few weeks ago finally went mouldy and in the bin last night, we nipped in for supplies. Three supermarkets in as many days, it's a wonder Dave actually moves!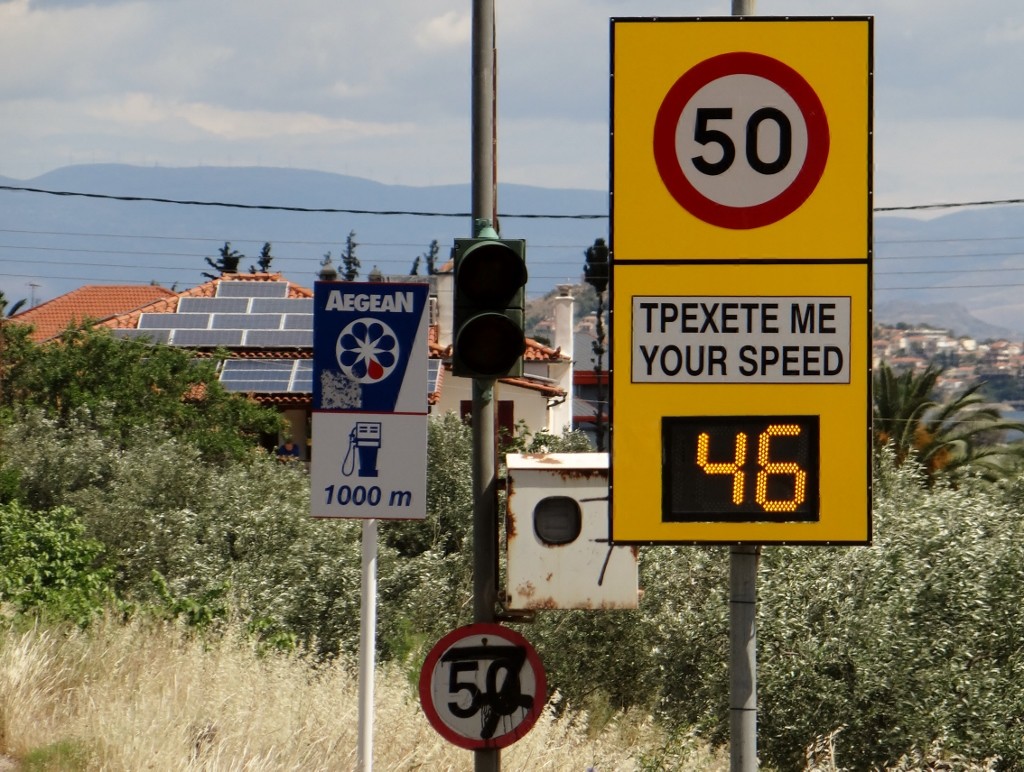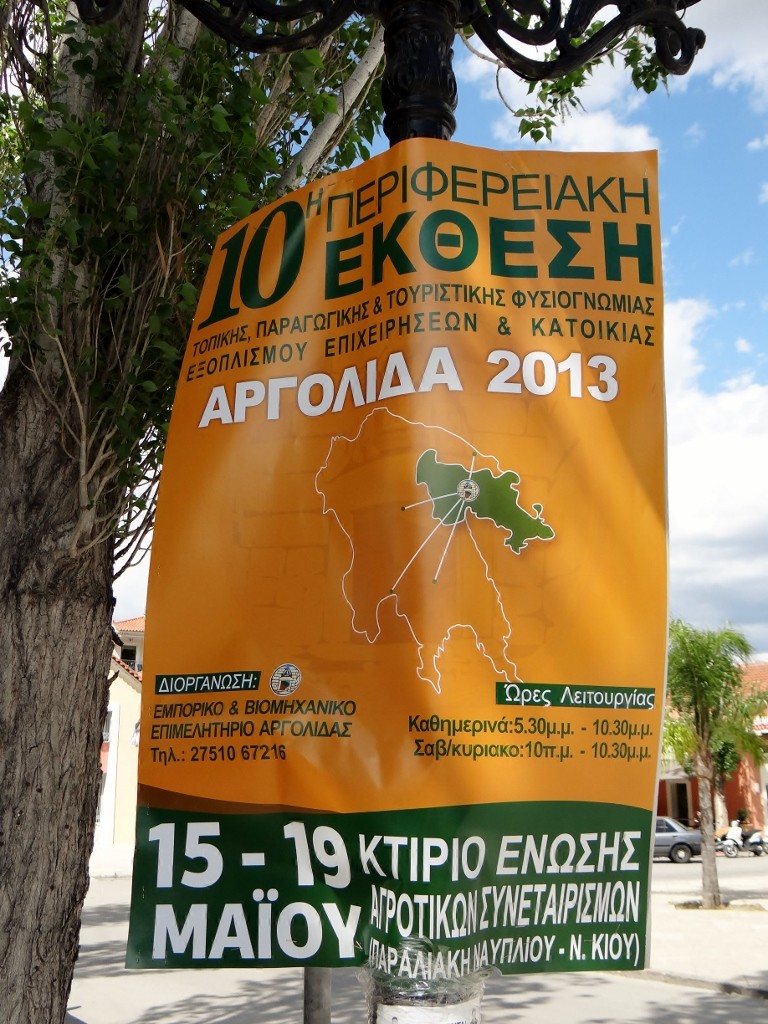 Reaching Nafplio we followed the signs for the port and parking, the map in our guidebook had some worryingly narrow-looking roads in the main town. The nice wide road brought us straight in and we parked up next to the water, by a couple of other motorhomes. After a spot of lunch the dark storm clouds above the Palamindhi fortress, which is perched above the city, hadn't moved so we set off for a look around the town before the rain came.

Nafplio was the first capital city of modern Greece and also where the first Prime Minister, Ioannis Kapodistrias, was assassinated by vengeful Maniot clansmen (you must know by now how much Jay likes anything to do with those Maniots). But history aside, it's a lovely port town which has obviously had some money spent on it to become a popular weekend destination for Athenians. We wandered along Bouboulinas (a name we know from watching Zorba the Greek the other day), the sunny waterside promenade lined with palm trees and small fishing and day trip boats. At the end of the walkway two tourist trains sat waiting to take tourists around the town, but it's still out of season here and place is quiet.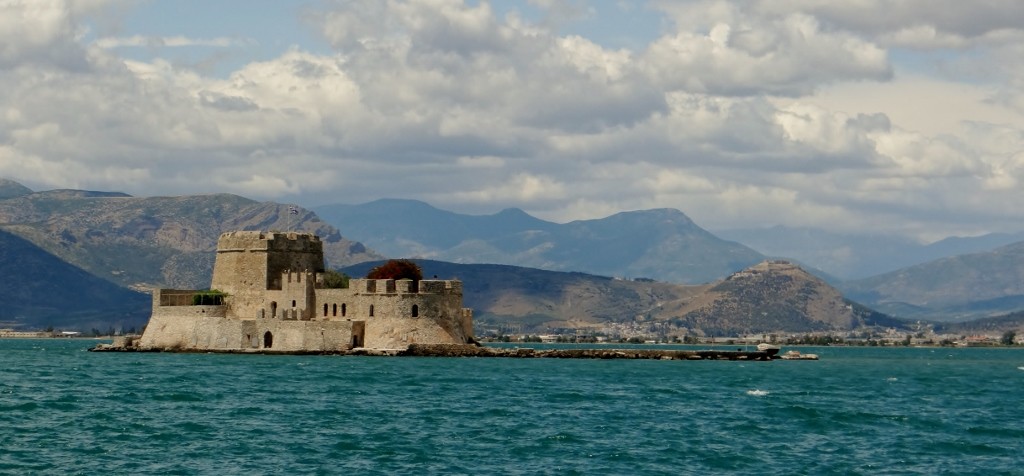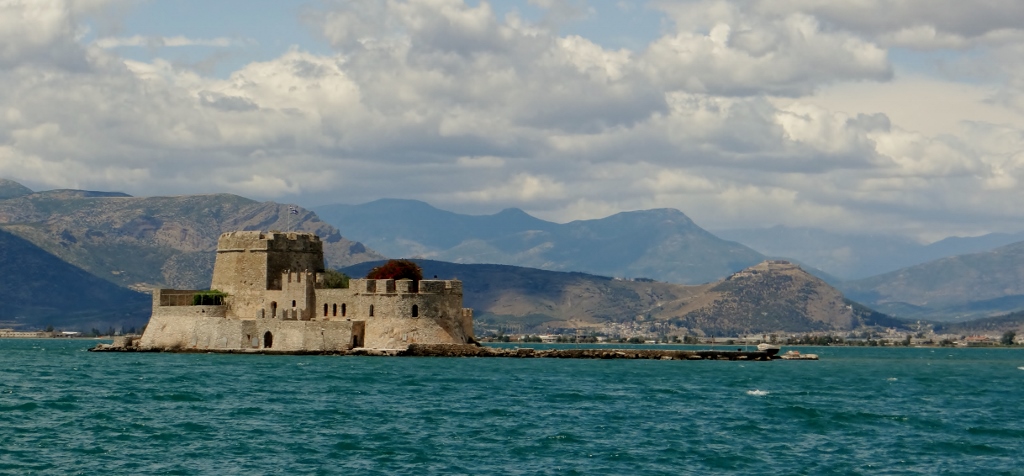 Reaching the end of the harbour jetty, I took a picture of Bourtzi fort sitting on an islet in the middle of the harbour, as our guidebook told us that it is the most photographed thing in Nafplio and we didn't want it to lose that status.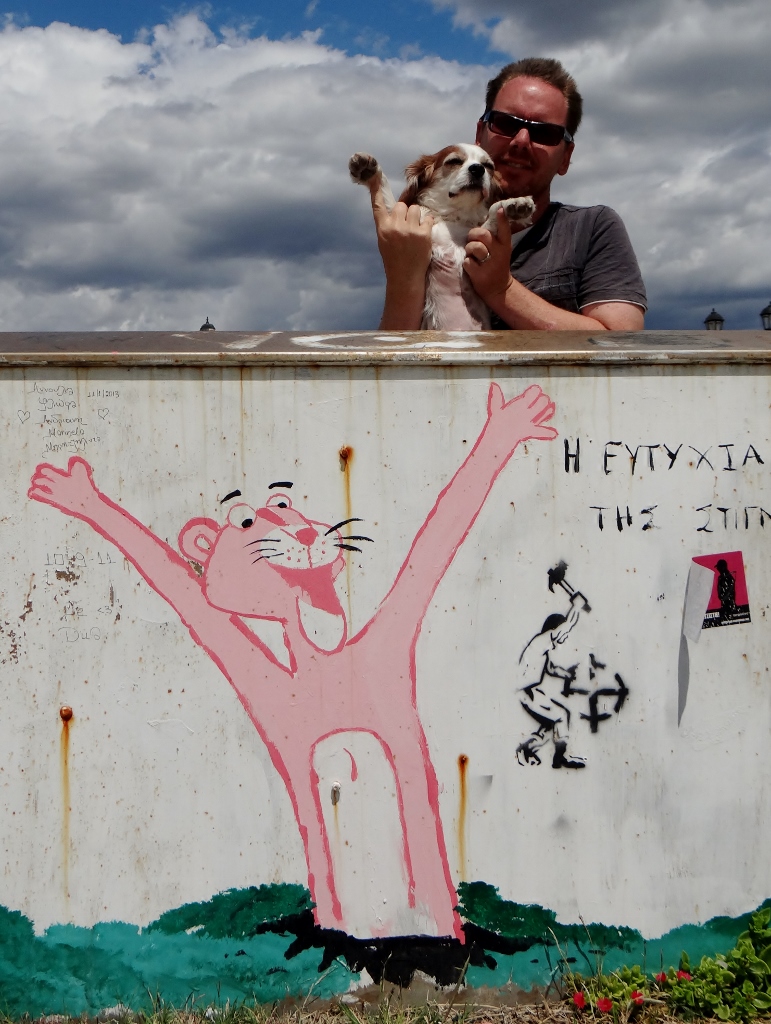 We then headed up the steps into the town and wandered around among narrow alleys, cafes, souvenir shops and tumbling bright pink, red and purple flowers (the name of which my Mum would instantly know, but I sadly don't).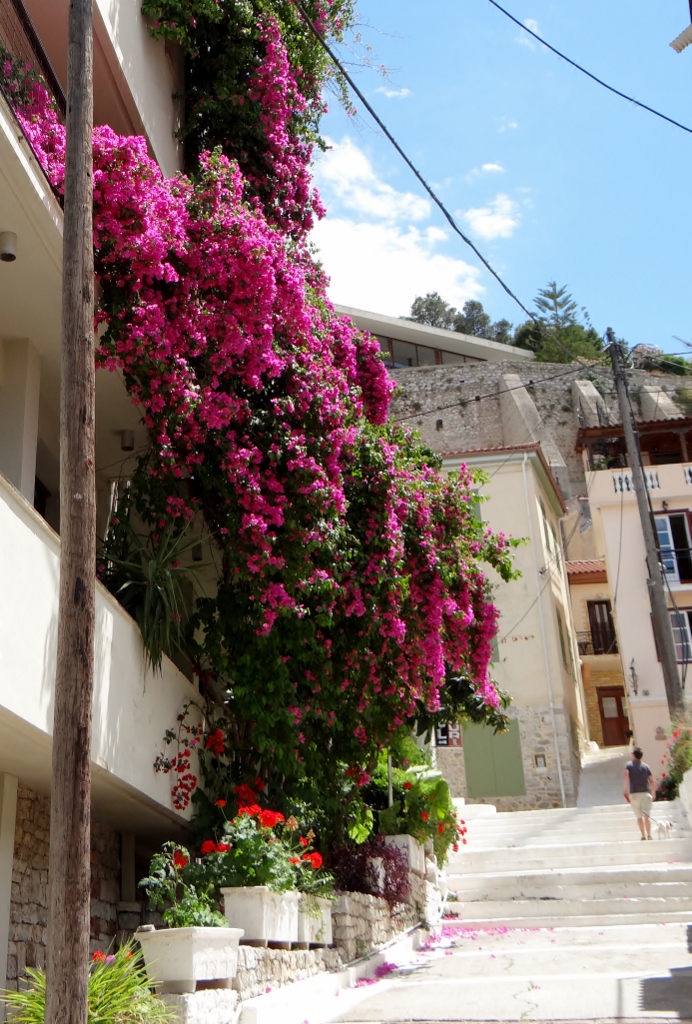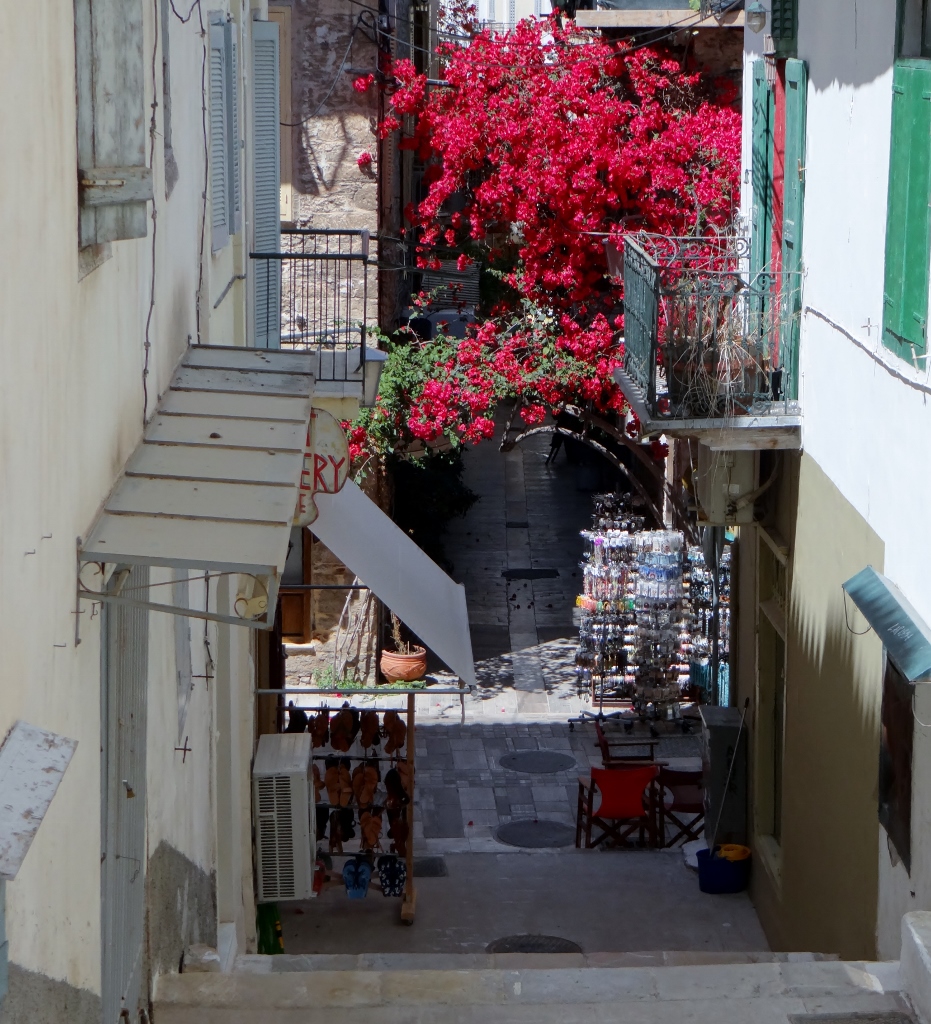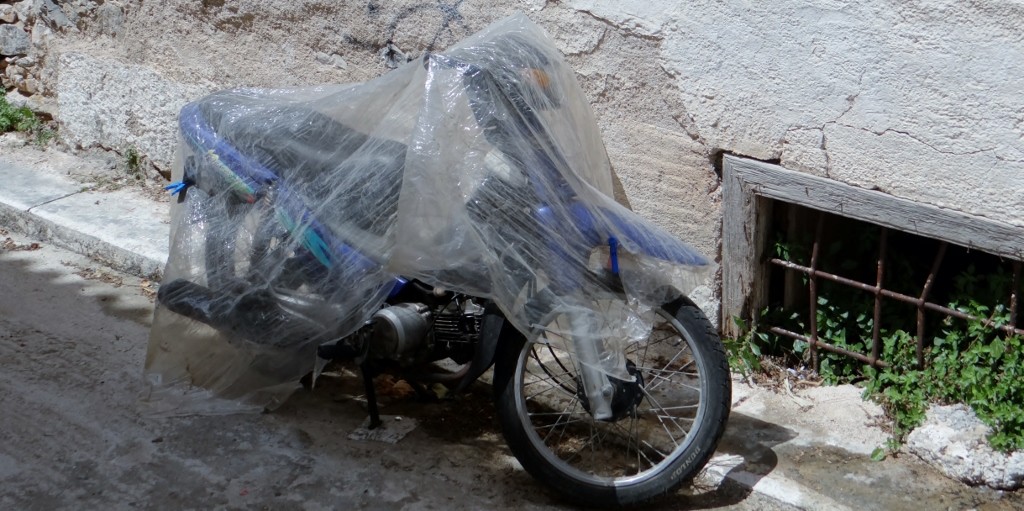 We found the main square, Platia Syndagmatos and got our guidebook out to see what other sights were around. The town is very pretty, but unfortunately as you get further away from the main tourist part it starts to get ruined by graffiti – although the people doing it seem to think they are artists, not based on what we saw today!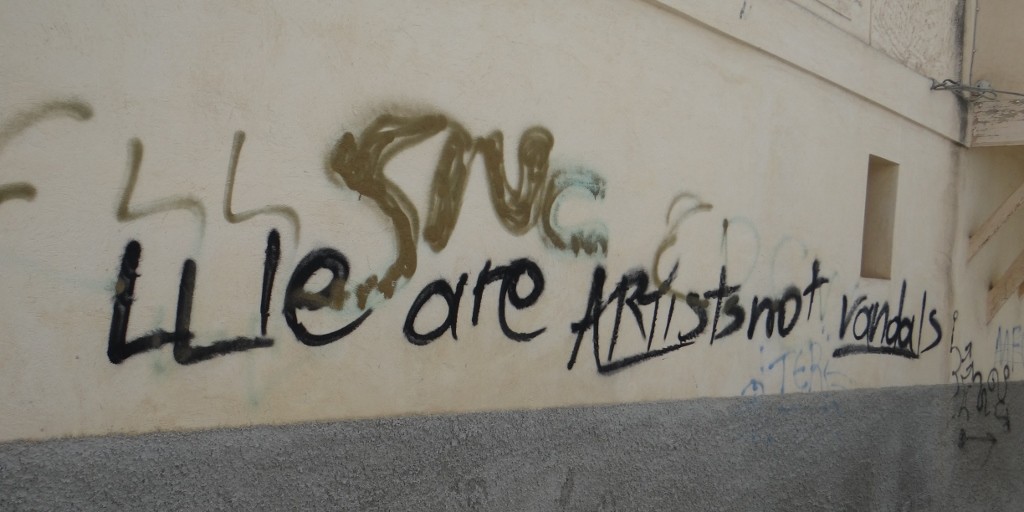 The weather was very hot and sticky, and of course the town is built on a hill so there was a certain amount of stair climbing as we set off in search of the place where Kapodhistria was killed, on the steps of a church. We found a dilapidated old church and looked hard to see if we could see the bullet hole which is supposedly still visible, but as there was hardly an inch of the building that wasn't holed or worn we gave up.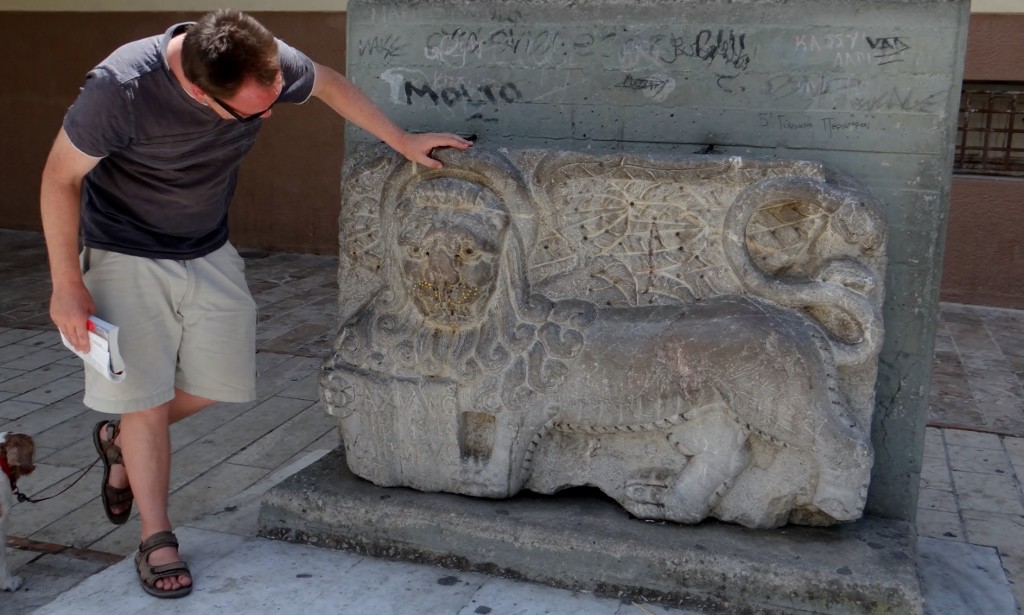 Next to us was The Byron hotel named after Lord Byron whose ancestral home Newstead Abbey and grave in Hucknall are not that far from our home in Nottingham, England (it's a small world). He's honoured all over Greece after taking part in the War of Independence, his name is even listed on a memorial here, even though he died of fever before he could set sail. Jay nipped in and asked for directions to where Kapodhistria died, but following them took us to the hotel named after him. Undeterred we carried on hunting and eventually ended up at a church right opposite the run down one we were looking at earlier, and would you believe it, there in the wall behind a little glass frame was a hole.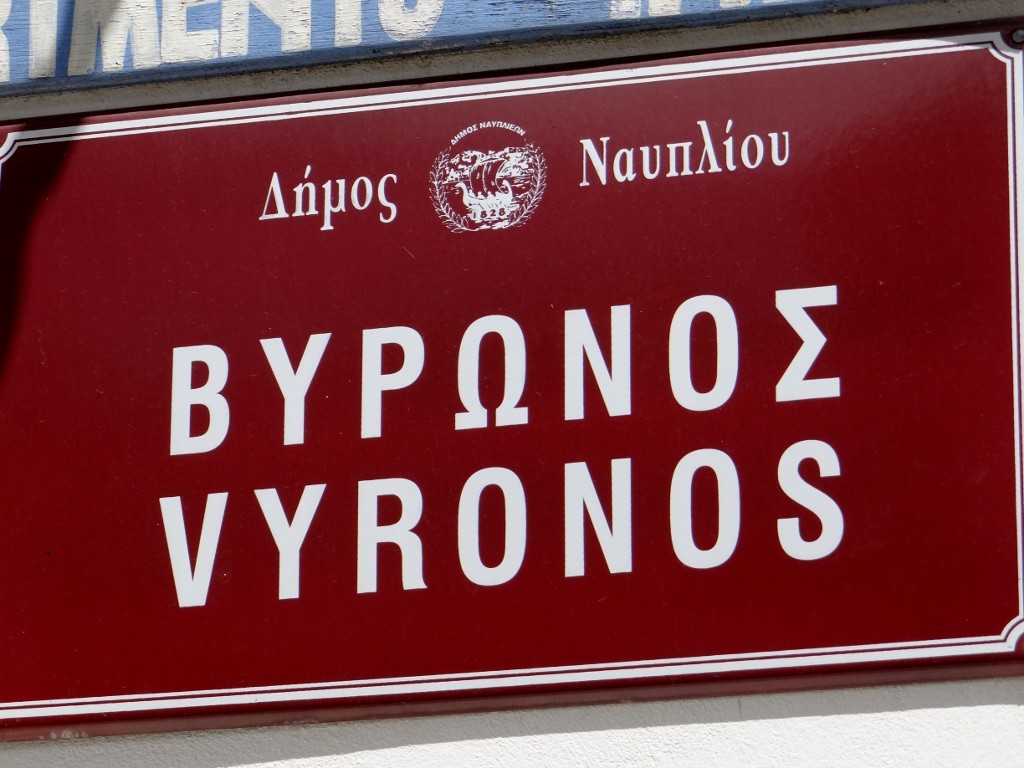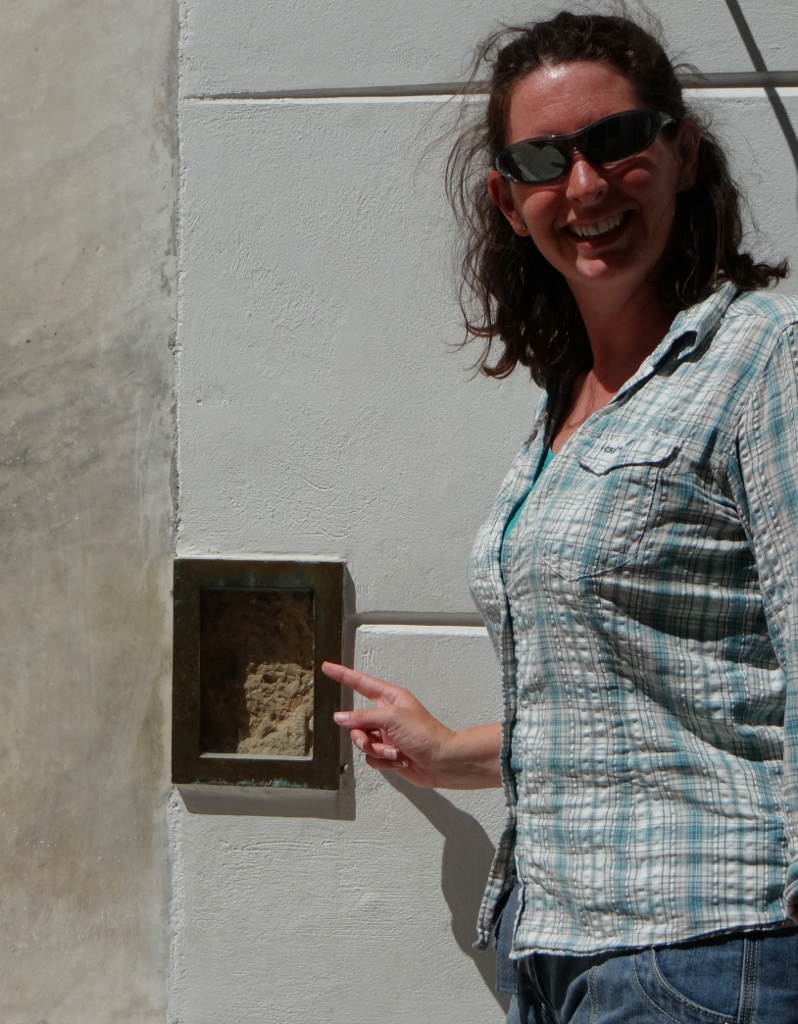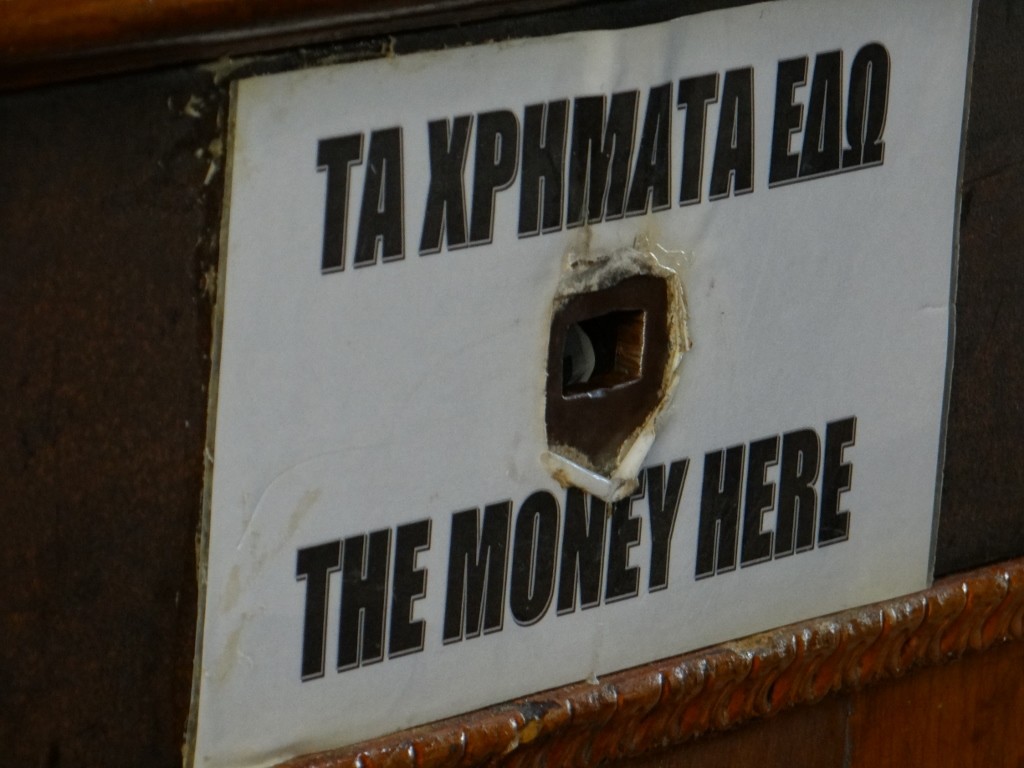 We headed back to Dave to find him all alone at the water's edge, the wind was causing the sea to lap up onto the harbour side and soak him, so we moved a few metres back to where the other motorhomes had retreated, faced him into the wind to minimise rocking and gave him a quick rinse down. It has rained for all of two minutes, but looking at the clouds above us we could be in for a right good storm tonight. Tomorrow if the weather has cleared we plan to climb up to the Palamidhi Fortress, they say it's between 899 and 999 steps to get up to it; seriously? After the first couple of hundred who counts these things?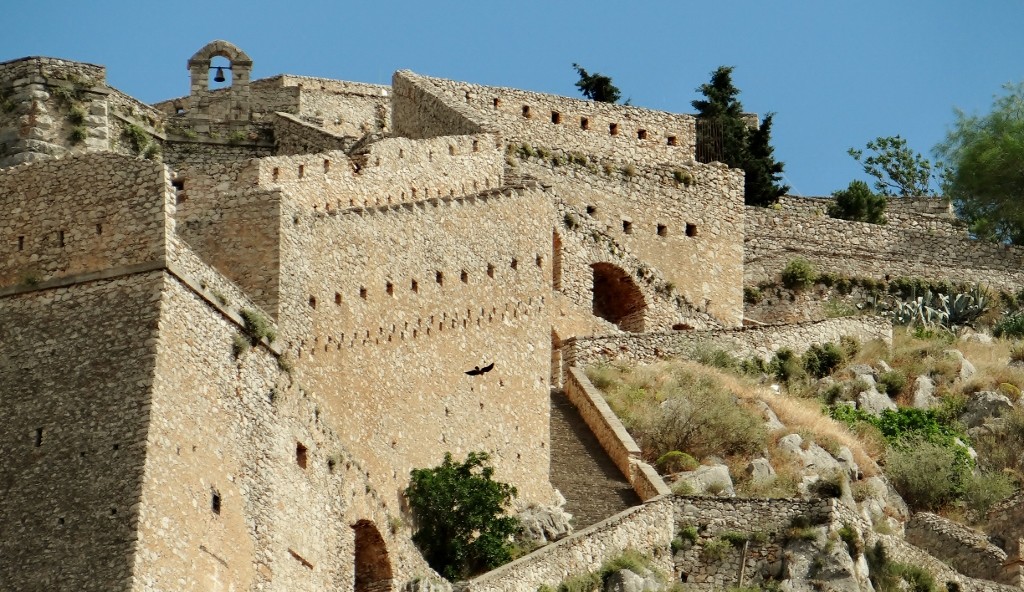 Ju x