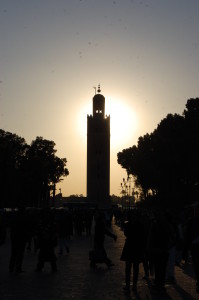 By taking a short-cut ferry or two, you can find yourself and your motorhome in North Africa within a few days of leaving the UK. The easiest destinations to reach, and those considered safest by the Foreign Office (neither have an advised restriction on travel as of February 2013) are Morocco and Tunisia. Neither country requires any specialist equipment to tour it, no need for a four by four, Unimog, off-road bike or sand driving training! But they do both border the Sahara desert, so should you fancy having a play in the dunes, or a more serious expedition, both countries offer that possibility.
So, if you're up for an adventure outside Europe, which of these countries should go head for?
We toured Morocco for a month during January and February 2012, and Tunisia for just over six weeks in January to March 2013. Both times we travelled in Dave, our trusty 1993 Hymer B544 with over 180,000 kilometres on his clock. Our dog Charlie, a King Charles Cavalier Spaniel, accompanied us on both trips. The notes below are our thoughts on the comparative strengths and difficulties of each country, and are based purely on our own experience. Obviously, we're not experts in either country and you should treat this information accordingly; as a basis for your own research rather than definitive advice.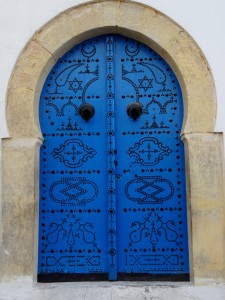 Visas and Formalities
Both countries allow stays of up to 90 days without a visa for EU citizens.

Both countries allow you to 'temporarily' import your motorhome, but you must travel out of the country with it or face hefty fines.

To travel legally in either country you'll need a minimal level of third party vehicle insurance. Some UK insurers will provide, for a fee, a 'Green Card' to demonstrate that they provide at least this level of insurance. We found our UK insurer would not issue a Green Card for Morocco but we could buy the insurance at Tanger Med port. When we visited Tunisia we changed insurer at renewal time to one who would issue a Green Card.

Both entry points had a similar level of bureaucracy and confusion. A few €s to a 'helper' will get you through or check out our guide to Morocco.

You can only obtain currency once in the country, we obtained our first load of local currency at the port using a money changer at Tanger Med and a cash machine at Tunis (we later found out there was also a cash machine in Tanger Med).

You can import very limited amounts of alcohol into both countries. We opted to ignore the limit and we not searched at either entry point (although the alcohol was well hidden just in case).
Conclusion: It's a draw – both countries are equally easy to get into and out of in terms of bureaucracy.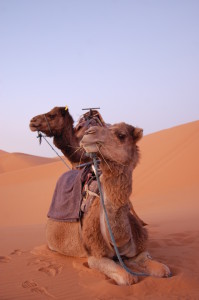 Ferries
Morocco: By far the cheapest and most convenient crossing is from Spain to Morocco. We took the Algeciras to Tanger Med crossing, about four hours, so no need for a cabin and you leave your dog in your motorhome for the crossing. There are around four ferries per day on the route we took into Morocco, with two other route options leaving from the bottom of Spain and more further up the Spanish coast.
Tunisia: The quickest and cheapest crossing into Tunisia is from Sicily to Tunis, taking around ten hours in theory, rather a few more hours in practice. We also met quite a few people in Tunisia who had caught a ferry from Genoa, about a 24 hour crossing, but works out cheaper than driving through Italy with its expensive diesel and road tolls. The ferry from Sicily to Tunis run once or twice a week (depending on which company you travel with). We booked a cabin both ways on the Tunis ferry, to avoid putting Charlie into kennels, and also to avoid sleeping on the floor as the locals nabbed all the seats for kipping. Not all ferries allow pets in cabins, even from the same company on the same route, we had to beg for Charlie to be allowed in with us on our return journey.
Conclusion: Morocco easily wins the accessibility test, quicker, cheaper, more ferries and a little less hassle.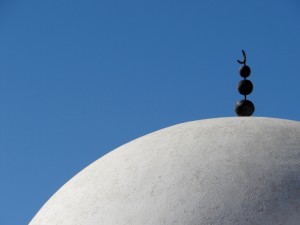 Language
Unless you speak Arabic or one of a range of Berber languages, you'll be relying on French much of the time in both countries. 

In the more touristy areas people speak English, some German, some Italian. In the very north of Morocco Spanish is the second language spoken

Road signs are usually in Arabic and French, especially on the main roads, however don't be surprised to find street names and minor road signs only in Arabic in many places.
Conclusion: Another draw. Dig out your French in 24 hours book. Speaking at least some French makes the whole process of visiting either country much more fun and interactive.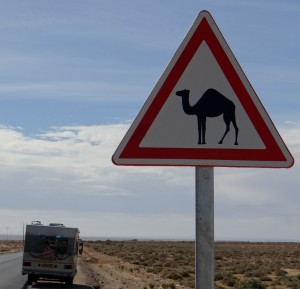 Taking A Dog
You can travel with your pet dog(s) to both countries and return to the EU and then the UK without quarantine.

 However, you MUST have a valid EU Pet Passport and have complied with the relevant regulations in order to do this. Ask yor vet and check out the DEFRA website for information.
Morocco: No checks were made of our Pet Passport or Charlie on entry. 
Tunisia: A vet at the port issued a certificate to allow Charlie into the country. Charlie needed to be present and he looked at his Pet Passport. No check of Charlie or his microchip were done and there was no charge.
We took enough flea/tick/leishmaniasis and worming treatments for the duration of our stays (note that not all flea treatments covers leishmaniasis).

Both countries have packs of wild dogs roaming loose. These are typically agressive, but are easily kept away by brandishing a stick or by picking up a stone.

The locals will find your dog an oddity, especially once you're away from the main cities and coast. Reactions to Charlie, who's rather small and furry, ranged from inherent fear (even in the toughest looking blokes) to sheer joy and wonder from adults and children alike.
Conclusion: It's a draw. Both countries are about the same when it comes to taking your pet dog, you just have one additional legal loop to jump through in Tunisia when you arrive, but nothing when you leave.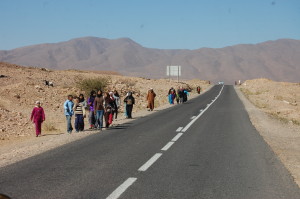 Internet Access
Both countries have widespread and fast 3G internet networks.

Morocco was the cheapest place to access the iternet. A pre-paid 3G dongle and SIM cost €18 with a month of unlimited data included.

Tunisia has more telco providers offering 3G Internet – see our article on the options

Both countries have Internet Cafes, we only used these in Tunisia and they were cheap and fast, although the Arabic-French keyboards took some getting used to, until we found out they had WiFi so we could use our own laptop instead.

As a rule, campsites in neither country offered WiFi.
Conclusion: Morocco wins here. Purely because Maroc Telecom offered a fantasticaly cheap deal at the time we visited! In practice getting on the Internet in both countries is now pretty easy, flexible and reliable.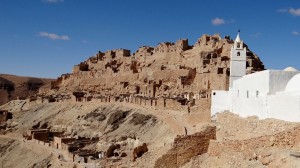 Scenery and Desert
Morocco: With the Middle and High Atlas mountains, the butter-coloured dunes of the Erg Chebbi, palm-packed oases in among red cracked rock it is quite stunning.
Tunisia: On the low edge of the Atlas mountains, more like hills than their white-capped cousins the other side of Algeria. In the south the Sahara takes up half the country, the yellow dunes are easily accessible at Douz and with a bit of lip-biting the red dunes of Ksar Ghilane are there to be played in. The chott salt flats are jaw-dropping though as are the ancient Berber dwellings and Roman ruins that are better than those in Rome!
Conclusion: Morocco wins just. Despite the beauty of southern Tunisia, Morocco pipped it to the post for sheer scale, grandeur and variety.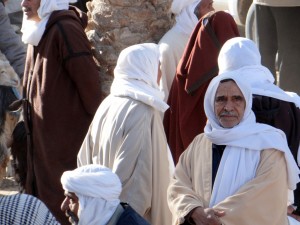 People
Morocco: We found that tourists were very familiar to the people of Morocco, and the country and people are well geared up to exploit their potential. Even in the most remote place along a desert road, stopping the van would result in a knock on the door within minutes as someone tried to sell you something. Children would routinely beg for sweets, pens and money. With the exception of a very small number of conmen, the vast majority of Moroccans were very pleasant and approachable people.
Tunisia: Although Tunisia is a more developed country than Morocco, the tourist industry appears to have focussed almost entirely on package holidays. Each of the larger towns would have a 'zone touristique' with large hotels well away from the town centre. Outside of these towns tourists were a relatively rare thing, and we found ourselves being treated with far more respect than we deserve!
Conclusion: Running the risk of stereotyping entire nations, Tunisians were on the whole a more friendly, approachable bunch with less emphasis on making money from independent tourists. Moroccans are well aware of the cash potential of Westerners and the 'friendship' of a local seemed far more likely to turn into a request to visit a shop at some point. So Tunisia wins this point.

Campsites and Other Overnight Options
The more adventurous travellers laugh off North Africa as not being the 'real Africa'. As we've never been to sub-Saharan Africa, we can't compare for ourselves. However, for us soft Europeans, North Africa provided enough of a challenge!
Morocco: Pretty well geared up to motorhome travel and it shows as there are plenty of them touring the country. Towns usually have a single camping site, and cities maybe two or three to choose from. With the odd notable exception, they're basic affairs, high walls surrounding an area of packed earth equally packed with motorhomes. The sanitary facilities are, depending on your own personal standards, often unusable, and hardly any have grey water emptying. Outside of campsites, you can opt to use 'guarded parking' where you pay a fee to a local chap in a high vis vest who may or may not hang around to actually guard your van. We did zero free/wild camping and saw no other vans doing this. We heard of some folks asking the local police who would allow you to stay outside the station overnight (in Meknes whose campsite had closed down). There are a few books available to help you find campsites, the only English language on we know of is Camping Morocco by Vicarious Book, which was very good.
Tunisia: The place really isn't that well geared up for Motorhomes. There are only a handful of camping sites across the country, almost all in the south. There are however a range of other options, staying in enclosed hotel car parks or restaurants  at archaeological sites and in youth hostels; we used all of these options. Free/wild camping is possible, but the police warned us twice not to do this, out of concern for our safety rather than any local law. We only free camped for a couple of nights one of which was on the isle of Jerba and a long way from anything. We were unable to find any English language resource which listed places to stay.
Conclusion: Morocco wins for ease of overnight stays, although this was mainly due to lack of information available in English about options in Tunisia. We pulled together this list while in the country, and also found a book published by womo.de (we have used others in the series and they are excellent) but in German only.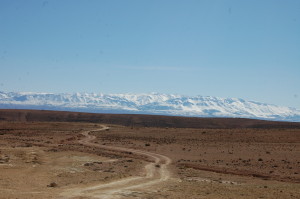 Roads
Both countries have stretches of motorway generally leading to and from the capital and along the coast. These are toll and are very cheap in both Morocco and Tunisia.

Off the motorway, the quality of the road networks in both countries varied wildly from new, smooth dual carriageway to scrappy patches of tarmac which you'd only be able to get two wheels onto much of the time due to oncoming traffic

Tunisia was unique in having distance stretches (10 miles plus) of roads which were being upgraded and had had the entire length stripped of tarmac and no signs to warn you.

Moroccan roads felt narrower, especially on those frequented by lorries and tourist coaches, which slow down for no man.

In both cases the standard of driving was, err, haphazard.
Conclusion: As a purely subjective measure, Tunisia was an easier place to drive in. Quieter roads, and fewer trucks. Just look out for those endless stretches of rutted gravel though.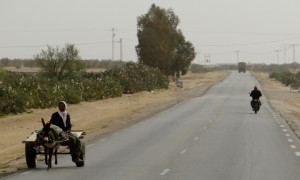 Breakdown
We are members of the German road organisation ADAC, which can be joined by anyone in the UK with no need for a German address or bank details. 

It's unclear just how much support ADAC will provide to a broken down member's vehicle in either country.

Some advice says they will provide breakdown assistance, others not.

We never had to test the theory, phew. Local garages in both countries were usually of the tiny variety with oil spilling out onto a muddy patch outside, also known as the workshop. As our Hymer is pretty basic (it doesn't even have a turbo) we felt fairly confident the garages would get it going, and for a low fee. In case they didn't, and ADAC would provide no support, we would have chosen to get the vehicle to the port on a breakdown truck, towed into the ferry and off again the other side. In Tunis we saw a number of vehicles being towed off the ferry from Sicily.
Conclusion: Another draw!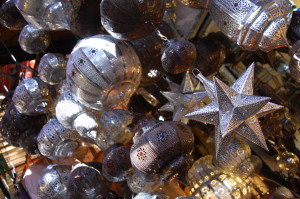 Dangers and Annoyances
Morocco: We heard of and avoided scams on Moroccan roads from folks pretending to have broken down or needing drinking water. Both are, so we read, harmless enough and just intended as an opportunity to beg or to take you to a shop to say thanks for the help with a 'discounted' purchase. In contrast to Tunisia (see below), Morocco avoided a revolution, the King remained head of state during the general uprising across North Africa, and has announced a series of political reforms. His posters are everywhere and he appears genuinely popular.
Tunisia: We heard of no such scams in Tunisia, not to say they don't exist. We visited Tunisia 2 years after the Velvet Revolution which overthrew the president Ben Ali. The country has still not written or agreed a new constitution and while we were there the head of the main opposition party Chokri Belaid was murdered on the streets of Tunis. Government buildings were surrounded with razor wire and small numbers of army personnel and trucks were on the streets, even parked up outside the large Carrefour shopping complex outside Tunis. We passed maybe 30 police road blocks, although only 4 stopped us to check documents (or to welcome us to Tunisia!). However we never saw or experienced any problems.
Conclusion: Morocco felt the most secure of the two countries to travel independently in when we visited, but had many more scams to be wary of.

Food
Being almost entirely Muslim, pork and pork products are not available in either country. Bring in tinned stuff or stick to mainly poultry and beef (camel was widely available in Tunisia and sometimes the only meat in the butchers in the south of the country).

Likewise, alcohol is seriously frowned upon, although is available in a small number of outlets in both countries. As above, bring your own, hide it well, don't tell the locals you have it unless you want to hand it over.

We ate out a fair bit in both countries and found the food to be pretty basic, but generally tasty and we suffered no ill effects.

We drank bottled or boiled water in both countries with no ill effects. Bottled water is available everywhere.

We bought meat from the local butchers, which usually had no fridge but sold meat freshly killed, and had no ill effects (we were there in winter, so temperatures were not high)

Vegetables were easily available from market stalls in both countries and were generally of good quality. We washed these and cooked them, no problems.
Conclusion: we ate well and cheaply in both countries, nothing between them on this point.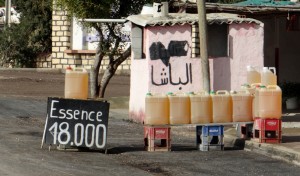 Fuel
Diesel was easily available in all but the remotest of places we visited in both countries

LPG was available in a few places in Tunisia, using the French style adaptor (we found it in one city, but found the garage in Tunis had run out). There is no LPG anywhere in Morocco.
Conclusion: Tunisia just edges this one for us, as LPG is available in a few places unlike Morocco. Also, the filler-upper guys at the garages in Tunisia expect no tip.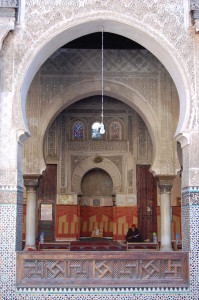 Costs
Excluding the cost of the return ferry trip, both countries were priced roughly the same. 

Diesel was very inexpensive in both countries, as was LPG in Tunisia

Overnight stays were generally more expensive and with fewer facilities in Tunisia, but were still cheap by European standards
Conclusion: Taking into account ferry costs, Tunisia is by far the more expensive place to travel to. Check out our country cost guides for Morocco and Tunisia.
Overall Conclusion
If you after more of a 'starter' adventure outside Europe, Morocco's the place for you as you'll have plenty of fellow motorhomers for company.

If you're after a deeper adventure, where you see fewer (if any) fellow Europeans, then head for Tunisia.

For both countries keep an eye on the Foreign Office website for advice. You'll also need 

an open mind, an appreciation of religious and social sensibilities (read the Rough Guides for hints and tips) and lots of memory space for the multitude of photos, they're incredible places.