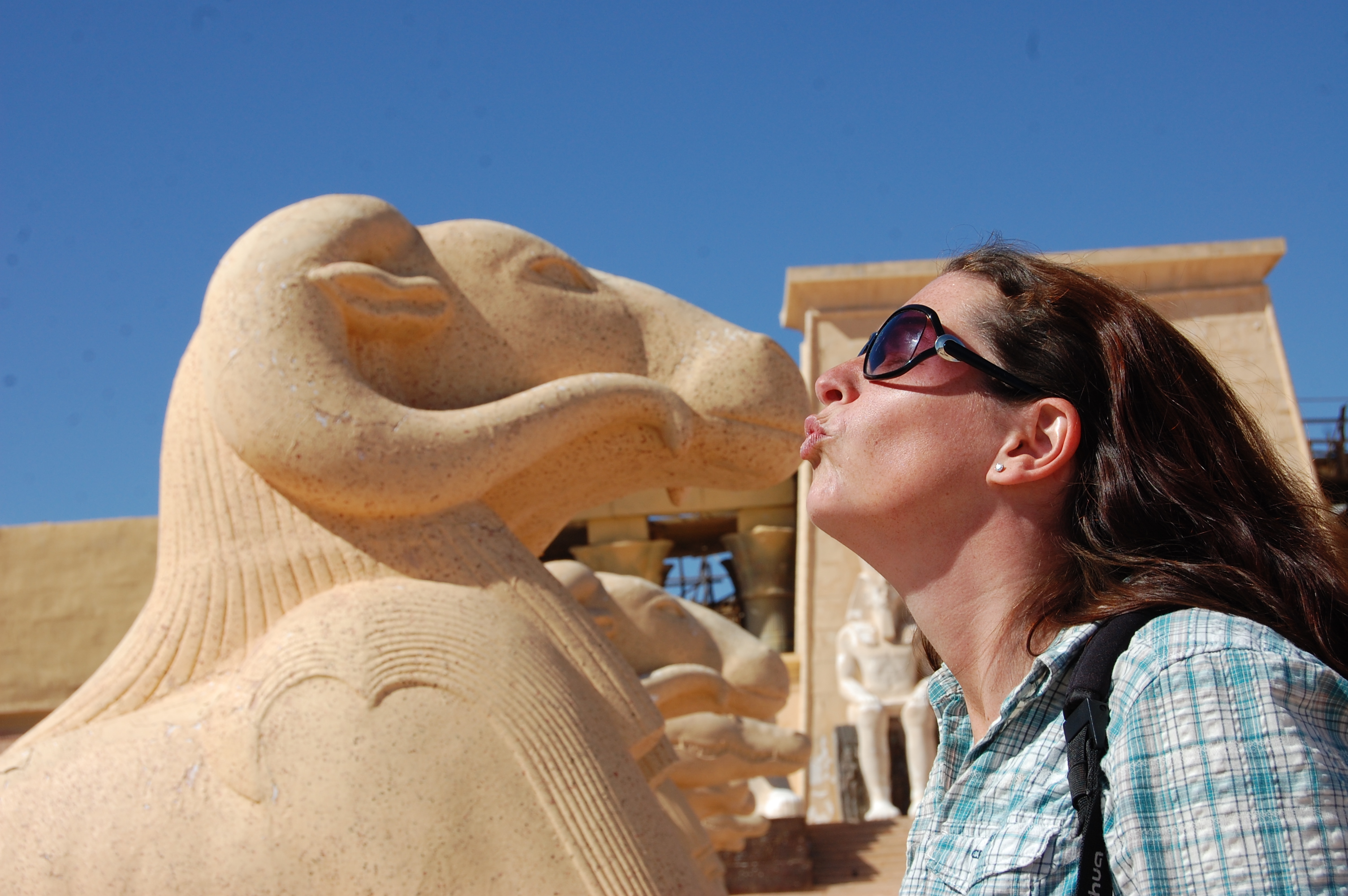 We're here: N31.04221 W7.12982. It's the car park outside the Ait Benhaddou kasbah, north of Ouarzazate.  We're plugged into a electrical socket in the neighbouring restaurant. Chris and Tina are plugged into the electricity in someone's house it seems, we're not sure, their cable was pulled through a window in the wall.
The 'Welsh guys' are called Sacha and Andy, and they only paid 60Dh for the painting. My memory isn't great, but I really should pay more attention. They're professional wedding photographers in the Cardiff area – have a look at www.alsphotography.co.uk.
It's been hot today, but as usual, it is now cold. The Brits in a van next to us have no heating. Rather them than us.
Today we've:
Been to the Atlas Film Studio
Visited the Ait Benhaddou kasbah
Had a couple of beers with a Welsh couple and the Brits next to us. 25Dh a 33cl can, so we've headed off back to the vans to save cash and our livers
It's been a day of wandering false worlds. The Atlas Film Studio was a tired old place, seemingly now doomed to slowly die at the hands of the blue screen. The sets were fascinating, realistic (where still in one piece) to the point of touching them, and then the polystyreneness of it all was exposed. The locals made them up to the specifications provided by the Hollywood designers.
Our guide explained how tiny areas of Egyptian square and minuture swimming pool were made grand by clever camera positioning and a few mirrors. He was a funny guy and went along with my as-usual-over-exuberant clowning about. He even had a recording of Russell Crow's famous 'I am Maximus Decimus Meridius, Commander of the armies of the north' speech which made my hairs stand on end in the Gladiator slave market.
After an hour or so in the film studio (50Dh, including guide – about £4.50 each), we headed north for an hour or so to Ait Benhaddou kasbah. It's a rambling collection of fortified mud buildings, with a few families still living in them (one woman tried to get us into her house – we politely declined, anticipating the small fee involved). Lots of the buildings look new; perhaps down to the various modifications made by Hollywood for the films shot here. Gladiator featured again, with the 'training ampitheatre' being positioned at the bottom of the town in a natural hollow. Sadly only the hollow remains, the wooden seats and coverings having been removed to make way for later films. We walked straight past it (having fended off loads of faux guides in the way in) but our Welsh acquaintances had been shown where it is, so we walked back to it and I once again clowned about.
In amongst all today's fun, one minor disappointment. We'd seen a couple of guys in the kashba painting with a collection of tea, henna and saffron. The watery colours were made bright and fast by skillfully heating the paper over a gas burner. The style reminded me of the opening painting scenes from the English Patient (a film I love). One guy had a 50Dh (£4.50) sign up – but we know such things are meaningless in haggle-friendly Morocco, so I started out at 10Dh. He immediately dropped to 30Dh, so I came back at 20Dh, expecting to pay 25Dh. Nope. He just looked away and said no, 30Dh is it, so I walked away. I wasn't disappointed at missing out on the painting, but learned a lesson: the haggling formula doesn't always work, especially in areas which are exposed to European tourist constantly. We later found the Welsh guys had paid over 100Dh for a similar painting.
I was so excited when I found out the Gladiator slave market was filmed at the Atlas Film Studios, I had to have a bit of fun. Acting severely sub-par, but I was under pressure with the guide prompting me for my lines (which I learned, sort of, this morning in a spare 5 minutes). OK, OK, enough excuses, I was so awful but I really enjoyed myself!
Jay