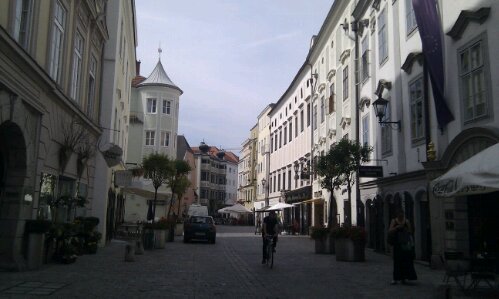 Dave the motorhome is parked, yet again for free in Linz, North East Austria (N48.31384 E14.28932). Austrians we've met raised eyebrows when told our plans took us through here, telling us it's industrial. We came on our grail quest for a replacement hinge from a main Hymer dealer (the 3rd we've tried). Sending a photo and part number in advance, and receiving the thumbs up in response, hopes were, well, not all that high. Walking into the dealer, the epitome of professional, they lifted. The two metal pieces appeared, both a door hung the other way and nothing like the shape of the one in the photo we sent. Ho hum, they dug about in their stocks none fitted, we bought more replacement light bulbs and despondently departed.
Last night I lay awake, wondering about how our lives might resume back in the UK. Huh, what, we've got months of fascinating travel before then. I chilled a little and started to drift off, just as the Austrian neds arrived, and their music hammered its way inside my skull. Ju slept. I listened to the car, parked next to us in a wide open car park. The rapping sounded unique, was the angstful singer accompanied by a grand piano? After four repetitions of the same song, I can confirm this was the case, as his cultured instrument declared something about gangs, guns or drugs, I guess.
Ned departed, next stop dog. Charlie's munched something which requires ejection from his furry body. I pull on my boots and head out to walk the streets under the milky way, visible despite street lighting and lit shops. The car park was delimited by a thick hedge, cut neatly into a squared off top. Said hedge was breathing, heavily and quickly. Not fast under ideal conditions, my brain crawled along. Hedge. Breathing. Huh? The hedge is breathing! Charlie was already in there, his wee noggin sweeping about, black nose twitching. Panic! What the hedge-dwelling creature was, I'll never know, but I imagined a savage cornered badger leaping at Charlie like Mike Tyson onto Frank Bruno.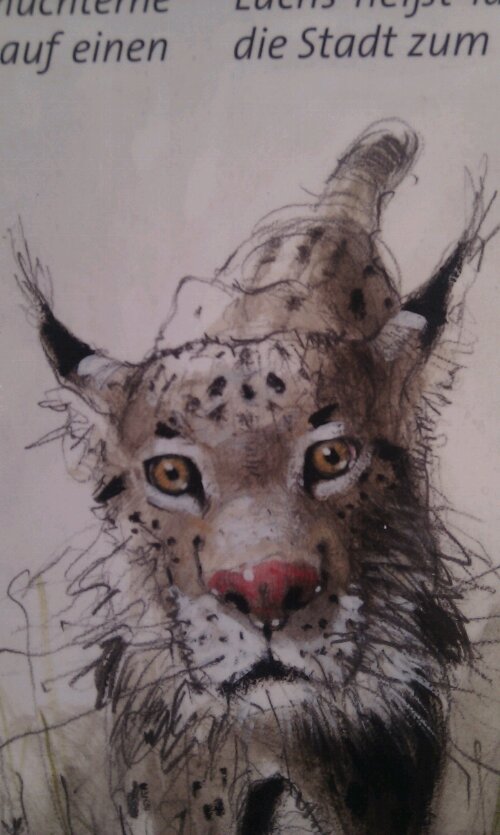 The lake was beautiful in the quiet dead of night, stars ablaze, a curved slice of red moon cutting the silhouette trees like a scythe. A few couples wandered or sat on benches, silently absorbing the place. Eventually Charlie resolved his issue and we returned for kip, avoiding the hedge.
50 minutes of motorway, a main artery across North Austria, and we turned off under strict satnav instruction. Progressively narrower and more unlikely roads draw us along through a farmed plain, like capillaries, as though we're reaching an Austrian fingertip. Walls of tall corn either side of us, almost within window leaning distance, keep us on track. The green and yellow tunnels are like kiddy's ten pin bowling aids, with Dave as the bowling ball.
Skipping past the dud experience at the Hymer dealer, we arrive in Linz. Easy to drive around, the huge free car park sits on the Danube, about a ten minute walk from the altstadt. We have neighbours here, 3 or 4 other motorhome, potential allies against noisy neds.
Ju worked out a walking tour from Lonely Planet and we headed off. I couple of years back Linz was the European Capital of Culture. We figure the culture must all be inside the block glass and metal buildings which make up much of it. A visit to Tourist Information yields bits and bobs about Kepler (famous among astronomers) and Mozart living here. One of the oldest churches in Austria, and a good-sized wedge of art galleries and museums.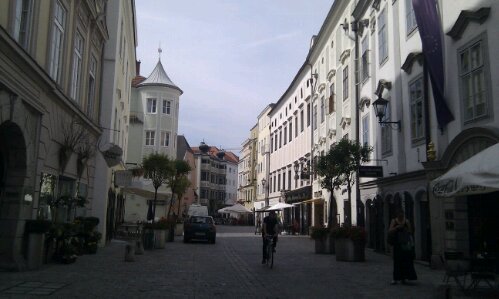 Something is missing. Look up Linz on Wikipedia and near the top a section labelled Adolf Hitler appears. The angry despot was born nearby and considered the place his home town, investing considerable effort to develop it before and during WW2. A huge concentration camp operated a few miles away, with all the usual horrors taking place for the entirety of the war. I wonder about the fact that these facts have been expunged from all official information. If you were running Linz tourist board, would you mention them, or sweep the unpleasant past away, concentrating on the more positive light?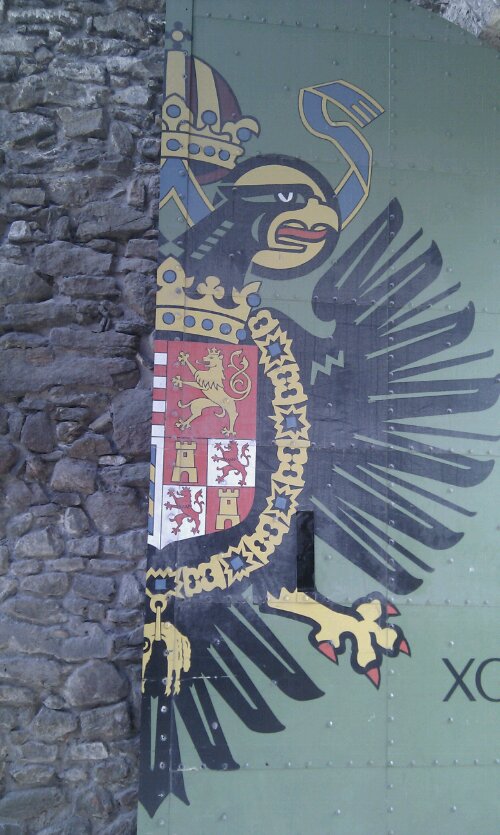 We walked about, going through the motions. The highlight was the cake munched at a cafe in the sunny stone square. Ju had Linz cake, it tasted of centuries past she said, when cake used to be spiced.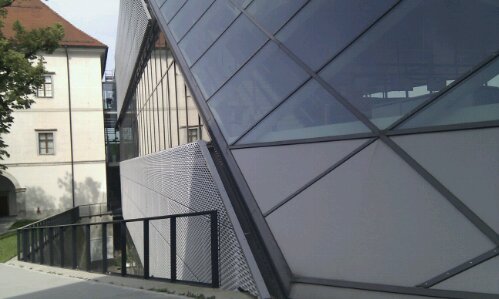 We're in Dave now, facing away from the river a row of high apartment blocks stare blankly back at us. Our last night in Austria, the Czech Republic border is near, almost time to soak up another country.
Cheers, Jay
Update: Linz city scape comes alive by night: