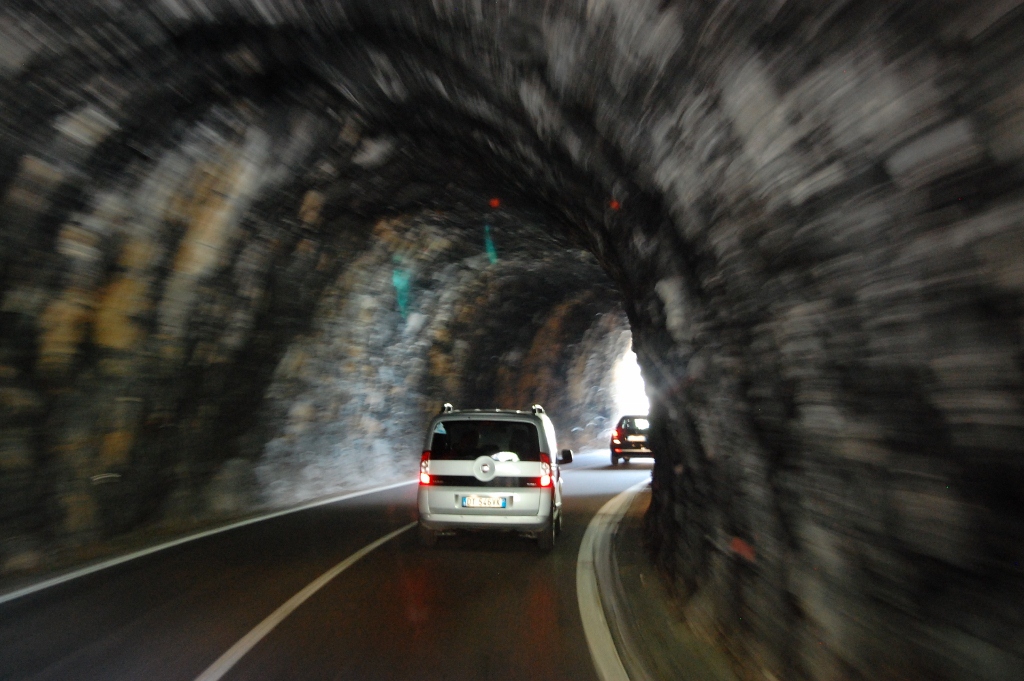 We're here: N45.55388 E10.71992
Weather: It was sunny but has clouded over, but it's still warm so no complaints here.
It was a good job we moved into the 'illegal' parking space last night, as the market was in full swing when we drew the curtains back this morning. We had three things we planned to do today:
Drive up the side of Lake Garda
Stop somewhere on a lake tonight
Empty the loo
With a busy day ahead (ahem) we were on the road early. We made our way up the west side of the lake, the road was nice and wide and mainly occupied by motorhomes and bicycles (the Giro d'Italia comes this in a few days).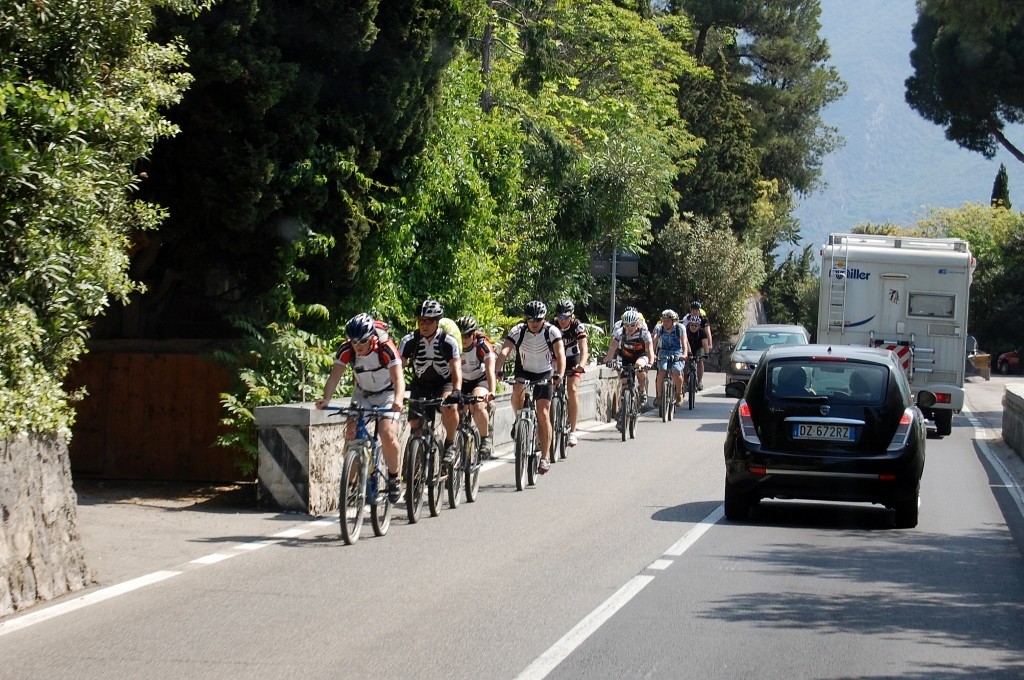 We reached the string of tunnels which would take us under the mountains that are right on the edge of the lake in the North, but as we entered the first one we wondered if we'd done the right thing. It was a couple of kilometers long, pitch black and narrow, so much so that I was convinced it must be one way until a car came the other way. A nice arch had been cut into the rock every few hundred meters, so just when your eyes got used to the dark they were blasted with sunshine. Jay nursed Dave through like an expert, building up a nice tail of traffic behind us, but managing to avoid the crazy cyclists in there with no lights on.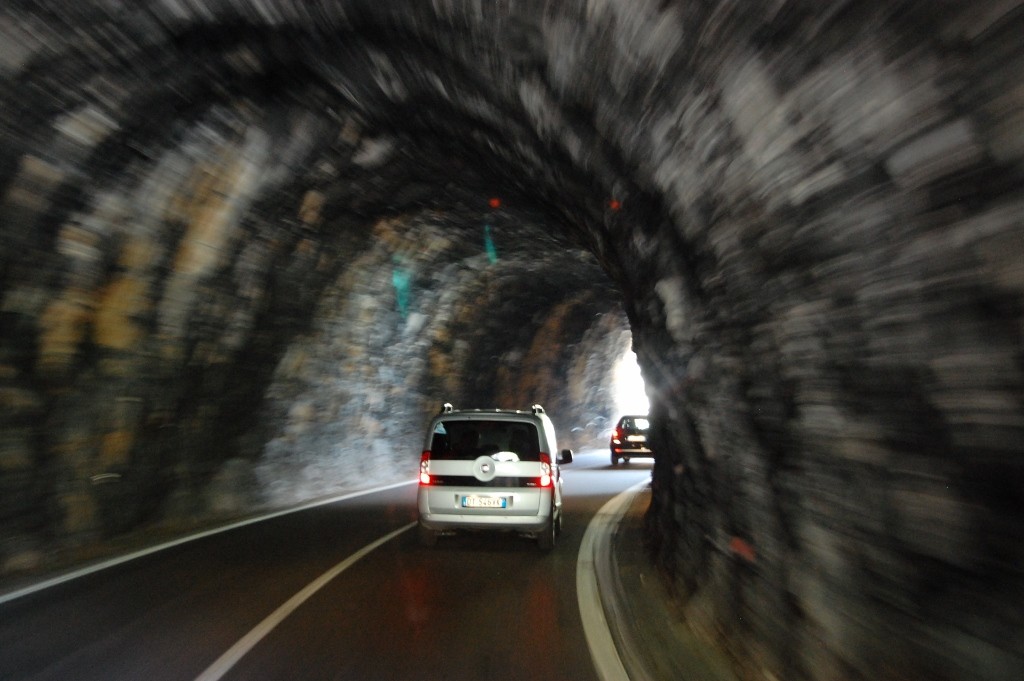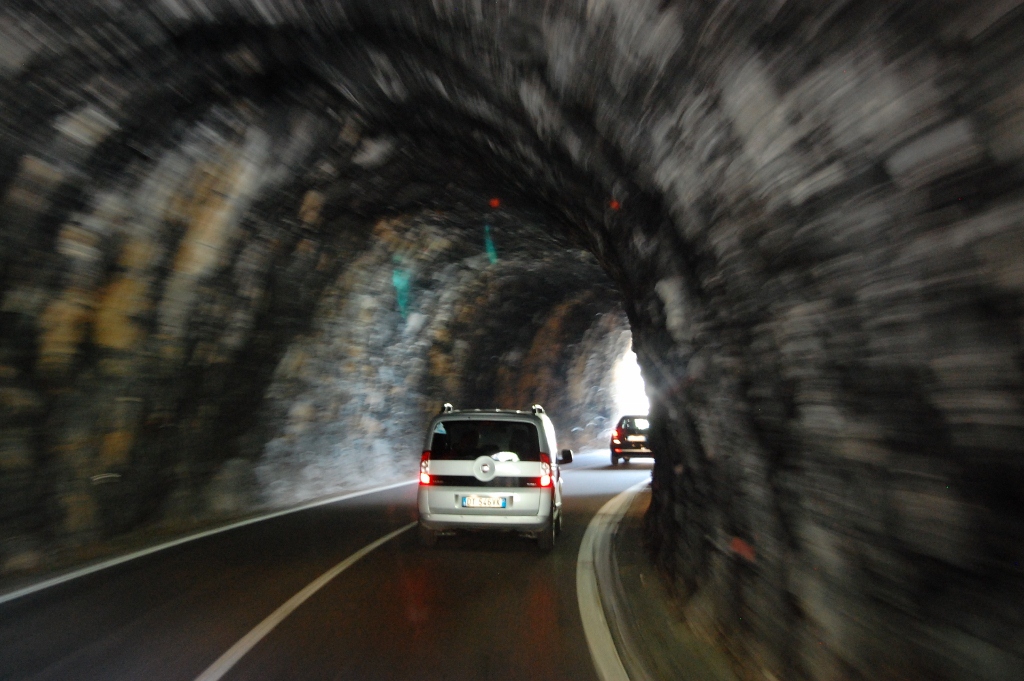 The second tunnel was not much bigger, but it had lights on in it – phew. The third bigger still with a white line down the middle – things were getting better. By the time we reached the North of the lake, the tunnels had road junctions in them, something I don't think I've seen before.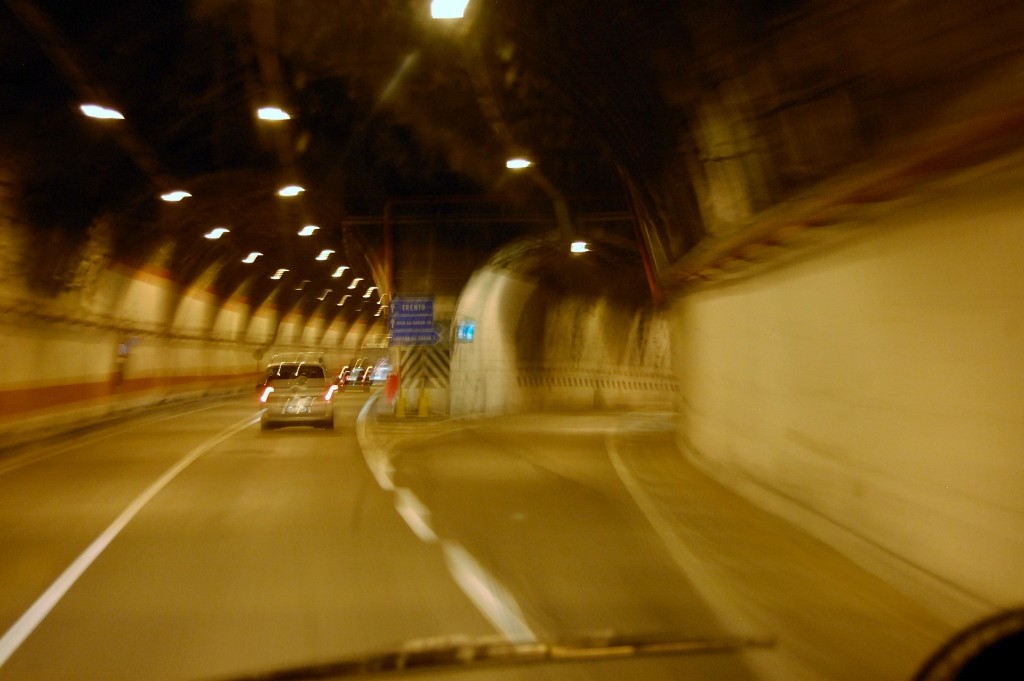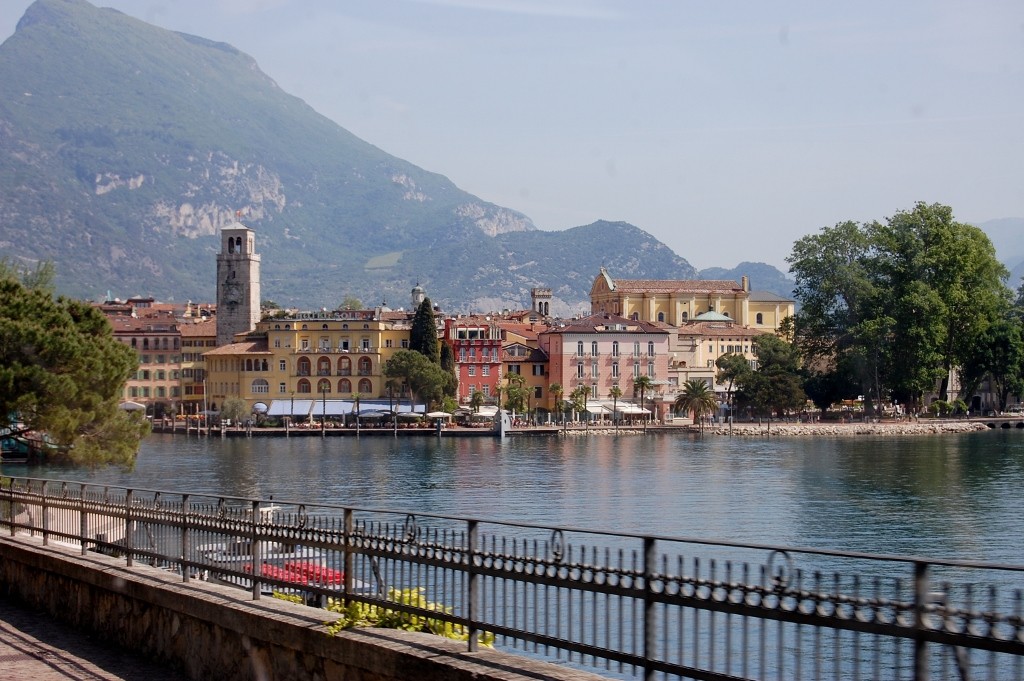 We arrived at Riva del Garda, mission one for the day accomplished, and set about finding the aire there which charges €0.50 per hour, this meant we could nip in and out and empty the loo for a tenth of the price some other places were charging. While Dave emptied his grey water tank, we noticed a large motorhome who had come up with a slightly more permanent solution – cheeky so and so's!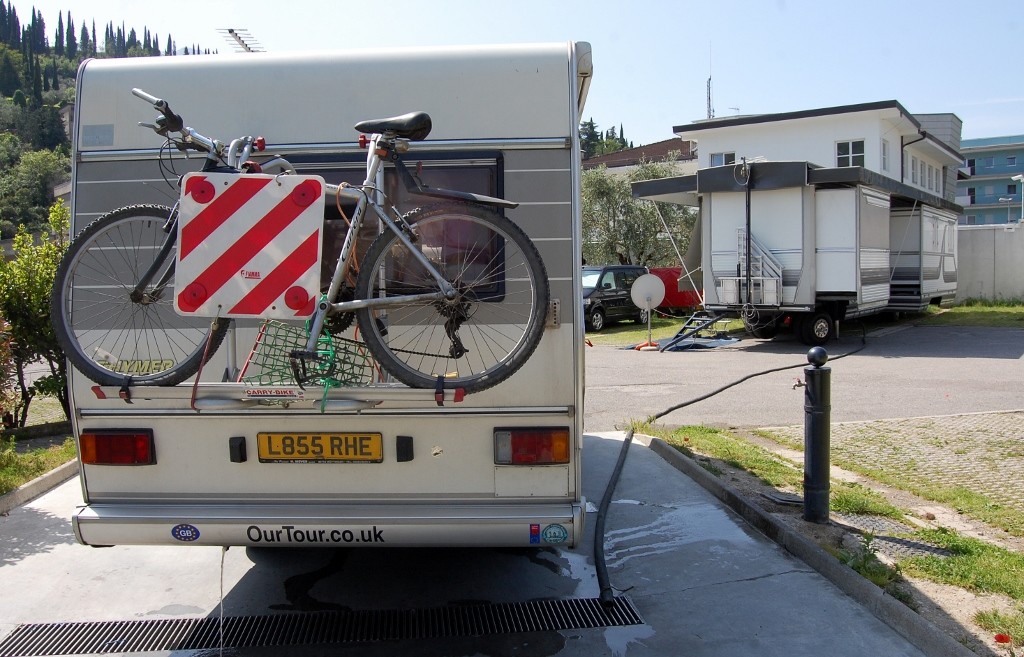 Mission two complete, we were free to stop anywhere we wanted for the night. As it had only taken about an hour to get up the north of the lake, we figured we'd drive back down the other side and stop off somewhere that looked nice. By nice of course we mean cheap, or better still free.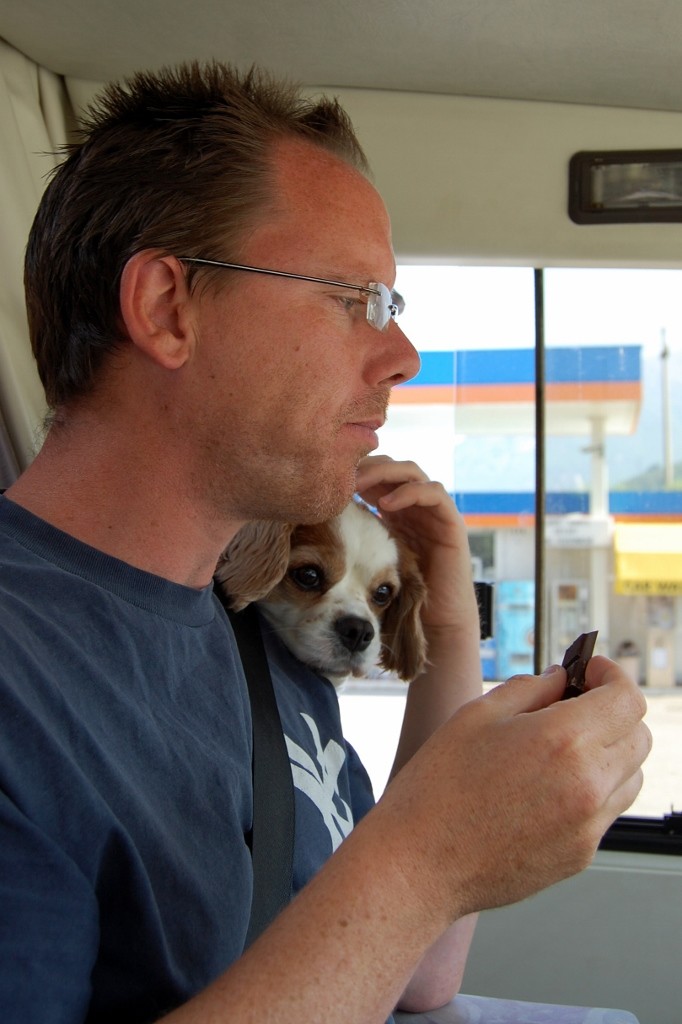 As we left Riva del Garda we could see a traffic jam ahead of us, but this wasn't just any traffic jam. Porches, Lamborghinis, Ferraris, Mercs, BMWs you name it – all the big boys were out to play today. Most of them were from Germany, so it's quite clear that at least one European country isn't suffering economic hardship. The drivers obviously hadn't counted on the sheer number of Daves on the road though. Behind each motorhome, a tail of luxury cars spread out into the distance.


We'd been told free places didn't exist around here, but we did see a few vans who had managed it, unfortunately they'd taken all the little hidden away spaces. Most of the car parks had height barriers, so when we spotted one with coaches in that didn't we pulled in. A quick check of the signs and we couldn't stop there overnight, and it was €1.50 an hour to park, we got out our campsite books and headed for a camping cheque site a bit further down the coast – as we'd already paid for the camping cheques they feel free to us.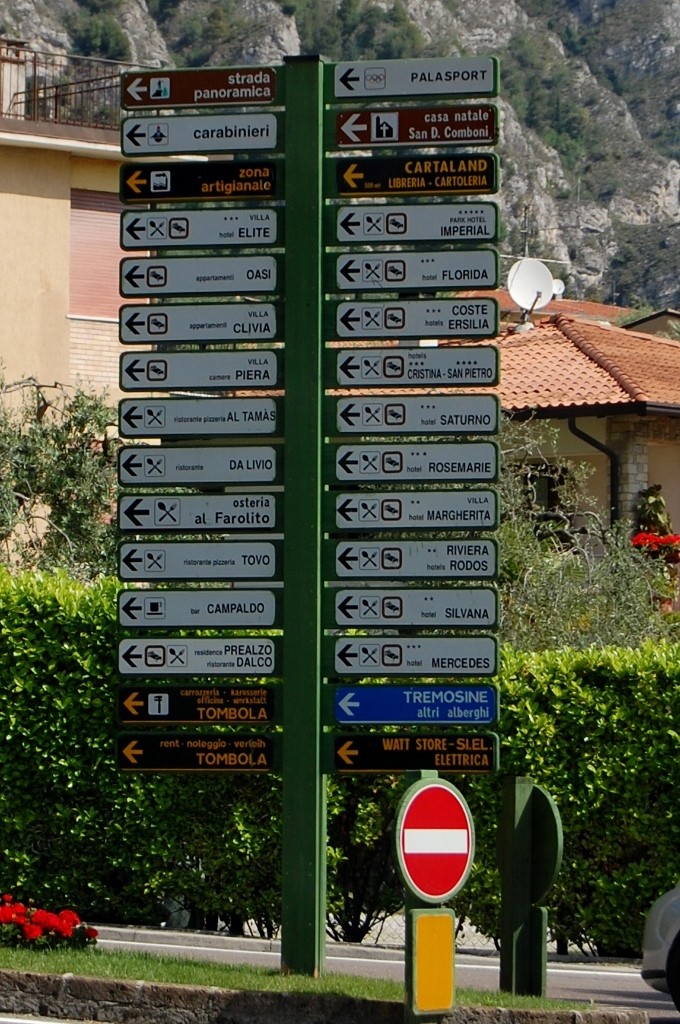 Pulling in at Camping Cisano, I made my way to reception – they take camping cheques :) but not dogs :( – I considered how easy it would be to hide Charlie in the loo, but figured it wouldn't work so we headed back through Bardolino to a car park where we'd seen a load of campers parked on our way through earlier.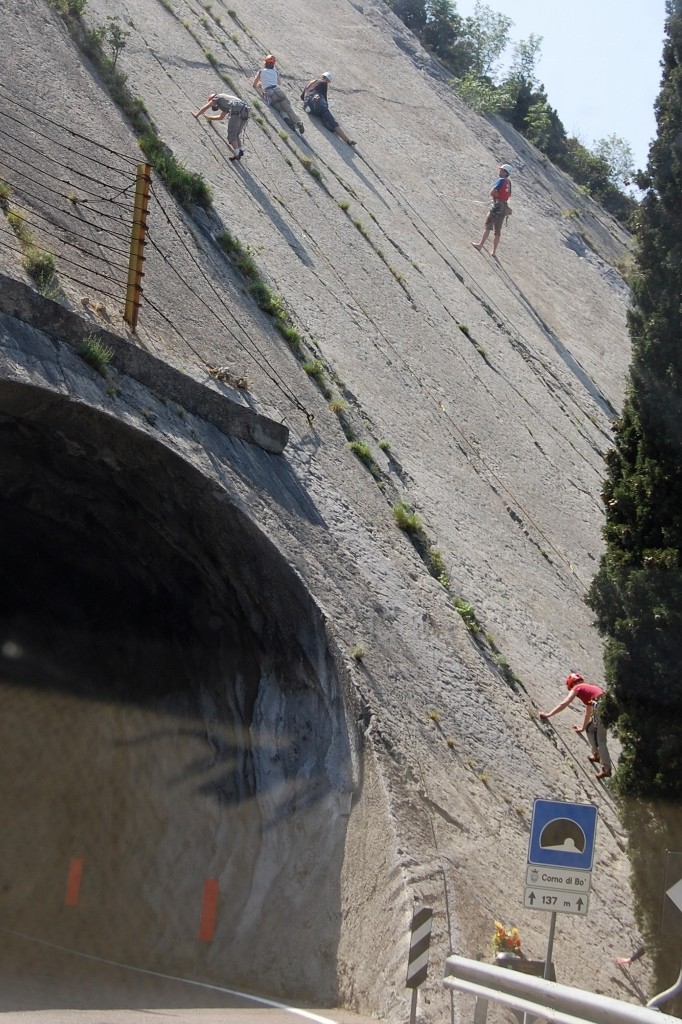 All three missions for the day complete, we set about buying a ticket for the car park. We could have Tariff One – special price for buses and campers €30 a night, or Tariff two – car price €10 a night. A quick check on the other vans and €10 seems to be the going rate. So we coughed up and headed off into town. We had a lovely walk along the water front, and stopped for a bite to eat in a lakeside cafe – it was nine years since our first date earlier this week, and we've finally had chance to for a celebratory meal.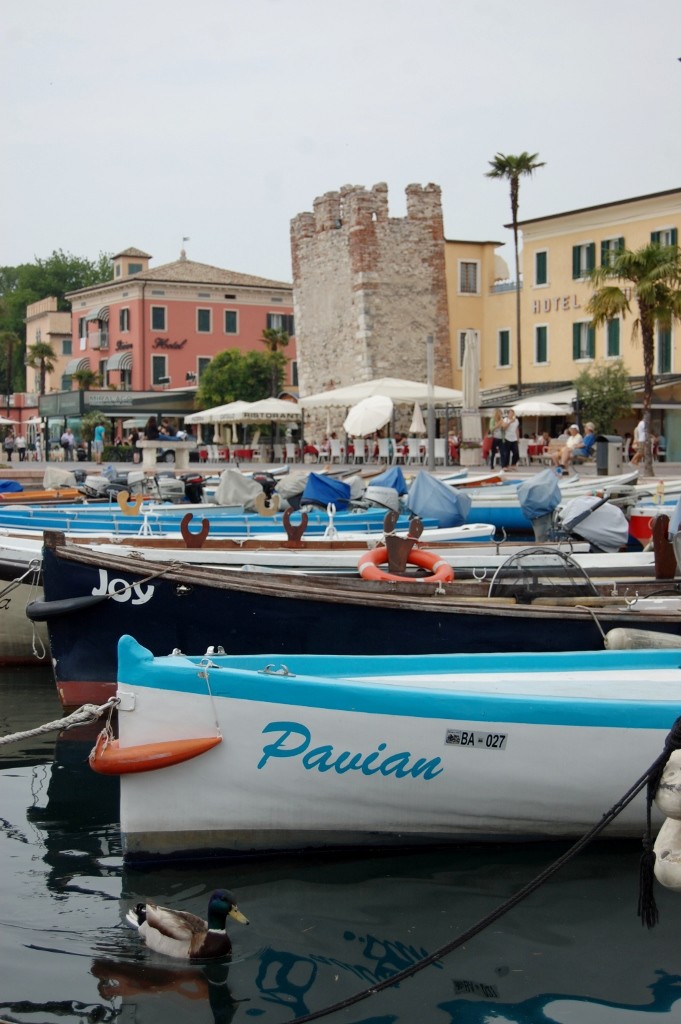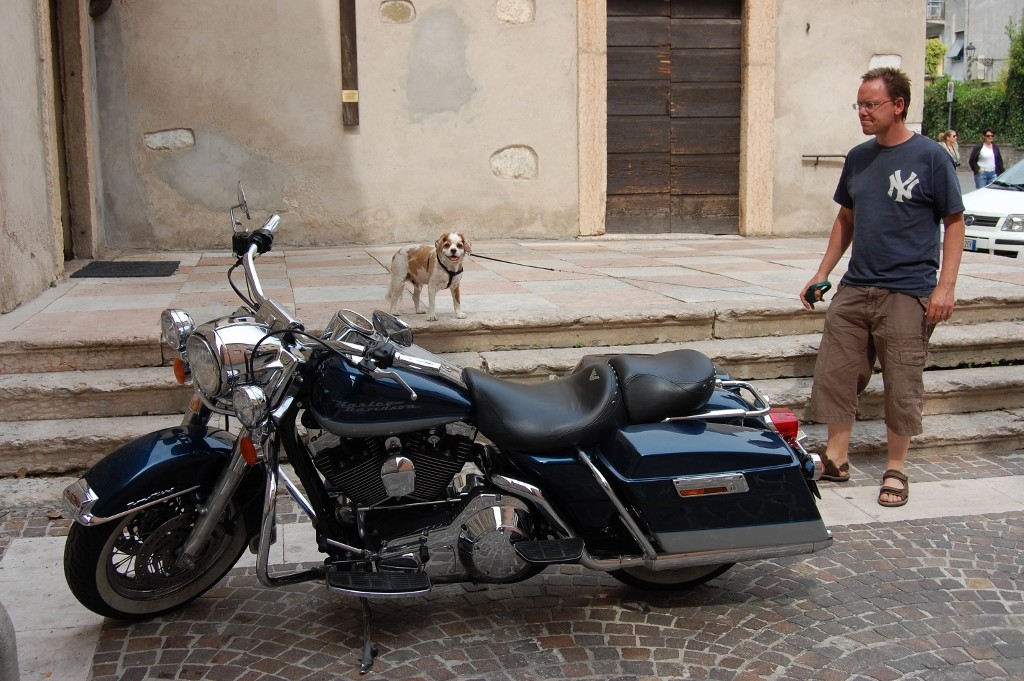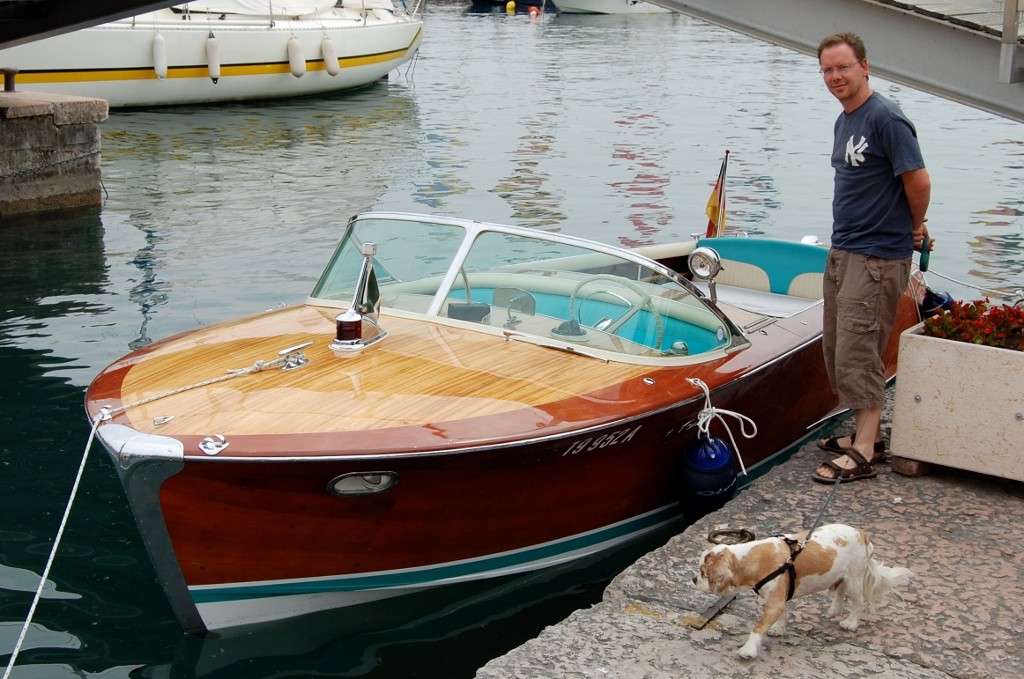 We wandered around the town watching the fashionable people supping spritzers and promenading then headed back to Dave. A local policeman was at one of the other vans (which already had two parking tickets on it), so we asked him how much it cost to stop – he said €10 or €15, he wasn't sure, neither are we – nor is the German fella who has walked up the machine at least eight times now checking the sign.
Tonight Jay is cooking up a curry for us and maybe a drink or two as the cold/hayfever which has been bugging me for the last few days is now under drug control. There's also a gymnastics display going on by the lake, so we might head down there to check it out, well it is Saturday night!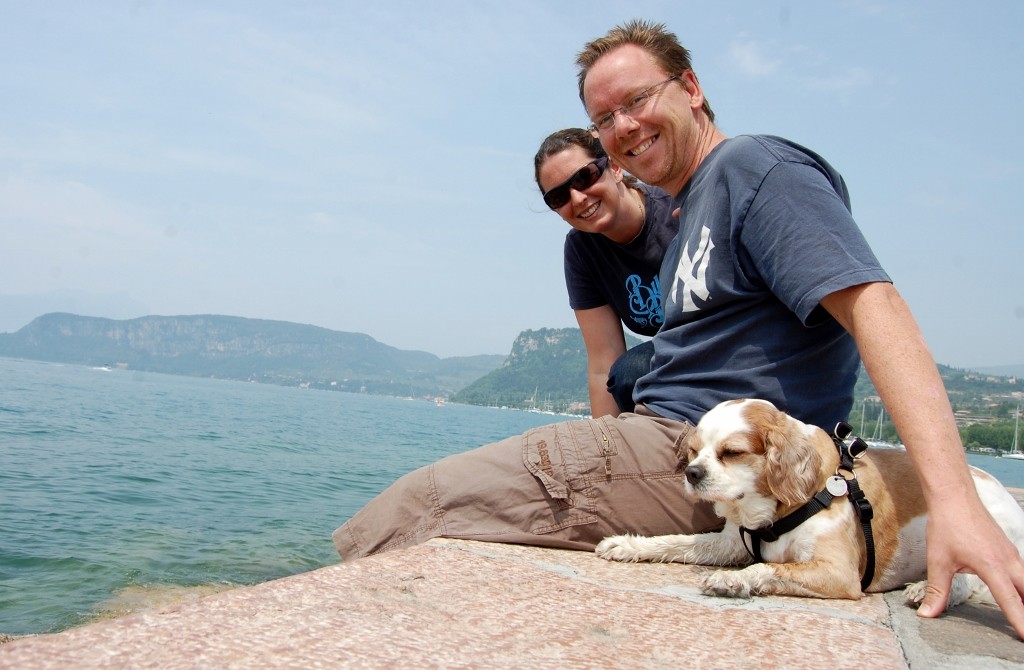 Ju x