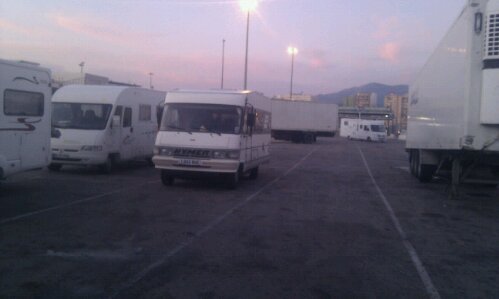 We're at the ferry port sitting behind a lorryless trailer waiting to board our ferry which has just pulled in and lowered it's ramps. But unlike Dover it's not in a loading bay with ramps, it's just pulled up to the quayside. Also once you're on the quayside there's no order, people are parked up where they want blocking lanes, lorries are beeping their horns trying to move groups of Frenchman standing around chatting – it's entertaining.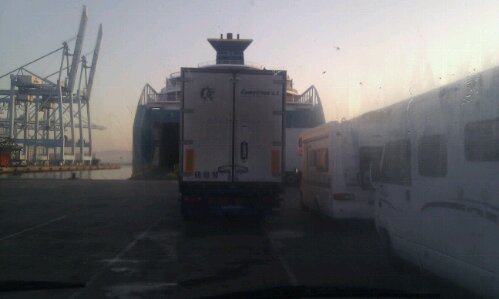 The ticket man checked our passports, but not Charlie's – he's most put out.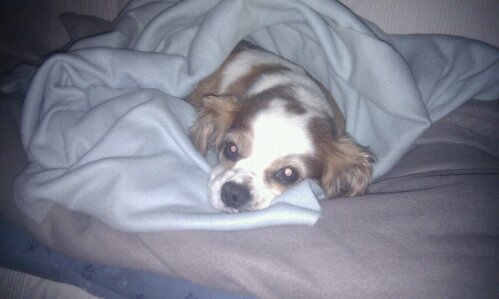 It's nearly all motorhomes in the queue, hopefully we won't end up being first off at the other end as we don't have a clue where to go. It's much easier just to follow someone and cross your fingers that they have been there before.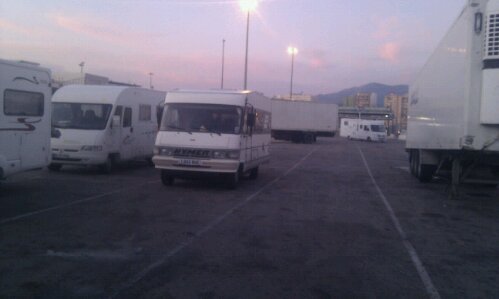 As we entered the port the sun was just starting to come up over Gibraltar rock. All the crane lights were on and twinkling and it looked really pretty. I'd have taken a photo but the windscreen heater fan on Dave is still on the blink, so I was on squeegee and chamois duty so we could sort of see where we were going.
We sail at 10am, so guess we'll be loading shortly. We've packed the binoculars and camera as J's folks tell us the straight may have some good wildlife in it. Hopefully something to take my mind off seasickness as the crossing is notoriously rough. Ginger tablets have been taken, so wish me luck.
Might not be an update tonight unless we can find some wifi.
Ju x