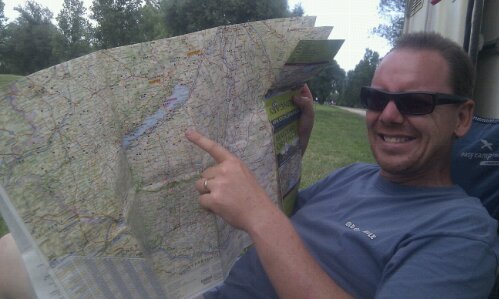 Dave the motorhome is standing his ground on our free camping place on the shores of Lake Balaton (N46.71554 E17.3280).
Last night Jay spoke to a family in a Belgian motorhome who were parked near us, they'd been here for a week without being bothered at all – what a refreshing change. The father helpfully pointed out the nearby loo that enabled it – as motorhome loos need emptying after a few days. 'Chairs out is ok', he said, 'but best not to put out your awning'. We could manage with that.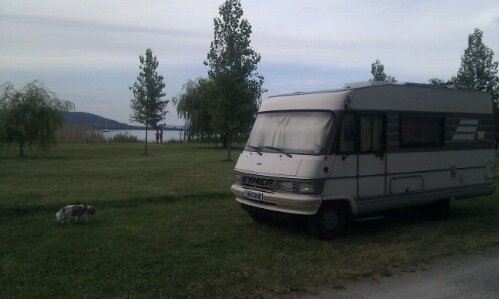 The stretch of grass between Dave and the lake cleared of sunbathers as the sun set. As darkness fell we retreated into Dave, his LED lights have given up, but it's not a problem using the normal lights, the solar panel is gathering rays for around 17 hours each day.
Jay nipped out in the dark to look at the view across the lake, while he was gone a car drove past, a million insects dancing in it's headlights. The light from them lit up our fly screens which were covered in insects, resembling a very busy bee hive. Jay returned dusting himself down, outside was not a good place to be after dark.
A cool breeze wafted through Dave's fly screens and eventually some time in the early morning the rain came. Things cooled down a tiny bit but by 5am the sun was back heating Dave up again.
After the last few days of big driving we decided to stay put today, read, relax, keep cool and plan what we wanted to see in Hungary. Jay is now sporting a rather good hair cut (if I may say so) and our map is a rainbow of highlighter markings – a route planned.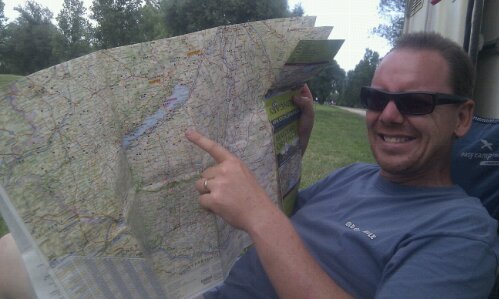 Jay went for a ride on his bike to the local town, but there doesn't seem to be one. A walk this evening revealed only houses, a few restaurant/take away places and a bit of an old fun fair with painted celebrity faces on the dodgems – we recognised Russell Crowe in his Gladiator kit and a naked Pamela Anderson, arms crossed to protect her dignity.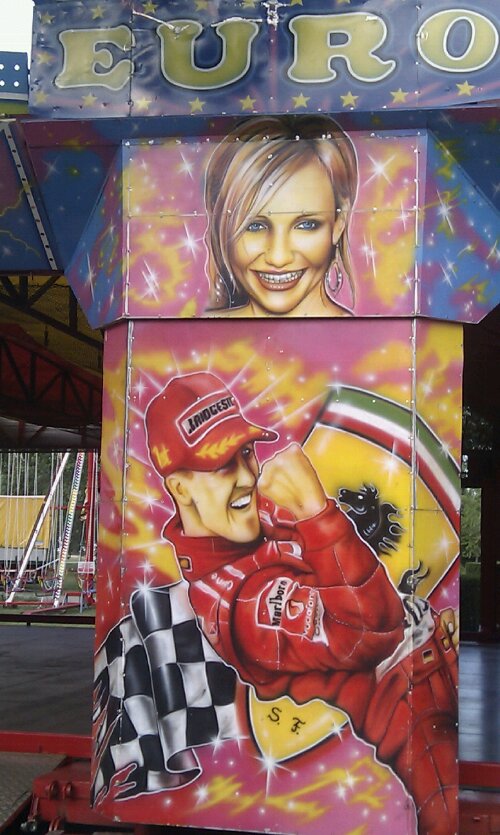 The lake itself is an average of 3m deep. People come here to sunbathe and wade out for seemingly miles, the water only just covering their knees. Jay took a wander in it this afternoon and felt he was almost at the other side before the water reached his armpits. The water is opaque and the bottom of the lake soft mud so it feels like you're walking on water.
The crowds have gone again, small groups with large inflatables making the trek back to their inland home. The funfair is swinging into what little life it sees and we're about to retreat inside the hot box that is Dave before the wildlife takes over again.
Tomorrow we move on, so far I'm liking Hungary even if I'm seriously struggling with the language.
Ju x