Winter is coming! The darkness and cold are enough to get a few of us pondering thoughts of escape. Perhaps the idea of cutting loose for a while, or a long while, appeals? If this is you, then we've put together a short 'how to escape in a motorhome' guide below, based on our experience of serial escapism over the past 6 years.
We hope it's useful. If there are questions we've missed, just add 'em into the comments section at the end of the article, and we'll do our best to answer.
Life on the Road…
Imagine this. It's Monday morning. You're parked alongside a beach in Greece. the surface of the water flows and reflects like mercury. There are a couple of other motorhomes parked nearby, but you're up first so the beach is your own.

You make a cuppa, grab a book and go sit on the beach while the sun drifts up over an adjacent promontory. As you warm up, occasionally looking up from your book, the idea of a swim occurs to you. Into the clear and pristine green-blue waters you stride (having checked yesterday for spiked urchins) and you float about looking back up the beach, calm, serene.
A shower, breakfast and it's suddenly 10am. Looking at the map you see a string of places you're looking forward to visiting. But not today, you're not moving today. It's too beautiful just where you are. And there's that taverna you spotted yesterday, serving fresh fish and delicious-looking oven-cooked dishes. And a walk into the village would do you good. No, today you'll stay still, cook, read, walk, talk. Tomorrow you'll move on, to a new place, to discover what's next down the road, around the corner and over the hillside.
That's the promise. That's the simple life in a motorhome. What do you need to to do get it? Read on…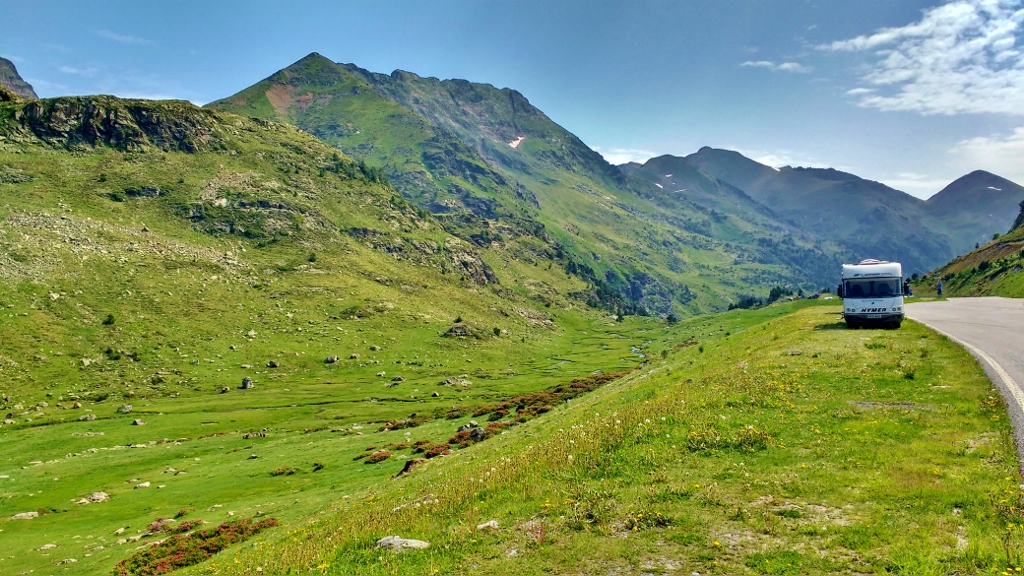 Do Your Research
First up: you need to do your own research! This article aims to cover some of the key things to consider, but we're all different and all have unique life situations, so you'll need to be sure this life is for you. All the reading can be a lot of vicarious fun too!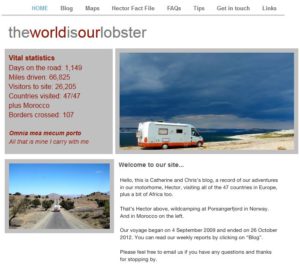 We've provided a few resources on this blog which might be handy: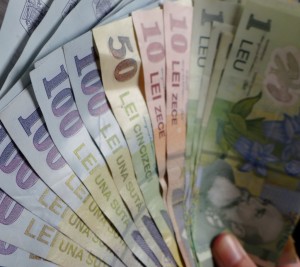 What does it Cost?
This question will be upper-most in many people's minds, we know that, so let's cut to the chase:
Hey, everyone spends differently, so this is a VERY ROUGH, EXTREMELY ROUGH, PINCH O' SALT guide! Please don't savage me if you disagree, but feel free to add your view on costs in the comments section. :-)
For a couple travelling widely across Europe and North Africa, you'll need between £10,000 and £20,000 a year per couple to cover your travel costs (insurance, food, van depreciation, van maintenance, fuel, campsites, clothes, gadgets, meals and beers out, and Internet and so on). We've met one couple who said they lived on around £5k a year, and a family of four spending roughly £30k a year. Most folks travelling long-term seem to fit somewhere between the two. The main factors that affect how much you spend are: where you stop at night (free or campsite), how far you drive each day (fuel costs) and how often you eat out or pay to go into an attraction.
In our first two years we spent £13k a year. In our later eight month trip we spent under £8k (£12k a year), and the subsequent year on the road, we spent £17k a year purely on travel costs. Van depreciation will make our long term costs roughly £15k to £18k a year, depending on how much driving we do.
The cost of a motorhome ranges massively from a couple of grand to the price of a small house. Both of our motorhomes were bought second hand and privately for £10,500 (Dave, our 1993 Hymber B544) and £16,800 (Zagan, our 2001 Hymer B544). Plus we spent a few hundred quid equipping 'em (see 'Equipping Your Van For Long Term Travel' below). We initially started looking at a private motorhome costing over £30k, and are very glad we didn't spend that much as we really didn't need to.
If you keep a house back home and don't rent it out, then you'll have additional costs associated with it – council tax, contents insurance and so on. If you do rent it out, you will be considered as full timing in the eyes of motorhome insurers and the premium will go up significantly (see 'Renting Out Your House' below).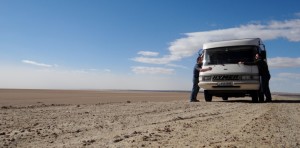 Which Motorhome to Buy
Before we bought Dave, our first Hymer B544 motorhome, we had an old panel van conversion, which we used for two week tours in the UK and the continent while working full time. It quickly became apparent the layout wouldn't suit us for a long term trip (although others do use them for this). Making the bed up every night and putting it away every morning, and the lack of storage, drove us a bit nuts. But we'd never have known that without trying it out, which was quite an expensive lesson; we'd bought the van from a dealer for about £9k and later sold it privately for less than £5k.
So, some brief thoughts from us on choosing a van which suits your needs:
Make 100% sure you can comfortably sleep in it! Take your shoes off and get in the bed, stretch your toes out, check there's enough room, and that you can get in and out easily enough (remember you may be climbing over a partner). If the bed doesn't suit, it will drive you bonkers.
Think about the overall length and width of the thing. You'll be driving down some nicely narrow roads, and the wider the van is, the more, ah, fun it can be. Anything over 6m long will struggle to fit in a car parking spot unless there is a large space at the back for the overhang, and if you're heading for Norway, every half meter over 6m will add lots of wonga to the cost of the umpteen ferries you'll need to take. Thinking about how you plan to use your motorhome might help – some people tow a car with them use that to get about, others have electric bikes or scooters so you may want a bike rack or a large garage space. We tend to park within either walking or cycling distance from places, which is why we have a van that will fit into parking spaces.
Weight's important. Our van is rated at 3500Kg (3.5t), but the van itself without water, fuel, gas, us and all our stuff weighs not much less, which restricts what we can legally carry in it. Nope, we've never been stopped and weighed, and we've never heard of anyone who has, but when you're driving down some endless 15% decline off a mountain somewhere, you'll be glad you didn't overload your van! We've noticed that 3.5t is often used as a cut-off limit for certain roads, methods of toll payment etc, so if you opt for a van that has a higher limit just beware that you'll have to consider this.
Check your driving license too, to make sure you are legal to drive the vehicle.
Think before you buy from a dealer. They need to make a profit, so will add on several grand to the vehicles they sell, often throwing in some sort of warranty. We decided to keep that money in our account, buy the same van thousands cheaper, and spend the saved money fixing any problems ourselves. So far that approach has worked out well for us.
There are some more detailed van-buying thoughts here and info about van and breakdown insurance here.
Equipping Your Van for Long Term Travel
Modern motorhomes are seriously well equiped for long term luxurious wandering. Your own bed, shower, satellite TV, hot and cold running water, toilet, fridge-freezer, hob, sofa, the lot, all with you, all of the time. That said, there are a few bits and bobs it's worth considering bolting on before setting out if you don't already have them: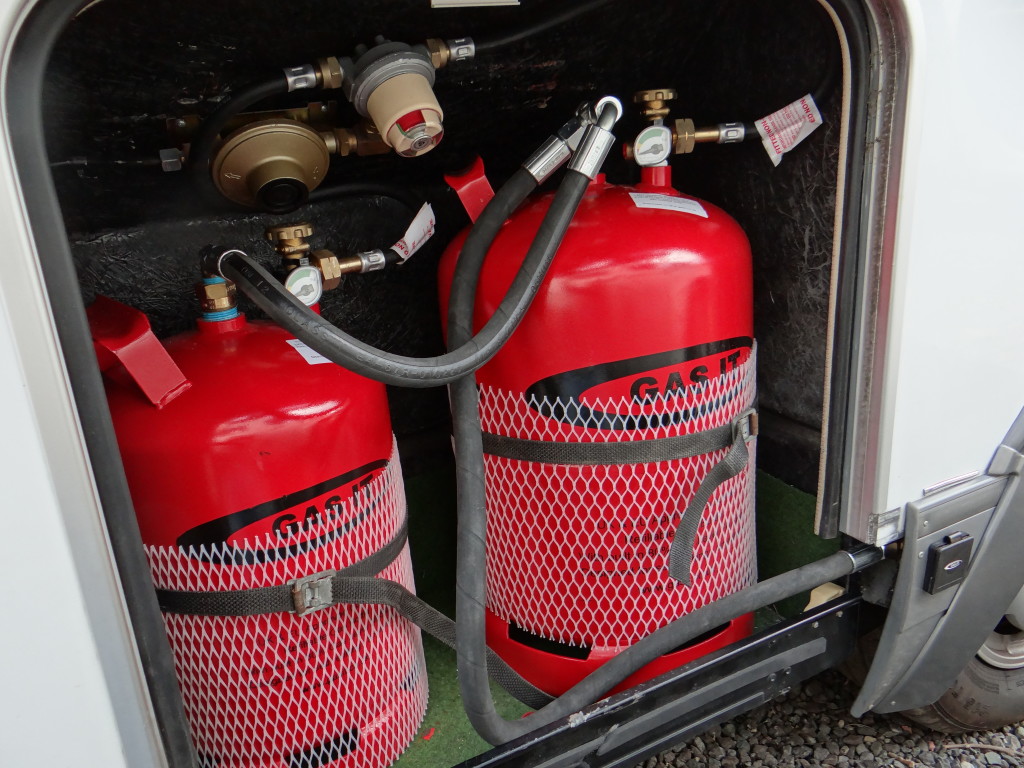 Renting Out Your House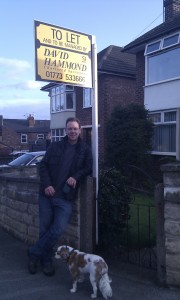 If you've never rented your house out before, then you might be a nervous about it, but it might be the only way you can afford to do the travelling. A few things to consider:
Time – give yourself enough time to arrange the letting. You'll need to have your gas and electrical systems checked, for example, and have any mods made to be legal.
Paperwork – if you've a mortgage, you'll need to tell the lender and they may increase your interest rate or impose conditions. You'll need to tell your buildings insurer too.
We've always used a local letting agent to manage the let for us. They find and vet tenants, make sure the house electricity and gas systems are tested and safe, and importantly sort any problems for the tenant quickly. We give them a per-incident spend which  they can take from the rent without even contacting us, so smaller problems get sorted without us ever getting involved.
We once rented a house (we were the tenants) through a national letting agent chain, and it wasn't a good experience. Impersonal, inflexible, poor communications, slow to get anything done, so we avoid them and use a local chartered surveyors who have a dedicated lettings manager.
If you do choose to let your home, make sure you account for the cost of storing your stuff, unless you do the full monty and flog it all! We stored a lot of our stuff in the loft, but the sofa and washing machine wouldn't go through the hatch…
If you let your house out while you travel you will be seen as full-timing in the eyes of motorhome insurers which will increase your premium significantly, as we learned in our first two years of travel.
If you decide not to let your home out, check your insurance terms, as you may not be covered if you are away for any length of time.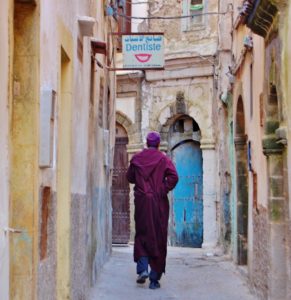 Making Health Arrangements
Some health-related things to consider:
If you're British or have an EU passport, get a free

European Health Insurance Card

(EHIC) card. At least until the UK leaves the EU, this will help if you need treatment while outside the UK.
Arrange travel insurance to meet your needs, We use backpacker travel insurance from Alpha Insurance.
See your docs and explain you plan to travel long term, obtaining prescriptions for any medication you know you'll need. We have heard that a lot of drugs that are prescription only in the UK are available over the counter at pharmacies in Europe, so this may be an alternative as some doctors will only provide three months supply.
We have my specs prescription with me (plus a spare pare of glasses), so we could order a new pair from goggles4u.co.uk or similar if we needed to.
Same for the dentist – get any work done before you leave, unless you plan to get the work done for less in Hungary.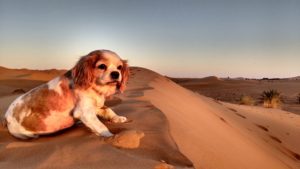 Taking Your Pet
Yep, you can take your pets abroad. You'll need an EU Pet Passport for each animal, which can take a few weeks to arrange (again this may have changed if you're reading this after the UK has left the EU). Best to visit your vet as soon as you can to talk this through. We've been across a fair few countries with Charlie, our Cavalier King Charles Spaniel, and there are some thoughts about our experiences here.
Shakedown
Over time we've worked out it's almost as easy, if not easier, to get your van fixed abroad than in the UK. That said, if you have a new (to you) van, before you head off on a long trip it's worth spending a while in it to test everything. And that means everything! So try your fridge on gas, mains hook-up and on 12V while driving and check it works on 'em all, which we didn't… Here are some of the things we've broken over the years, and some more here!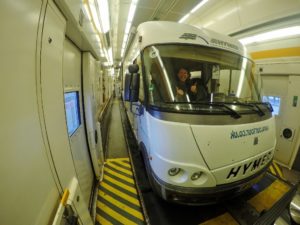 Leaving the UK
Some folks spend their entire motorhoming lives in the UK and they love it. We love the motorhome-friendliness of the continent though, where you find dedicated motorhome parking in some towns and villages and a distinct lack of height barriers on all other car parks.
To leave the UK you'll be either taking a ferry, or the Channel Tunnel. The ferries to France tend to be cheaper, take longer, feel more like the start of an adventure, but can be a bit rocky in heavy seas. In January 2015 we tried out the Chunnel, it was fast, slick and surreal. While it was more expensive (you can get the cost down with Tesco vouchers) and felt a bit like we'd just 'driven' under the Thames rather than to another country, there was a storm making the seas choppy above us, so I think we'll be using the Chunnel in the future for winter crossings.
We've recorded videos of us getting on and off ferries the Chunnel to let you see how easy it is.
Finding Places to Stay
There are a ton of places to stay in a motorhome in Europe (and Morocco if you're feeling adventurous). Really. Thousands upon thousands. Campsites are the obvious places (see: ACSI CampingCard), but Europe's much better geared up than the UK for motorhomes, and provide thousands of 'aires', dedicated to motorhome wanderers (see: Camperstop Book, All the Aires Books, Park4Night database and app, Camper Contact database and app, Searchforsites database and app).
If these locations prove a bit too popular, wild camping/free camping's possible in many countries. And then there are the local restuarants and other businesses who'll let you use their car park for free (see: France Passion, Britstops, or just ask the owner if you can stay in return for providing them some business).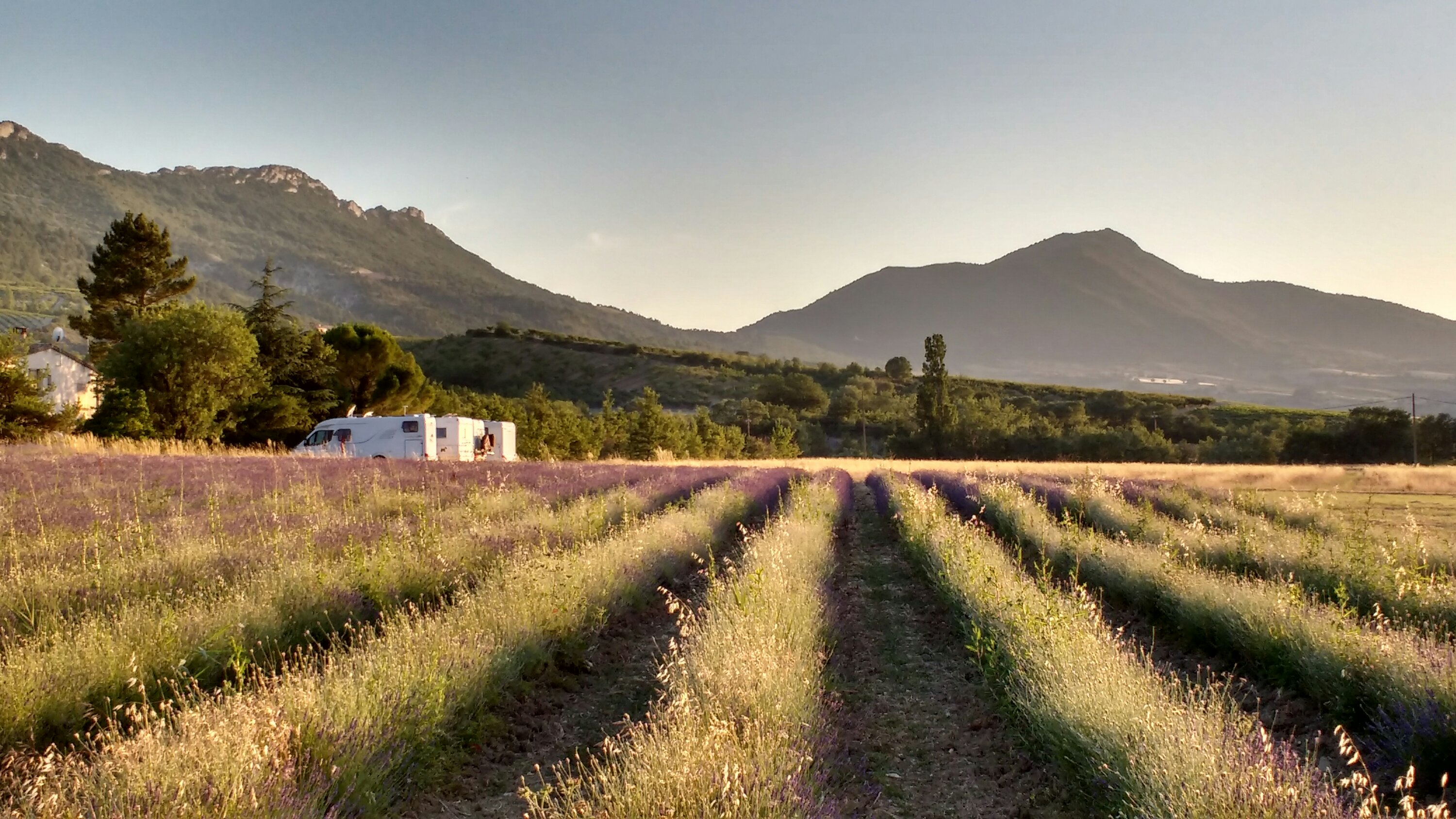 You could stay in a different place every night for a decade, no problemo. Many are free, some cost a few €s, and in high season some will cost as much as a hotel! Our map shows the 800+ places we've stayed – just zoom in and click on the dots for more information on each of 'em.
Where to Go and When
Europe's BIG. Well, not as big as Russia, say, but it's quite big. And if you're not averse to nipping over to Africa, your motorhome wanderings can easily take you from the Arctic to the Sahara. Unsurprisingly, it's cold and dark in the Arctic in winter, and blood-boiling roasting in the Sahara in summer. For that reason, most folks stick to a general rule of south in winter, north in summer, and you might want to plan your trip with this general rule of thumb in mind. Or you might not, up to you!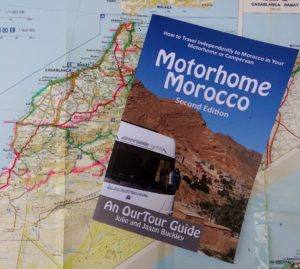 Some typical places folks head to for winter and spring:
Greece
Turkey
Sicily
Southern Spain
Morocco (we enjoyed this so much, we even wrote the book!)
The Alps or Pyrenees for skiing
And in the autumn and summer:
Northern Spain
France
Germany
Italy
Netherlands
Scandinavia
UK and Eire
You can of course mix the two up – go where the hell you fancy! Just be aware the weather can be a big influence over your general sense of well-being in a motorhome, which is effectively a metal box. Being endlessly rained on in Galacia in winter, or being unable to move it's so roasting hot in Croatia in July, ain't as much fun as it could be in other seasons.
Erm, that's it! I think? Seems like a lot to consider but it's all worth it, and once you're on the road the vast majory of this stuff's been done, and you're free to be free. Any questions – pop 'em in a comment below.
Cheers, Jay