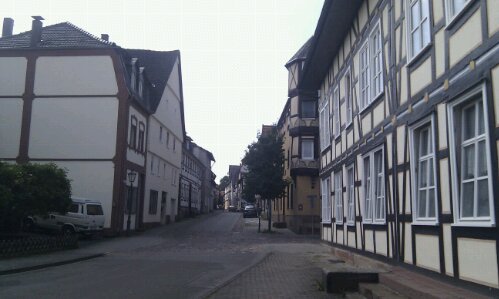 Dave the motorhome is parked in a free municipal stellplatz, all of 300m from the heart of Hofgeismar between widely spaced German and Dutch co-travellers (N51.49573 E9.37527). The sun is shining, but fortunately not enough to edge our fridge into a depressed defrosting of our Lidl lamb chops.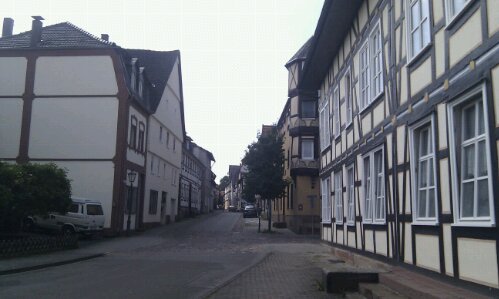 For whatever reason, I was under the impression that The Brothers Grimm was the name of a fairy tale, perhaps down to a lack of dependant nippers. Ju emerged today from the Hofgeismar tourist information office weighed down with information on these chaps who, it turns out, were real, alive and kicking. They were a couple of dedicated intellectuals who didn't actually write fairy tales themselves, but more wrote them down, collecting them from verbal story tellers. Ironically the books they wrote seemed to struggle to sell, as they were a bit too raunchy or violent for the nippers, the Spanish exile Walt Disney would later mint a fortune from.
Germany is criss crossed with tourist roads. They look like any other road, smooth black top conveying us tourists along with people with actual things to do, albeit at about a third of their speed. Mr Michelin has identified these cleverly contrived routes with the use of a dotted line flowing alongside the actual road. Bold green writing gives a clue as to what they're about. Page 51 of our map we're on at the moment, and we share it with the Deutsche Märchen Strasse, the Wesertalstrasse and the Deutsche Ferienstrasse Alpen-Ostsee. Clueless as to their meanings, we've accidentally avoided all of them.
As of Ju's triumphant exit from the tourist office today, our ignorance has a tiny sliver removed, we know about the Märchen, huzzah! It turns out it is the Fairy Tale route (I may have already given the game away above, oops), running north-south for half the length of Germany, and is one long breadcrumb of places associated with popular folk tales, Little Red Riding Hood, the Pied Piper of Hameln and the like, seemingly every fairly tale in existence rides upon it. Hofgeismar isn't on it though, ah, hang on, it is, but doesn't seem associated with any of the tales. The tourist office chap, who presented Ju with a postcard showing him in full medieval Lordly chain mail kit, complete with a huge eagle and a mean sword, is the kind of man all towns would want extolling their habitation's virtues. Check him out at www.ritter-dietrich.de, but be warned, you'll be wanting your own chain mail if you do. The very force of his persona has perhaps attracted the road over here, a medieval magnet.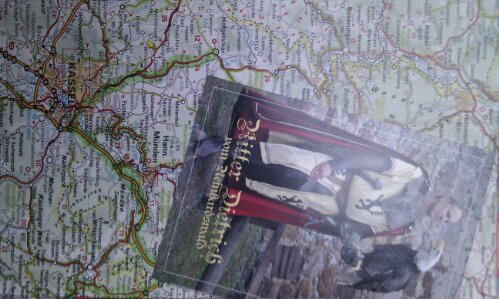 We've walked around the town, a tiny and deadly quiet affair on a Thursday afternoon. Medieval wooden houses, looking all Tudor and twisted, lean about the place, elderly and drunk and worm-munched. A couple of muscled blokes, moonlighting from prize fighting, are setting up wooden stalls and a roofed surround for the town fountain, a thin disguise for a weekend beer-up, non-condone-able. They eyed us up with suspicion (and maybe a little fear, ahem) as we kept finding ourselves ending up back where they were working.
Apart from the old houses, and the fairy tale hook, the town has another tale. Everywhere around here seems to have invested in bronze statues to boost income from the bored wanderer. Hofgeismar has a couple of golden blokes stood throwing dice, the solution to a lengthy town siege which was showing no sign of ending, apparently. An armed chap stands bemused as an apron-wearing townsman defeats him, overtly smug at the three sixes frozen in cool metal on stone. A well-endowed little pooch barks silently in encouragement from the floor. Charlie detects no sniffs and walks off.
Our weekend with friends awaits, and we can't wait. I will, however, be sorely disappointed if my old Uni pal Bruce hasn't invested in his own chain mail and hunting prey bird by now. I'm sure he will have though, and hopefully a twelve bore so we can go hog and deer hunting. Getting right into this German living I am, just need to build up that work ethic a bit…
Cheers, Jay
P.S. Seems theology isn't dead, someone is wandering between the motorhomes handing out Bibles. Only in German though, we're doomed.