As I write this we're ensconced in a campsite for a couple of nights in Greece (a beautiful place it is too), but normally we sleep outside of camping areas for freedom and to save money. This isn't strictly legal in Greece, and we have seen a fair few 'no camping signs'. However, in many places we've seen the signs roundly ignored, and have in some spots been actively welcomed by the locals (especially taverna owners!).
We hardly ever find these wild camping places for ourselves, but usually rely on other sources such as website databases and books. Here in the Peloponnese we are using a fantastic and free resource – Peejay's Greece Stopovers.
Another very good resource, if you can read German or are happy with looking at the pictures (like us) are the 'Mit dem Wohnmobil nach Griechenland'
guides. These are focussed around off-campsite stays, and include information on finding water refills and cassette emptying places. In our wanderings to date we've found that water is freely available, taps everywhere, but loo emptying is difficult unless you stay on a campsite or can find and open one to nip into and pay to use the services.
Finally if you do fancy taking a break from free camping, to get the washing done, catch up with people staying on the site and so on, then the excellent ACSI Low Season Discount Camping Card can be a great money saver. It lists out thousands of sites across Europe which charge either €12, €14 or €16 a night for two people, a motorhome, showers and electrical hook-up. A bargain, usually! Just note that if you don't use hook-up you can sometimes get a better price – we're paying €15 a night here and Greek sites usually come in at €16 with the discount card.
And last, but certainly not least, fabulous folks send us recommendations through email, through comments on this site or when we meet up, pass on info face to face. We write these all down on our map, which we'll auction off when we leave Greece (just kidding)!
Photos of a few of our free stopovers to date: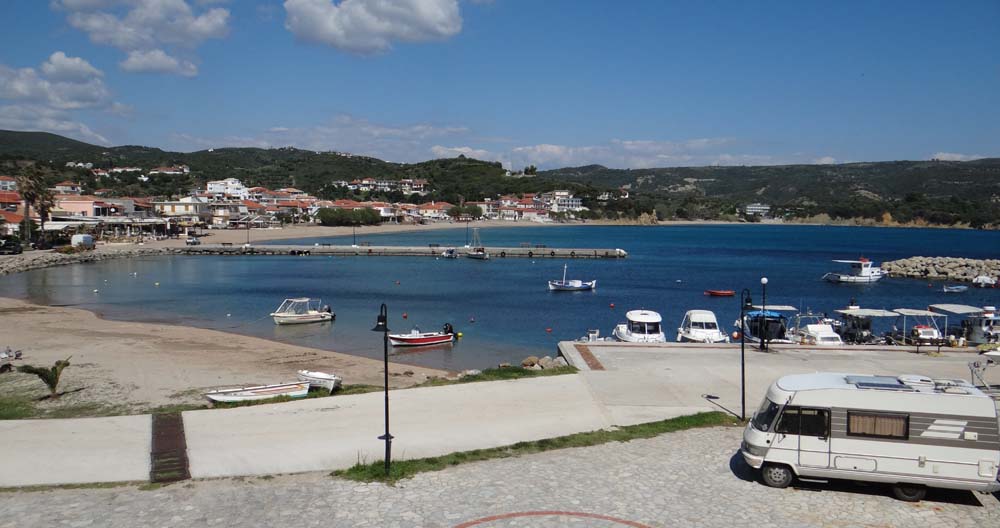 If anyone reading has any other sources of info for low-cost Greek stopovers, please let us know (add a comment below or email us)!
Thanks, Jay