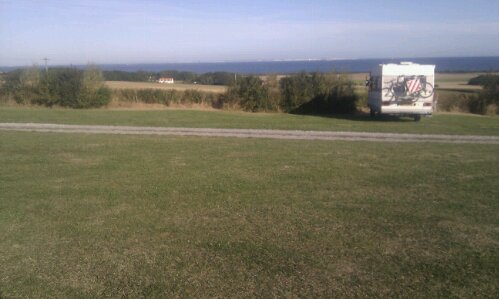 If you're bringing your motorhome into France at Calais, we can highly recommend an aire for your first night. Called Ferme De L'Horloge, it's a set of farm fields around the hamlet of Tardinghen, converted into motorhome parking (www.sitedes2caps.fr). The cost per night is €5, which includes the services (black and grey water emptying and drinking water refill, only available at the farm). Note that the black water, unusually, goes into two chest-height square containers to the left of the water refill at the farm.
We're currently parked on the La Fleur des Champs field (GPS: N50.85671 E1.65137). It has no services and no electricity, we used those at the farm. What it does have is a to-die-for view out over the English Channel to the white cliffs. A sign at the entrance shows the outline of ships so you can identify them sailing past (bring binoculars).
The owner and his friendly pooch Atos come around in the evening to collect your payment. A bread van also comes in the morning. The route here is free motorway, followed by a good section of B roads. The very last part, about a mile, is country lane, but there are big motorhomes parked behind us and access for them appears fine (including a big Concorde).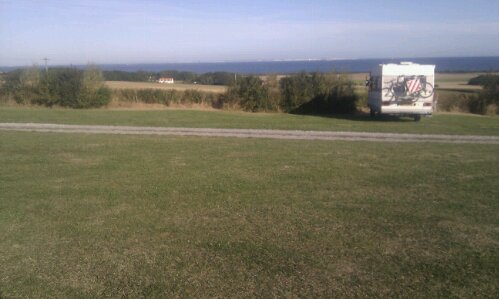 An alternative, free aire (for 48 hours) is at Wissant, GPS N50.88694 E1.6071. It's large, so unlikely to be completely full, has grey and black water disposal, is a few minutes walk from the town with a small supermarket, and a wide beach with WW2 Atlantic Wall defences. It has no view though, and is close to the road. Since starting to write this we've moved after staying a night at the above aire and are staying here tonight (to save us €5 and to visit the beach).
Cheers, Jay