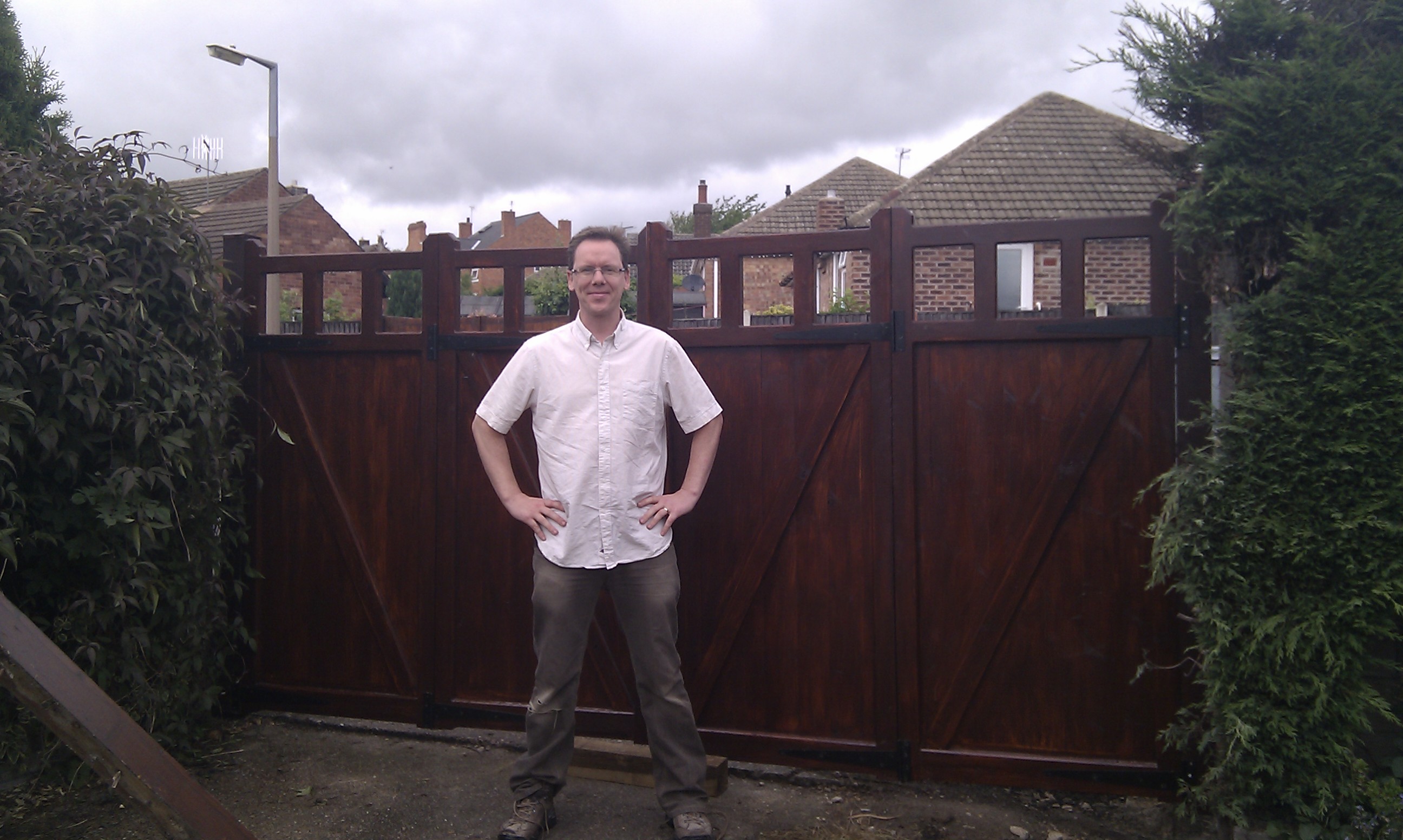 This week we've been widening the gates to our drive so we can fit a Hymer on it – when we finally find our perfect match.
We bought the gates on eBay on Saturday and they were delivered on Wednesday. A trip to the big orange shop to get wood treatment threw up an important question, do we get the stuff the gate maker recommended, or the cheaper stuff?  When J overheard a man in the shop saying "well you'll need several coats of the cheaper stuff, or just one of this stuff", the decision was made and we forked out for the recommended stuff. J coated them all on Thursday night (while I was out with work), and on Friday night (yeah – we know how to live) we both painted on a second coat – seems that even the expensive stuff needs more than one coat on new wood.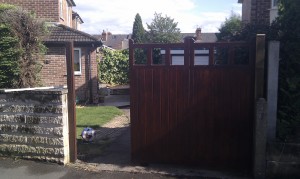 Saturday morning I woke to hear the rain belting down outside, so rushed outside and shifted the gates back into the garage as we hadn't got around to coating them underneath yet. But the weather cleared up on Saturday afternoon enough for us to get one set hung before we set about cutting down The Wall.  We measured up, doubled checked and then J attacked it with an angle grinder. We were both amazed that the rest of it stayed up, so once all the old bricks were taken to the tip it was just a simple matter of mixing concrete to secure the end post and our work was done – a well earned KFC was scoffed before we hit the sack.
The weatherman said it was going to chuck it down on Sunday (my words not his), but luckily it was just cloudy with just a few odd spots of rain when we got up.  A couple of hours later the second gate was hung and the end posts (as well as underneath the gates) varnished.  A few bits of ironmongery to finish it off and we'll be all done.
So what was the damage?
£350     Gates (11ft x 6ft)
£  35     Ironmongery
£  12     1 x Concrete post
£  42     Wood treatment (told you it was the expensive stuff)
£  22     2 x wooden posts
£    5     Metal straps to hold concrete post to wall
£  10     New disc for angle grinder
£    5     Metal rod and nuts to bolt wooden posts to concrete ones
£481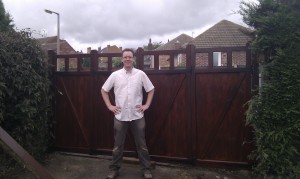 More importantly though, not only do we have enough saved in the bank to buy our dream van when we see it, but we also have somewhere to put it! Time to ramp up the eBay and Autotrader searching…. watch this space.